Volkswagen
Volkswagen VW Polo five door (2009 onwards)

Click on thumbnails or names for further information.
>> Rear door fitting bike carriers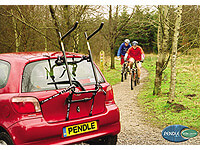 Pendle strap-on PNSO (lighting unit required)
Pendle's 3 bike Strap On carrier was given an MBUK 'Best Buy' award some years ago. ("The quality of construction above all makes it stand out… As one tester put it, it feels engineered rather than simply 'produced'.") And in 2006 it won both the
More...
"Enjoy your Bike" magazine Best Buy Award and, much more importantly, the Auto Express Best Buy award for rear door fitting carriers. Some cars require a lighting unit, and some require the use of a special window adapter where there is no metal at the top of the tailgate - the database will tell you whether these are required, and list the lighting board options.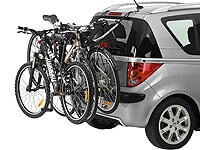 Thule ClipOn 9103 for 3 bikes (needs a lighting board)
Thule's 3 bike ClipOn carrier was modified in 2006; the previous version was an Auto Express Best Buy award winner. It has metal straps, and once adjusted for your vehicle is very quick and easy to clip / snap into place, and to remove. It's a low mount carrier so will almost certainly require the use of a lighting board. There are two versions of the ClipOn - one's mainly for hatchbacks, the other for estates.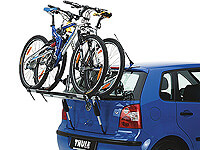 Thule ClipOn High 9105 for 2 bikes
Thule's silver coloured 2 bike ClipOn High carrier 9105 is a flexible and quickly mounted wheel support rack - the bikes don't block the rear lamps or the registration plate. The very simple mounting is made possible with the help of the patented 'snap on' fitting system. It takes a bit of adjustment first time out, but fitting and removal is then a doddle compared to other rear mounted systems.

All our prices include VAT at 20%

"); } //-->