Nissan
Nissan Primastar L1 (SWB) H1 (low roof) (2003 onwards)
also known as - Nissan Primastar SWB low roof
Click on thumbnails or names for further information.
>> Walser seat cushions: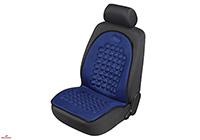 Walser NOPPI magnetic seat cushion, blue
Walser have come up with something a little different here, a seat cushion with the addition of Magnetic Therapy - the cushion has 8 strategically positioned magnets inside the seat cushion.
Magnet therapy was pioneered in ancient Egypt and has become one of the pillars of modern alternative medicine. It is reputed to aid blood circulation, although its merits are challenged by traditional medics, it is used to treat joint pains, sports injuries, backache, muscle soreness and period pain.
>> Walser seat cushions: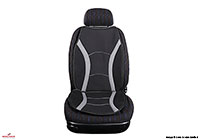 Walser seat cushion, black/grey
Walser seat cushions are a quick and effective means of protecting your front seats from the worst of the wear and dirt that will otherwise slowly degrade them. The front is made from a hard wearing matt finish foam-filled polyester, and the back is a non-slip black polypropylene.
Special offer! Buy two or more seat cushions, any colours, and we'll give you £1.95 off each cushion, i.e. £20 for two!
All our prices include VAT at 20%

"); } //-->