Audi
Audi A3 five door (1996 to 2000)
also known as - Audi S3 five door
Click on thumbnails or names for further information.
>> Rear door fitting bike carriers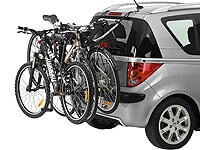 Thule ClipOn 9103 for 3 bikes (needs a lighting board)
Thule's three bike ClipOn carrier uses metal straps
Once adjusted for your vehicle is very quick and easy to clip / snap into place, and to remove
It's a low mount carrier so will almost certainly require the use of a lighting board
>> Rear door fitting bike carriers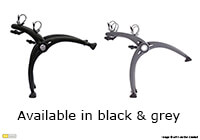 Saris Bones 2 bike carrier
Available in black and grey.

Saris says that the Bones is "The World's best selling rear rack" - it's sold in over 30 countries. This is very likely - it's definitely the best designed rear-door-fitting rack that we've ever tested, from the point of view of ease of fitting and use, and it must fit as wide a range of vehicles as any on the market. It's also uniquely stylish and individual.
£125.95
RRP

£142.50

>> Rear door fitting bike carriers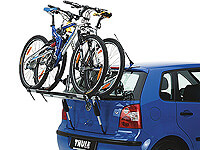 Thule ClipOn High 9105 for 2 bikes
A quick-to-mount wheel support rack - the very simple mounting is made possible with the help of the patented 'snap on' fitting system
On most cars the bikes don't block the rear lights or the registration plate
It takes a bit of adjustment first time out but fitting and removal is then a doddle compared to other rear mounted systems
All our prices include VAT at 20%

"); } //-->