Toyota
Toyota Urban Cruiser (2009 onwards)
also known as - Toyota Urbancruiser
Click on thumbnails or names for further information.
>> Rear door fitting bike carriers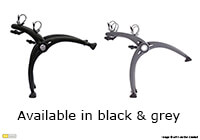 Saris Bones 2 bike carrier
Available in black and grey.

Saris says that the Bones is "The World's best selling rear rack" - it's sold in over 30 countries. This is very likely - it's definitely the best designed rear-door-fitting rack that we've ever tested, from the point of view of ease of fitting and use, and it must fit as wide a range of vehicles as any on the market. It's also uniquely stylish and individual.
£125.95
RRP

£142.50

All our prices include VAT at 20%

"); } //-->