Medium-wide roof box:
KAMEI Corvara 390K silver DuoLift roof box no....
Code: KM436

RRP
£390.00
Overview:
KAMEI's Corvara DuoLift boxes are the best designed and engineered boxes available. The DuoLift system uses metal lid hook-hinges (plastic hook-hinges are a weak point), and its gas-assisted struts allow the box to be opened (from either side, and to a massive 35cm wide) and closed with a smooth motion that just isn't possible with other systems.

KAMEI's Corvara DuoLift boxes are the best designed and engineered boxes available. The DuoLift system uses metal lid hook-hinges (plastic hook-hinges are a weak point), and its gas-assisted struts allow the box to be opened (from either side, and to a massive 35cm wide) and closed with a smooth motion that just isn't possible with other systems. The only downside is that so much patented technology and quality doesn't come cheap, but for the sake of a extra £50 or so for a range of boxes that has a 6 year guarantee, and should last a lifetime if sensibly looked after, our recommendation is "Go for it, you won't regret paying the extra", and they're cheap compared to e.g. Thule Dynamic boxes which simply aren't as good.
There's a general consensus that KAMEI, based in Wolfsburg in Germany, makes the best quality boxes on the market. Don't just take our word for it! They're a specialist box manufacturer, Quality Assured to ISO 9001, represented in over 40 countries, with numerous Best Buy awards over the years, including the Auto Express 2008 and 2009 "Best Buy", awarded to this box, and the 2010 "Best Buy" awarded to the Husky XXL, the fourth time in a row that KAMEI has scooped this top award. And the 'Long Thin' version of this box, the Corvara 310, came out top in the German ADAC test of 8 boxes (December 2006); as well as being the most waterproof box it was, much more importantly, the only box which passed their city crash test. See the "Product tests" tab and test summary. Following this test KAMEI did another six months development and testing work, including further crash testing at TÜV in Munich with a 75kg load, before launching the DuoLift range.
With their innovative and intelligent designs, top quality materials and engineering, and outstanding build quality, it's no surprise that KAMEI are Original Equipment box suppliers to several major manufacturers, including Audi, Mercedes-Benz and VW. And their boxes have the longest guarantee of any manufacturer in the car rack systems sector - 6 years!
The superb Corvara range of boxes is KAMEI's 'flagship' range, and incorporates the best of their engineering innovations, including their low profile "push-push" quick fitting system. Both the lid and the base of the Corvara 390K are styled to integrate with the latest car roof shapes, with minimal front overhang, yet long enough for carving skis while still allowing hatchbacks to be fully opened; it's a great looking box, in our view the most stylish on the market. A bit small at 390 litres? We don't think so, having filled a Thule Atlantis 780 (480 litres, 196 x 78 x 44cm) and then packed the same stuff in the Corvara (190 x 75 x 43cm) with the aim of finding out what's going on here. The Corvara is very differently engineered to the Atlantis, and has smaller internal dimensions, but the experiment proves the point that small increases in size, especially in height, will significantly increase the nominal capacity but not necessarily the real world usefulness. It's also fair to say that KAMEI tends to underestimate capacity, whereas Thule tends to overestimate, as should be obvious from the "boxes in cartons" pictures, and is all but proved by the analysis done in December 2010 by Auto-Presse - see tab "What does volume really mean?"
The central locking system has the benefits of central locking without the potential drawbacks. Turn the key and the lid opens wide on its gas struts, but to close it you just pull the lid until it clicks shut - no need to hold the front and back shut while simultaneously turning the key. And you can't lock the keys in the box inadvertently because the keys can't be withdrawn from the lock until the box is properly shut. That's clever engineering...
The box to bars fitting system is extra low profile to maximise the useable space in the box. Push all four U bolts into the guides below the box - they're held in place with special grippers so they won't fall back onto the roof - and then, placing one hand into the box, push the spring loaded tensioning arm up and down a few times - "push, push, push" - to tighten the box onto the bars. It's a one finger operation, strain free!
Some other features:
Corvaras are made from top quality 'DUROKAM', an ABS plastic developed by KAMEI to optimise weight, stability and impact resistance. If you'd like to see samples of KAMEI's plastic, to see the colours and feel the quality, please click here. We'll post two 10cm x 10cm squares (silver and metallic black) by 1st Class post, free of charge to UK addresses only. These will make very good coasters but in any event we hope that you'll appreciate the quality differences between Durokam and the run of the mill material that is used in most roof boxes you'll see on UK roads.
The lid of the silver box is made from an innovative scratch-resistant plastic, allowing you to clean the box without scratching it. It's a technical material that is also used by top end car manufacturers, and is another significant KAMEI roof box development. See the tab "Scratch-resistant plastic" for more information.
The shape was refined after wind tunnel testing, and the whole range is TÜV and GS (security) tested and approved.
This Duolift box opens from either the left or the right hand side, making it very easy to fix to roof bars (no stretching into the box is needed), as well as providing full choice about where you position it, depending e.g. on what else you are carrying on the roof. It's also available in black metallic.
The DuoLift system includes patented gas struts for wide and easy opening and closing.
There are sliding box to bar fittings at all four fitting points so there's never a need to drill new holes if the distance between your roof bars is non standard.
The locking mechanism uses metal components throughout, including the catches in the lid; there are 3 locks and 3 hinges.
This box comes with fittings to accommodate roof bars up to 44mm wide as well as adapters for all the "T-track" aluminium aerobars we sell - from Atera, CRUZ, Thule, Whispbar. If you are using another brand of aerobars, please check the adapter links below, and order the KM52087 adapters if necessary. If your roof bars are wider than 44mm, with no "T-track" slots, you'll need to purchase adapter set KM52088, also listed below.
6 year guarantee.
Weight 16kg empty, maximum load 75kg, gross loading limit 91kg, but only if 91kg is within your car roof loading limit.
Do you need roof bars as well? If so, check out our amazing box and bars package deal which provides everything you need, including this box, a set of roof bars, and a roof box storage device, all for a fixed price! Click here for more details.



This season we are offering a free roof box hoist to give you a superb deal. Boxes are bulky items so the ideal place to store them is above your car in the garage, or perhaps in a shed. Many people will leave the box attached to the bars, and also use the box for storage.
If you don't need a box hoist, our alternative gift is a set of 3 Fasty straps - 0.5m, 1.5m and 3.0m. Although of much less financial value they will be useful for 1,001 things, time and again. To order the 3 straps, tick the Alternative free gift box below. Please note that only one box hoist or one set of straps will be included per roof box ordered.
Here's a video which shows a Corvara DuoLift 475 being fitted to aerobars. Note that the aerobar adapters are included.
You'll also see how the box is just pulled shut and then the key removed.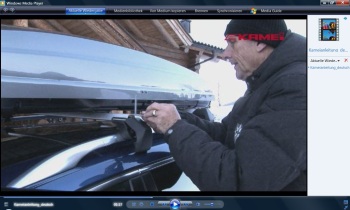 Technical Specifications at a glance:
External dimensions: 190 (l) x 75 (w) x 43 (h) cm
Internal dimensions: 178 (l) x 65 (w) 36 (h) cm
Volume: 390 litres
Weight: 16kg
Max load capacity: 75kg
Max number of skis: 6 (max 180cm)
Opens from: both sides
Type of struts: hydraulic gas struts
Opens how wide: 35cm
Fits bars up to: 42(w) x 32(d) mm*
Distance between roof bar fittings: 57 – 92cm
Guarantee: 6 years
Colour: silver/grey
Useful information:
* 20mm T track adapters also included to fit most aero bars including Thule, Atera, Cruz, Whispbar. 25mm T track adapters available separately to fit some other aero bars (e.g. BMW), see below for details
ADAC, Germany's largest motoring organisation, tested 8 roof boxes in November 2006, including the KAMEI Corvara 310, the thinner version of this box. The results of their crash tests were a wake up call to the industry.
The KAMEI box passed with flying colours. It is important to note that Thule modified their fitting system after these tests, obtaining a "Gut" rating in the retest. Crash testing to ADAC standards is now an important part of roof box development for the main three roof box manufacturers, Hapro, KAMEI and Thule.
Please note that this video is 13.4MB.

A good question. It's not easy to convince customers that a 330 or 340 or 390 litre KAMEI box is in practical terms as large as a 480 litre Thule box, even if they have seen the boxes side by side, and the cartons (see pictures above). Now an influential German motoring web site has provided us with more evidence, which is that KAMEI's Corvara 390K was 3.8% smaller than advertised, but the Thule Dynamic 800, a stated 420 litres, came out at 274 litres, a 34.7% exaggeration!
The Atlantis 780 is said to be 480 litres, 23% larger than the Corvara 390...
See the "exaggeration" table above, the second last picture, as well as a Google translation.
Auto-Presse also report that the KAMEI Husky L and Delphin 470 boxes are larger than their stated volumes. None of this surprises us - KAMEI is a family business which takes pride in doing things properly. "Made in Germany".
Please click here or on the logo below to view the article in full, and click "Back" when you're done:


The lids of the silver KAMEI Delphins and Corvaras are now made of a "scratch-resistant" plastic, a very technical finish which is increasingly being used for body parts by top end car manufacturers. It has a slight sheen to it, a bit like an eggshell finish. Some customers have told us that they have chosen this finish for the looks alone - it's sophisticated, and different.
Roof boxes pick up a lot of squashed insects as well as general road grot, and cleaning them without scratching them is next to impossible, just one of the things you have to live with and ignore. Scratching is not an issue with this new plastic - we've even used a nylon backed sponge, hot water and washing up liquid, and can see no evidence of abrasion. Extraordinary! (We'd generally recommend that you use hot water, mild detergent and an ordinary sponge, and we have to emphasise that scratch-resistant does not mean scratch-proof - this is an ABS plastic and if you go at it with e.g. a knife or a car key you will damage it.)
Very few customers know much about the roof box market before they visit our site. We have a lot of information about the things to think about before buying, and the "real world usefulness" of various roof box features, but you'll be buying sight unseen, and you probably won't have used a roof box before, so there is inevitably some luck in getting a box that you'll be happy with.
We want to remove the risks of buying these large and often expensive items, perhaps from brands which almost every other roof box retailer doesn't stock, and so we have a unique "90 day Exchange Scheme" for roof boxes.
This allows you to use a roof box and, with the benefit of experience, to exchange it for a new one within 90 days of invoice date. Most exchanges are from a shorter box to a longer one, or from a wider box to a narrower one.
These are the rules of the Exchange Scheme:
You are allowed one exchange only.
The original box must be in "as new" condition, subject only to fair wear and tear.
The replacement box must be a different model.
The replacement box must not be part of a package deal or be from our Bargains section.
Roof bars are never part of the Exchange Scheme.
This is how the exchange scheme works:
We charge in full for the replacement box, including the appropriate carriage charge and a charge for any packaging needed for the return of the original.
We arrange the collection and pay the return carriage costs.
When the original box arrives back here we refund you for the invoice value of the original box, but you won't get back more than the invoice value of the replacement box. In other words, if the replacement is cheaper than the original we won't be giving you "extra cash back".
Delivery charges and arrangements:
We charge a contribution towards delivery costs, depending on what you order, where you live, and how quickly you want the goods.
For most UK addresses, the charge for our two to three day service is £5.50 (£9.50 for orders including a roof box) and our charge for Next Working Day deliveries is £8.50 (£12.50 for orders involving a roof box). AutoSock, and small spare parts, are charged £3.95 (1st Class post) or £5.50 (express courier, usually Next Working Day).
There are different charges for any delivery including a sea crossing, and deliveries to Skye - we will contact you with a quote on receipt of order.
Orders for Next Working Day delivery need to be received by 4.00pm.
There are no deliveries on Saturdays, Sundays or Bank Holidays. Next Working Day orders placed on a Friday will be delivered on the Monday, Next Working Day orders placed on a Saturday will be delivered on the Tuesday.
We are very flexible with our deliveries and will aim to deliver on a day and at an address which suits you. Goods can usually be left without signature - we prefer this with roof boxes. There's a "Special Delivery Instructions" box in the checkout area where we'll ask you to choose a typical instruction and then amend it to suit your particular requirements.
No retailer or courier company can ever "guarantee" a Next Working Day delivery. All courier companies occasionally have the same transport problems as can happen to everyone else, including snow blocked roads, closed roads, traffic jams, mechanical breakdown, an inability to find the delivery address, or to gain access to it if, for example, it's in a block of flats. We work with some of the best couriers in the business, and overall they provide an outstanding service.