AutoSock:
AutoSock, High Performance size 645, one pair,...
Code: AS645

AutoSock were launched in Norway in 2002 after a long period of testing, evaluation and improvement. Sales have grown exponentially, with over 330,000 pairs sold around Europe last winter, mostly on recommendation. When you've had the opportunity to test them for real you'll soon realise why. Most people are not only surprised but astonished at the difference they make to general traction, cornering, and braking.
"This cheap alternative to snowchains or to winter tyres is staggeringly easy to fit... I used them while driving in the French Alps last week and can confirm they are absolutely superb." (Nat Barnes, AA Motoring Writer of the Year)
They're also now approved by many car manufacturers, including BMW, Fiat, PSA Peugeot Citroën, Mercedes-Benz, Toyota, and VW.
The bottom line is that AutoSock will provide a massive boost in all round confidence when driving on ice and snow, and hopefully "Get you home" or to wherever you're going, but don't overcook it, i.e. you should always drive with particular care in wintry conditions.
Each set contains:
one pair of AutoSock
a pair of disposable gloves to protect your hands and cuffs from e.g. wet and dirty car bodywork
Full instructions are shown on each bag which is also designed for easy and clean carrying of dirty AutoSock once you've taken them off the wheels (pull them off with the orange straps).
There's only one possible way to fit AutoSock, and no practice is required.
Please note that AutoSock will wear out with use, and that worn out AutoSock is not a guarantee issue! They'll get you moving and keep you moving - see the "Driving with AutoSock" page (one of the tabs above) for more information.
Please test them at the first good opportunity, and then pass the word!


We're also showing you a range of other winter motoring products which we're selling here at market leading prices, including a snow and ice windscreen protector at only £2.95, a telescopic snow shovel at £9.95, and a snow brush for £5.95 - all of these items are almost essential kit for winter weather.
Paul B - 16/10/2014 | Vehicle type: MPV
We went out to a party and came out 4 hours later to find several inches of snow. Popped on the snow socks and drove easily home up hills and along an uncleared motorway. Loads of expensive cars struggling. All the family cars have them now.
Bill R - 16/10/2014 | Vehicle type: Saloon
Found myself stuck in a remote car park. Snow was a bit wet and compacted. Did not think auto sox would work. They did. Easy to put on. At first attempt I managed to gently drive out of the car park and remove snow sox as soon as I reached the road. Brilliant.
Chris G - 16/10/2014 | Vehicle type: Hatchback
Around 3 or 4 years ago I had a 35 mile commute each way to work. I work in the emergency services and therefore felt compelled to get in to work in bad weather so I could help those in need. I had previously struggled to get out of my road (there are hills within 300 meters both sides of my house) in the snow which led to me not being able to get to work for a couple of days. I began searching for 4x4's and quad bikes online to enable me to get to work in all weathers. I then started looking at chains and stumbled on Autosock. I ordered a set for my car and within a few months got to use them. They are a doddle to put on the wheel, 3/4 of them go on with ease, roll the car forwards or backwards a little and put the remainder on. You can then start driving and they auto adjust and settle themselves down. In terms of grip they are truly awesome. I have driven past queues of traffic with these on, even better when there is a snow filled lane on a dual carriageway that hasn't been driven on as they come in to their own. I even tested them one day in the snow, I stopped on a steep hill in thick snow and pulled away in first gear. They grip instantly and you are up to a decent speed in no time. I have driven up to around 30mph in them before and they were fine. In total I have probably driven 100 miles in them. They are showing signs of ware but probably have another few years in them at least. The roof box company are also great. Their orders are delivered quickly without error and their staff are friendly and answer emails quickly. Definitely recommended.
David B - 16/10/2014 | Vehicle type: Saloon
Living in England it's never easy to predict winter weather and snow socks are ideal due to the easy way to put over the tyres. The socks provide stability in difficult driving conditions, and are easy to take off when the weather improves. Overall a very flexible user friendly product.
Tony W - 16/10/2014 | Vehicle type: Hatchback
Best bit of kit I have ever bought. Used them a dozen times on snow covered roads and they are truly amazing. No skidding going round bends and never going up or down hills. If you do not have a 4 wheel drive vehicle then buy some.
Barbara V - 15/10/2014 | Vehicle type: Estate
My BMW would not climb the hill to our house in snow however you tried to cajole her. However with snow socks on the drive wheels it was simple. Perfect grips in snow and ice. You do have to remember to take them off once you get onto a cleared road surface as otherwise it will soon render your socks thread bare. They are very easy to put on and take off so they are a real life saver to get you out of trouble when you least expect it. Buy a pair and keep them in the boot for that unexpected emergency. The alternative is to buy a 4x4
Kevin F - 14/10/2014 | Vehicle type: Saloon
I visit France/Switzerland on a regular basis each season for skiing trips. I drive an E class Merc which is very difficult to find snow chains for. My daughter lives in Norway which is where I have seen the snow socks. I have used them on a number of occasions and have found them excellent very easy to fit and remove also no damage to the car and the alloy wheels. I can only recommend them and they take up so little room in the car.
Bruce H - 14/10/2014 | Vehicle type: Hatchback
I have to climb a steep hill to get to work and my car is rear wheel drive. Last time we had a lot of snow I struggled to get up the hill and turned back home. Then fitted the auto socks and it was like the snow wasn't there! Amazingly effective though they wear quickly. I now keep a pair in the boot all winter.
Stephen S - 14/10/2014 | Vehicle type: Van
Very easy to use got some for my wife and sons all said how good they are.
Michael A - 13/10/2014 | Vehicle type: Hatchback
Only had to use them twice, both times they were effective where i had previously been stuck, more cost effective than winter tyres.
Steve E - 13/10/2014 | Vehicle type: Hatchback
We have a steep drive which becomes impossible in my mini in the snow, the Autosock was amazing. After using them I popped them in the washing machine and they were as good as new!
Adam G - 13/10/2014 | Vehicle type: Van
Awesome product! I have no hesitation whatsoever in recommending them. They have got us out of "trouble" on many occasions - even with winter tyres fitted!
Suzanne S - 13/10/2014 | Vehicle type: Hatchback
These are a must for anyone preparing for the winter months. I personally found that they are very easy to use,from putting them on to removing them. The traction ability of these really makes the grade. I would recommend these to anyone that doesn't want to get caught out on snowy roads ever again.....
Zoe M - 13/10/2014 | Vehicle type: Hatchback
I loved them, I knew that no matter where I went, in whatever weather, my Ford Ka would get me home (and it did) in fact it got me where most 4x4 dared not pass! I recommended them to our postman - we live in a very hilly area of Sheffield!
Simon H - 13/10/2014 | Vehicle type: Saloon
Invaluable over the last three years. When all about you are stuck in the snow, you can drive through like a 4x4 :-)
Lucy F - 13/10/2014 | Vehicle type: MPV
I live in the Highlands of Scotland, 16 miles from out nearest town. In winter it is not uncommon to leave the house to go shopping and 3 hours later be unable to get over the mountain pass to our village. Autosocks have got me out of that situation with ease. I drive an MPV that takes on sledge characteristics in snow. As a woman I find Autosocks are so easy to put on and the car then gets up the pass better than some off-roaders. I will be buying some for my son, a new driver, and I would say to anyone, Get them and don't leave home without them in winter.
Dave C - 12/10/2014 | Vehicle type: Estate
Used on my BMW320, on the short drive from the village and notably in April 13 when it was too snowy to get out. The first time of use they were very tight to get on but eased subsequently. Very effective at slow speed grip. I felt much safer. I stil keep them handy in the winter or going to muddy festivals in the summer, even though I have a set of winter tyres now.
Ian M - 12/10/2014 | Vehicle type: Saloon
After two winters with my BMW 3 series confined to the drive for weeks at a time I bought the Autosock more in hope than expectation. Fitting is a bit of a faff, especially when the temperatures are below freezing ! However, the results are nothing short of amazing! The neighbours were getting ready to try and push me up the road and were amazed to see me drive off, up a relatively steep and very icy road with virtually no wheel spin. An absolutely outstanding product that I wouldn't hesitate to recommend. The only niggle being that once on treated roads you need to remove them otherwise you will severely reduce their useful life.
Nick A - 12/10/2014 | Vehicle type: 4x4
Have used these 3 times on both wet and icy snow and they work. But the biggest plus is that compared to chains they are so compact amd light, you'll have them in the car when you need them.
Gerald K - 12/10/2014 | Vehicle type: Estate
Great to keep in the boot just in case..
Edward C - 12/10/2014 | Vehicle type: Estate
A dark country lane in the middle of winter, changing from sleet to snow an hour away from home, now its' getting hilly and progress difficult and dangerous. Only five minutes of journey and conditions have changed that quickly. Popped the snow socks on, simplicity in itself, and away we went for a safe journey home. Always have them in the car for peace of mind. A friend uses them driving to ski resorts with the family every year.
Tim S - 12/10/2014 | Vehicle type: Estate
Service from order to delivery was excellent. I used the socks to get from where I live, hilly and country lanes, to the main road and they were fantastic. The only problem I had was that my car has lowered sports suspension and not much room to get my hands over the top of the wheel to fit the socks. However, once fitted I could go anywhere and as long as you are sensible with speed and remove them when clear roads are available these will last a long time. I have just changed my car to a 4x4 and will be buying another set to fit as these are such a good product. I highly recommend them.
Rob Y - 12/10/2014 | Vehicle type: Estate
Absolutely brilliant I read the reviews and didn't quite believe them, my honda accord wouldn't get up the slightest incline since fitting auto sock it have never got stuck even went looking for really steep hills to test them the police seemed quite impressed too as I drove past them when they were stuck can be slightly tricky and dirty to fit
Allan M - 12/10/2014 | Vehicle type: 4x4
Bought AutoSock at the start of the bad winter couple of years ago for my CRV. Even though its an all wheel drive, if the front wheels spin out the rears will not engage. They are are so easy to use and effective. My wife took the car into Glasgow on a day that the forecast was really bad (20 miles), at home time, the motorway was solid, nobody could move, complete whiteout. She manage to use the all wheel drive ability enough to get off and onto a minor road which was inches deep in fresh snow, by this time is 3am in the the morning ! Popped the AutoSocks on and drove 15 miles on virgin snow all the way home (live at the end of nowhere) safe as houses. Without these being in the boot of the car all the time god only knows what could have happened. I cant rate them high enough and I'd guess about a dozen friends now have them in their boots.
Peter S - 11/10/2014 | Vehicle type: MPV
I TRIED AUTOSOCK AFTER WATCHING A VIDEO ON YOUTUBE AND I WASN'T DISSAPOINTED AT ALL. I HAD PREVIOUSLY HAD A ACCIDENT AFTER IT HAD SNOWED ON A STEEP HILL WHERE I LIVE SO I BOUGHT THE SOCKS FITTED THEM ONTO THE DRIVE WHEELS WHICH IN MY CASE WAS FRONT WHEEL DRIVE. I WOULD DEFINATLEY RECOMMEND THESE SOCKS AND I CAN ASSURE YOU THAT YOU WILL NOT BE DISSAPOINTED. THEY ARE HARD WEARING AND THEY LASTED ME 2 YEARS WITH CAREFUL USE, JUST PUT THEM ON AND HAVE TROUBLE FREE RUNNING.THE SNOW WAS VERY DEEP A COUPLE OF FOOT DEEP.
Harry L - 11/10/2014 | Vehicle type: Saloon
Effective but very difficult to fit onto my car (Vauxhall Astra Twintop with low profile tyres) due to there being a very narrow gap between the tyre and the mudguard so that it difficult to get one's fingers in.
Phil M - 11/10/2014 | Vehicle type: Estate
Our car, with today's wide tyres, was useless when caught in snow a few years ago so bought a pair of these. Although no substitute for proper winter tyres (which I have now bought and use during winter) these Autosocks will get you going if suddenly caught in snow. Fairly easy to fit the grip is amazing - we found ourselves able to go uphill on an uncleared hill in snow that had beaten a Discovery. They do wear quite quickly so ours sit in their bag in the car (not taking up much room at all) for emergency use should there be an unexpected snowfall before the winter tyres have been fitted.
Nick W - 11/10/2014 | Vehicle type: 4x4
Travelling to the French Alps (Avoriaz) in winter snow chains are a legal requirement beyond a certain height. Then found that chains are not possible for my Freelander 2 wheels due to the wheel size and lack of clearance between the wheel and the brake sensors and suspension struts. Snow socks where the cheapest, but still legally acceptable alternative. Haven't yet had to use them but I did try fitting them and they seem very well made and are very easy to fit. Just need some snowy roads to test them now!!
Paul C - 11/10/2014 | Vehicle type: Estate
I drive a rear wheel drive E class estate, terrible in the snow, the socks proved to be great, I would not be without them. The only hassle is remembering to take them off when you get back on cleared main roads to prevent wear, maybe there could be something done to make them harder wearing?
Oliver C - 11/10/2014 | Vehicle type: Hatchback
I have used them on snow and ice and they worked fine on both although ice has to be taken a bit more easily.
Hugh A - 11/10/2014 | Vehicle type: Saloon
We bought 2 sets ., one for each car. We live at the top of a lane and would not have been able to get out in the snow without the Auto socks. They are first rate.
Geoff B - 11/10/2014 | Vehicle type: Estate
AutoSock are a very effective way of driving to the nearest gritted road. I have purchased them for an Astra and a 3 series BMW. Neither car has any grip on snow. With the AutoSoc fitted the cars drives absolutely fine and enabled me to get out of our Close to the main road where I took them off as that road is normally cleared. The AutoSock is easy to store and compact. It is easy to fit to the Astra as there is a lot of clearance between the wheel and wing. The BMW is more difficult to fit as there is much less clearance between the rear wheels and the wheel-arch. It is possible to get them fitted with some element of perseverance and worth it one you have. I would recommend practicing fitting them when the weather is good. Once it has snowed and conditions freezing your hands get cold very fast. (I have also purchased a set for a Polo but these havent been used yet).
Matthew H - 11/10/2014 | Vehicle type: 4x4
You socks are fantastic in snow and icy conditions - very good
Frank C - 11/10/2014 | Vehicle type: Hatchback
Bought them three winters ago, principally for use at our cottage in Skye, which is half-way up a hill off the road. We'd been snowed in during the previous winter, so I did an internet search and found videos of the AutoSock. The videos looked convincing, so we bought them on the basis that if they worked, great: if not, it was always worth a try. As it turned out, they worked extremely well: we got up the hill on the snow with no problem at all. Excellent: highly recommended.
Tom S - 11/10/2014 | Vehicle type: Saloon
I own a BMW, so I knew that when the snow hit, it would be sat on the drive, but with the autosock, it drove out of my icy estate, ( I had to hang on to the roof rails to stop myself falling over) as if it was nothing. They were fantastic at getting in and out of ungritted estates to the main roads. I have since " upgraded" to a full set of winter tyres. But I still keep a set in the boot, I cannot rate this product high enough, I hate getting stuck in the snow, and now I have the reassurance, that I won't be.
Dominic P - 11/10/2014 | Vehicle type: Saloon
AutoSocks are excellent. I bought a set for my Honda S2000 which as you would expect is not the best vehicle for traction in snowy conditions, being a rear wheel drive sports car. Living in a rural location I face 4-5miles of non gritted roads before reaching a main road. My Honda is a daily driver so getting to and from home was a problem when it snowed. With AutoSocks in place I easily managed this journey on a number of occasions. Much to the surprise of the locals, who witnessed a sports car travelling on roads that were stumping 4x4's!! Traction was remarkable and I was even able to pull onto the side of country lanes to let others past, areas that were deeper in snow through lack of traffic. My advice is to buy a set and keep them in your boot. They are fairly easy to fit but do be sure to take them off mid journey when you reach a gritted road as per the instructions. You will be amazed, I was and still am each time I use them. Will certainly purchase another set when mine require replacing.
Don S - 11/10/2014 | Vehicle type: Estate
The best thing in the boot when winter comes
Christine F - 11/10/2014 | Vehicle type: Hatchback
Autosocks are a fantastic product. I live on the moors and drive an Audi TT. They are a little tricky to get on, particularly if the gap between your wheel and the wheel arch is not very wide. I keep a pair of rubber gloves with mine because it's more difficult if your hands are cold or wet. They are quite hard wearing; I am on my second pair in 5 years and we have had 4 very bad winters. They have got me home even when 4x4s have not managed it. My partner and I both keep a set in the car. They are great!
William P - 11/10/2014 | Vehicle type: Estate
Quick delivery. Easy to fit. Very effective.
Gerry B - 10/10/2014 | Vehicle type: Saloon
Fortunately have not had to use but good to know that it is in the boot if needed
Anthony C - 10/10/2014 | Vehicle type: 4x4
On 2nd pair having got 2 ski trips out of 1st pair before worn out. Mine lasted about 60km on soft & packed snow, ice & snow/ Tarmac. If you avoid the Tarmac bits as much as possible they last ok. Very effective on snow/ice and miles easier to fit than chains. Have done winding steep Alpine roads in all snow conditions, worked well. Put them on when hit the snow, remove when mostly Tarmac. I now have snow tyres but still keep a set in the boot. Great product.
Chris B - 10/10/2014 | Vehicle type: Saloon
After getting a BMW as a company car, I was recommended Autosocks by a colleague. Sure enough, I got stuck at a friends house in about half an inch of snow on a slight slope. I found autosocks a little fiddly to get on, but once they were on, it was like the snow wasn't there at all. I drove a mile up a steep hill to treated main road where I took them off. They saved the day. I have used them on my VW Passat in deeper snow along a country lane. Again I'm impressed with their performance. My next car is due soon and I will be buying another new set for this winter..
Simon K - 10/10/2014 | Vehicle type: Estate
Excellent product which works well and can be stored in the boot. Two slightly negative points are that you will probably get dirty fitting them to wet wheels and they do wear out if you drive on normal road surface as will often happen when the thaw sets in. Would I buy them again? Yes !
Martino M - 10/10/2014 | Vehicle type: Saloon
I bought Autosock because my car was totally useless in the snow. This was due to the fact that it had wide tyres and it was quite a heavy vehicle too. On new years eve a couple of years ago I was in Northern Ireland and it snowed while we were at a friends house. their house was at the bottom of a hill, and my car full with five people would not go up the hill at all. I slipped the AutoSocks on and the car went up the hill as well as if it was a 4x4 with snow tyres. It was so amazing that I could not talk about anything else for the next few days. Off course AutoSock are a "Get me out of trouble" solution, they are designed to be used on snow, so as soon as you get on a road that has been gritted, you must remove AutoSock immediately, otherwise you will destroy them within a few meters. Chains off course are more durable, but it takes a lot longer to fit them up, and good ones are very expensive, so if you change car and this has different tyres from your previous car, your expensive chains are no longer suitable. I still have my first pair of AutoSock, I must have bought these five or six years ago, I would say that I used them six or seven times, and they are still in good conditions, but as soon as they will need to be replaced I will most definitely buy them again, and off course from RoofBox.co.uk as their delivery was very quick.
John R - 10/10/2014 | Vehicle type: Estate
I live on the side of a hill which can be a challenge when the snow appears and have struggled on several occasions. With the snow socks, I can just drive away. Brilliant. Easy to use. Effective and good price. What's not to like?
Philip N - 10/10/2014 | Vehicle type: Saloon
My rear wheel drive Jaguar XJ just would not drive in snow regardless of any type of drive selection. After being stuck on the road outside my home (only after six neighbours helped push my car onto my drive, because I was blocking my narrow rural road) during the snows of 2010, I was advised by my Jaguar dealer to obtain snow-socks. These arrived within 24 hours and after being fitted allowed me to drive - slowly and with care - on the compacted snow covered rural roads. They are a bit difficult to fit on the 295mm wide tyres, but they work. Great product
Michael S - 10/10/2014 | Vehicle type: MPV
Great shot up the hill by me with three inches of snow with no problem at all, just past other traffic as if on a dry road, highly recommend them.
Lauren M - 10/10/2014 | Vehicle type: Hatchback
I absolutely swear by my auto socks and have encouraged all my family and friends to have them. I would not leave the house in winter if snow threatened and would panic if I was out. Once I got my auto socks it gave me confidence to drive what ever the weather. I was caught on the Leighton Buzzard rd in a Blizzard. Even Four wheel drives were struggling and many cars were stranded. I jumped out and quickly put on my socks and was home in half an hour whilst other cars were stranded for hours. Every car should have them and we would no longer have cars stranded . Thank you for saving me !
Barry T - 10/10/2014 | Vehicle type: MPV
Auto Sock are amazing!, easy to use and most importantly effective in keeping the car moving and secure on ice and snow. The ordering and delivery was slick and quick. So impressed with these would recommend to anyone. Thanks for a great product and service.
Marc W - 10/10/2014 | Vehicle type: Saloon
I live in a remote area that was difficult to travel to and from in the snow. However these autosocks made it possible with ease and i could get to the main highway then remove them easily and quickly. Fantastic product.
Richard S - 09/10/2014 | Vehicle type: Estate
Got stuck trying get uphill with my daughter in the car in heavy snow. She was scared and cars we sliding everywhere. I pit the socks on and drove up the hill to get home as if there was no snow! Fantastic!
Paul C - 09/10/2014 | Vehicle type: Estate
They do get quite dirty and you need to remove as soon as you are not on snow otherwise they work very well
About our reviews:
We test, and often use personally, almost all the products we sell, and we stand behind our comments and recommendations unless customers convince us they need changing. Our Customer Services and Workshop staff also have input into our recommendations.
But it's because we've learned a lot over many years that customer feedback is so important. Fresh, first time out opinions are the most useful ones, and in any event we certainly don't have access to the full range of vehicles that our customers have between them.
Product feedback from existing customers helps our new customers make choices, and also helps our suppliers with their product development.
We e-mail our customers a week or so after their order arrives and invite them to send in a review.
Some reviews are suitable for multiple products. Where appropriate we may, for example, use the same review for a number of different roof bar products where the only difference is the length of the roof bar.
Delivery charges and arrangements: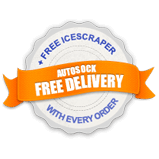 Free delivery offer for AutoSock! We have added a free delivery option for AutoSock orders that can be posted; we'll send them with Royal Mail Tracked. This covers all UK addresses except for any delivery address that includes a sea crossing.
See below for our normal delivery arrangements:Delivery charges and arrangements:
We charge a contribution towards delivery costs, depending on what you order, where you live, and how quickly you want the goods.
For most UK addresses, the charge for our two to three day service is £5.50 (£9.50 for orders including a roof box) and our charge for Next Working Day deliveries is £8.50 (£12.50 for orders involving a roof box). AutoSock, SnowGecko, shoe chains, RUD i-Sock, and small spare parts, are charged £3.95 (Royal Mail Tracked), £4.95 (Royal Mail Express Tracked) or £5.95 (express courier, usually Next Working Day).
There are different charges for any delivery including a sea crossing, and deliveries to Skye - we will contact you with a quote on receipt of order.
Orders for Next Working Day delivery need to be received by 4.00pm.
There are no deliveries on Saturdays, Sundays or Bank Holidays, except for postable items where Royal Mail has a Saturday delivery. Next Working Day orders placed on a Friday will be delivered on the Monday, Next Working Day orders placed on a Saturday will be delivered on the Tuesday.
We are very flexible with our deliveries and will aim to deliver on a day and at an address which suits you. Goods can usually be left without signature - we prefer this with roof boxes. There's a "Special Delivery Instructions" box in the checkout area where we'll ask you to choose a typical instruction and then amend it to suit your particular requirements.
No retailer or courier company can ever "guarantee" a Next Working Day delivery. All courier companies occasionally have the same transport problems as can happen to everyone else, including snow blocked roads, closed roads, traffic jams, mechanical breakdown, an inability to find the delivery address, or to gain access to it if, for example, it's in a block of flats. We work with some of the best couriers in the business, and overall they provide an outstanding service.

AutoSock are taking robust action against patent infringement and want their customers to be aware of the situation; these notes are a summary of their recent statements on this issue.
AutoSock created and developed the "car snow sock" concept, and is the registered holder of all relevant patents. Their main European Patent is EP 1165329 which is operational in all European countries. They have similar patent protection in North America and Japan.
After the last few UK and Irish winters there are unprecedented numbers of copies in these markets; legal activity for patent infringement is either in progress or may be taken against many of these distributors and resellers, some of whom are household names and must have been very badly advised.
Some of the copies and counterfeits are relatively very cheap - as products can be if there are no research and development costs, and if materials and manufacture are of poor quality.
We hope that our potential fleet customers in particular will wish to be confident that the products they use have proper product liability insurance, as AutoSock has.
Some of the distributors of copy products seem to be taking leave of their senses and are making increasingly extravagant claims. These might include
statements about German and Austrian testing agency approvals (TÜV and ÖNORM). Some do indeed have these approvals; some claim to have them but do not.
statements about the patents they have registered. This is a "smoke and mirrors" trick, designed to deceive. We usually use a wrist watch as an analogy for this sort of activity: AutoSock has patented the bit of the watch that tells the time, the relevant bit; others have taken out irrelevant patents on e.g. the strap fixings, but they still attach the "patented" word to the whole product.
Warnings to "Beware of copies!" (Some credit should be given to resellers who have at least attempted to write their own copy instead of lifting it from official AutoSock sites!)
Warnings to "Beware of Chinese copies," apparently forgetting that their products are themselves made in China. There is nothing wrong with being "Made in China" - what is foolish is to presume that the factories who make and sell this stuff at knockdown prices are authorised to do so.
Recent EU court decisions include:
A preliminary injunction against Siepa and its Austrian and German distributors by the Higher District Court of Düsseldorf, Germany. The penalty for a violation of the judgment is up to €250,000 per incident. Siepa brands include Goodyear and Fix&Go.
An injunction against the Trendy distributor in Norway by the Court of Telemark. Trendy branded products have been withdrawn.
A preliminary injunction against one embodiment of WeissSock by the Higher District Court of Düsseldorf. The penalty for a violation of the judgment is up to €250,000 per incident.
A preliminary injunction against one embodiment of MultiGrip by the Higher District Court of Düsseldorf. The penalty for a violation of the judgment is up to €250,000 per incident.

Here are some notes about what to expect from AutoSock, and some tips about how to get the best use from them:

General driving tips
First of all, please read the instructions, especially the comment "Avoid spinning the wheels, extreme braking and acceleration, since this could damage the product."
The usual rules of driving in snow apply, i.e. pull off slowly, stay in as high a gear as possible, "anticipate" even more than normal, avoid hard braking.
The speed limit of 30mph / 50kph will seem quite fast enough on snow. It is a maximum speed, not a recommended speed!
How long will they last?
Fundamentally, the more you drive on clear roads / gritted tarmac, the faster they will wear out and the sooner you will need to buy another set.
They are a "Get you out of trouble" solution and are not intended for prolonged use. You will probably use them to get down to the gritted road, then you take them off ASAP it is safe to do so.
From the instructions: "The wear limit is reached as soon as 50% of the white road-contact fabric is worn out and the underlying black safety material has become visible."
You will find that small holes start to appear as they become worn. This is no big deal and will not affect their performance until it becomes obvious that they are looking ragged and well worn – then they need replacing. If they are ripped, this is due to snagging on e.g. a loose mudguard, a loose screw on a wheel arch liner, some other third party influence. (If you hear them catching on something, stop and sort it out!)
There are bands of Kevlar running across the AutoSocks; these provide overall strength, help to prevent the socks from splitting after misuse, and help prevent holes from spreading.
Overall, use your commonsense about how long to use them, and of course and where possible you should avoid potholes, raised manholes etc.
Fitting them
Fitting is very easy on most vehicles, more difficult on a few. The most difficult vehicles to fit are – no surprise – rear wheel drive cars with limited clearance. If you can't get your forearms into the space between the wheel and the wheel arch, fitting will be difficult. But blame the car, not the AutoSock! If they are a very tight fit, too tight, please let us know because there is obviously a size issue that we need to learn about.
Specific driving tips
Some suggestions for situations where AutoSock are not making the difference expected:
On a rear wheel drive car, uphill slope, sheet ice: You need some weight in the boot – it makes all the difference. Don't just spin the wheels and trash the AutoSock.
On a hill in really slushy snow. You may drive forward then slip. The AutoSock are sticking to the snow but there isn't enough strength in the snow to hold the weight of the vehicle. Roll back down a few feet, compressing the snow and driving out the water. Then try again, moving further up the hill than before. Three steps up, two back.

AutoSock may now be used in France as an equivalent snow chain product. Here is an extract from the Gendarmerie web site which those going to France would do well to print out and take with them, just in case the local Gendarmerie questions this change in regulations:

Click here to visit the Gendarmerie website link

Here is an extract. We have moved the "Les chaussettes" section to the top of the list:

Pneus à clous, chaînes...tout ce que vous souhaitez savoir sur les équipements spéciaux avant de prendre la route.
Les chaussettes:
Elles sont autorisées et utilisables en présence du signal B26 si la marque qui les distribue a bien notifié sur l'emballage que leur produit est utilisable en présence de ce panneau. Equipé de chaussettes, un véhicule doit respecter une vitesse limite, fixée par le constructeur, de 50km/h. Afin d'éviter une usure rapide, elles ne doivent pas être utilisées sur sol sec. Ces équipements de substitution ne peuvent, en aucun cas, remplacer des chaînes traditionnelles dans des conditions extrêmes.
Les pneus cloutés ou à crampons:
L'arrêté ministériel des Transports du 18 juillet 1985 stipule que ces dispositifs peuvent être utilisés du samedi précédant le 11 novembre au dernier dimanche de mars de l'année suivante. Si les conditions atmosphériques l'exigent et après avis du directeur départemental de l'Equipement, les préfets peuvent modifier les dates de la période d'utilisation effective prévue ci-dessus.

La vitesse maximum de déplacement est limitée à 90km/h pour les voitures particulières équipées de pneus cloutés ou crampons, mais également pour les transports de marchandises d'un PTAC inférieur ou égal à 3,5 tonnes et pour les transports en commun de personnes.
Les chaînes:
Elles sont autorisées seulement sur les routes enneigées, quelle que soit l'époque. Elles deviennent obligatoires sur les tronçons de route enneigée munis d'un panneau « équipements spéciaux obligatoires » ( signal B26).
Les « pneus contact » ou « pneus neige »:
Leur utilisation n'est pas règlementée. Toutefois, sur les tronçons équipés du signal B26, si la mention « pneus neige admis » n'est pas précisée, le conducteur devra utiliser des chaînes.
Sources: Sirpa Gendarmerie