4pets ProLine TÜV approved dog cages
The 4pets ProLine range has been replaced by the 4pets PRO range. The PRO range builds on the success of the ProLine range, the major change being the addition of a high-tech energy-absorbing back panel, designed to make an even better job of absorbing energy than the ProLine range achieves. View the NEW 4pets PRO range
ProLine cages are still excellent, of course. We are selling off our remaining ProLine cages at relatively very cheap prices; the aim is to make them an exceptional value for money deal - you'll be saving over 35% on the cost of the equivalent PRO cage.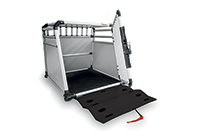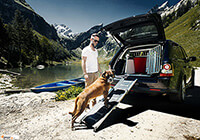 100kg weight capacity
160cm fully extended
71cm when collapsed
40cm wide
11.5cm deep when collapsed
weighs 5.4kg
Swiss made
The Eagle S is suitable for medium to large dogs, including for example Labrador Retrievers.
It's 68.0cm wide, 68.6cm high, and 73.5cm long.
All our prices include VAT at 20%