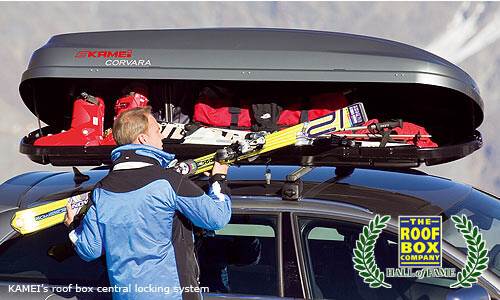 "What's new?"
This is a question we are often asked. Most years there are new products, but they're usually just variations on a theme. Looking back over the last ten years or so, we can really only identify five fundamental changes in product design that genuinely make a massive difference to real world usefulness and satisfaction. Here's our "Hall of Fame":
1. KAMEI's roof box central locking system, unlocked with a quarter key turn, but locked again just by pulling the box shut, was a huge leap forward. All other central locking systems still require the key to be turned and, at the same time, both the front and the rear of the box to be properly closed – which is a three handed operation if there is bulky gear in the box, holding up the lid, or if the base is sagging due to incorrect loading or a weak base. Central locking is the bugbear of many otherwise decent roof boxes - it shouldn't take two people, or the temporary use of straps, to close a roof box! Full marks to KAMEI.
2. Whispbar by Prorack's S-wing roof bars have a wing shaped blade that creates negligible drag, minimising both wind noise and fuel consumption. And the same foot is used for all the different fitting styles, from gutters to roof rails – you usually only need a new adapter kit. Other bar manufacturers have aerobars which are certainly quieter and smarter looking than their rectangular profile bars, but the Whispbar is almost 70% quieter – this is therefore much more than just a step change in technology.
3. AutoSock car tyre 'socks', maximising dry friction knowledge, make a truly extraordinary difference to driving on ice and snow. If more people knew about them and carried them in case of occasional snow or ice then certain parts of the UK would not find themselves in such difficulties every time it snows! They work superbly well even on wet snow, that really slippy slushy stuff. They're equally good on ice, and don't mind occasional use on normal tarmac, i.e. in between stretches of ice and snow.
4. The Dog Bag pet carrier, a fabric dog enclosure, is another product of its time, requiring both super strong materials as well as a greater amount of quality stitching work than could be delivered in the EU for an acceptable price – it is proudly "Made in China". Dog Bag is fundamentally a much gentler, warmer, and all round snugger refuge for a pet than a steel cage or a plastic crate. The base is square rather than rectangular so it takes up less space in the boot of the car, and the top of it squashes down in low ceiling cars. Many dogs that are known "bad travellers" cope much better in a Dog Bag than in anything else. Many of our customers now swear by this product, even telling us that they now take their dog away for the weekend when once they just wouldn't go away at all.
5. Atera's STRADA tow bar bike carrier slides away from the tow ball to allow good access to the tailgate, taking the weight of the bikes, rather than using a fiddly arrangement that tilts around the tow ball. It's a brilliant concept, obvious really, but not so obvious that someone had thought about doing this before. It also has a very innovative self-adjusting tow ball fixing system, the fastest we've ever seen.

Click on the magnifying glass logo, wherever you see it, to find out which products have been specifically approved for use on your vehicle.