BUZZ RACK Pilot 2 bike strap on rack no. BRT302
RRP:

£180.00



Code:

BRT302_W
Overview
:
High-mount rack that fits a wide range of cars.

The bikes are held in wheel trays so it will accommodate a wide range of different styles and sizes of bikes.
Click to pre-order
We will notify you by email when we have an estimated despatch date. You will not be charged until your order is ready for despatch.
High-mount rack that fits a wide range of cars.

The bikes are held in wheel trays so it will accommodate a wide range of different styles and sizes of bikes.
The BuzzRack Pilot is a robust rack that will carry up to two bikes and fits many cars. It attaches to the tailgate using six straps with coated hooks. Foam pads on the rack also protect your bumper / tailgate.
Other great features of this easy-to-use rack include:
The frame has a shock absorber system to reduce vibration
Weight 9.2kgs
The wheel supports adjust to fit most sizes of bikes
The soft, quick-release wheel straps fit most rims and tyre sizes
The lockable bike arms are lined with a soft rubber to protect your bike's paintwork
Supplied fully assembled – ready to mount to your car
The wheel support frame folds up when not in use
Please note that you cannot use rear fixing carriers on cars with rear spoilers, or on vehicles where modifications to the roof or tailgate would have an effect on the fitting of the carrier. Find a different solution - either roof mounting and/or tow bar mounting.

Important fitting information: You must either disable or not use the rear windscreen wiper when this bike carrier is mounted.
Delivery charges and arrangements:
We charge a contribution towards delivery costs, depending on what you order, where you live, and how quickly you want the goods.
For most UK addresses, the charge for our Standard two to four day service is £6.50 (£11.50 for orders including a roof box) and our charge for Express Delivery (one or two days) is £9.50 (£14.50 for orders involving a roof box). AutoSock, shoe chains, RUD i-Sock, and small spare parts, are charged £3.95 (Royal Mail Tracked), £4.95 (Royal Mail Express Tracked) or £5.95 (courier, usually Express Delivery).
There are different charges for any delivery including a sea crossing, and deliveries to Skye - we will contact you with a quote on receipt of order.
Orders for Express Delivery need to be received by 2pm.
When will my order arrive?
There are no deliveries on Saturdays, Sundays or Bank Holidays, except for postable items where Royal Mail has a Saturday delivery. Express Delivery orders placed on a Friday should be delivered on the Monday or Tuesday, Express Delivery orders placed on a Saturday should be delivered on the Tuesday or Wednesday.
What about Next Working Day delivery? 
We have offered a reliable Next Working Day service for well over 20 years but, due to the pressure on the couriers caused by the coronavirus crisis and the huge increase in online shopping, we can no longer be confident about the delivery date, which is why we now call the service 'Express Delivery'.  Many Express Delivery orders will arrive on the next working day, but some will arrive on the second working day, or be split between these two days. So-called "split deliveries" happen when the couriers do not have enough trailer space for everything that should be moved around the UK, so they will load what they can, and leave the rest for the next trailer.
Is my delivery day guaranteed?
No retailer or courier company can ever "guarantee" a Next Working Day delivery. As well as split deliveries, all courier companies occasionally have the same transport problems as can happen to everyone else, including snow blocked roads, closed roads, traffic jams, mechanical breakdown, an inability to find the delivery address, or to gain access to it if, for example, it's in a block of flats. We work with some of the best couriers in the business, and overall they provide an outstanding service.
Do I need to be at home?
We are very flexible with our deliveries and will aim to deliver to an address which suits you – this does not need to be your home address. Goods can usually be left without signature - we prefer this with roof boxes. There's a "Special Delivery Instructions" box in the checkout area where we'll ask you to choose a typical instruction and then amend it to suit your particular requirements.
Payment options:
We take the following cards, and also PayPal. Please note that the entry on your card statement will be from "The Roof Box Company".
Secure payments
Our website is secured by Sectigo (formerly Comodo CA), the largest commercial Certificate Authority in the world.
Lighting Boards
The bikes may obscure the lights on the back of this vehicle so you may also need a lighting board (listed below) when using a boot mounting rack on this car. Lighting boards are not expensive but you will need to have a socket fitted for the lighting board to plug in to. If you contact your local garage or auto-electrician they will be able to quote you for a socket.
Number Plates
If your bikes also obscure the number plate you will also need to get a new number plate made up. You will need to get this done locally and take your vehicle documents and proof of address with you.
Artificial cross bars
If you have any bikes without a traditional cross bar these would require an 'artificial cross bar' to allow them to hang off the arms of these racks, these are listed below.
Spoilers/Tailgate design
It's not possible to fit this rack to a car with a spoiler.
It's not possible to use this rack if your tailgate has a glass or plastic edge.
Opening the boot
It's not possible to open the boot of the car with a rear door fitting rack without first removing the bikes.
Rear Wipers
It's not possible to operate your rear wipers when using a boot mounted rack.
Parking Sensors
If your bikes are positioned in front of the parking sensors you may find they have an effect on how they work.
Technical specifications at a glance:
Max number of bikes: 2
Dimensions: 102 x 51 x 20cm
Weight: approx 9.2g
Max load capacity: 30kg
Max weight per bike: 15kg
Bike carrier to car lock: no
Bike carrier to bike lock: yes
Guarantee: 3 years
We offer our existing customers a full "Next Day if possible" spares service, and will cannibalise new stock as required to find you the parts you need.
To find the spare parts you need, please see the diagram below, identify the product codes, then choose them from the list below. If you need more than 1 of any item, change the quantities in the Shopping Basket.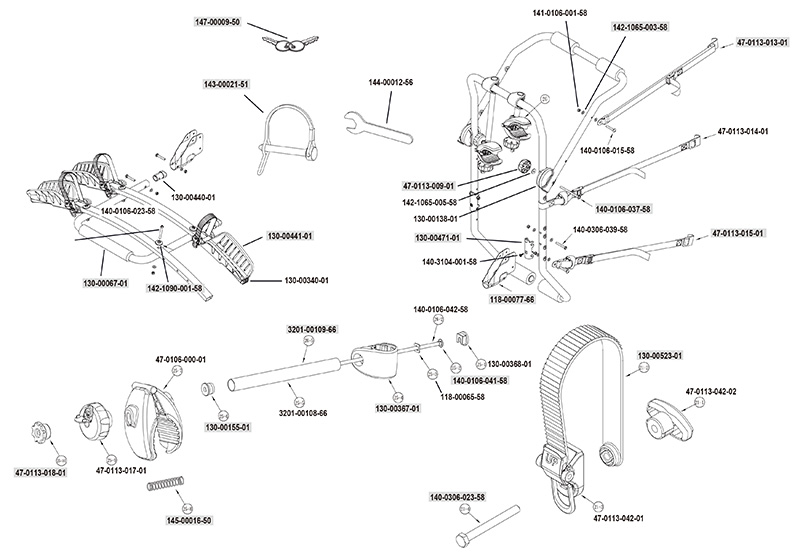 Delivery charges and Payment options