Thule Motion XT M gloss black roof box no. 629201 - return no. 565
Overview
:
The Motion XT M is stylish and spacious. It's TÜV approved for loads up to 75kg and comes as standard with a "glossy black" lid on a matt black base.
Dual Side opening with lid handles
Power-Click box to bar fittings
'SlideLock' system indicates when the box is closed securely
Click here to order
The Motion XT M is stylish and spacious. It's TÜV approved for loads up to 75kg and comes as standard with a "glossy black" lid on a matt black base.
Dual Side opening with lid handles
Power-Click box to bar fittings
'SlideLock' system indicates when the box is closed securely
Condition report: Unused but damaged in transit. It has a crack on the lid (approximately 14cm long). See the images above for more detail.
The Motion XT is stylish and spacious. It's TÜV approved for loads to 75kg and comes with a glossy black lid on a matt black base. It is designed to have a forward position on the car roof, looking neat and leaving more room at the rear of the vehicle to open the tailgate.
Key features and specifications:
Dual Side opening with lid handles so you can choose to use it on either side of the vehicle, and to make for easier fitting and removal.
There's a Thule 'One Key System' compatible central locking system on each side of the box.
Easy to open and close in all conditions thanks to grip-friendly handles and supporting 'lid-lifter' struts.
'SlideLock' locking system automatically locks the lid in place and red indicator tabs let you know that the box is securely closed.
"Power-Click" box to bar fittings. You just turn each wheel to draw the fitting claws around the roof bars, making this box easy to fit to both standard steel and wider aluminium roof bars – maximum dimensions 90mm wide by 30mm deep - they fit all the bars we sell. These fittings also make it easier to fit boxes to unusual shaped manufacturers' "own brand" bars, but these bars must be symmetrical in shape for the Power Clicks to work properly.
If you're using aerobars, and want to maximise the space in the box, we recommend that you remove these fittings (they lift out very easily) and instead use Thule's T-track aerobar adapters (listed below) which provide an invisible box to bar fitting as well as allowing you to make full use of the box capacity.
Box weight 17.5kg. Before loading the box, check your vehicle's maximum permitted loading limit, taking into account the weight of the roof bars, the weight of the box, and the weight of the contents.
Dimensions: External 175cm x 86.5cm x 46cm. Internal 75.5cm wide x TBAcm (it depends on what you pack, and where, and whether you use Power Clicks or aerobar adapters).
Carrying skis? The Motion XT M will hold 4 to 6 pairs of skis, maximum length 155cm. There's a ski carrier accessory available separately, shown below (this only works with the original PowerClick fittings, not the optional T-track aerobar adapters).
Roof bar geometry: The maximum distance between roof bar centres is 93cm, the minimum distance 56cm.
Guarantee: 5 years
Technical Specifications at a glance:
External dimensions: 175cm x 86.5cm x 46cm
Internal dimensions: 75.5cm wide
Volume: 400 litres
Weight: 17.5kg
Max load capacity: 75kg
Max pairs of skis: 4-6 (max length 155cm)
Opens from: both sides
Type of struts: dual force springs
Fits bars up to: 90(w) x 30(d) mm, aerobar adapters available (see below)
Distance between roof bar fittings: 56 – 93cm
Distance from rear of box to rear roof bar: minimum 45cm
Guarantee: 5 years
Colour: black
Aerobar adapters are required for T track bars measuring more than 90mm(w) x 35mm(d) and also for T track bars that are not symmetrical. These include Audi bars and Thule SlideBars.
Fitting tips: A box is generally easier to load and unload if it's fitted towards the edge of a vehicle; you'll probably always be stretching if you fit it centrally. If you want to keep your Motion in pristine condition, don't place or store it on tarmac, gravel or concrete.
Packing tips: Our general advice on packing roof boxes is that bags / grips are much easier than suitcases. And if you can't get your child's buggy in the box, which is probably what you'd hoped for, and why you purchased a particular box, put the buggy in the boot and the luggage in the box. "I've bought the biggest box and my buggy doesn't fit" is a frequent complaint!"

Please click here or on the pdf symbol below to see the fitting instructions:



We offer our existing customers a full "Next Day if possible" spares service, and will cannibalise new stock as required to find you the parts you need.
To find the spare parts you need, please see the diagram below, identify the product codes, then choose them from the list below. If you need more than 1 of any item, change the quantities in the Shopping Basket.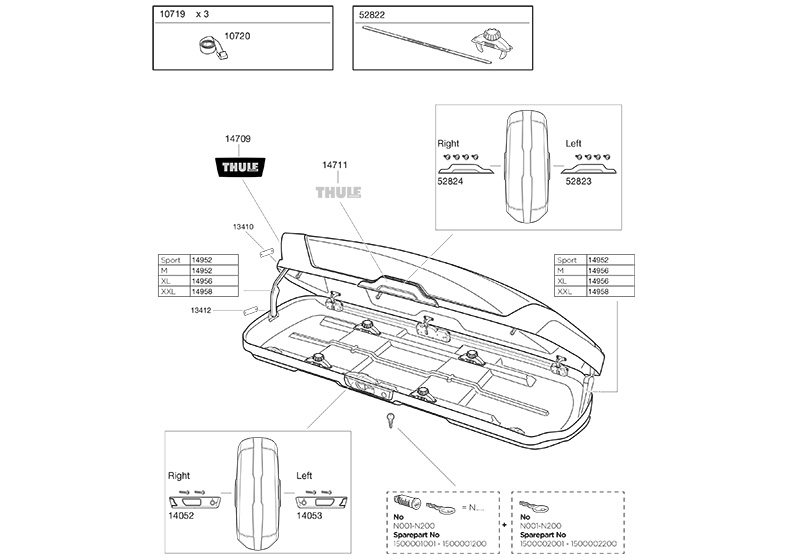 Delivery charges and arrangements:
We charge a contribution towards delivery costs, depending on what you order, where you live, and how quickly you want the goods.
For most UK addresses, the charge for our two to three day service is £5.50 (£9.50 for orders including a roof box) and our charge for Next Working Day deliveries is £8.50 (£12.50 for orders involving a roof box). AutoSock, shoe chains, RUD i-Sock, and small spare parts, are charged £3.95 (Royal Mail Tracked), £4.95 (Royal Mail Express Tracked) or £5.95 (express courier, usually Next Working Day).
There are different charges for any delivery including a sea crossing, and deliveries to Skye - we will contact you with a quote on receipt of order.
Orders for Next Working Day delivery need to be received by 4.00pm.
There are no deliveries on Saturdays, Sundays or Bank Holidays, except for postable items where Royal Mail has a Saturday delivery. Next Working Day orders placed on a Friday will be delivered on the Monday, Next Working Day orders placed on a Saturday will be delivered on the Tuesday.
We are very flexible with our deliveries and will aim to deliver on a day and at an address which suits you. Goods can usually be left without signature - we prefer this with roof boxes. There's a "Special Delivery Instructions" box in the checkout area where we'll ask you to choose a typical instruction and then amend it to suit your particular requirements.
No retailer or courier company can ever "guarantee" a Next Working Day delivery. All courier companies occasionally have the same transport problems as can happen to everyone else, including snow blocked roads, closed roads, traffic jams, mechanical breakdown, an inability to find the delivery address, or to gain access to it if, for example, it's in a block of flats. We work with some of the best couriers in the business, and overall they provide an outstanding service.
Payment options:
We take the following cards, and also PayPal. Please note that the entry on your card statement will be from "The Roof Box Company".
Secure payments
Our website is secured by Sectigo (formerly Comodo CA), the largest commercial Certificate Authority in the world.
Our unique FREE Thule lock matching service
Delivery charges and Payment options