Thule silver ProRide 598
Thule have managed to improve on their best-selling 591 bike carrier with the new 598. It's very well designed and easy to use.

Do you need roof bars as well? If so, please check out our superb package deals - see below.
Click here to order
Thule have managed to improve on their best-selling 591 bike carrier with the new 598. It's very well designed and easy to use.

Do you need roof bars as well? If so, please check out our superb package deals - see below.
The Thule ProRide 598 is a very well thought out, well made bike rack. It's quick and easy to install, easy to use, and looks great.
What makes this a 5 star product:
The frame holder will stay in whatever position you place it in, so you can position it before lifting the bike onto the roof.
The shape of the aluminium bottom tray isn't just designed to look good. Assuming that you are parked on the flat, or facing slightly downhill, the bike will roll forwards into the jaws of the frame holder, i.e. less strain, better safety.
The plastic wheel holders have an edge to them so you're less likely to overlift, i.e. dump the bike beyond the bike carrier and onto the car roof.
Diagonal, quick-release wheel straps hold your bike securely.
When the bike frame is resting in the frame holder you'll support it with one hand and use the other to turn the tensioning knob which is probably at shoulder level. This has a one way ratchet, i.e. the frame holder will click shut one notch at a time, click, click, click. You'll hear a big click when the frame holder is tight enough. This is what Thule call their "torque limiter dial".
You release the frame holder with a push button; it releases entirely, making it easier to take the bike off.
It comes complete with 20mm x 20mm adapters for aluminium T-track section bars, suitable for all the aluminium bars we sell. If you have square (32 x 22mm) bars or other aerobar types, e.g. BMW, then you need adapters (shown below).
Other important info:
Fits T-track aluminium roof bars with a 20mm channel (adapters available for other bars).
Fits bikes with down tubes from 22mm to 80mm diameter (up to 80 x 100mm for oval frames).
Fits wheels up to 3" (adapters available for 3-5" tyres).
Maximum bike weight: 20kg
There's no official guidance from Thule but we have used this rack with bikes as large as 29ers.
Weight: 4.2kg
Each 598 has two One Key System locks - one locks the carrier to the roof bars, the other locks the bike to the carrier.
It's easy to change from left to right hand mounting to load you bike from either side of the car.
It's TÜV approved and meets the "City Crash Test" criteria.

This carrier is priced as low as £112.95 - if you order more than one roof mounting bike carrier, any brand, any price, we'll give you our cheapest Multi Buy price:
Buy 1 = £112.95 each
Buy 2 or more = £109.95 each

There are even bigger savings if you buy roof bars at the same time! If you need roof bars as well, please check out our discounted Package Deals - whichever CRUZ, Atera or Yakima roof bars you need for your car, (locks included), together with 2, 3 or 4 Thule 598s, all for a fixed price, whatever vehicle you have! We even have a Thule lock matching scheme where you pay what is in effect a deposit and get the whole lot back when the randomly numbered lock barrels are returned.

Exchange scheme: Roof mounting bike carriers are part of our 90 day exchange scheme. The bottom line is that if you aren't satisfied that the ProRide 598 fits the bill you can exchange it for an alternative roof mount, or a tow bar bike rack.
Made in Poland.

Delivery charges and arrangements:
We charge a contribution towards delivery costs, depending on what you order, where you live, and how quickly you want the goods.
These are our standard charges; there are usually surcharges for all offshore destinations and some remote postcodes - for details please see our delivery information page.
| | | |
| --- | --- | --- |
| Express Delivery | £ 9.50 | 1 to 2 working days |
| Standard Delivery | £ 6.50 | 3 to 4 working days |
Delivery of other items
| | | |
| --- | --- | --- |
| Express delivery | £ 6.95 | 1 to 2 working days |
| Standard delivery | £ 4.95 | 3 to 4 working days |
| | | |
| --- | --- | --- |
| Express Delivery | £ 19.50 | 1 to 2 working days |
| Standard Delivery | £ 14.50 | 3 to 4 working days |
| | | |
| --- | --- | --- |
| Express Delivery | £ 19.50 | 2 working days |
Delivery times
Delivery times are calculated in working days (Monday to Friday, excluding Bank holidays).
Cut-off times for Express Delivery orders
Express Delivery orders placed before before the cut-off times shown below will usually be desptached on the date of order. Express Delivery orders placed after these cut-off times will be despatched the next working day.
| | |
| --- | --- |
| Small and Standard Sized Items | Order by 4pm for same day despatch |
| Roof Boxes, Dropracks and Roof Tents | Order by 1pm for same day despatch |
Delivery FAQs
When will my order arrive?
There are no deliveries on Saturdays, Sundays or Bank Holidays, except for postable items where Royal Mail has a Saturday delivery. Express Delivery orders placed on a Friday (before 1pm) should be delivered on the Monday or Tuesday, Express Delivery orders placed on a Saturday or Sunday should be delivered on the Tuesday or Wednesday. The arrangements for Very Heavy Items are different and are shown above.
What about Next Working Day delivery?
We have offered a reliable Next Working Day service for well over 20 years but, due to the pressure on the couriers caused by the coronavirus crisis and the huge increase in online shopping, we can no longer be confident about the delivery date, which is why we now call the service 'Express delivery'. Most Express delivery orders will arrive on the next or second working day, but some will arrive on the second or third working day, or be split between these days. So-called "split deliveries" happen when the couriers do not have enough trailer space for everything that should be moved around the UK, so they will load what they can and leave the rest for the next trailer.
Is my delivery day guaranteed?
No retailer or courier company can ever "guarantee" a Next Working Day delivery. As well as split deliveries, all courier companies occasionally have the same transport problems as can happen to everyone else, including snow blocked roads, closed roads, traffic jams, mechanical breakdown, an inability to find the delivery address, or to gain access to it if, for example, it's in a block of flats. We work with some of the best couriers in the business, and overall they provide an outstanding service.
Do I need to be at home?
We are very flexible with our deliveries and will aim to deliver to an address which suits you – this does not need to be your home address. Goods can usually be left without signature - we prefer this with roof boxes. There's a "Special Delivery Instructions" box in the checkout area where we'll ask you to choose a typical instruction and then amend it to suit your particular requirements.
Payment options:
We take the following cards, and also PayPal. Please note that the entry on your card statement will be from "The Roof Box Company".
Secure payments
Our website is secured by Sectigo (formerly Comodo CA), the largest commercial Certificate Authority in the world.
Make life easier and save yourself the hassle of carrying lots of different keys for your Thule products, e.g. your Thule roof bars, bike carriers and roof box, with our Thule lock matching service. It will mean that you will be able to secure and unlock all your items with a single key.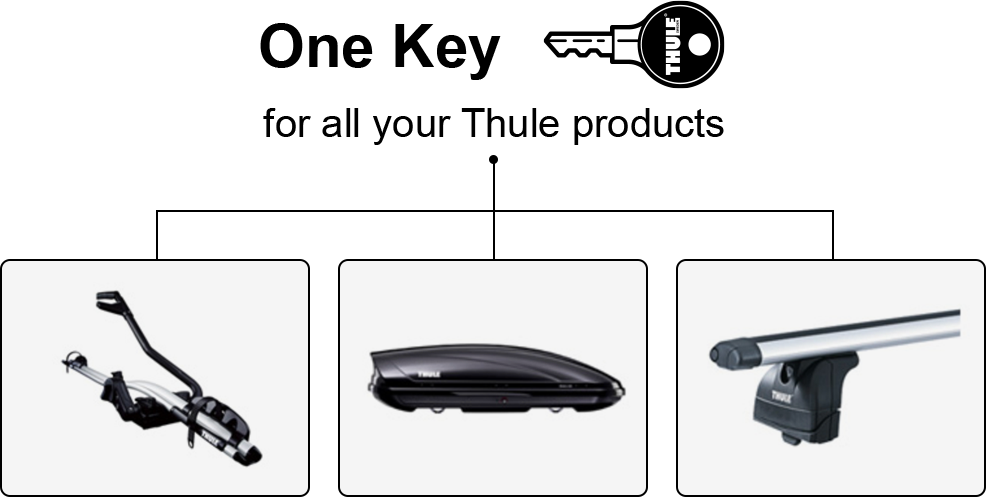 Our unique service provides all the matching Thule locks and keys you require**. Once you've swapped your locks over and posted them back to us, we will refund 100% of your 'deposit'. The only cost to you will be the postage cost when returning the non-matching locks.
** Up to a maximum of 20 locks
How our Thule lock matching service works
1

Calculating the number of locks required in the shopping basket

We will automatically calculate the number or locks required for the Thule products that you have in the basket.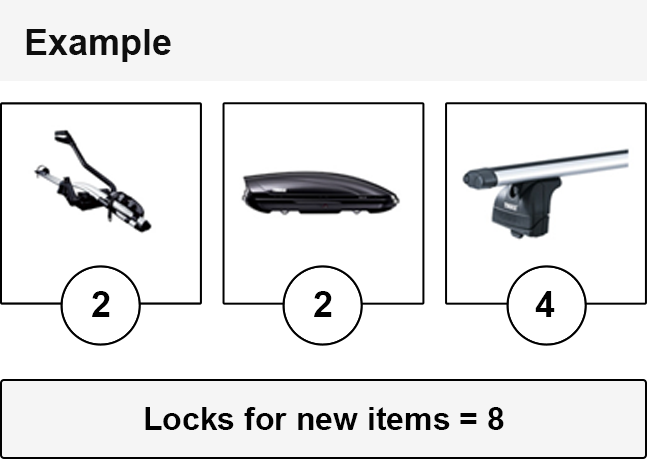 Enter the number of lock barrels for the Thule products that you already own (there's a box on the basket page for this)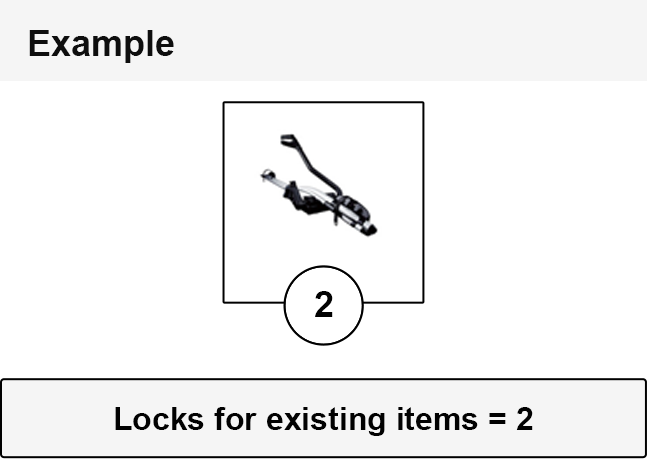 2

Pay the deposit for the matching Thule locks

Complete your order online, which will include the deposit for the matching locks. We will then process your order and get your matching locks sent out along with any other items on your order.
3

Replace the existing locks with the matching locks

When your order arrives, remove the existing lock barrels and replace them with the matching locks that we have sent you.

Don't forget to make a note of your new lock / key number, just in case you lose your keys in the future. Visit our KeySafe page to send us your key numbers and we'll store these on your account.

Send us your key numbers
4

Return the non-matching locks back to us

Complete the enclosed return form and post the non-matching locks back to us.
5

We'll refund the deposit that you paid

When we have received the existing lock barrels we will process your refund and the deposit will be refunded back to your card. The only cost to you will be the postage cost to return the non-matching locks.
Deciding which bike carriers to buy is not always easy, especially as you may not have had experience of using bike carriers before. We hope that our buying guides provide useful guidance about which bike carrier 'strategy' will be most appropriate for your circumstances, as well as highlighting the best features of particular models. We also have troubleshooting FAQs - for example, some customers struggle at first to fit four bikes onto a tow ball carrier, and wonder whether a different carrier would allow the bikes to be spaced wider apart. (It won't, but we have some good tips which make bike fitting much easier.)
Our bike carriers Exchange Scheme covers roof mounting and tow ball mounting bike carriers only. Rear door mounting / strap on carriers are not included, and nor are roof bars. It allows you to exchange within 90 days of invoice date. Most exchanges are for roof mounting upgrades, or are tow ball carriers with very basic tilting systems being exchanged for easy to use sliding / tilting carriers.
These are the rules of the bike carriers Exchange Scheme:
You are allowed one exchange only.
The original equipment must be in "as new" condition, subject only to fair wear and tear.
The replacement items must be different models from the originals. Not just an alternative colour.
The replacement items must not be part of a package deal or be from our Bargains section.
Roof bars are never part of the Exchange Scheme.
This is how the exchange scheme works:
We charge in full for the replacement items, including the appropriate carriage charge and a charge for any packaging needed for the return of the originals.
We pay the return carriage costs.
When the originals arrive back here we refund you for their invoice value, but you won't get back more than the invoice value of the replacements. In other words, if the replacements are cheaper than the originals we won't be giving you "extra cash back".
Please note: we can only collect items from mainland UK.
To find the spare parts you need, please see the diagram below, identify the product codes, then choose them from the list below. If you need more than 1 of any item, change the quantities in the Shopping Basket.

Fitting PDFs
Thule ProRide 598 - how to fit
Roof bar compatibility
Steel (22mm x 32mm) barsYes with adapter TU8895
Aero barsYes. includes fittings for all the T-track aluminium bars we sell (adapters required for some OEM bars)
Bike compatibility
Maximum number of bikes1. (per carrier)
Downtube dimensions up to 100mm diameter (max 80 x 100mm oval, 22-80mm diameter round)
Maximum bike weight20kg
Fits tyre widths up to3 inches (5 inches with adapter TU5981)
Maximum wheelbase1235mm
Maximum wheel size29 inches
General information
BrandThule
Guarantee2 years. (plus an extra 3 years if you register the product with Thule)
Length1450mm
Width325mm
ColourSilver
Security
Bar to carrier lockYes
Carrier to bike lockYes
Specification PDFs
Delivery charges and Payment options
Our unique FREE Thule lock matching service
Our 90 day Exchange Scheme
Fitting instructions and videos