Atera SIGNO RTD 122cm black aero-profile aluminium bars
RRP:

£200.00



Code:

AR8622
Overview
:
Atera's low noise, low drag aerofoil bar profile trumps all others for useability, quite apart from its superb design and looks!
The big breakthrough is that you don't need to plug the slots with rubber strips to keep them quiet. All the details are really well thought out, and they exude quality at every level.
These bars will fit most popular vehicles with flush mounted roof rails, making them superb long term value.
Our Best Buy roof bars for vehicles with flush roof rails!
Click to pre-order
We will notify you by email when we have an estimated despatch date. You will not be charged until your order is ready for despatch.
Atera's low noise, low drag aerofoil bar profile trumps all others for useability, quite apart from its superb design and looks!
The big breakthrough is that you don't need to plug the slots with rubber strips to keep them quiet. All the details are really well thought out, and they exude quality at every level.
These bars will fit most popular vehicles with flush mounted roof rails, making them superb long term value.
Our Best Buy roof bars for vehicles with flush roof rails!
Atera's SIGNO RTD aluminium bars are sold as a complete package, ready to fit. They're our Best Buy for cars with flush mounted roof rails. 3 reasons: (1) The aero-profile aluminium bar is the most user-friendly profile available anywhere (2) The innovative feet and clamps have been tested and approved for use on well over 50 different vehicles, and more will be added as time goes on; other flush rail systems usually require a different adapter kit for every vehicle (3) These good looking bars exude quality, with numerous smart features, including a torque tool tightening system that's really easy to use.
We've watched the development of Atera's aero-profile over several years and have seen how they've been refined and refined, with a lot of wind tunnel testing, to achieve optimum efficiency - low noise and low drag - despite not having any rubber infill in the slotted channel.
Keeping this channel open was the challenge that Atera set their design team. Other aerofoil bars (apart from Whispbar) are only quiet if rubber strips are pushed into their 'T-track slots', rubber which needs to be cut into sections and placed between, for example, bike carriers, and then more rubber added when the bike carriers are removed. You want to leave your bars on your car ready for the next time you go biking, and just slide or drop the bike carriers into them without any need to fit and remove rubber strips? Is speed and ease of use important? Of course it is, which is why the engineering behind these bars is really very clever indeed.
What's the science behind this success? See the second picture above. In summary, the WindBarrier strip creates small swirls which form an air cushion across the surface of the T-track slot, preventing the development of wind noise whatever the driving speed. The design of the ShapeBreak trailing edge also controls the airflow, improving roof bar stability and reducing the downward force.
Other features:
The quality of the aluminium, and the plastic mouldings, makes these bars a pleasure to handle
There's real attention to detail. For example, the slots under the bars, which the feet slide in, also need to be filled to reduce noise; Atera's SIGNO RTD bars have automatic adjusting covers for the part of the slots behind the feet
The bars are tightened on with a long torque tool - long enough for your hand to remain outside the bar, even on the narrowest setting. You turn the tool until it clicks - then the bars are tight enough
The end caps slide down to allow access to the T-track slots - a very crisp and smart solution
Weight: 5.1kg for two bars. Note that the stickers on the base of each bar show the weight and maximum load carrying capacity for each single bar; double these for two bars!
Load carrying weight 100kg but please be guided by the maximum permitted roof loading limit of your vehicle!
Roof bar dimensions: 1220mm long by 79.5mm wide by 27.5mm deep
The 'T-track' slots use 20mm x 20mm adapters - the same as CRUZ, Thule and Whispbar aluminium bars
Locks are included
Supplied as a pair
3 year guarantee
Made in Germany
Colleagues here who've been using SIGNO RTD bars to carry their bike racks are very confident that Atera have nailed it!
Most of Atera's roof bars and accessories business is with the Original Equipment market, i.e. direct to the car manufacturers, where major customers include Audi, BMW, Daewoo, Chrysler, Fiat, Honda, Hyundai, Mitsubishi, Mercedes, Opel, Porsche, Smart, Subaru, Suzuki, Vauxhall and Volkswagen. Atera's reputation therefore speaks for itself and (probably needless to say) their products are manufactured, city crash tested, TÜV certified and quality approved to the highest international standards including DIN ISO 1135, DIN ISO 75302, and IAF ISO 14001:2004.
Gerry D - Vehicle type: Estate
Good price, good value, easy to use, looks great and did the job very well. Very pleased, so many thanks guys
Ian W - Vehicle type: Estate
Great roof bars. Love the torque spanner
Kevin W - Vehicle type: 4x4
Easy to use, fitting was straightforward,very solid
James S - Vehicle type: 4x4
Great product which is easy to fit and use. Would recommend this to anyone as a great value for money product.
Ian G - Vehicle type: Estate
The Atera roof bars are easy to fit and use. Straight out the box, no assembly needed, adjust the foot position , line them up on the roof , tighten down with the included spanner which automatically "clicks" when the clamps are tight., lock the end caps with the included locks. Then just load up. Using the T track to fit brackets etc very easy. Slide the end of the bar down slide in the "T" bolts ( purchased separately), fit your accessory and use. I used this for a canoe carrier and a roof box (not at the same time obviously) just does exactly what you need it to do. Removal of the racks is just as simple. Keeping in mind when,loading up the roof load limits for your car these racks are really light , only 5kgs . Highly recommended. Good quality, easy to fit. Purchase and delivery from Roofbox excellent as always.
Timothy W - Vehicle type: Estate

Super impressed with the Atera SIGNO RTD roof bars. Great build quality, whisper quiet and easy to fit, especially with the torque limited Allen wrench supplied
Alison C - Vehicle type: Estate
Quick delivery good product
Darren A - Vehicle type: Estate
Fantastic bars that fit both my 2017 E-class estate and our Ford Focus as an added bonus. Very easy to fit and remove and only a little bit of wind noise, far less than Thule aero bars and the built quality is on parr with their more expensive competitors. Kamei roof box fits very quickly and easy with T bar adaptors. I won't look anywhere again if need new bars.
Paul B - Vehicle type: MPV
They look good on the car, very easy to fit and best of all you you don't hear them at all at any speed,fantastic product at a great price point,can't fault them in any way.
Graham S - Vehicle type: Hatchback
Excellent quality, very easy to fit and look smart. They have seen duty with a large roof box without any problems. Because they look good, I've left them on the car and they generate virtually no wind noise. High recommended
Julian G - Vehicle type: 4x4
The Atera Signo roof bars are of very good construction and perfectly designed for the type of rails on my Hyundai Santa Fe. Getting them on and off is a bit of a faff, but I think that has more to do with the rail than the bar, and once on they are solid. Easy to attach my Atera roof box to the rails once on.
Tommy S - Vehicle type: Estate
So easy to fit...I hate having bars on when not in use (just my preference) I've been able to fit these easily in under 5 minutes on my seat leon se! They look great and I can't hear them when on!
Matt R - Vehicle type: Estate
Good quality roof bars, easy to fit with supplied torque key. I use these along with KAMEI husky roof box, and T track adapters. Definitely worth paying the extra for as they look great on the car.
Neil B - Vehicle type: Estate
Great quality, easy installed, have the Thule bike carriers attached which compliment the bars well.The only reason for a 9/10 is that the black end caps that hide the T rails keep slipping/vibrate down. But other than that, a great product.
Mark H - Vehicle type: Estate
These are my second set of Atera roof bars - I bought a newer model Audi estate and the roof rails are slightly different so I had to get new bars. The bars are quick and easy to fit and lock on securely. The Atera roofbox and bike carriers are also quick and easy to attach to the bars. Overall good quality product and The Roof Box Company were as efficient as ever supplying it.
Peter B - Vehicle type: Hatchback
Very good. A little fiddly at first.
Guy B - Vehicle type: Hatchback
Very good quality could be easier to use but the more you use the better.
Mike C - Vehicle type: 4x4
What can one say , the roof bars do what they say they do, what more can you say
Dave M - Vehicle type: Estate
Good build quality, easy to clean and fit. The units are well designed and aerodynamic there using very little additional fuel when fitted
Craig W - Vehicle type: Estate
Really well made. Easy to assemble and loading the bikes is very easy. Everything locks up providing that added security. Great product.....good value.
Chris S - Vehicle type: 4x4
Excellent product and easy to to use and attach to box.
Rob K - Vehicle type: 4x4
Very easy to fit as they came fully assembled, and you simply positioned and then tightened them in place. They've been on a year now, and cause no discernible additional wind noise. I haven't had to tighten them once, and they've been used for two trips abroad and multiple bike carrying trips during that time. Highly recommended.
Richard W - Vehicle type: MPV
Good quality, relatively easy to fit. Happy with them although they are no quiet on my car above 50mph (2016 galaxy).
Bob A - Vehicle type: MPV
Very good quality easy to fit
Nathan S - Vehicle type: Estate
Excellent bars at a good price very easy to fit
Tony S - Vehicle type: Estate
These roofbars were fairly straightforward to install on my own, and have worked very well. They're very quiet in use and feel robust and sturdy. I did have an issue with the first one I tried, in that the housing separated a little as I installed, and then whistled in use. Customer Service was absolutely stellar though, first in sending a replacement set straight out, then saving me from myself when, like an idiot, I inadvertently sent back the keys to the roofbox I'd also bought, leaving me with two sets of roofbar keys and no sets of roofbox keys. I called Roofbox in a desperate panic at gone 5pm on a Friday with pretty much no hope for redemption. Amazingly, they helped me to identify the key I needed, found one, and couriered it to me for delivery at 11am the next day, just in time to save our holiday...all at no extra charge. Fantastic service, would highly recommend both this product and Roofbox themselves.
Scott C - Vehicle type: MPV
Atera roof bars are excellent quality and very easy to use. Combined with great service from the Roof Box company you really don't need to look elsewhere.
Guy S - Vehicle type: Estate
I asked Roofbox what they might recommend and they said the Atera were good value and easy to install. And they are right. They are so much better than the old square bars had from Halfords, no wind noise, piece of cake to fit and excellent value. Highly recommended
Liam M - Vehicle type: Hatchback
Great roofbars I would recommend them
Brian L - Vehicle type: MPV
Fantastic roof bars. Instructions not very clear. Not the easiest to put a roof box on but it's the first time I've done this. Just had to call Roof Box Company for guidance and all worked well.Used on a 2016 Kia Sportage for 3 weeks touring in France and Spain. Would recommend.
Richard P - Vehicle type: Estate
Good quality, easy to fit and quiet
Jon R - Vehicle type: 4x4
Very pleased. Fitting was easy once I'd realised that the little rubber strips were just about noise suppression rather than anything else. Use them with bike racks. Very quiet, no noise when driving.
Robin C - Vehicle type: 4x4
Excellent build quality, easy to use and look good as well.
Ali R - Vehicle type: MPV

The bars are great no wind noise. Easy to fit and store in the boot . I put kayaks on the bars and have also had a double kayak on , good all round strength. Relay like the slides to let you put bar supports in for other carriers like bicycle support. All round great roof bars . Recommend to anyone 10 out of 10
James T - Vehicle type: Estate
Really great bars
Rob M - Vehicle type: MPV
Great product, excellent quality, easy to fit and remove. First time roofboxer and more than happy with these. No wind noise when installed either!
Kevin J - Vehicle type: Estate
Great product easy to fit use with large roof box
Gordon G - Vehicle type: Estate
Sleek, lightweight, fairly straight forward to install. Excellent piece of kit. Always check The Roof Box Company first as returning customer, excellent service.
Matt L - Vehicle type: Estate
Great roof bars, easy to fit and very quiet.
John A - Vehicle type: Estate
Looks well on car and no problem with wind noise. Tend to leave on permanent. Give them a spray with WD40 every so often to keep them moving easily. Didn't change the locks to all same as can't be bothered
Lesley C - Vehicle type: Hatchback
Perfect piece of kit. Quality build, light, easy to install - highly recommended.
Reuben E - Vehicle type: 4x4
Bought these for a Volvo XC60 2016 Model together with a Kamei 510 roof box. Have been really pleased with both and find fitting the bars very easy...taking only 15 minutes now I know what I'm doing! The instructions are clear, easy to follow and the fit is perfect. I think they look pretty smart too!
Peter B - Vehicle type: Estate
Excellent
Andy F - Vehicle type: Estate
Bought these for an F54 Mini Clubman with factory roof rails. I opted for these over the genuine Mini bars as I prefer the rails extending past the clamps for tying off kayaks etc and it also gives a better platform for wide loads. The bars are quick to put on, very quiet and look the part.I haven't given them full marks as the black end caps are not very positive and only need a slight knock to slide out of the closed position. If they were bumped when open I fear they would be broken. Also, the supplied 'torque wrench' t-bar which is used to tighten the foot clamps is supposed to give an audible click when the correct torque is reached - it doesn't. I prefer the tightening mechanism over my old Thule bars though. The tightening knobs on the Thule's are easily pulled off the hexagonal rods causing all sorts of grief (you will understand if you have them!). This won't be a problem with these. Just remember to keep the t-bar in a safe place.
Linden C - Vehicle type: MPV
The roof bars fit very easily and appear to be of good quality. Mine are fitted with bike carriers permanently and we lift the bars complete with bike carriers onto the car. One criticism is the torque wrench to do the locking screws up. It's torque setting seems to be way above my other 5NM preset torque wrenches for bike screws. Because of this I do not fully trust this and use another torque tool.
Chris D - Vehicle type: Estate
Good quality, not as easy to fit as others make out, but still an excellent product
Nicholas D - Vehicle type: Estate

Great set of bars. Excellent quality, easy to fit and remove and look good.
Charlotte H - Vehicle type: Estate
We've had 4 sets of atera roof bars - the RTD were the best - found the tightening device really easy to use!
Jodean G - Vehicle type: Estate
Easy to fit and remove. Nice and quiet when driving, no annoying hum. Would def recommend.
Michael L - Vehicle type: 4x4
Great product, good engineering and aesthetically pleasing 5 stars from me.
Martin F - Vehicle type: Estate
Brilliant
Gareth S - Vehicle type: 4x4
Great bars and have mixed the bars with Thule and other branded products for bike racks and storage
Anthony B - Vehicle type: 4x4
These are really good quality bars. They are very easy to fit, I can do this far faster than any bars I have used previously, important as I only use them from time to time to transport items which are too large to go in the car. Would recommend them highly, especially at the price.
Simon L - Vehicle type: 4x4
Very good quality roof bars. We used them to fit a satellite broadband system on a Porsche Cayenne it certainly looked the part
Phillip E - Vehicle type: 4x4
This is the first set of roofbars I have used; found them very easy to put onto my car. The fixing method of an Allen key with a ratchet sound when it is tight enough is excellent.
David W - Vehicle type: 4x4
An excellent, easy to use product. I would highly recommend it
Jonathan C - Vehicle type: Estate
Very good bars and easy to fit. Quick delivery
Gillian G - Vehicle type: Estate
Every time I use these bars I congratulate myself on having bought them. Very easy to fit compared to anything else I've used. Great for use with roof box or cycle carrier.
Keith P - Vehicle type: 4x4

Bought these to replace some cheaper quality roof bars bought from a well known auction website. Much better and far easier to use and also I trust these bars much more.
Nicholas R - Vehicle type: 4x4
Brilliant bars, so easy to use and virtually silent. Not the prettiest on the market, which is probably where we have gone wrong in the past, but way better than whisper bars or Thule. For sheer ease of use, especially repeatedly fitting and removing a heavy roof box, these bars are highly recommended.
Cliff O - Vehicle type: MPV
Easy to put onto car, look stylish, slight whistling at high speed
Rob H - Vehicle type: MPV
First experience of roof bars but these are just great. Easy to fit, good and sturdy feel to them... they look smart too. Have left them on all year and don't even notice they're there. Easy to pop roof box on (kamei husky) and really good tightening tool with built in torque drive so you know you're not going to over tighten them. And really good service and advice from the roof box company. One happy camper!
Ian M - Vehicle type: 4x4
Really good roof bars , very easy and quick to fit with good build quality.
About our reviews:
We test, and often use personally, almost all the products we sell, and we stand behind our comments and recommendations unless customers convince us they need changing. Our Customer Services and Workshop staff also have input into our recommendations.
But it's because we've learned a lot over many years that customer feedback is so important. Fresh, first time out opinions are the most useful ones, and in any event we certainly don't have access to the full range of vehicles that our customers have between them.
Product feedback from existing customers helps our new customers make choices, and also helps our suppliers with their product development.
We e-mail our customers a week or so after their order arrives and invite them to send in a review.
Some reviews are suitable for multiple products. Where appropriate we may, for example, use the same review for a number of different roof bar products where the only difference is the length of the roof bar.
The aim of this note is to persuade you that kayaks should always be tied to the carrying vehicle at both bow and stern.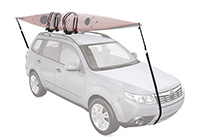 Untied kayaks have, in our experience, the greatest potential for a roof bar or kayak carrier failure. The massive forces that untied kayaks can generate have even been known to snap roof bar fixing bolts with the result that a complete assembly of roof bars and kayaks has ended up on the road. We know that this has happened with almost every brand of roof bar, and regardless of whether the kayaks are on a special carrier or just strapped to the bars.
You need to fix bow and stern lines, probably using the front and rear screw-in towing eyes to get strong and accessible fixing points on the vehicle. Kayak shops should be able to provide suitable 'paracord' for this purpose. Alternatively, we have sets of straps available that are perfect for the job and are really easy to use. Yakima make some excellent Bow/Stern tie down straps and Thule makes the QuickDraw 838 which we have listed together with every kayak carrier we sell.
Please note that kayaks should be strapped to the roof bars, or to kayak carriers, using straps that are suitable for the purpose, e.g. 25mm polypropylene straps with strong buckles. Bungee cords must never be used.
Please also note that all roof bar instructions point out the dangers of carrying unsecured long items, as of course do all kayak carrier instructions.
If you tie down your kayaks properly you almost certainly won't experience a product failure. If you don't you may or may not get away with it. If there is a disaster and the kayaks end up on the road, separated from the vehicle, then you were not using tie downs and you have subjected the roof bars to forces for which they were not designed. The costs of sorting this out are yours, not ours, and you may also have difficulties with your insurers.
We're sorry to be so firm about this, but "things coming off the tops of cars" is the stuff of nightmares, and we want to do all we can to prevent accidents of this sort from happening.
Delivery charges and arrangements:
We charge a contribution towards delivery costs, depending on what you order, where you live, and how quickly you want the goods.
These are our standard charges; there are usually surcharges for all offshore destinations and some remote postcodes - for details please see our delivery information page.
| | | |
| --- | --- | --- |
| Express delivery | £ 6.95 | 1 to 2 working days |
| Standard delivery | £ 4.95 | 3 to 5 working days |
| | | |
| --- | --- | --- |
| Express Delivery | £ 9.50 | 1 to 2 working days |
| Standard Delivery | £ 6.50 | 3 to 5 working days |
| | | |
| --- | --- | --- |
| Express Delivery | £ 19.50 | 1 to 2 working days |
| Standard Delivery | £ 14.50 | 3 to 5 working days |
| | | |
| --- | --- | --- |
| Express Delivery | £ 19.50 | 2 working days |
Delivery times
Delivery times are calculated in working days (Monday to Friday, excluding Bank holidays).
Cut-off times for Express Delivery orders
Express Delivery orders placed before before the cut-off times shown below will usually be desptached on the date of order. Express Delivery orders placed after these cut-off times will be despatched the next working day.
| | |
| --- | --- |
| Small and Standard Sized Items | Order by 4pm for same day despatch |
| Roof Boxes, Dropracks and Roof Tents | Order by 1pm for same day despatch |
Delivery FAQs
When will my order arrive?
There are no deliveries on Saturdays, Sundays or Bank Holidays, except for postable items where Royal Mail has a Saturday delivery. Express Delivery orders placed on a Friday (before 1pm) should be delivered on the Monday or Tuesday, Express Delivery orders placed on a Saturday or Sunday should be delivered on the Tuesday or Wednesday. The arrangements for Very Heavy Items are different and are shown above.
What about Next Working Day delivery?
We have offered a reliable Next Working Day service for well over 20 years but, due to the pressure on the couriers caused by the coronavirus crisis and the huge increase in online shopping, we can no longer be confident about the delivery date, which is why we now call the service 'Express delivery'. Most Express delivery orders will arrive on the next or second working day, but some will arrive on the second or third working day, or be split between these days. So-called "split deliveries" happen when the couriers do not have enough trailer space for everything that should be moved around the UK, so they will load what they can and leave the rest for the next trailer.
Is my delivery day guaranteed?
No retailer or courier company can ever "guarantee" a Next Working Day delivery. As well as split deliveries, all courier companies occasionally have the same transport problems as can happen to everyone else, including snow blocked roads, closed roads, traffic jams, mechanical breakdown, an inability to find the delivery address, or to gain access to it if, for example, it's in a block of flats. We work with some of the best couriers in the business, and overall they provide an outstanding service.
Do I need to be at home?
We are very flexible with our deliveries and will aim to deliver to an address which suits you – this does not need to be your home address. Goods can usually be left without signature - we prefer this with roof boxes. There's a "Special Delivery Instructions" box in the checkout area where we'll ask you to choose a typical instruction and then amend it to suit your particular requirements.
Payment options:
We take the following cards, and also PayPal. Please note that the entry on your card statement will be from "The Roof Box Company".
Secure payments
Our website is secured by Sectigo (formerly Comodo CA), the largest commercial Certificate Authority in the world.

Atera's SIGNO RTD bars fit a very wide range of vehicles, making them exceptional value for money. This is the list at November 2019 - additional vehicles will be added as they are tested and approved.

SIGNO RTD application list:  

To find the spare parts you need, please see the diagram below, identify the product codes, then choose them from the list below. If you need more than 1 of any item, change the quantities in the Shopping Basket.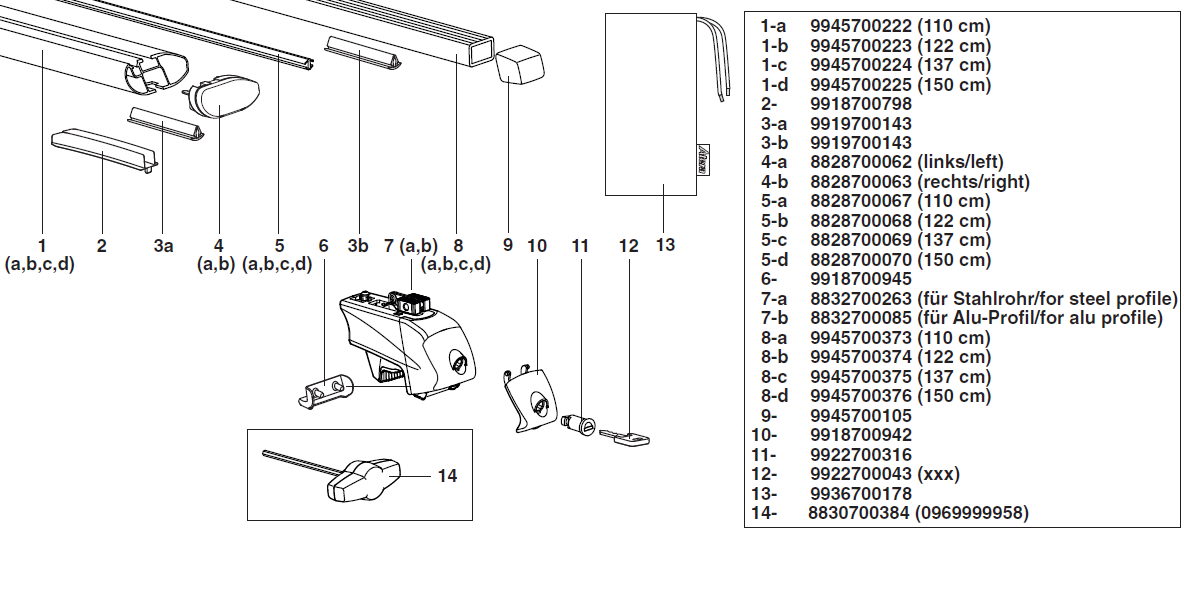 Carrying kayaks, boats or boards
Delivery charges and Payment options
What other cars do SIGNO RTD bars fit to?
Returned products
We sell returns at very cheap prices, often less than cost if they're ex Hire or damaged. Each of these items is offered with the full guarantee as if it had been purchased new, unless we state otherwise.