AutoSock SmartGrip size L, one pair, no. AS-SGL
Last order date for Christmas deliveries:
4pm on Monday 20th December
Overview
:
Worried about driving on ice or snow?
Pull a pair of AutoSock SmartGrip over your vehicle's driving wheels and you'll have all the grip you need to make safe progress on snowy roads. They're reusable, take up minimal storage space, and in many circumstances work better than winter tyres or snow chains.

Click here to order
Worried about driving on ice or snow?
Pull a pair of AutoSock SmartGrip over your vehicle's driving wheels and you'll have all the grip you need to make safe progress on snowy roads. They're reusable, take up minimal storage space, and in many circumstances work better than winter tyres or snow chains.

AutoSock SmartGrip have been designed to provide very similar performance and wear characteristics to the standard AutoSock, but at a significantly cheaper price. Cost savings have been made by leaving off the side mesh and cross straps, which makes them slightly more difficult to put on and to take off - but in this respect SmartGrip are similar to most of the copy snow socks that are available on the UK market.
Importantly, SmartGrip use the same high tech 'road contact fabric' that is used in all the other AutoSock products, so we reckon that they are exceptional value for money!
SmartGrip have not yet been put through the German TÜV tests - TÜV approvals are usually only important to fleet buyers who should also note that AutoSock are the only snow socks to have passed the TÜV standard PPP 53219.
Each set contains:
one pair of SmartGrip
a pair of disposable gloves to protect your hands and cuffs from e.g. wet and dirty car bodywork
Full instructions are shown on each storage bag which also opens out into a waterproof sack for wet and dirty SmartGrip.
There's only one possible way to fit SmartGrip, so no special training or practice is required.
Please note that SmartGrip will wear out with use, and that 'worn out SmartGrip' is not a guarantee issue! See the "Driving with AutoSock" tab for more information about how to make good use of them.
Here is a short history of the AutoSock brand: The story starts well over 15 years ago when tyre specialist Baard Løtveit came up with the idea. The development team soon included the internationally renowned friction scientist Dr Dag Anders Moldestad ("Dr Friction"), who worked closely with textile engineers at KoSa (now part of Koch Industries), the world's largest manufacturer of polyester products. They created a hard wearing yarn mix and weave that would develop sufficient dry friction to really make a difference in both wet and dry snow. The dynamic testing was done in conjunction with BMW, Mercedes-Benz and Volkswagen on test tracks in Germany and northern Scandinavia. AutoSock also worked with TÜV SÜD in Munich to develop a challenging performance standard, and before long AutoSock had also passed the rigorous testing regimes of car manufacturers including BMW Group, Citroën, Fiat Group, Honda, Hyundai, Jaguar, Land Rover, Lexus, Mazda, Peugeot PSA, Mercedes-Benz, Nissan, Subaru, Toyota, and VW Group. Over 2 million pairs have now been sold worldwide.
This is what some of our customers say about AutoSock:
"Best bit of kit I have ever bought. Used them a dozen times on snow covered roads and they are truly amazing. No skidding when going round bends or up or down hills. If you do not have a 4 wheel drive vehicle then buy some." Tony W
"Used mine for 3rd year running over last two days. Got my fully laden VW Caddy van up a snow and ice packed 10% hill this morning, as if there was no hill there!! Everyone else left cars at the bottom. Well worth it." Nick L
"I used the AutoSock in bad snow on a rear wheel drive sports car. They were superb and got me up a steep hill on my way home. I would never have made it without them." Richard A
"Always useful to have ready in the car. Have used them when I had to stop at bottom of steep hill in two inches of snow - car sailed up no problem." Malcolm G
AutoSock SmartGrip will get you moving and keep you moving...
Delivery charges and arrangements: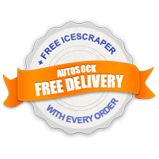 Free delivery offer for AutoSock! We have added a free delivery option for AutoSock orders that can be posted; we'll send them with Royal Mail Tracked. This covers all UK addresses except for any delivery address that includes a sea crossing.
See below for our normal delivery arrangements:
Delivery charges and arrangements:
We charge a contribution towards delivery costs, depending on what you order, where you live, and how quickly you want the goods.
For most UK addresses, the charge for our two to three day service is £5.50 (£9.50 for orders including a roof box) and our charge for Next Working Day deliveries is £8.50 (£12.50 for orders involving a roof box). AutoSock, SmartGrip, SnowGecko, shoe chains, RUD i-Sock, and small spare parts, are charged £3.95 (Royal Mail Tracked), £4.95 (Royal Mail Express Tracked) or £5.95 (express courier, usually Next Working Day).
There are different charges for any delivery including a sea crossing, and deliveries to Skye - we will contact you with a quote on receipt of order.
Orders for Next Working Day delivery need to be received by 4.00pm.
There are no deliveries on Saturdays, Sundays or Bank Holidays, except for postable items where Royal Mail has a Saturday delivery. Next Working Day orders placed on a Friday will be delivered on the Monday, Next Working Day orders placed on a Saturday will be delivered on the Tuesday.
We are very flexible with our deliveries and will aim to deliver on a day and at an address which suits you. Goods can usually be left without signature - we prefer this with roof boxes. There's a "Special Delivery Instructions" box in the checkout area where we'll ask you to choose a typical instruction and then amend it to suit your particular requirements.
No retailer or courier company can ever "guarantee" a Next Working Day delivery. All courier companies occasionally have the same transport problems as can happen to everyone else, including snow blocked roads, closed roads, traffic jams, mechanical breakdown, an inability to find the delivery address, or to gain access to it if, for example, it's in a block of flats. We work with some of the best couriers in the business, and overall they provide an outstanding service.

AutoSock are taking robust action against patent infringement and want their customers to be aware of the situation; these notes are a summary of their recent statements on this issue.
AutoSock created and developed the "car snow sock" concept, and is the registered holder of all relevant patents. Their main European Patent is EP 1165329 which is operational in all European countries. They have similar patent protection in North America and Japan.
After the last few UK and Irish winters there are unprecedented numbers of copies in these markets; legal activity for patent infringement is either in progress or may be taken against many of these distributors and resellers, some of whom are household names and must have been very badly advised.
Some of the copies and counterfeits are relatively very cheap - as products can be if there are no research and development costs, and if materials and manufacture are of poor quality.
We hope that our potential fleet customers in particular will wish to be confident that the products they use have proper product liability insurance, as AutoSock has.
Some of the distributors of copy products seem to be taking leave of their senses and are making increasingly extravagant claims. These might include
statements about German and Austrian testing agency approvals (TÜV and ÖNORM). Some do indeed have these approvals; some claim to have them but do not.
statements about the patents they have registered. This is a "smoke and mirrors" trick, designed to deceive. We usually use a wrist watch as an analogy for this sort of activity: AutoSock has patented the bit of the watch that tells the time, the relevant bit; others have taken out irrelevant patents on e.g. the strap fixings, but they still attach the "patented" word to the whole product.
Warnings to "Beware of copies!" (Some credit should be given to resellers who have at least attempted to write their own copy instead of lifting it from official AutoSock sites!)
Warnings to "Beware of Chinese copies," apparently forgetting that their products are themselves made in China. There is nothing wrong with being "Made in China" - what is foolish is to presume that the factories who make and sell this stuff at knockdown prices are authorised to do so.
Recent EU court decisions include:
A preliminary injunction against Siepa and its Austrian and German distributors by the Higher District Court of Düsseldorf, Germany. The penalty for a violation of the judgment is up to €250,000 per incident. Siepa brands include Goodyear and Fix&Go.
An injunction against the Trendy distributor in Norway by the Court of Telemark. Trendy branded products have been withdrawn.
A preliminary injunction against one embodiment of WeissSock by the Higher District Court of Düsseldorf. The penalty for a violation of the judgment is up to €250,000 per incident.
A preliminary injunction against one embodiment of MultiGrip by the Higher District Court of Düsseldorf. The penalty for a violation of the judgment is up to €250,000 per incident.

Here are some notes about what to expect from AutoSock, and some tips about how to get the best use from them:

General driving tips
First of all, please read the instructions, especially the comment "Avoid spinning the wheels, extreme braking and acceleration, since this could damage the product."
The usual rules of driving in snow apply, i.e. pull off slowly, stay in as high a gear as possible, "anticipate" even more than normal, avoid hard braking.
The speed limit of 30mph / 50kph will seem quite fast enough on snow. It is a maximum speed, not a recommended speed!
How long will they last?
Fundamentally, the more you drive on clear roads / gritted tarmac, the faster they will wear out and the sooner you will need to buy another set.
They are a "Get you out of trouble" solution and are not intended for prolonged use. You will probably use them to get down to the gritted road, then you take them off ASAP it is safe to do so.
From the instructions: "The wear limit is reached as soon as 50% of the white road-contact fabric is worn out and the underlying black safety material has become visible."
You will find that small holes start to appear as they become worn. This is no big deal and will not affect their performance until it becomes obvious that they are looking ragged and well worn – then they need replacing. If they are ripped, this is due to snagging on e.g. a loose mudguard, a loose screw on a wheel arch liner, some other third party influence. (If you hear them catching on something, stop and sort it out!)
There are bands of Kevlar running across the AutoSocks; these provide overall strength, help to prevent the socks from splitting after misuse, and help prevent holes from spreading.
Overall, use your commonsense about how long to use them, and of course and where possible you should avoid potholes, raised manholes etc.
Fitting them
Fitting is very easy on most vehicles, more difficult on a few. The most difficult vehicles to fit are – no surprise – rear wheel drive cars with limited clearance. If you can't get your forearms into the space between the wheel and the wheel arch, fitting will be difficult. But blame the car, not the AutoSock! If they are a very tight fit, too tight, please let us know because there is obviously a size issue that we need to learn about.
Specific driving tips
Some suggestions for situations where AutoSock are not making the difference expected:
On a rear wheel drive car, uphill slope, sheet ice: You need some weight in the boot – it makes all the difference. Don't just spin the wheels and trash the AutoSock.
On a hill in really slushy snow. You may drive forward then slip. The AutoSock are sticking to the snow but there isn't enough strength in the snow to hold the weight of the vehicle. Roll back down a few feet, compressing the snow and driving out the water. Then try again, moving further up the hill than before. Three steps up, two back.
Delivery charges and Payment options