Brands
We offer five different brands of snowchain because each of the brands contributes something unique to our overall range:


INNO Quick & Easy
INNO's polyurethane "chains" are much the most popular type of snow traction system in Japan – they are for example supplied as Original Equipment to Toyota. Quick & Easy work extremely well, and can even be driven for up to 1000 kilometres (600 miles) on tarmac before they wear out. The small tungsten carbide studs do not cause damage to the road surface, unless (we guess) you do wheelies.


Maggi
Maggi is the probably the best known of the Italian brands (others include Konig, now rebranded Thule, and Weissenfels). Some of their chains are similar to RUD and Thule in design, but because we are the UK importer we can offer these chains at better prices. Maggi are chain specialists in the full sense of this word; they make chain for just about every application you might think of, from lifting chain to security chain to massive anchor chain.
Unique chains: Maggi's 'The ONE' and 'The ONE 4x4' chains have a patented self-tensioning system that uses a series of elastomer balls to keep the chains tight but also allows them to flex with changes in tyre shape. Their TRAK range (copied in essence by Thule as the K-Summit) fits from outside the wheel without the need for any tools; there are TRAK sizes for all vehicles, right up to HGVs.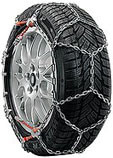 RUD
RUD (RUD Ketten Rieger & Dietz GmbH u. Co. KG) is often referred to in Germany as "the Mercedes-Benz of snowchains". They are Germany's specialist chain manufacturer – snowchains are only a small part of their global business.
Their top of the range 4x4 chains (RUD-matic Classic V) use exceptionally hard wearing speciality steels, which is why for example they supply the British Army and other organisations which need the toughest chains available for cross country work.
We particularly like their chain packaging, using zipped fabric bags or cases – you can kneel on them as required, and getting the chains back into them after use is much easier than working them back into traditional plastic cases.
Unique chains: The RUD-matic 'Classic automatic' chains suspend the chain from a sprung steel loop that you push over the top of the wheel. The chain hoop ends do not need to be joined together when fitting, or unclipped when removing. As well as easy fitting they are designed for sliding over wheels where the distance between the wheel and the wheel arch is very small – so they are ideal for use on rear wheel drive cars with big wheels and insufficient space in the above the wheel for your forearms.


Spikes-Spider
These are made by Confon in Switzerland.
Unique chains: All Spikes-Spider chains are unique.
Unlike all other chains, they don't grip the tyre at all, but clip onto a plate fixed to the wheel rim, meaning that they "float around the tyre", self cleaning as they go.
Unlike the other ladder track chains (Maggi TRAK, RUD Centrax, Thule K-Summit) which are only held on to the wheel at one point, Spikes-Spider chains are held by up to five points – a more reliable fixing system for which they have the patent.
Spikes-Spiders can be resized as required, providing long term value for money for customers who use cars with similar sized wheels.
All components of the COMPACT and SPORT models can be replaced when they are worn out.
Unlike all other snow chains, Spikes-Spiders don't rust because they use stainless steel.
Spikes-Spiders provide complete protection for alloys.
It's no surprise that they are generally considered to be the best snow chain system available or that, for example, they are supplied as Original Equipment to Jaguar Land Rover.


Thule
Thule chains are made in Northern Italy. They have a wide range of well designed, well made chains; we stock their four best selling traditional chain models, together with the K-Summit ladder track chains, and the Easy-fit automatic chains.
Unique chains: Their Easy-fit chains are tangle free, quick, easy and intuitive to fit and remove – they're also ideal for use where space in the wheel arch is limited. They're as quick and easy to use as Spikes-Spiders, and quite a bit cheaper, but are less robust and more vulnerable to damage.