WalkyGuard
£49.95
WalkyGuard is a new and innovative headrest-mounted universal dog guard. Its adjustments for width and height make it suitable for almost all vehicles with rear head rests, and it's certainly the fastest and easiest guard to fit and remove that we've seen – not more than a couple of minutes.
As well as fitting almost all vehicles, i.e. being particularly good value for money, it doesn't impede the normal use of a fixed or rolling parcel shelf / boot blind – that's a unique feature of a well designed headrest-mounting guard.
Almost as important in our experience is that the WalkyGuard doesn't rattle – one of the irritating bugbears of many dog guards. It's a one piece welded construction with no potential for metal on metal vibration, with a black powder-coated finish.
The BICE WalkyGuard is held in place with only two brackets, well protected to prevent damage to either the headrest posts or the WalkyGuard. Position the WalkyGuard centrally against the back of the rear headrest posts, hook a clamp around one post on each side, and tighten; it's that simple.
The top bar is removable – some cars have very limited head room in the boot area. Once fitted, the telescopic horizontal bars should be adjusted so that they don't quite touch the edge of the vehicle, and then given a quarter turn to be locked in position.
Although WalkyGuard has not been formally tested as a safety guard, the fact that a strong all-welded steel guard is securely fastened behind the rear headrest posts should be a considerable comfort. The dangers posed by objects being thrown forward from the boot of a vehicle are usually underestimated.
SPECIFICATION:
Made from high quality powdered coated steel
Simple head rest mounting - Using the rectangular guide bar to position the guard on top of the back seat, the guard is quickly secured by tightening the holding brackets around the headrest posts.
Adjustable Vertical bars - Height is easily adjusted and the top bar can even be removed which is particularly useful for small cars where head room is an issue.
Adjustable horizontal bars - The cleverly designed telescopic bars ensure a perfect fit every time.
Removing the guard - Easy - just loosen off the tightening knobs and remove from the headrest posts.
Approx. Weight: 3kg
Approx. Minimum size : 31cm high 86cm wide
Approx. Maximum extension: 46.5cm high 142cm wide
WalkyGuard
£49.95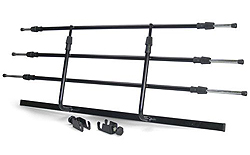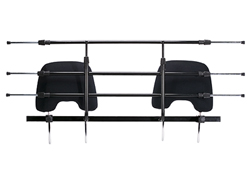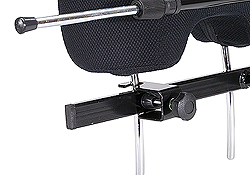 "); } //-->