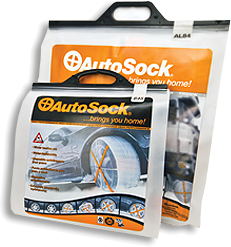 Frequently Asked Questions
Please choose your tyre size using the drop downs above, and we will show you which AutoSock size you need. We'll also show you any discontinued AutoSock sizes which we still have in stock. (AutoSock reduced their range from 13 sizes to 8 sizes last season, and we're selling the older sizes very cheaply. There's nothing wrong with these older sizes - they may well be an even better fit than the new season sizes.)
Click here to see the AutoSock for Trucks fitting guide.
If you'd prefer to see all the tyre sizes laid out in a grid, with links to online ordering, see below. You can collapse this table if you want.
Assume that you see 155/65-R14 marked on your tyres. Start by finding your tyre width size in the chart below, e.g. 155, written in bold black, and then find your tyre wall and rim size e.g. 155/65-R14 (marked in red as an example). Please take your tyre size from your actual car tyre, not from the vehicle handbook! Click on your tyre size for more information, and to order.
AutoSock have streamlined their sizes for this season, reducing the number of different sizes from 13 to 8. We still have some of the older sizes in stock which we are selling at discounted prices. There's nothing wrong with these older sizes - they may well be an even better fit than the new season sizes. Click here for more information.

"); } //-->