Make sure your bike is secure and protected when travelling
Why pay over the odds to rent an inferior bike on holiday? Take your own bike and hire a B&W box or case to get it there safely. The B&W bike boxes and cases are designed specifically to makes sure your bike gets the ultimate protection during transit, so you can rest assured your bike will arrive in perfect condition.
We will deliver direct to your door a few days before your holiday so you have plenty of time to pack and avoid any last minute panic. When you return from your trip, just give us a call and we will arrange a convenient time to collect, it's as simple as that!
Choose between either the
B&W Bike box

or the bigger

B&W Bike case

:

B&W International of Germany is a premier manufacturer of equipment cases for industry, and has been developing its range of bike cases for the last fifteen years. As supplier to several national teams, they've had plenty of feedback. There's no compromise on quality - their hard cases have robust inline skate wheels, reinforced axles, integrated tensioning belts and burst proof locks.

B&W Bike Box
From £50 a week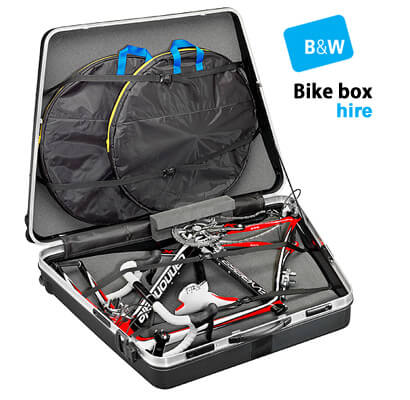 Dimensions
External 1150 x 870 x 295mm
Internal 1080 x 780 x 250mm
Weight 9.9kg
Specification
Will accommodate frames to 62cm
4 flush fitting locks in the aluminium frame
Fork distance keepers and foam padding for key components
Moulded design for stacking multiple cases - useful for clubs and teams
Packing a bike box pdf (1.6mb)


B&W Bike Box
From £60 a week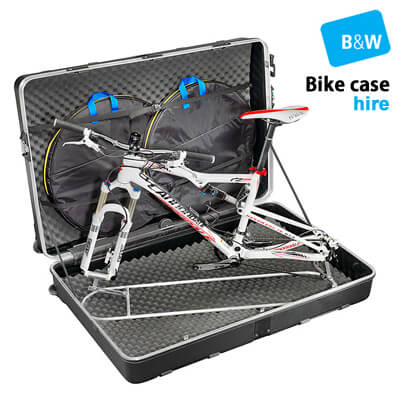 Dimensions
External 1280 x 800 x 345 mm
Internal 1255 x 850 x 320 mm
Weight 14kg
Specification
Probably the fastest box on the market to pack.
Will accommodate all frame sizes, including downhill frames.
Unique anti-shock aluminum frame holds the bike frame very securely; it has adapters to cover almost all axle types
As well as the four wheels, it also has a fifth centre wheel to support heavier loads
Lots of handles for pulling and lifting
3 flush fitting locks in the top of the aluminium frame
2 butterfly locks on the side of the case
Two padded wheel bags
Moulded design for stacking multiple cases - useful for clubs and teams
How to fit a bike in a bike case pdf (7mb)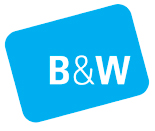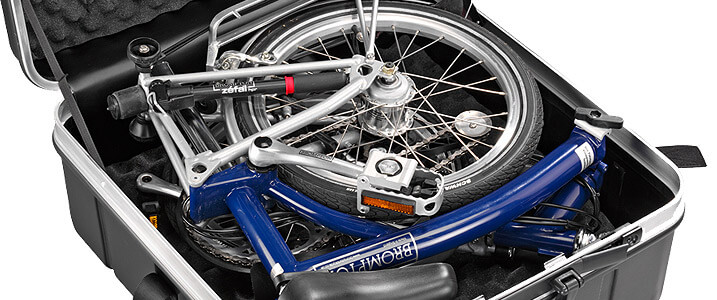 About B&W International
B&W International GmbH was established in 1998 as, in effect, the overseas sourcing arm of the bwh Koffer group, a firm established in 1983. bwh is considered to be Germany's premier specialist case maker for both industry and the professions.
B&W are now based in an all new office in Ibbenbüren, Germany, though bwh are still in Hörstel-Bevergen in Westphalia, Germany.
Both "B&W" and "bwh" are quality approved to ISO 9001 : 2000.
The majority of B&W products are designed in Germany but "Made in China". Thanks to the relative costs of Chinese tooling and labour, but without any reduction in quality whatsoever, you'll find that B&W products offer superb value, with the potential for almost unlimited volume runs as well as own branding.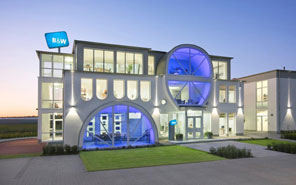 B&W HQ in Ibbenbüren, Germany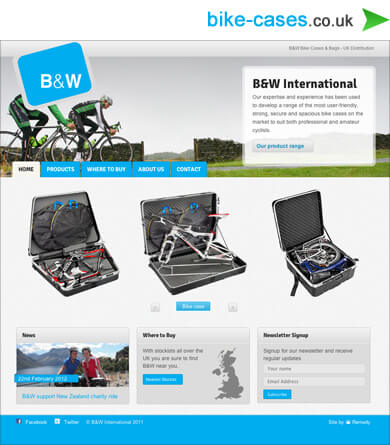 Where to buy B&W bike cases
The full range of B&W bike cases, boxes and bags can be bought from various bike shops around the UK. Just click on the image to the right to see the range of products and to find a local stockist.
B&W International GmbH is part of the bwh Koffer group, a firm established in 1983 in Westphalia, Germany. bwh has built up an enviable reputation as one of Europe's most innovative manufacturers of specialist cases to industry, the service sector, and the professions, working predominantly with plastics, polycarbonates, aluminium and specialised foams.
B&W's bike.cases reflect a small but significant part of their overall expertise, with a range of top quality products to suit both professional and amateur cyclists.
Bike boxes are made of ABS plastic. The soft bike bags are made from waterproofed 420 D high density nylon, with double sewn and fully taped seams, and top quality zips. In other words they're extremely hard wearing as well as looking and feeling good.
bwh is considered to be Germany's premier specialist case maker for both industry and the professions. Both "B&W" and "bwh" are quality approved to ISO 9001:2000. Product design, development, testing, refinement and most manufacturing is carried out 'in house', the aim being to ensure the best possible quality for the price
For details of the full range please visit Visit bike-cases.co.uk

"); } //-->