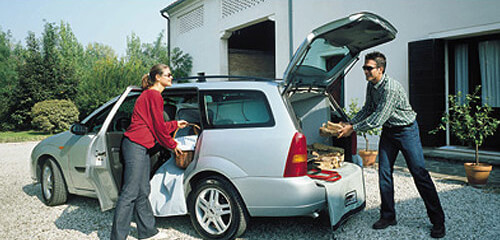 Select vehicle make and model below
Safe Bag: in-car safety and protection
Created by the same clever Italians that invented the Dog Bag pet carrier, Safe Bag is designed to keep bulky objects in place, whilst keeping the vehicle clean and the passengers safe.
It's ideal for work, rest and play, e.g. for professionals who use their vehicles both for home and for work, for hobbies like gardening and D.I.Y. or for leisure activities like skiing, mountain biking, karting, football, surfing etc. All without fear of damaging the interior of your car.
Safe Bag anchors the load securely to the car's chassis and roof to keep it in place whilst protecting your cargo from prying eyes. The special HDF material from which it is made has not only passed the most severe wear and tear tests, but it is waterproof too. Its uses are infinite … Safebag not only looks good but it is also flexible and practical to use.
From a sports bag (when folded down) it becomes a car safeguard - and there is one for most modern hatchbacks, estates, 4x4s and MPVs. Prices vary according to which car you own. Click here to see our vehicle specific guide and find "Which Safe Bag fits my car?"
Click here to see a brief Safe Bag fitting guide.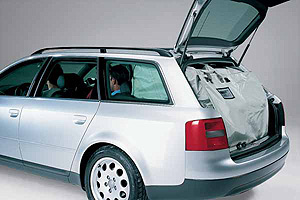 "ideal for work, rest and play..."

Safe Bag folds down and fits in a useful sports bag

Click on the magnifying glass logo, wherever you see it, to find out which products have been specifically approved for use on your vehicle.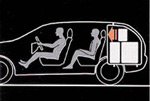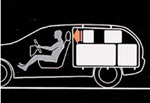 Safe-Bag in the car
Thanks to its fastening hooks, Safebag prevents the load from moving, guaranteeing the passengers safety. For the models of car that are not provided with fastening hooks, some versions of Safebag have been devised with velcro on the part that comes into contact with the upholstery.
Safebag comes in standard (rear seats in place, above left) or long (rear seats folded flat, above right) sizes, so the chances are that when you decide to change your car, if you stay with a vehicle of similar size, your Safebag could be easily transferred from vehicle to vehicle to provide years of usefulness.
Openings correspond with the rear doors and the rear passenger side seat (long Safebag only) to facilitate loading and unloading.

"); } //-->