WalkyBag
The WalkyBag is a fantastic tool to take your dog out: a versatile and comfortable waist bag complete with all-you-can-need to either walk your dog out our take him along for a bike ride.
Available in two versions, The WalkyBag Pro comes with an assortment of accessories including a Dog Watering Container, a harness, a dog leash, a dog muzzle, an excrement bag set, a WalkyDog® holder (WalkyDog® not included) and also features a jumbo hidden pocket for concealing keys, money, mobile phone etc.
The WalkyBag Custom is the bag for people who already have their own accessories. It comes with the Dog Watering Container, and numerous pockets and holders that can be used for stowing personal equipment such as food, whistles, training leashes, the WalkyDog®, toys, drying tissues, and the likes, as well as keys, mobile phones, etc...
Click on the link below to learn more or to place your order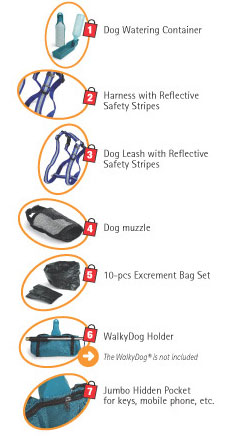 "); } //-->