Welcome to our Roof Bar page
Roof bars overview
"Roof bars" or "roof racks"? We call them roof bars.
Roof bars are the foundation of any load carrying system - everything else is fixed to them. Even cars with front to back roof rails will need a set of cross bars. It makes sense to buy a good quality system, mainly for safety reasons, but also to avoid any damage to your vehicle.
We supply car roof bars from four different manufacturers - CRUZ, Atera, Thule and Yakima - representing the best of the mid market to the very best.
A continuum of roof bar quality
When you click on our Roof bars product finder we will show you all the roof bar options available for your vehicle.
The purpose of this page is to help you to identify your type of car roof - for example, does it have raised roof rails, flush mounted roof rails or Fixpoints? - and then to help you decide which brand and style of roof bars to buy.
You need to be sure about exactly which car you have. When car models change we show an overlap, e.g. Ford Focus five door (2008 to 2011), and Ford Focus five door (2011 to 2018). If your car was registered in 2011, is it the last of the old model or the first of the new? If in doubt please look carefully at the pictures we provide.
You can of course mix or match brands and products, e.g. you could put a KAMEI roof box and a Thule bike carrier on Yakima bars, or an Atera bike carrier and a Thule kayak carrier on Thule bars.
Identify your specific model
There are essentially six very different ways of fixing roof bars to cars, as shown in the following pictures. For example, if your vehicle has "raised roof rails", where you can slide your hand under the rail, then you must choose a set of bars that are "for cars with raised roof rails", otherwise the bars we send you will not fit.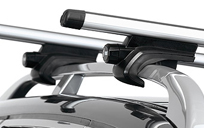 "for cars with raised roof rails" - you can push your hand under the bar.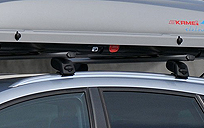 "for cars with flush-mounted roof rails"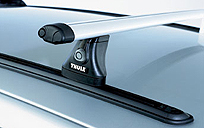 "for cars with T-tracks" - a channel in the roof with a slot running full length.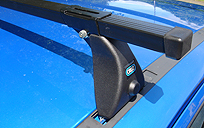 "for cars with fixpoints" - these mounting points are usually hidden under flaps or sliders.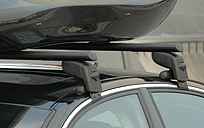 roof bars usually clamp around the bodywork if you don't have rails, tracks or fixpoints.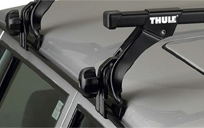 a few cars have old fashioned gutters.
About our brands
CRUZ (Spain) makes much the best quality mid market bars on the market, a modular system with separate adapter kits, i.e. when you change car you often only need a new adapter kit. Atera (Germany) and Thule (Sweden) make bars of equal quality. Atera bars, which are always available in either steel or aluminium, are supplied complete; everything is in one box, all adjusted and ready to fit onto the car. Thule bars are supplied in modular form, which means several boxes of components that you fit together. You may be able to use some or most of these components when you change vehicle, but the six different roof fixing types usually require different Thule Foot Packs. Thule is the world's largest manufacturer of roof racks. Their bars are always available in steel, sometimes in aluminium. Yakima's Whispbar bars are also a modular system but you use the same "foot" for all six roof fixing types, so it's likely that you'll probably only need to change the adapter kit when you change vehicle.
Whispbar were the first of a new generation of roof bars, taking roof bar science a long way forward. They created the sector, and registered the best patents. Thule followed with their WingBar - the T-track rubber infill needs to be fitted to cut down noise effectively - and then Atera launched their aero-profile bars, designing a bar profile that requires no rubber infill at all! CRUZ followed with their Airo bar.
What these bars have in common is an aerofoil-shaped aluminium wing that generates minimal drag and therefore makes next to no noise and has a negligible effect on fuel consumption.
Yakima's Whispbar is twice as quiet as the Atera aero-profile and the Thule WingBar (with rubber fitted), although the human ear is unlikely to pick up on this difference. The CRUZ Airo is very good compared to some of the other aluminium bars that we have tested.
The Yakima Whispbar has a built in rubber T-track filler, and the Atera doesn't need a filler at all. The Thule works best when the rubber strip is pushed into the T-track, and when this is cut into sections and placed between whatever you are carrying, e.g. bike carriers.
It's fair to say that if you are carrying a load of bikes on the roof there will be wind noise, but a good set of roof bars will minimise it.
More on the brands we sell and what makes them special:
Are aluminium bars worth the extra money?
Yes, really because they allow you to carry more, and they'll be much quieter than square-edged steel bars. These are the main practical reasons for choosing aluminium bars:
(1) Usefulness
You can use the full length of the bars for fixing your accessories, which may allow you to carry more on the roof, and thereby get better value from the whole system. Whatever you're carrying on the roof bars is fixed to the aluminium bars via the slots that run full length along the tops of the bars. A frequent problem with the cheaper steel bars is that the roof bar feet get in the way of the accessory fixings.
(2) Low Noise
The aluminium bars we sell are all very significantly quieter than steel roof bars. Roof bars generate a hum, sometimes a whistle, often around the 'middle C' frequency, which can become intrusive in certain situations, especially if the roof bars are exposed - it depends on the type of car, the type of roof bars, and the position of the roof bars on the roof. The volume tends to increase in line with speed. We don't want to exaggerate this issue - millions of steel roof racks have been sold over the years, and if the roof bars sometimes make an irritating noise, so also do the tyres, the engine, even the passengers! It's also important to note that roof rack whistle can usually be reduced to an acceptable level by moving the roof bars forwards or backwards, even by a centimetre, and it's much less of an issue if there's a roof box to change the airflow.
(3) Fuel consumption
Aluminium bars create less drag than steel roof bars and therefore have less of an effect on fuel consumption. This is important, especially if you are likely to use your roof bars frequently or to leave them in place for many weeks at a time.
Through bars or flush bars?
Through bars have a loading area that sticks out beyond the roof bar feet; flush bars only have a loading area between the roof bar feet.
Flush bars can look smart, but they may limit what you can carry on the roof, depending on the width of your vehicle, and what you want to carry.
Flush bars are always aluminium, with a T-track slot into which accessories are fitted.
VAN-RACKS
Roof bars and racks for vans and commercial vehicles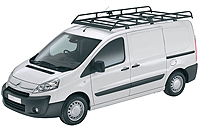 VAN-RACKS is the part of our business which supplies heavy duty ladder bars, roof racks, pipe carriers, bulk heads and other accessories for light commercial vans. We supply the full range of CRUZ commercial, Rhino and Thule Professional on our dedicated VAN-RACKS website, van-racks.co.uk
Visit van-racks.co.uk