Thule Roof Bars & Roof Racks
Thule makes excellent roof bars and has fittings for almost all car makes and models. Our database shows all the Thule roof racks available for your vehicle.
Most vehicles have several Thule roof bar options. As well as the standard black plastic-coated galvanized steel SquareBars there are also super quiet aluminium WingBars, SlideBars (ideal for use on tall or wide vehicles) and the rugged Professional bars.
We also show you where you can use longer bars than specified - this may useful if you have lots to carry, or if you already have the longer bars from a previous Thule roof bar system.
Pick the load carrier that fits your car
If we show a choice of different car roof fixings, for example "for cars with raised roof rails" and "for cars with fix points" it is essential that you look at your car roof and choose the correct fixing system. These are the most common types of fixing system:
Fixpoints

The fixing points are usually hidden underneath flaps or sliding panels
Raised roof rails

These rails run from front to back, and you can push your hand under them
Flush roof rails

These rails run from front to back and touch the car roof along their whole length
Clamp around fittings

If your car doesn't have any other obvious fitting system, the bars clamp around the bodywork
The Thule roof bar range
Thule One Key System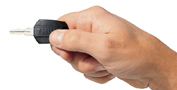 Look out for our 'One Key System' lock matching offer. When you put Thule products in the Shopping Basket we automatically calculate how many identical replacement lock barrels you'll need so you can lock all your Thule gear with the same key. We'll charge you a nominal price for each of these replacement lock barrels, refunding you the same price for each lock barrel posted back to us.