Fitting Carbox and Autoform liners and mats
Car Boot Liners and Boot Mats
Carbox and Autoform boot liners and mats (high or low - car or commercial) are basically fitted in the same way. Bend and slide into position as shown in pictures A, B & C. - right.Carbox high-sided car boot liners are pliable enough to be squeezed into saloon boots or past wheel arches.
Many competitors use ABS plastic which, being brittle, will crack if twisted. ABS products will usually therefore have lower sides to make them more manouverable. There is a suprising amount of science in what is essentially a very simple product!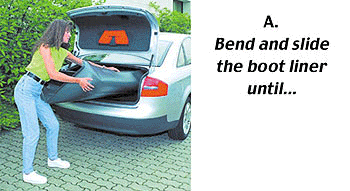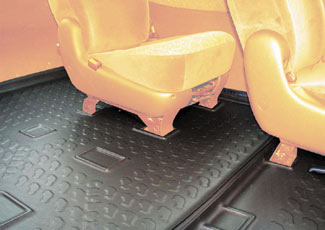 MPV Mats
Carbox and Autoform MPV mats fit in much the same way as standard boot mats. The main difference is that MPV mats have areas to cut out to allow for the seats and seat variations in modern MPVs. It also has flexible edges around the door areas so you wont trip into or out of the vehicle.
Usually supplied in two parts - one for the second row of seats, another for the third - for added flexibility of fitting and cleaning.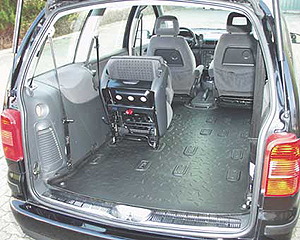 JV Carbox now produce a full length, one piece XXL MPV mat especially for the Ford Galaxy, Volkswagen Sharan and Seat Alhambra (left). An outstanding product, and true best seller!
"one piece XXL MPV mat especially
for the Ford Galaxy, Volkswagen
Sharan and Seat Alhambra"
Anti-slip Mats
Carbox Anti-slip matscan easily be cut into the exact shape of your boot or boot liner. Available in two sizes: 80cm x 60cm (FREE with a high sided boot liner) and 120cm x 100cm which have a machined fabric edge.
Cut Anti-slip Mat into shape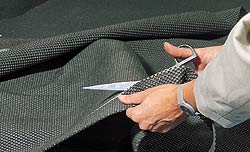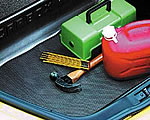 Click on the magnifying glass logo, wherever you see it, to find out which products have been specifically approved for use on your vehicle.
QUICK LINKS

Click on these links to jump to parts of the car boot liners and mats product range...
Car boot liners (short high)
Car boot mats (long/short low)
Back of seat liners
MPV mats inc. XXL mat
Anti-slip mats
Commercial boot liners and mats
Piccolo dashboard mat
Safe-Bag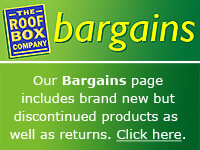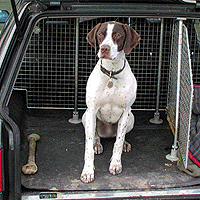 There are several categories of Carbox and Autoform products available for a range of cars, MPVs, 4x4s, vans and pick-ups. For more detailed information please see our Product Range page.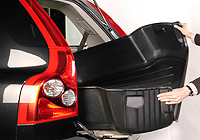 FITTING GUIDE
Carbox and Autoform products are generally very easy to fit, but in case you get stuck, click here for a simple guide to fitting.









NEW Boot Liners and Mats -
Clockwise from Top Left: BMW 5 series, Citroen C3, Vauxhall Astra, VW Golf Plus, Hyundai iX35, BMW X1, Mini Countryman and Chevrolet Cruze .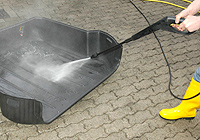 "Take it out and
hose it down!"
Usage tip: please don't polish your car boot liner, as it loses some of its non-slip quality.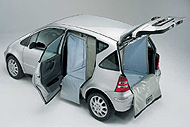 SAFE BAG
In the event you can't find a boot liner or mat, or don't think it is quite what you want, why don't you take a look at Safe Bag.
Created by the same clever Italians that invented Dog Bag, Safe Bag is designed to keep bulky objects in place, whilst keeping the vehicle clean and the passengers safe. It's ideal for work, rest and play, all without fear of damaging the interior of your car.
Carbox and Autoform Boot Liners and Mats are available for most brands, including... Audi, BMW, Citroen, Chrysler, Daewoo, Daihatsu, Fiat, Ford, Honda, Hyundai, Isuzu, Kia, Land Rover, Mazda, Mercedes, Mitsubishi, Nissan, Opel, Peugeot, Renault, Saab, Seat, Skoda, Smart, Suzuki, Subaru, Toyota, Vauxhall, Volkswagen and Volvo