Bike Carrier

Recommendations

When all's said and done, which carriers do we rate as being not only "the Best" - best build quality, best engineered, best features, easiest to live with - but also the best value for money? Read on!
Roof mounting - budget
The CRUZ Bici-racks are excellent value for money; they're much better value than any other bike/cycle carriers in the £15 to £25 range. Look out for our package deals, where you get a huge saving if you buy bars at the same time. In the £25 to £45 bracket you should go for the Thule FreeRide 532.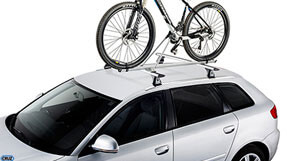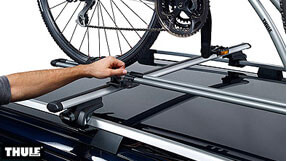 Roof mounting - top quality
Frame holders, fork holders, tyre holders. If in doubt, note that frame holders are far and away the most popular type of roof mounting carrier. Thule's ProRide 598 is the best frame holder carrier available; the Atera GIRO AF is a close second, and quite a bit cheaper.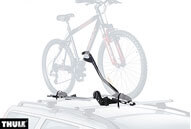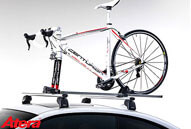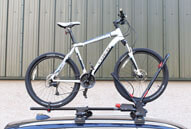 Looking at fork holders, the Atera GIRO Speed is excellent value; the Whispbar WB200 fork holder carrier fits either 9mm or QR15, and looks great.
Tyre holders are increasingly popular, especially for use with carbon frames. The Yakima FrontLoader grabs the front tyre; the INNO Tyre Hold only touches the rubber, back wheels as well as front wheels, so there's no risk of damage to frame or rims.
Rear door mounting - 'Hang On' type
We don't stock any of the really cheap strap on cycle carriers – they can easily damage paintwork, bend metal, and some of the strapping systems are unsafe if not used correctly. Thule's Clip On carriers are very easy to use, but note that even medium-length boxes and the ClipOn High will tend to meet when the tailgate is opened, so if you have a roof box you'll probably do better to go for a standard 3 bike ClipOn, or any of the excellent Saris Bones racks, and get a light socket wired into your boot.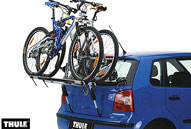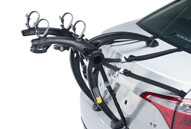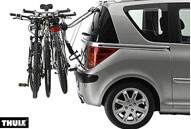 Thule's RaceWay carriers (2 bike or 3 bike versions) are excellent, easy to use, with steel straps, and they even lock onto the car – but as with all rear door mounting carriers the list of new cars they can be fitted to is getting shorter, due mainly to plastic tailgates or rear spoilers.
Rear door mounting - 'Wheel Support' type
The only Atera LINEA rear door mounting wheel support rack we stock is for the VW T5, for up to 4 bikes. The BUZZ RACK Pilot takes up to 2 bikes; a lighting board may be required, depending on the vehicle and, as with all rear mounting racks, it only fits certain vehicles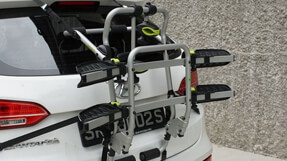 Tow bar mounting - 'Wheel support' type
2 to 3 bikes: At the budget end, the BUZZ RACK BB2 (2 bikes) is the one to check out. At the top end, the Atera STRADA Sport (2 and 3 bike versions, with the option to fit an adapter and carry an extra bike) are entirely convincing. If you have an electric, heavy or fat bike, the Sport is approved but note that Atera STRADA E-bike gives you an extra 5cm between the bikes.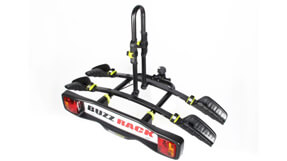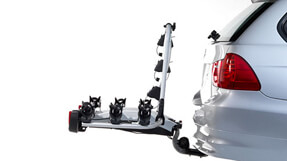 3 to 4 bikes: BUZZ RACK BB4 at the budget end, the tilting BUZZ RACK Quattro in the mid-market, and at the top end, nothing beats the Atera STRADA DL3 (4 bikes with optional adapter). Why so? The STRADA DL3 is much lighter than its competitors, its "slide away from the back of the car" system is much easier to use than any other system, it fits to all tow balls, it's easily placed into the boot of the car when not in use (which makes for easy parking), the frame shape allows easy access to the car boot, and with its offside fog light it's even UK legal.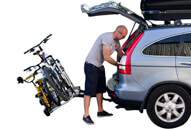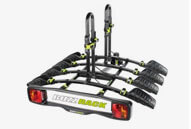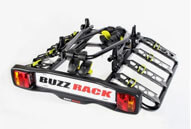 Tow bar mounting - 'Hang On' type
BUZZ RACK's Buffalo is a superb, tilting carrier, which includes a bike to rack locking system; frankly, anything made by BUZZ RACK is excellent.
If you want to tow at the same time as carrying bikes then you should look at the MAXXRAXX range – buy a Premier rack as standard, buy a Discovery rack if you have a vehicle with a vertical tailgate (e.g. VW T5 or T6), or a 4x4 rack if you have a spare wheel on the back door. MAXXRAXX, made in Great Britain, are an excellent choice in any event, easy to use, tiltable, with a strapping system that holds the bikes apart. They also have 5 bike options, but only for vehicles with a tow ball nose weight of at least 100kg.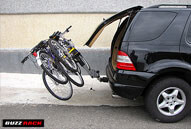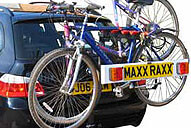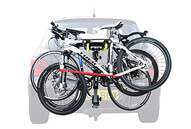 Generally, you should be cautious about buying Hang On tow bar carriers that have two support arms (two "horns"), because developments in bike frame technology (and bike frame fashion?) mean that you often can't fit one or more of your bikes, because the frame is just too small.
Customer Feedback
Tim says: Flawless customer service, with both original purchase AND dealing with a problem not of their making

Ann says: I am so impressed with how quickly this order came to the north of Scotland

Adam says: Overall a 5 star shopping experience

Danny says: Very prompt service - thank you very much

Simon says: I am very impressed with your company! A good website, easy ordering and efficient delivery.

Melanie says: It was so nice to find a company where I could actually speak to someone.

Grace says: Thank you so much for such an amazingly easy and quick service

Graham says: I just wanted to say thank you for the advice I was given when phoning to choose a tow-bar bike rack

David says: ...your customer care and satisfaction levels are excellent!

Ian says: Super service right from initial contact.

Kate says: Thanks very much for your helpfulness and efficiency.

Imelda says: I've received the dog bag and I love it ! The two dogs luv it too !!!

John says: I really appreciate the good customer service, it is quite rare these days :)

Rob says: Great website and flawless customer service

Jim says: ...once again, a first class, fantastic service!

Michael says: I am very impressed with the quality of the Atera bars-they are well made and very robust,by far the best Roof Bars I have had

Nick says: Very quick service and item extremely well packaged

Anne says: Very impressed with the item, it is just what I wanted, and very good quality.

Sean says: The Boot liner has arrived - excellent quality and a perfect fit

Anthony says: The advice given before purchase on what box to buy was excellent

Caroline says: It is a pleasure to make use of an amazingly efficient company

Chris says: You provide a truly excellent service from the speed of the delivery to the after-sales help

Tim says: Best service I've had in ages.

Janet says: ...it's a brilliant roof rack system and we are so pleased with it.

Brian says: You get 10 out of 10 for customer service.

Steve says: Thank you very much for sending a replacement and for such a brilliant service provided

James says: Excellent service from TRBC yet again – I do often cite you as one of the best consumer businesses I have ever known

Sarah says: Just to say - great pre and after-sales service from your company

Pete says: Web site very informative and easy to use. Order delivered speedily. Minor problems sorted out quickly.

Kim says: Your customer service is as good as your website!

Jon says: Many thanks for the quick service. Ecommerce at its best.

Bruce says: Great value for money from the roof box co along with good

Steve says: Excellent product from Kamei, and brilliant service from yourselves.
To see more, visit us on Facebook
Bike Racks + Roof Bars = Package Deals, from just £84.95