Bike Carriers & Bike Racks
Bike Carrier Recommendations
When all's said and done, which carriers do we rate as being not only "the Best" - best build quality, best engineered, best features, easiest to live with - but also the best value for money? You'll need to pay particular attention to the weight, wheelbase and tyre width on your bike to ensure that you choose a carrier which will not only fit your roof bars, but also your bike. Read on!
Roof mounting - budget
The CRUZ Bici-racks are excellent value for money; they're much better value than any other bike/cycle carriers in the £25 to £30 range. Look out for our package deals, where you get a huge saving if you buy bars and two or more bike carriers at the same time. In the £45 to £65 we'd recommend the Thule FreeRide 532 or the CRUZ Race Black if you're carrying a bike with a longer wheelbase (up to 135cm).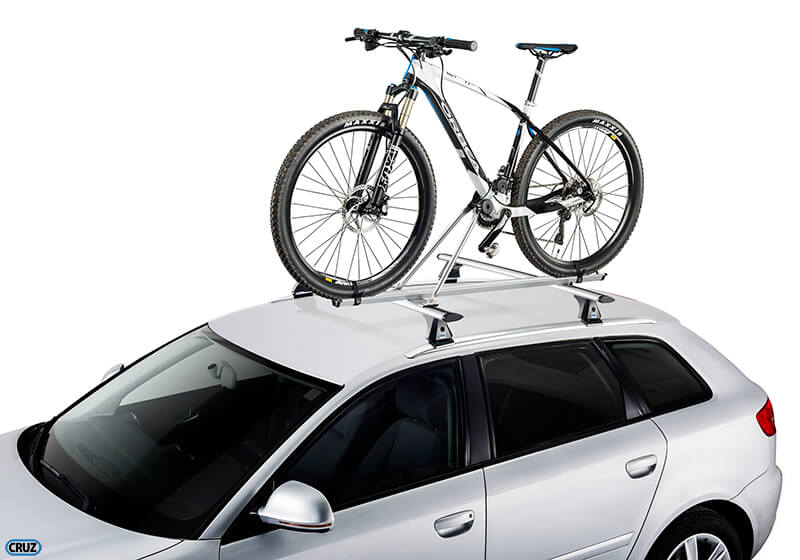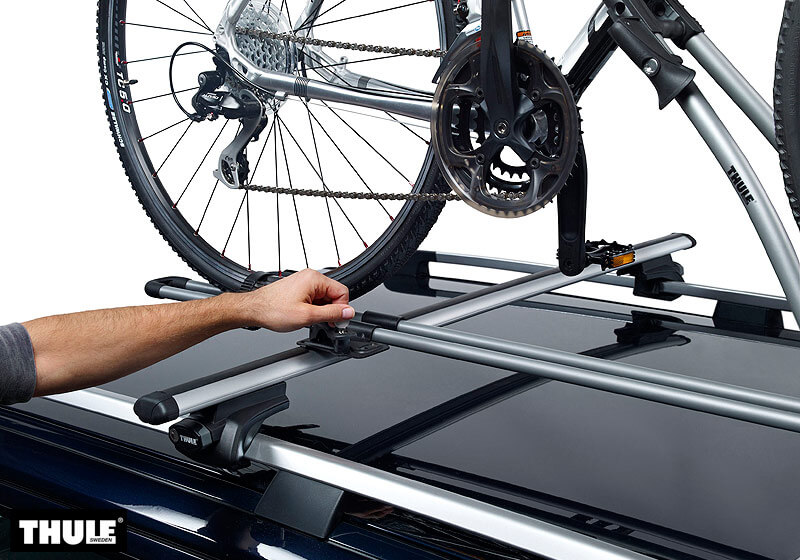 Roof mounting - top quality
Frame holders, fork holders, tyre holders. If in doubt, note that frame holders are far and away the most popular type of roof mounting carrier. Thule's ProRide 598 is the best frame holder carrier available; the Atera GIRO AF+ is a close second, and quite a bit cheaper. You'll find these carriers considerably easier to use in terms of loading the bike than those in the lower price bracket.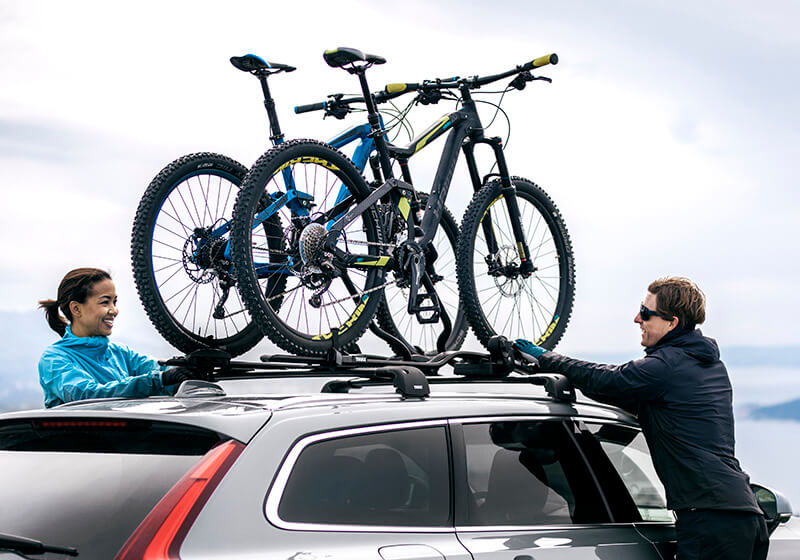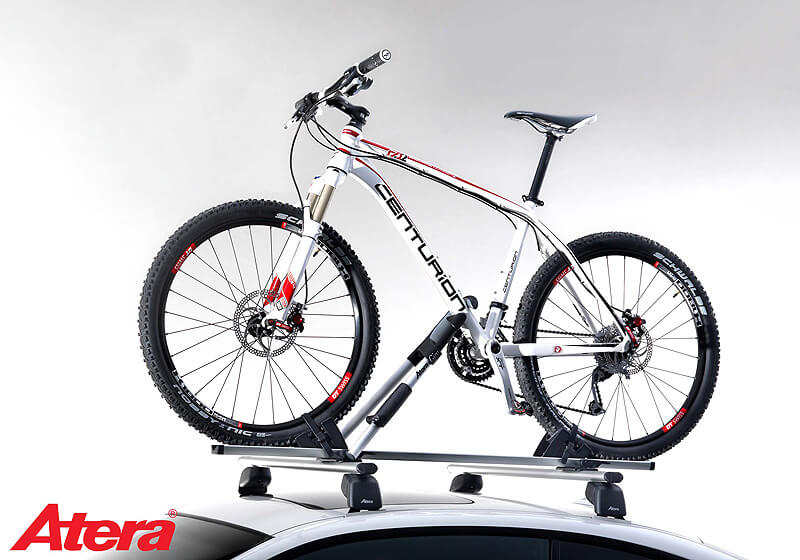 Looking at fork holders, the Atera GIRO Speed is excellent value if you're carrying a bike with a 9mm QR (quick-release) drop out. If you're carrying bikes with thru axles, or a combination of these and 9mm QR, we'd recommend the Yakima High Speed, which takes virtually every thru axle size, including Boost thru axles and up to a 5" tyre - great for MTBs. From Thule's offering, the TopRide is the most versatile of their options, taking 9-15mm thru axles, the Thule FastRide will only take a 9mm QR out of the box, but adapters are available for most thru axle sizes. The 'Bike Fork Compatibility' tab on the product pages will enable you to check a carrier's suitability for your bike prior to purchase.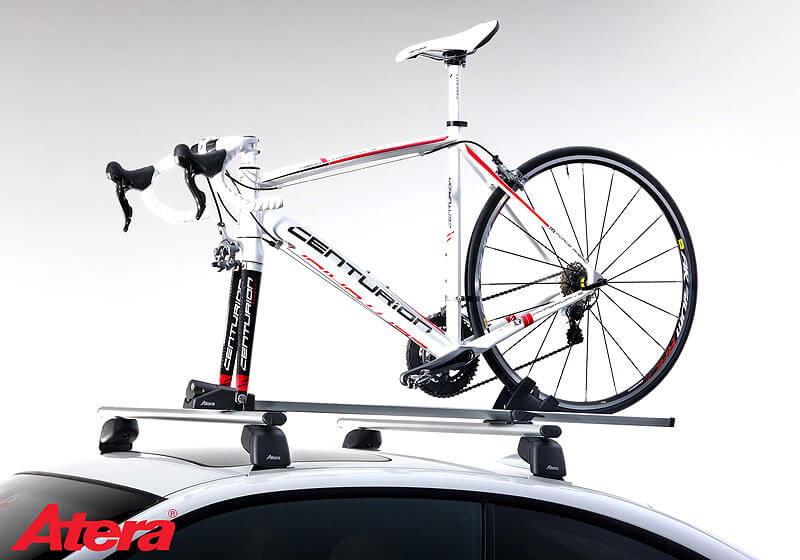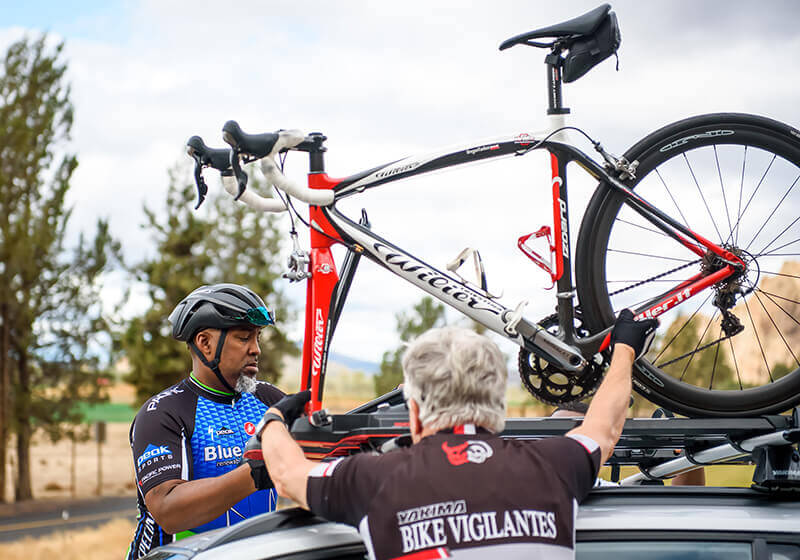 Tyre holders are increasingly popular, especially for use with carbon frames. The Yakima FrontLoader and HighRoad models grab and strap around the rear wheel rim. The INNO Tyre Hold only touches the rubber tyre on both the front and back wheels, often the best solution for carbon or deep section rims, as there's no risk of damage to the frame or rims. The Inno TyreHold will take a bike weighing up to 23kg, the highest load rating of any of the roof mounted carriers we sell, but do pay attention to the maximum wheelbase (120cm) and maximum tyre width (2.7"), especially if looking to carry an e-bike.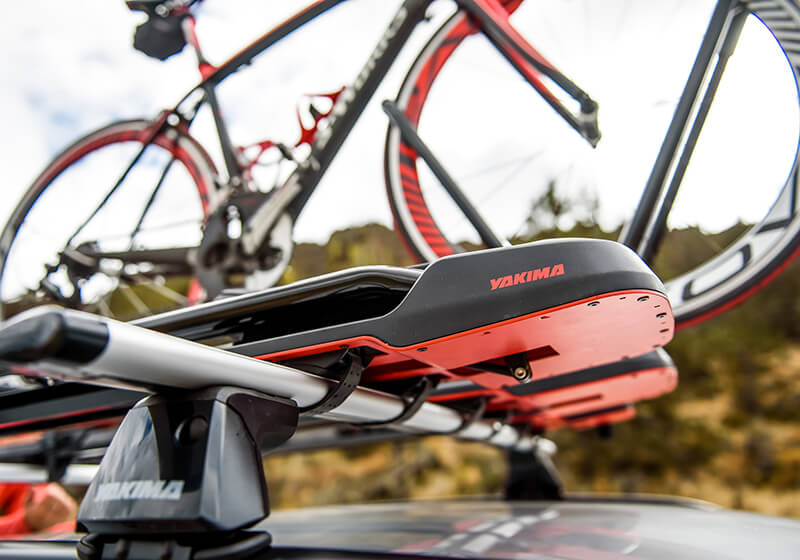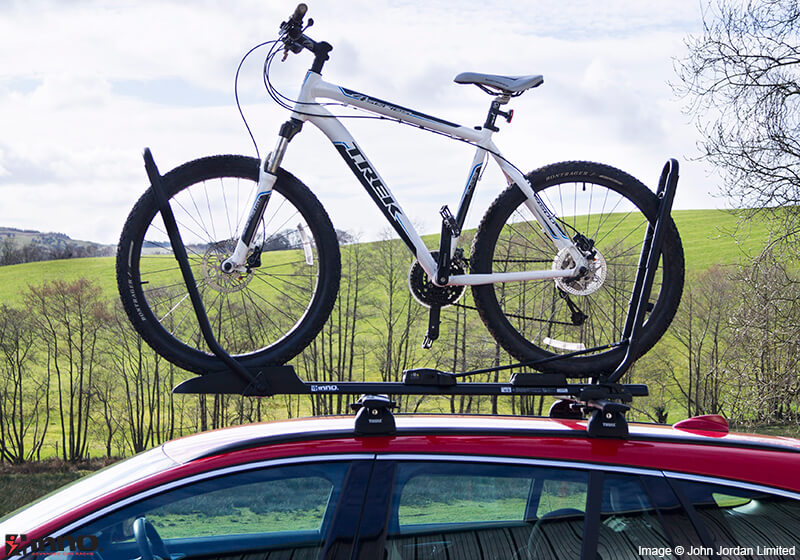 Rear door mounting - 'Hang On' type
We don't stock any of the really cheap strap on cycle carriers - they can easily damage paintwork, bend metal, and some of the strapping systems are unsafe if not used correctly.
Fewer and fewer vehicles can safely fit a rear door mounted carrier, usually due to them having a full glass rear windscreen, or a spoiler, but for those vehicles that may carry a rear door or strap on carrier, these are often the cheapest option. The Thule OutWay Hanging rack, available in 2 or 3 bike versions uses Thule's 'AcuTight' torque limiter knobs, which click to let you know when you have fitted the rack tightly enough, and they fold compactly for storage. You'll nearly always need a lighting board/number plate holder when using a hang-on type rear door mounted carrier, so make sure you have a socket you can plug the lighting board into. Don't forget an artificial cross bar for any ladies/children's bikes you are carrying. They're load rated to 15kg per bike, so won't be suitable for e-bikes.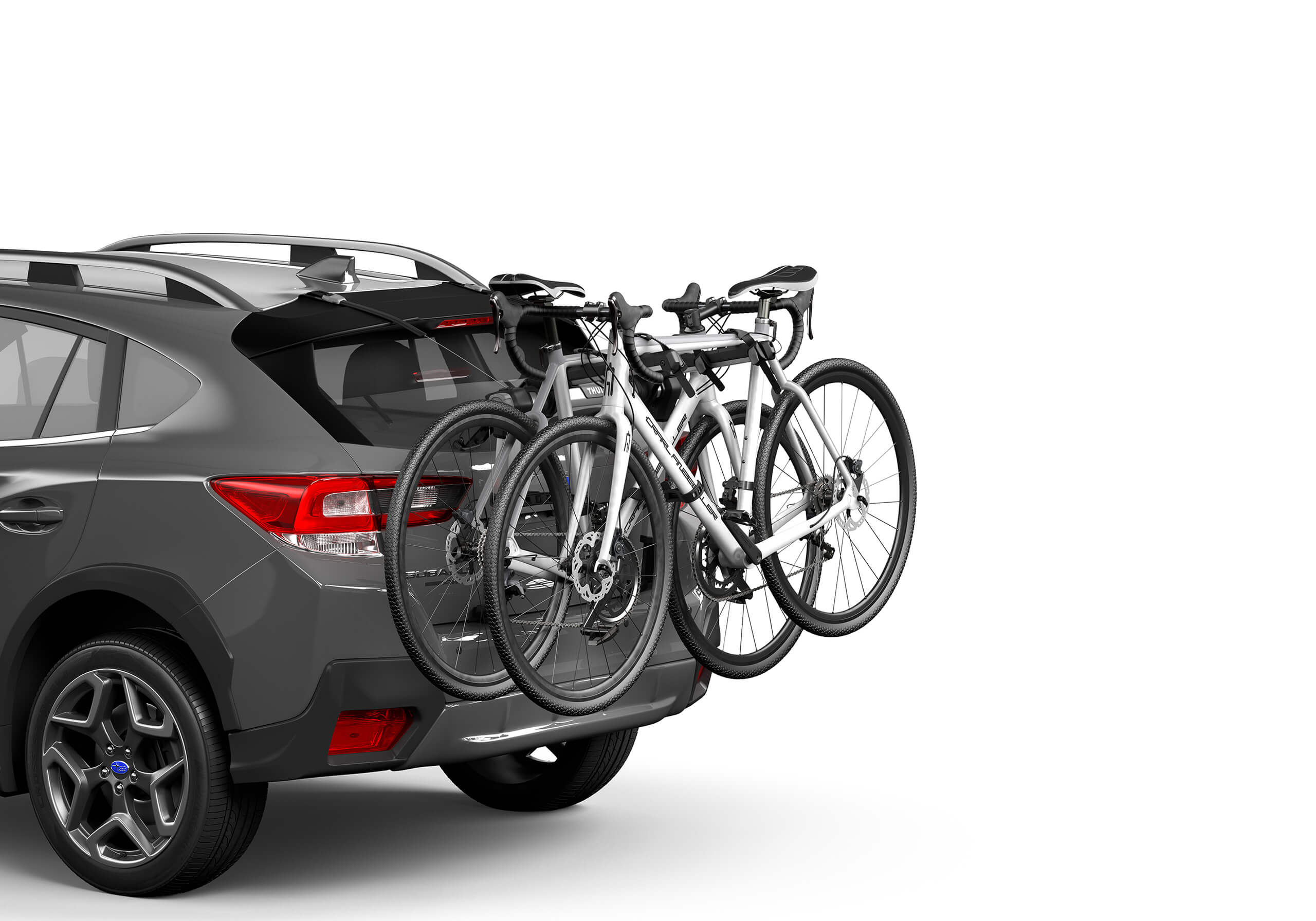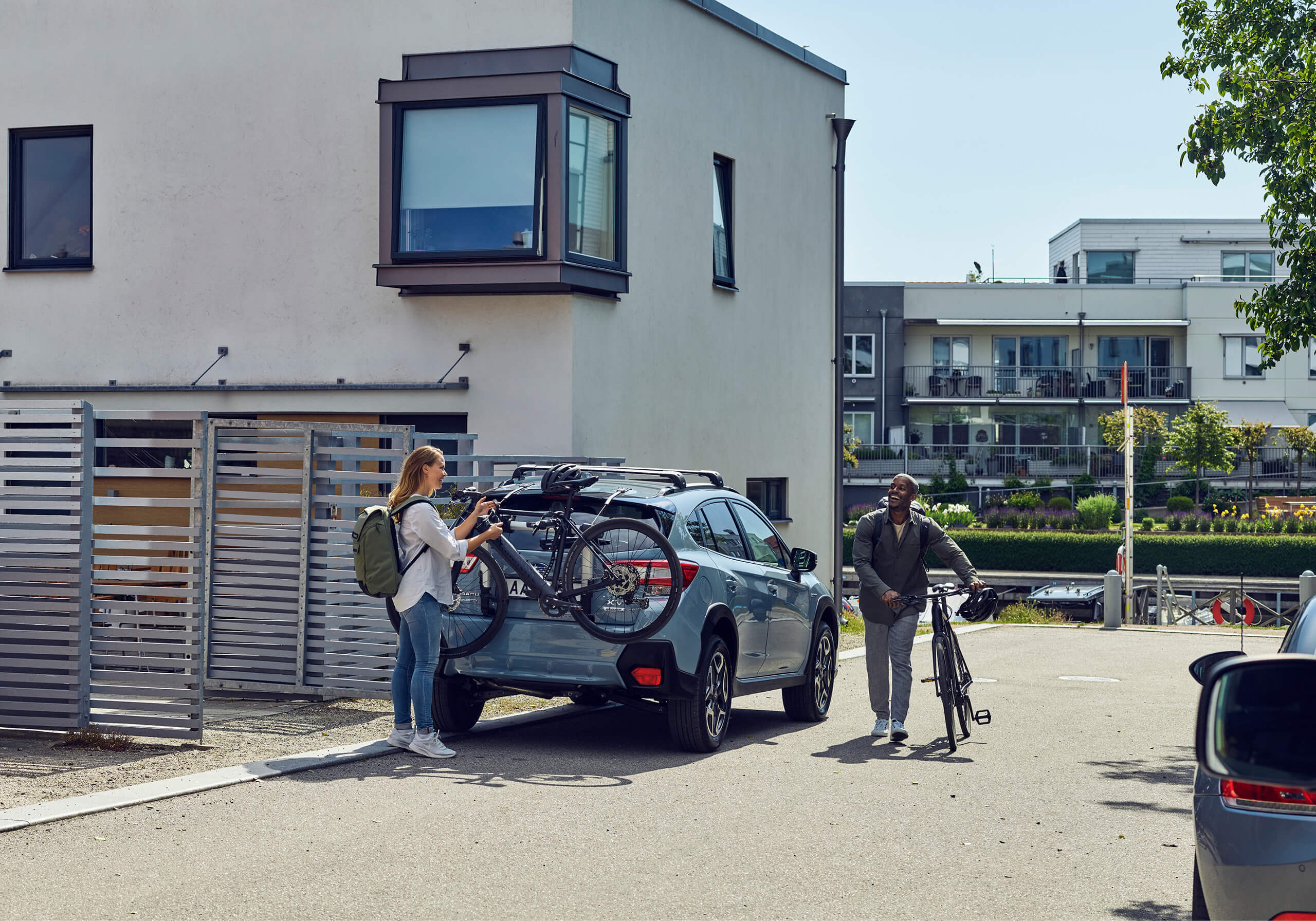 Rear door mounting - 'Wheel Support' type
Thule supply the best rear door mounting wheel support racks. The OutWay Platform for two bikes has the widest application guide and will be listed for your vehicle if it is suitable. It's a high mount carrier, so it's less likely to obscure the lights or number plate than the hanging type, you can still open the tailgate on most cars, but only after removing the bikes. The Thule Wanderway fits the VW T6 and enables you to carry up to 4 bikes with additional adapters.
The BUZZ RACK Pilot takes up to 2 bikes; a lighting board will often be required, depending on the vehicle and, as with all rear mounting racks, it only fits certain vehicles.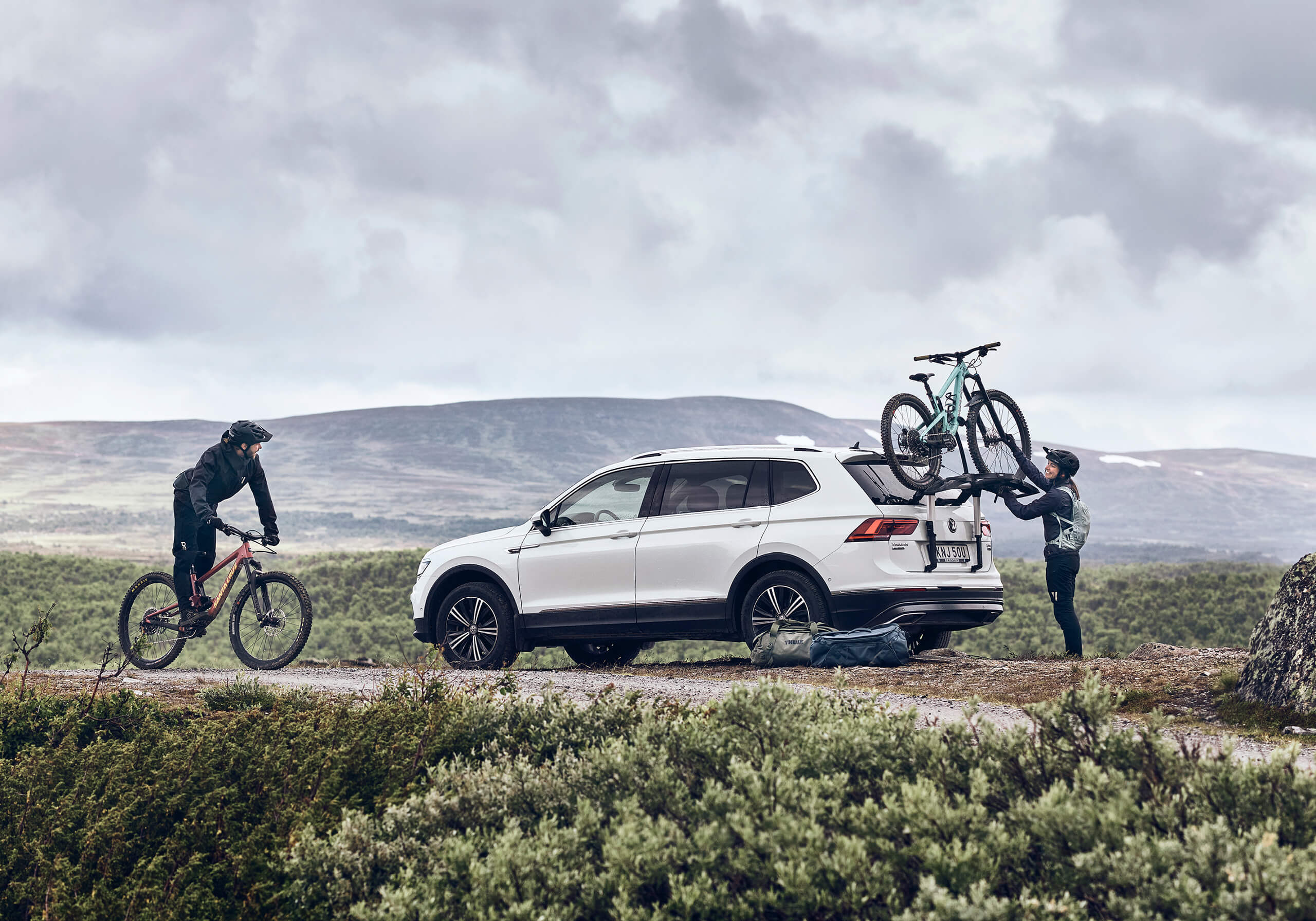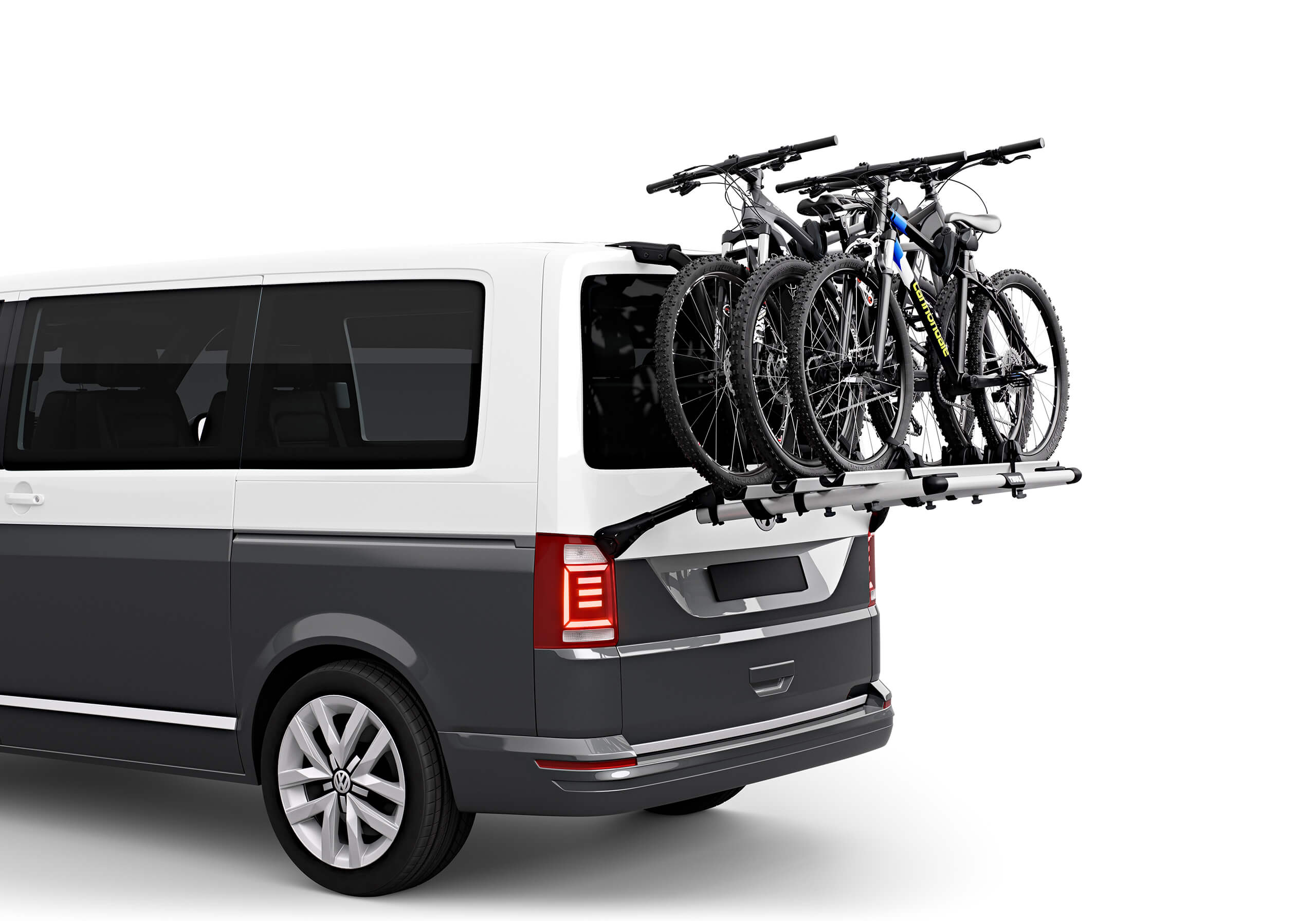 Tow bar mounting - 'Wheel support' type
Tow bar racks are certainly the best way to carry heavier bikes, e-bikes and MTBs, and are equally suitable for road bikes and children's bikes. You don't have the effort of lifting the bikes up on to the roof of the vehicle, and there'll be no concerns about hitting height restriction barriers or low hanging branches.
2 to 3 bikes: At the top end, the folding Atera GENIO PRO Advanced (2 bike, with the option to fit an adapter and carry a third bike). The second tilt setting allows almost all vertical tailgates to be opened and it's 'plug and drive' fitting system is particularly quick and easy to use. If you have an electric, or a fat bike, we recommend having a look at the BUZZ RACK E-Hornet 2 or 3, or the BUZZ RACK E-Scorpion 2 which take longer wheel bases, wider tyres (up to 4") and, because the upright is in the middle of the wheel trays, attaching unusual shape frames to the rack is much easier. They're weight rated to 60kg (30kg per bike).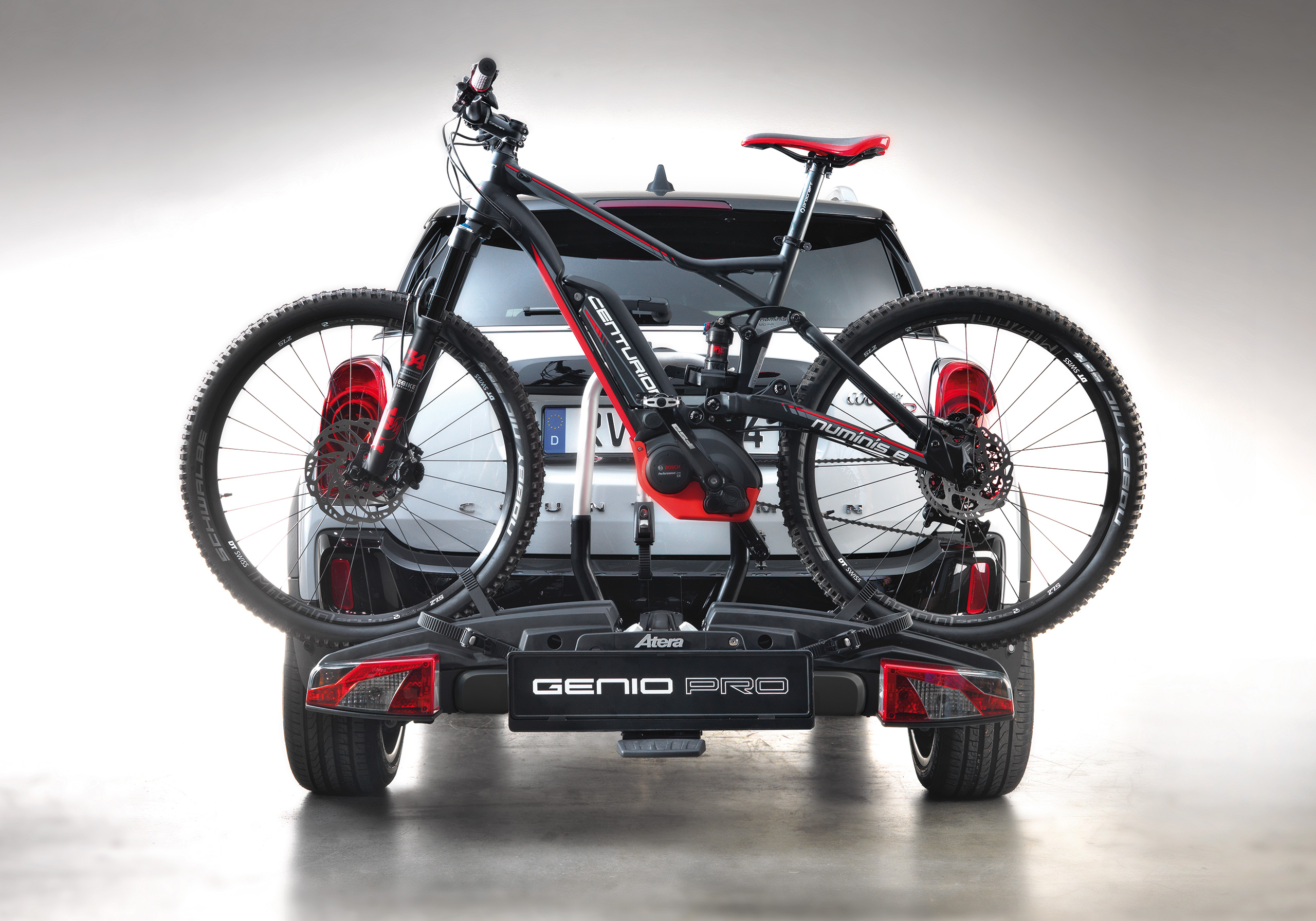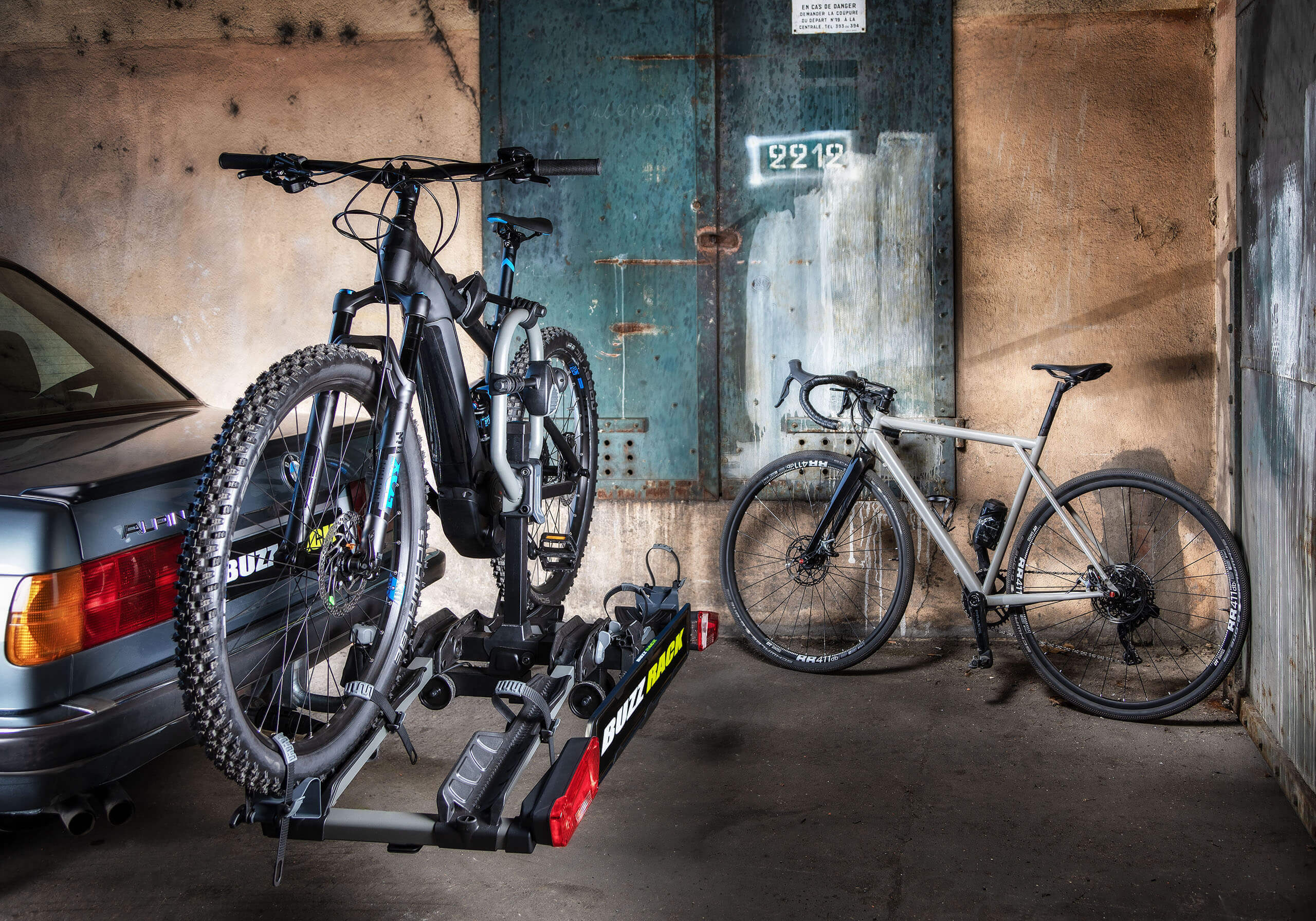 3 to 4 bikes: BUZZ RACK BB4 is the cheapest option, the tilting and folding BUZZ RACK Eazzy 4 in the mid-market, and at the top end, nothing beats the Atera STRADA DL3 (4 bikes with an optional adapter). Why so? The STRADA DL3 is much lighter than its competitors, its "slide away from the back of the car" system enables access to the boot with even the most vertical tailgates, and also taking the weight of the bikes, it fits to all tow balls, is easily placed in the boot of the car when not in use (which makes for easy parking) and the 13 pin electrics mean you'll have fog and reverse light functions on the carrier too - if your vehicle has a 13 pin socket fitted.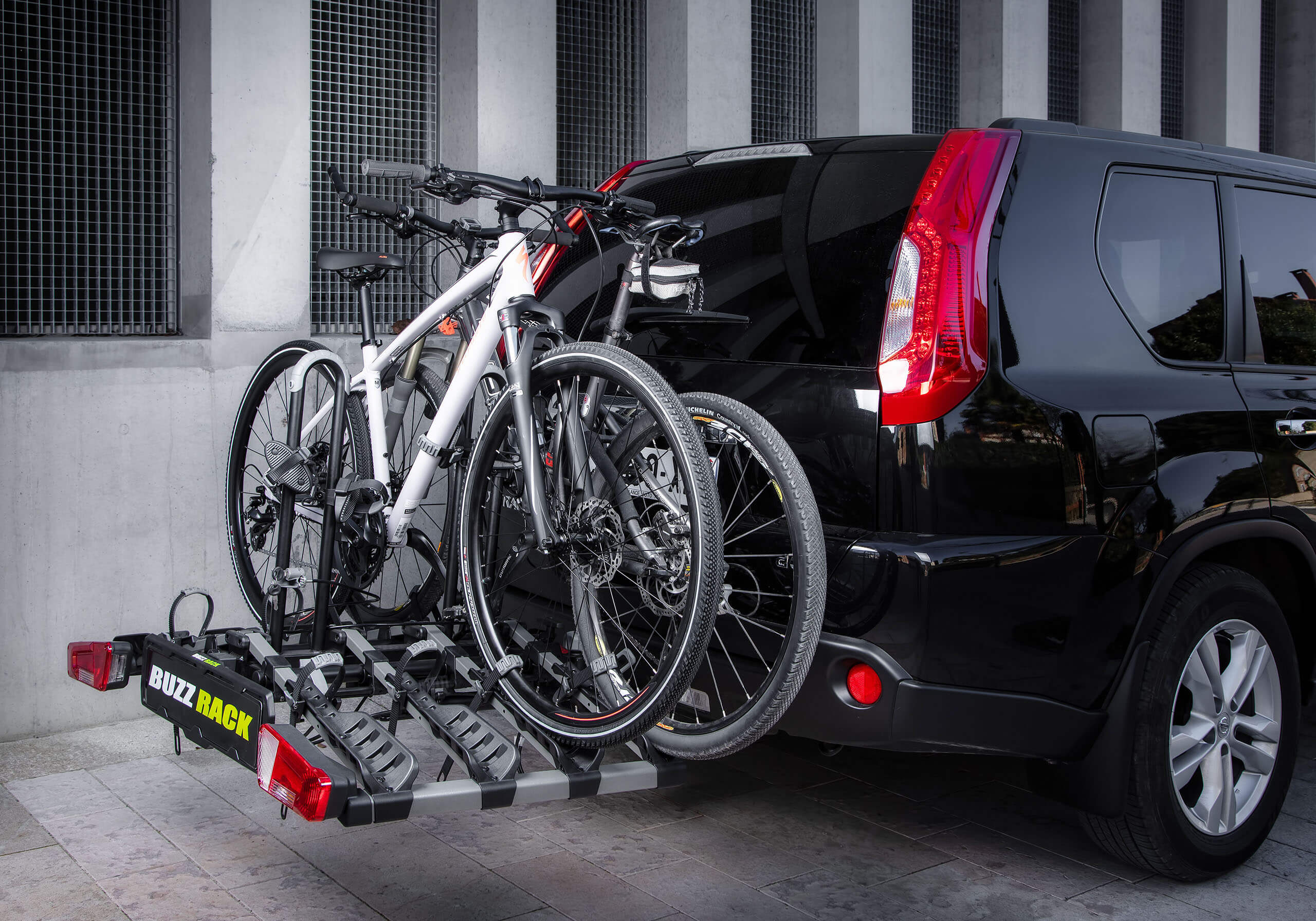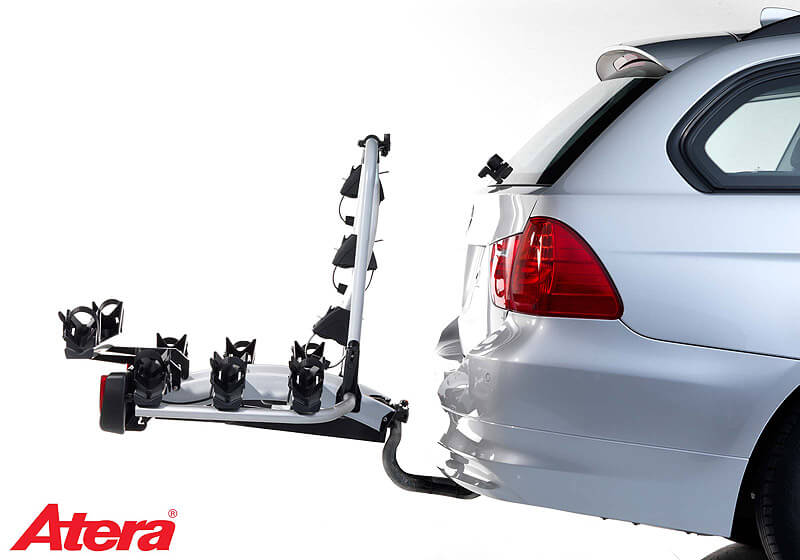 Tow bar mounting - 'Hang On' type
BUZZ RACK's Buffalo is a superb, 4 bike tilting carrier, which includes a bike to rack locking system; frankly, anything made by BUZZ RACK is excellent value for money - great designs and build quality. If you only need to carry 2 bikes, the BUZZ RACK V-Buzz is basic, but it does the job and is ideal for keeping in the car ready for local bikes rides and picking up the kids' bikes. As with the rear door mounting carriers, you'll likley need artificial cross bars for any ladies or children's bikes you are carrying and a lighting board if the number plate and lights on the vehicle are obstructed.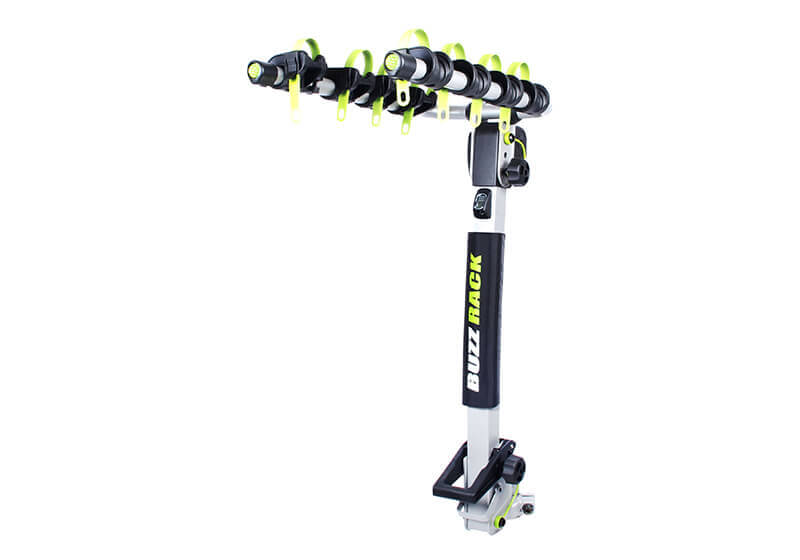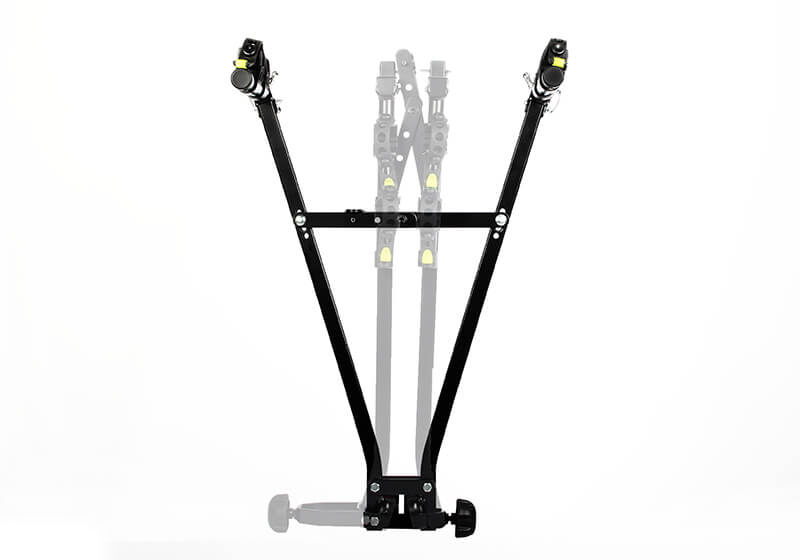 E-bike carriers
It is usually possible to carry an E-bike on a bike carrier, but this will nearly always need to be a towball mounted wheel support rack. E-bikes are usually either too heavy, or too long for roof mounted carriers, regardless of the fact that lifting an E-bike up onto the roof of a vehicle is not usually a practical solution. E-bike frame shapes are rarely suitable for the hang on racks, which are also usually only weight rated to 15kg per bike, too low for most E-Bikes. You'll need to check the 'Specifications' tab on the product pages to make sure the carrier can accommodate the weight, tyre width and wheelbase of your bike. Always remove the battery from the bike before fitting to a bike carrier, both for safety and to protect the battery.
Out top E-bike recommendations include the BUZZ RACK E-Hornet 2 or 3, and the BUZZ RACK E-Scorpion 1 or E-Scorpion 2, not only for load capacity, ease of use and quality, but because the upright in the middle of the carrier makes it relatively easy to load a wide range of frame shapes and sizes and they also take longer wheelbases.
The Atera GENIO PRO Advanced (2 to 3 bikes) designed for E-bikes and other heavy bikes, is probably the best bike carrier on the market, due to it's ease of carrying and fitting, the way it folds for storage so that the lights are protected and the grime from the road or trail can't rub off on your clothes, and because it tilts far enough to allow vertical tailgates to be opened - it's ideal for use with e.g. the VW T5, T6 and the Mercedes-Benz Vito.