Walser car seat cushions and 'Roll out' mats
Walser car seat cushions and Walser 'Aerotex' seat cushions are a quick and effective means of protecting your front seats from the worst of the wear and dirt that will otherwise slowly degrade them. The front is made from a hard wearing matt finish foam-filled polyester, and the back is a non-slip black polypropylene. They're held in place with an elastic strap around the headrest, another strap around the seat back at low level, and if required a strap between the seat and the upright. They're well made, look good, and are comfortable to sit on - not too hot - and they stay in place very well.
100% cotton, with a padded foam lining and elastic securing straps, the Roll Out mat is portable, rolls up quickly and easily, and is water resistant, it could make the ideal companion on your beach holiday!
Walser seat cushions and Roll out mats are not vehicle specific items.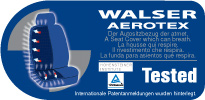 "Aerotex" is a Walser patent. By using a variety of technical fabrics to draw the moisture away from the areas which tend to get hot and sweaty, sitting on an Aerotex cover should leave you feeling fresher, more relaxed and, in theory, less prone to colds and chills..
Sorry, there are no products available for these filters; please change them to see your options.
All our prices include VAT at 20%