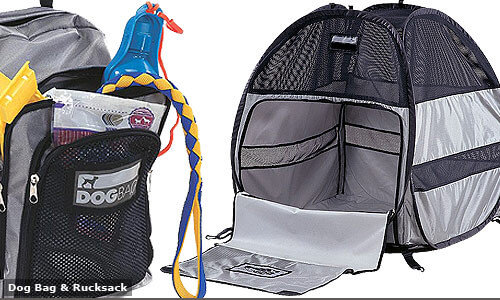 Dog Bag pet transport systems, fabric kennel. Dog Bag pet carriers, dog carrier. Pet Tube dog carrier, dog transport, cat carrier. USB small pet carrier, animal carrier. Jet Set, Contour Messenger, Marsupack, Sport Wagon stroller, Dog Crates, WalkyBasket pet basket, pet beds, pet accessories.
Welcome to our

Pet Carrier

pages
We have a range of Pet Carriers, Dog Tent Crates, Dog Carriers, Pet Accessories, Cat Carriers and more from top manufacturers including BICE, EGR and Dog Bag.
Click on a link below for more information or to place an order.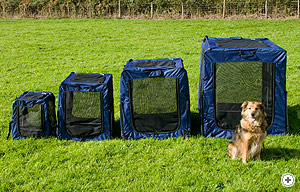 BICE WalkyHome dog crates
from £44.95
>> BICE WalkyHome Large
>> BICE WalkyHome Extra Large
The WalkyHome dog crates are in our opinion the best of their type. They use very good quality materials, don't rely on zips to hold the panels together, and have a side access as well as an end and top access, allowing them to be used in the boot of a standard estate car. There's even a built in sunshade that can be quickly pulled out as required.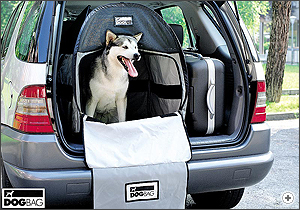 Dog Bag dog carriers
from £69.95
>> Dog Bag Extra Small
>> Dog Bag Small
>> Dog Bag Medium
>> Dog Bag Large
Dog Bag is fundamentally a much gentler, warmer, and all round snugger refuge for a pet than a steel cage or a plastic crate. The base is square rather than rectangular so it takes up less space in the boot of the car, and the top of it squashes down in low ceiling cars. Many dogs that are known "bad travellers" cope much better in a Dog Bag than in anything else. Many of our customers now swear by this product, even telling us that they now take their dog away for the weekend when once they just wouldn't go away at all."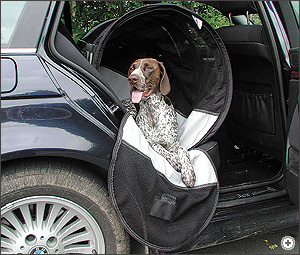 Pet Tube pet carrier
from £42.50
>> Pet Tube Small
>> Pet Tube Large
Pet Tubes are designed for use on the rear seat of your car, and are particularly appropriate for use in saloon cars. There's plenty of space and ventilation for the dog, and all dog hairs and dried mud etc. will be kept inside the Pet Tube, not on the car seats. The Pet Tube Large can be reduced to 1/2 or 2/3 length, allowing seat space for a passenger.
USB - small pet carrier
from £44.95
>> USB pet carrier - Silver
>> USB pet carrier - Orange and silver
>> USB pet carrier - Black label
The USB pet carrier is an airline approved top loading bag, most suitable for small dogs, available in silver, Black Label, or silver and orange. There are accessories for fitting it to car seats, carrying it on a bike or even a motorbike, and also a wheeled travel kit, perfect for train station or airport use.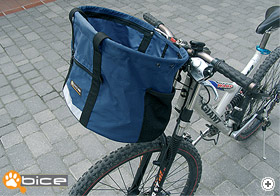 £49.95
WalkyBasket is the perfect accessory for taking your dog with you on your bike. It attaches quickly and easily to the handlebars using a quick-release fitting system. It can be easily removed from your bike and includes a padded strap so you can also carry it on your shoulder. Features include a water resistant removable lid, two mesh pockets on the side and a front zipped pocket so you can carry small items that your dog may need.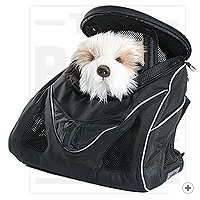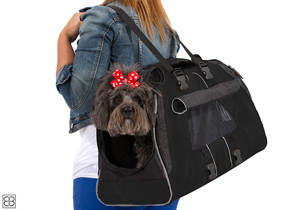 Jet Set pet carriers
from £74.95
>> Jet Set Black:
Small
/
Medium
/
Large
>> Jet Set Orange & Brown:
Small
/
Medium
/
Large
>> Jet Set Silver & Brown:
Small
/
Medium
/
Large
The Jet Set series of really well designed and beautifully made end-loading pet carriers gives your pet a bit more space and a solider structure. It's also full of pet friendly features. There's also a range of optional accessories. The Large size is particularly popular as a cat carrier.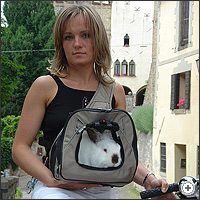 £28.95
The Marsupack is an over the shoulder travel bag for small pets. It works best when worn in front of you, where a nervous pet is well protected, can see you and be reassured. It's easily extended to allow your pet more space

Click on the magnifying glass logo, wherever you see it, to find out which products have been specifically approved for use with your pet.
Pet Gallery
See our products in action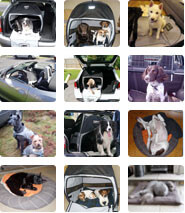 See the full gallery