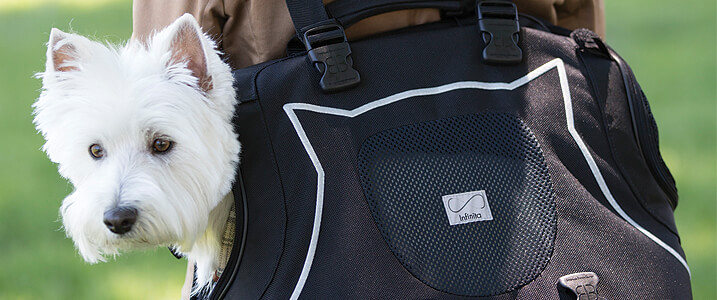 Small pet carriers
Emanuele Bianchi Design have been designing and manufacturing small pet carriers for over 15 years. Their products are innovative and smart, based on a deep understanding of what helps pets to travel in as stress-free a way as possible. The user-friendly features are born of years of experience and product refinement.
The materials and manufacturing are top quality, but Emanuele Bianchi Design don't charge a 'fashion' premium, so when you look at what goes into making such superb bags, especially in the context of other premium pet carriers available, we think these carriers are exceptionally good value for money.
The Infinita / USB and Contour Messenger bags are ideal for small dog breeds, especially if you're walking out and about, shopping and meeting friends. It's the same for the Jet Set carriers, although these can hold larger breeds and, thanks to their hidden 'Forma Frame', they hold their shape and are therefore also ideal for cats – who also really appreciate the privacy and the well-padded, cosy interiors.
All the carriers are ideal for car travel. The side-release buckles on Infinita / USB and Jet Set can also be clicked into a range of accessories to allow for safe and easy transport on bikes and motorbikes. There are wheeled accessories to make air and train travel massively easier, and even a crash-tested ISOFIX connection for Jet Set, so you can be confident that your best friends are travelling at least as safely as you!
Sorry, there are no products available for these filters; please change them to see your options.
All our prices include VAT at 20%