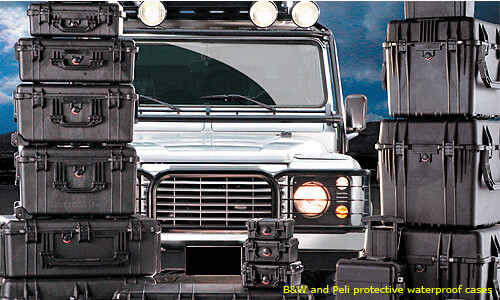 Welcome to our Protective Waterproof Cases Range
Protective waterproof cases from Peli and B&W are highly durable, waterproof, airtight, dust and corrosion proof and able to withstand extreme conditions. They are available in a range of shapes, sizes and colours. Most cases are available with a choice of interior fittings. Empty case, foam inserts or padded dividers. Accessories are also available.
B&W outdoor.cases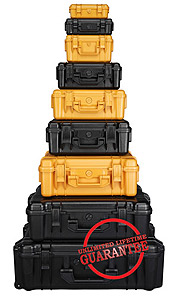 B&W outdoor.cases do everything you'd expect of a waterproof protective case. Add in a few unique and innovative features such as burst-free 2 stage catches and an integral "balanced carrying strap" system, and accessories including a backpack, and you'll find that outdoor.cases are not only superb value but have all the features you're likely to think of. B&W outdoor.cases are... waterproof, airtight, crackproof, dustproof, chemical resistant, and designed to withstand extremes of cold and heat. In short, they're virtually indestructible.That's why they're given anUnlimited Lifetime Guarantee.
B&W outdoor.cases have passed the stringent TÜV testing regime;
Waterproof: this included a period of immersion at 5 metres
Protective: a 3m fall to concrete
and various compression and operational tests in simulated extreme conditions.
PELI cases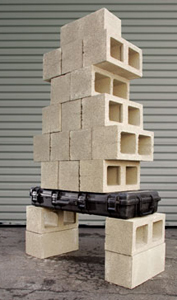 The Peli Protector ™ range of protective watertight and crushproof cases offer total protection in virtually any situation: The body of the protective waterproof case is a structural copolymer resin. Incorporated into the shell of the waterproof protective case is a pressure purge valve to allow pressure equalisation. A neoprene "O" ring in the lid ensures that the tongue and groove seal remains watertight.
The hinges and handle interlocks form an integral part of the moulding, making it virtually impossible to break in the event of rough handling. A padlock facility (also an integral part of the moulding) keeps your property safe from roving hands. Used extensively by units of all major NATO armed forces, the Protector range of waterproof protective cases has seen action in all recent military events.