Pet Accessories: Travelling with pets
We have a range of Pet 'Travel' Accessories from top pet product manufacturers BICE, EGR, Dog Bag, Fasty, Saunders and more.
A range of pet accessories for the home, including Pet Beds, Mats, Mattresses and Fabric Kennels are also available. Please click here.
Pet accessories:
pets travelling on your bike or walking
Pet accessories: pets travelling by car

Click on the magnifying glass logo, wherever you see it, to find out which products have been specifically approved for use with your pet.
Pet Gallery
See our products in action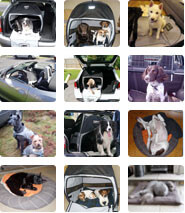 See the full gallery