Atera Roof Bars - Assembled and ready to go.
Atera is the best of the German roof rack manufacturers. Most of their roof bars and accessories business is with the car manufacturers, where major customers include Audi, BMW, Daewoo, Chrysler, Fiat, Honda, Mitsubishi, Mercedes-Benz, Opel, Subaru, Suzuki, Vauxhall and Volkswagen.
Their own branded SIGNO AS and SIGNO ASR roof bars are beautifully made, stylish, pre-assembled and ready to fit, with a recessed and splined tensioning bolt which provides a much more secure locking system than a conventional keyed lock barrel. The tensioning key can be twirled with your index finger, making these bars particularly quick to fit.
All Atera bars are available in plastic coated galvanized steel (32mm x 22mm) or with aluminium 'T-track' aerobars (58mm x 28mm with standard slots for 20 x 20mm adapters).
Atera's SIGNO AS and SIGNO ASR roof bars have integrated locks for extra security.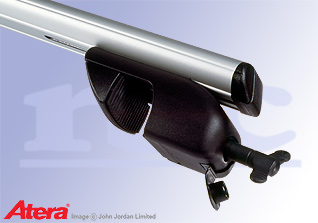 Atera's SIGNO ASR roofbars are our recommended option for longitudinal roof rails, also winners of the last Auto Express roof bars test
A good compromise between quality, price, and fitting
Low profile - only 40mm from the centre of the rail to the top of the roof bar
Can be adjusted to fit wide roof rails, up to 55mm diameter
Various length bars available
Auto Express Best Buy award
Very quick to fit
"A good compromise between quality, price, and fitting earns these rail-fit bars our Best Buy award." Auto Express
Atera's SIGNO roof bar features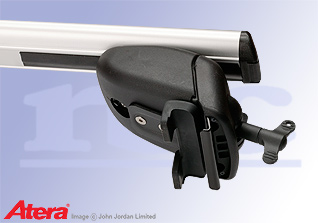 The image left shows details of the Atera SIGNO AS bars used on flush mounted roof rails. Note that the slots in the base of the roof bar are supplied with rubber infills to minimise air intake / roof bar noise, and that these rubber strips are already fitted. Atera bars are supplied ready to fit - you'd just place them on the flush rails and turn the key tool shown in this picture to fasten them on.
These bars are really quick to fit. The first time you use them you'll set the feet for the distance between the roof rails and then tighten them onto the bars with an Allen key. From then on just place the bars on the rails and take up the slack on the clamping foot by twirling the key lock with one finger before giving each one a couple of proper final tightening turns. With other systems you need to keep moving from one side of the car to the other, gradually tightening the feet, because otherwise you'll soon have more bar sticking out on one side of the car than the other.
Atera's SIGNO roof bars fit different roof fixing types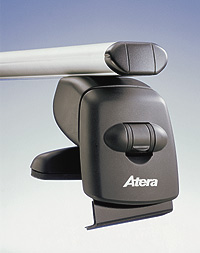 Atera SIGNO AS for gutterless cars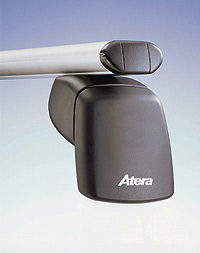 Atera SIGNO ASF 'Fixpoint';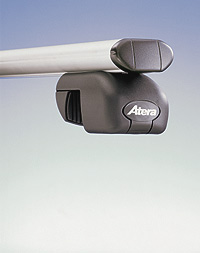 Atera SIGNO ASR for longitudinal rails.