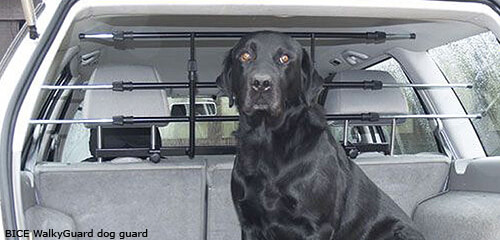 Please choose your vehicle make and model from the dropdown menu below
Welcome to our
Dog Guard

pages

We have a range of Dog Guards, dog accessories, safety guards and more from top manufacturers including BICE, Saunders and Masterline.

Dog Guards are a partition between your car seats and the boot of your car, ensuring that your pet can not easily enter the passenger area of your vehicle. Our range includes Saunders 'vehicle specific' wiremesh and tubular guards, and the innovative universal headrest mounted WalkyGuard from BICE. All designed to keep you and your dogs safe.

It's not only people who need to be secured in a vehicle when it's moving. In a head-on collision, anything which isn't fixed in place will pose a threat to occupants as it hurtles forwards - and that includes your pet dog. This is why keeping your faithful hound in the boot with a dog guard is essential for safety. Even if you don't have a pet, a Masterline safety guard could be a good idea to stop items like shopping flying through the car in the event of an impact.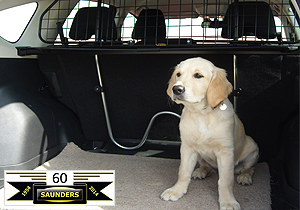 Saunders Dog Guards
Saunders Dog Guards are vehicle specific and designed especially for hatchbacks, estate cars, 4x4s, MPVs and small vans. They come in four basic models in both the wire mesh and tubular styles.
Wire mesh - W93, W94, W95, W96
Tubular - T93, T94, T95, T96
These are supplemented by vehicle specific variations. Once you have viewed the options below, and decided between wire mesh and tubular, please click on a 'Which Dog Guard fits my car?' button to be taken to a vehicle specific list, with links to our on line ordering system.
Wire mesh dog guards have a high quality steel frame, 2" square welded mesh, and a black satin finish. They are height and width adjustable.
Tubular dog guards are made of welded tubular steel for maximum strength, with an attractive and hardwearing grey 'hammer' finish. They are also height and width adjustable. The bars are spaced at 6.7cm intervals - considered to be the optimum balance of protection and visibility.
All Saunders dog guards are easily removed and fitted with no tools required for assembly or fitting, no holes to be drilled, and no permanent fittings required to the vehicle.
Most Saunders dog guards are headrest mounted and use quick release buckles. The 'W' shaped leg assembly maximizes the valuable boot space of your car.
The hatchback models W11 and T11 utilise the existing parcel shelf supports.
Prices are shown on the 'Which Dog Guard fits my car?' page.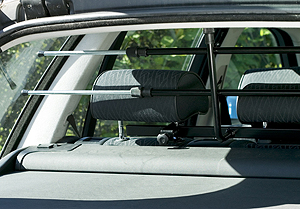 BICE WalkyGuard dog guard
£49.95
BICE's WalkyGuard is a new and innovative headrest-mounted universal dog guard. Its adjustments for width and height make it suitable for almost all vehicles with rear head rests, and it's certainly the fastest and easiest guard to fit and remove that we've seen – not more than a couple of minutes.
As well as fitting almost all vehicles, i.e. being particularly good value for money, it doesn't impede the normal use of a fixed or rolling parcel shelf / boot blind – that's a unique feature of a well designed headrest-mounting guard.
Almost as important in our experience is that the WalkyGuard doesn't rattle – one of the irritating bugbears of many dog guards. It's a one piece welded construction with no potential for metal on metal vibration, with a black powder-coated finish.
The WalkyGuard is held in place with only two brackets, well protected to prevent damage to either the headrest posts or the WalkyGuard. Position the WalkyGuard centrally against the back of the rear headrest posts, hook a clamp around one post on each side, and tighten; it's that simple.
The top bar is removable – some cars have very limited head room in the boot area. Once fitted, the telescopic horizontal bars should be adjusted so that they don't quite touch the edge of the vehicle, and then given a quarter turn to be locked in position. Although WalkyGuard has not been formally tested as a safety guard, the fact that a strong all-welded steel guard is securely fastened behind the rear headrest posts should be a considerable comfort. The dangers posed by objects being thrown forward from the boot of a vehicle are usually underestimated.
Approximate weight: 3 kg
Approx minimum size: 31cm (H) x 86cm (W)
Approx maximum size: 46.5cm (H) x 142 cm (W)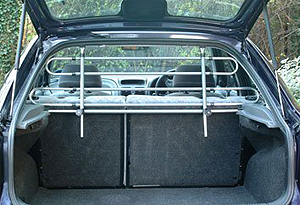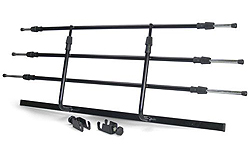 Customer Feedback
Tim says: Flawless customer service, with both original purchase AND dealing with a problem not of their making

Ann says: I am so impressed with how quickly this order came to the north of Scotland

Adam says: Overall a 5 star shopping experience

Danny says: Very prompt service - thank you very much

Simon says: I am very impressed with your company! A good website, easy ordering and efficient delivery.

Melanie says: It was so nice to find a company where I could actually speak to someone.

Grace says: Thank you so much for such an amazingly easy and quick service

Graham says: I just wanted to say thank you for the advice I was given when phoning to choose a tow-bar bike rack

David says: ...your customer care and satisfaction levels are excellent!

Ian says: Super service right from initial contact.

Kate says: Thanks very much for your helpfulness and efficiency.

Imelda says: I've received the dog bag and I love it ! The two dogs luv it too !!!

John says: I really appreciate the good customer service, it is quite rare these days :)

Rob says: Great website and flawless customer service

Jim says: ...once again, a first class, fantastic service!

Michael says: I am very impressed with the quality of the Atera bars-they are well made and very robust,by far the best Roof Bars I have had

Nick says: Very quick service and item extremely well packaged

Anne says: Very impressed with the item, it is just what I wanted, and very good quality.

Sean says: The Boot liner has arrived - excellent quality and a perfect fit

Anthony says: The advice given before purchase on what box to buy was excellent

Caroline says: It is a pleasure to make use of an amazingly efficient company

Chris says: You provide a truly excellent service from the speed of the delivery to the after-sales help

Tim says: Best service I've had in ages.

Janet says: ...it's a brilliant roof rack system and we are so pleased with it.

Brian says: You get 10 out of 10 for customer service.

Steve says: Thank you very much for sending a replacement and for such a brilliant service provided

James says: Excellent service from TRBC yet again – I do often cite you as one of the best consumer businesses I have ever known

Sarah says: Just to say - great pre and after-sales service from your company

Pete says: Web site very informative and easy to use. Order delivered speedily. Minor problems sorted out quickly.

Kim says: Your customer service is as good as your website!

Jon says: Many thanks for the quick service. Ecommerce at its best.

Bruce says: Great value for money from the roof box co along with good

Steve says: Excellent product from Kamei, and brilliant service from yourselves.
To see more, visit us on Facebook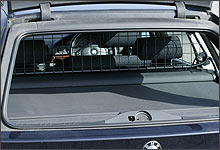 Masterline Safety Guard and Dog Guard

A major contribution to family safety: Your car may have crumple zones, side impact protection, and airbags all round. But what's to protect you from being seriously injured (or worse) from a frozen chicken in the boot, flying forward at 40mph? If you haven't got a TÜV approved safety guard behind the rear seats, the answer is "Nothing". Check out "What fits my car?" to see if there's a MasterLine dogguard safety guard for your car. It will be cheap at the price.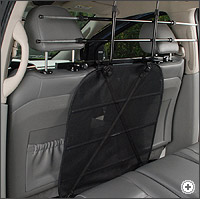 EGR Mesh Barrier dog guard
£19.95

The Mesh Barrier dog guard by EGR is the ideal solution for keeping your pet from getting in the front between your car seats. Made of durable nylon mesh, the barrier is fastened to the front seats thanks to resistant nylon belts and reinforced with removeable fiberglass rods to maintain structure and stability. The quick release buckles make the barrier detachable in seconds. Made of durable nylon mesh, the barrier is fastened to the front seats. Can also be used with the BICE WalkyGuard dog guard.