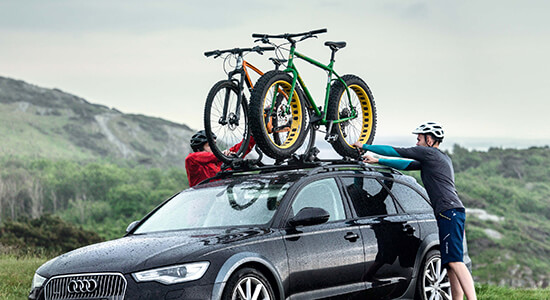 Multi-Buy Offers
Buy 2 or more and get better pricing, even if you mix cheap and expensive or different brands. All roof mounting racks included.

Package Deals
Huge Savings
Save up to 30% when you buy bike carriers and roof bars as a package.
Roof mounting bike carriers
There are three types of bike racks that fit to the roof of a car - frame holding, fork holding, and tyre holding. Check out the info links below for more information, and then use the Filter and Sort buttons to help you choose.
Roof mounting carriers have to be fitted to a set of roof bars going across the car. Some dealer supplied bars are not suitable - check the individual products for more information.
Look out for our "Pick and Mix Multibuys" and our Package deals, and note that all our roof mounting bike carriers are in our 90 day exchange scheme. Prices and value have never been so good!
Roof mounted options: