Roof Boxes
We have the biggest range of roof boxes in the UK, for sure. So how do you decide which roof box to buy? There's a lot of information in our Buying Guide, but here's a summary:
Start by choosing the appropriate shape of box:
Do you need to carry other items on the roof, such as bikes? If you do, you need to choose a box that leaves space on your roof bars, and also choose roof bars that are long enough.
Do you need to carry long things, such as skis? If you do, then choose a long box. It's all logical!
Our 360 roof box size tool should also help you to choose the most suitable shape.
Price and features
We know that price is important but bear in mind that a roof box should be expected to last for many family holidays and weekends away, so it needs to be reliable. We don't stock any of the really cheap boxes because there are real doubts about their safety and build quality.
Deciding which roof box to buy depends more than anything else on what shape of box you want. The shape you go for should depend on whether you need to leave space on the roof bars for other items (typically bike carriers) and of course whether you have particularly long items to carry, e.g. skis. Use our 360° roof box size tool to help you choose the most suitable range.
Roof Box basics
Roof boxes are fitted to roof bars going across the car
Any box can be fitted to any car, within reason
Do you want to leave roof bar space for carrying bikes?
Our unique 90 days exchange scheme
Our 90 days exchange scheme allows you the opportunity of using a roof box and then switching for another if, on reflection, the first one is not right for you. A roof box is a substantial purchase, both in its size and in its cost, so we aim to remove the risk of buying the wrong one. Our bottom line is that we don't want to leave you with a box you're not happy with. See our Terms & Conditions for details.
Package Deals
If you also need roof bars, then it always makes sense to choose one of our package deals. These will save you a lot of money, and they also include everything you'll need, including roof bars and any adapters needed.
Our Roof Box List shows our whole roof box range in a complete list, organised by shape, with links to all the boxes.
Roof Box + Roof Bar Package Deals
A summary of how to find the right box:
Choose by shape, then use the filter boxes to reduce the choice, for example by choosing a colour - most boxes are available in black or in silver.
Package deal boxes are clearly identified.
Our Buying Guide will tell you which features really make a difference.
Some boxes are better than others; check out our Recommendations
Auto Express roof box test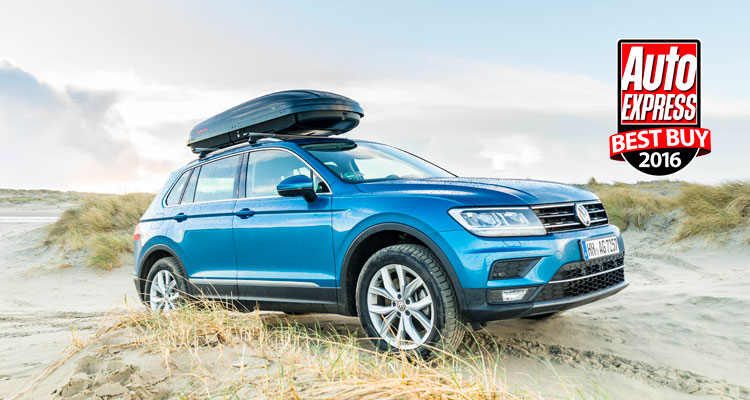 Auto Express have given their Best Buy award to a KAMEI box for the seventh time in a row:
1st Prize to the KAMEI 510, 2nd Prize to the Kamei Corvara S 390 and 3rd Prize to the Hapro Traxer 6.6.
By common consent KAMEI (Germany) makes the best quality and best engineered boxes on the market; they never go wrong, and they keep on looking good well beyond their 6 year guarantee period. KAMEI's "pull to shut" central locking system genuinely makes a massive difference to real world usefulness and customer satisfaction - we reckon this was the most fundamental change in roof box design in the last ten years. Choose any KAMEI box in the knowledge that, in its price range, it will be the most robust, secure, and waterproof roof box on the market.
All KAMEI boxes are available with roof bars in money-saving package deals.
Best premium roof boxes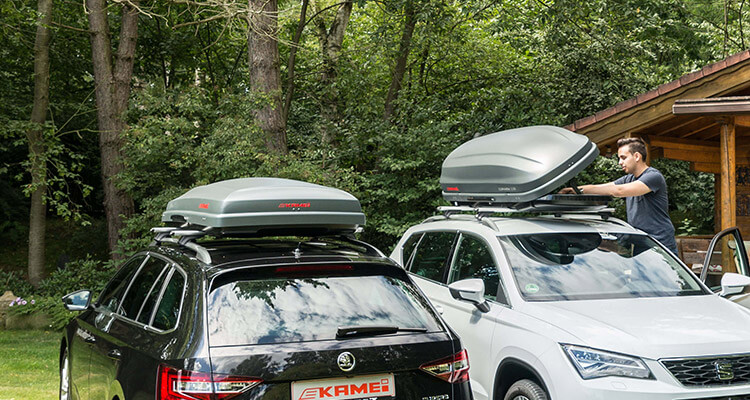 KAMEI's Corvara S boxes, available in two sizes and two colours, are the best quality boxes on the market, and also very good value, especially when bought with roof bars in a package deal. As well as enduring good styling - KAMEI started as a styling business, and still makes parts for VW production lines - the dual side central locking system is engineering excellence in roof boxes, and the roof bars fitting system (ClickFix) is as low-profile as it's possible to get, giving maximum storage space.
Best budget box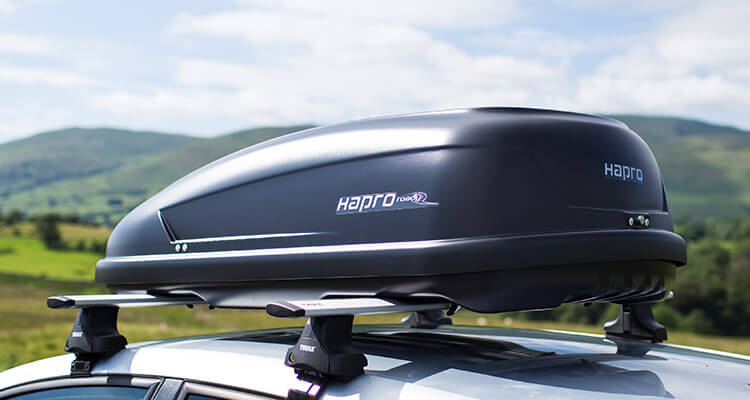 The Hapro Roady boxes are better quality than the cheaper Thule and supermarket boxes, and are usually around the same prices. The Roady 3300 is particularly good value for money. All these boxes are available as package deals with roof bars.
Hapro SoftBox and Thule Ranger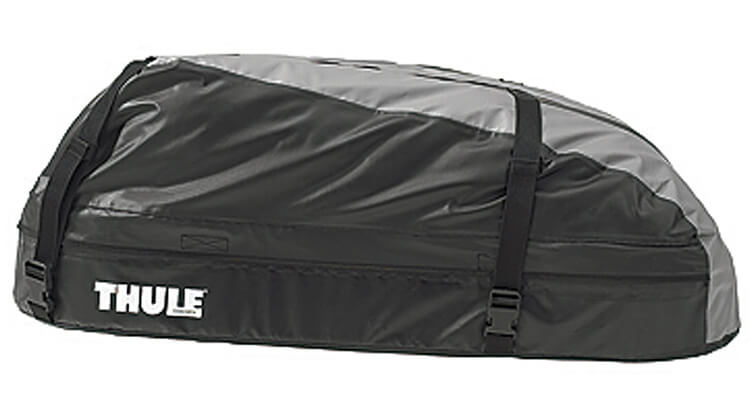 Folding roof boxes and roof bags make up for their relative lack of security with ease of storage. If storage space is a premium, check out the Hapro SoftBox and the Thule Rangers (available in two lengths). The Hapro has a system to stop it flapping when empty, and a storage bag that doubles as a useful carry bag.
Our brands