Dog Bag Pet Travel Products
Introducing the Dog Bag pet travel product range
Dog Bag is a range of stylish and flexible pet transport systems, designed for your pet's safety and comfort.
The brand, started with the award winning 'pop-up' portable fabric kennel of the same name. Designed to offer different benefits to the traditional steel cage - better comfort, more privacy, better sun protection when in the car, greater flexibility of use - Dog Bag is an exciting and intelligent concept in dog transport, protection and care.
The Dog Bag was followed a year later by the Pet Tube. Developed using the same principles, but in a useful tube shape, it's the perfect option for where space is short - e.g. the back seat of a saloon car.
This has been followed by a variety of pet transport systems and accessories, including messenger bags, small animal carriers, strollers, pet beds, mattresses, mats, dog jackets and more. There is something for every size of family pet.
Portable pop-up fabric kennels
from £44.95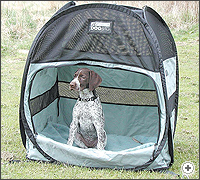 Dog Bag is a lightweight but super-strong 'pop up' fabric kennel: more comfortable than a dog kennel, less harsh than a dog cage, bigger than a dog basket, and the ideal pet carrier in the car.
Available in four sizes it comes with a handy rucksack. Dog Bag uses integrated sprung steel loops to provide structure and stability, it packs into a small rucksack - small enough to hang inside on a coat hook, or to keep in the car. Compare this convenience to standard 'collapsible' cages and carriers which at best are about as handy to carry as deck chairs!
Its Heavy Duty Fabric is completely waterproof and scratchproof, and even keeps its easily-folding properties to -25 degrees C!
from £42.50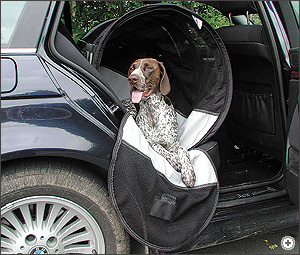 Pet Tube, is a lightweight but super-strong fabric kennel, in the shape of a useful tube, which is ideal for saloon cars and when space is at a premium - it folds flat and is zipped shut when not in use.
Available in Small and Large sizes, the Large size includes velcro straps to hold it at either 2/3 length or 1/2 length - ideal if you want to free up passenger seat space, and don't need to use your Pet Tube at full length.
Small Pet Carriers
Home comfort accessories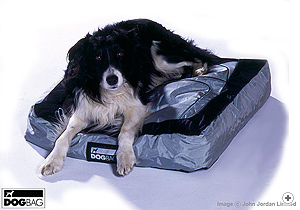 The Dog Bag Home Comfort pet accessories range includes a variety of dog accessories designed to make your pet more comfortable at home aswell as on your travels. The 'Home Comfort' pet accessories range features special beds, mats and mattresses that are robust and beautifully made with fully fabric taped and double sewn seams, in silver and black 'High Density Fabric'. A stylish addition to any contemporary interior. A remarkable dog jacket that is available for dogs with backs sized between 30cm and 50cm. The 'Tiny House' and 'Little House' are small 'fabric kennel' homes for your little pets.