Car Boot Liners and Mats: Protecting your investment!
Do you ever carry muddy boots in the back of your car? Or garden refuse? Or wet, sandy towels after a visit to the beach? Or carry large items back from the DIY or garden centre? Or do you have a dog? Or do you have an MPV and want to protect all the carpets? If the answer to any of these and numerous similar questions is "Yes" then you are a particularly good prospect for a Carbox, Autoform or Rezaw-Plast boot liner!

Low sided car boot mats from Carbox and Autoform

Carbox high sided car boot liners

Carbox MPV mats, like this full length XXL for the Galaxy, Sharan & Alhambra.
Find a boot liner for your vehicle
"Why should I buy a car boot liner or mat?"
If you haven't thought much about the benefits of buying a car specific liner for your car - and why should you, they aren't the most scintillating of products! - this section is for you. We reckon there are three main reasons for investing in car boot protection:
Protecting your vehicle's carpets (and, with High liners, the expensive side panels) will make a considerable difference to its resale value.
You'll save a lot of clearing up, which is unnecessary time and hassle - perhaps earth from the garden centre, or sand from the beach, or mud from the dogs, or whatever revolting chemical might leak out of its cheaply made container on the way home from the supermarket or DIY shop. Carbox and Autoform liners have 'a rim around the edge' so that whatever spills on the liner stays on the liner, and they're car specific so there are no gaps.
You'll have the confidence to make the best use of your car, in the same way as you'll do grubby jobs much more cheerfully and efficiently when you're appropriately dressed. If you've got a boot liner in place, who cares about spilt sand, earth, compost, DIY stuff, wet clothes, soggy camping gear, muddy dogs, muddy golf bags, muddy bike wheels? Family MPVs in particular can take a beating; how often do grot and sticky drinks get trodden into the carpet on the way back from school, or on holiday? Yuk! Drinks holders are a great idea but they open up a whole new set of problems!
"This makes sense, but what's so special about Carbox and Autoform?"
Carbox (based near Bremen in Germany) invented the concept of the car specific boot liner in 1960, and have remained at the leading edge of this market. All their products are quality certified to ISO 9001. They also manufacture boot liners as Original Equipment for many car manufacturers, including Audi, BMW, Citroen, Daewoo, Fiat, Nissan, Suzuki and Volkswagen.
Autoform part of the Calix group, is also a market-leading manufacturer of top quality car boot liners, supplying many car manufacturers (Ford amongst others). Their trunk liners are also made of 100% recyclable polypropylene, and are also an exact fit to the different vehicles.
Please note however that most car manufacturers source accessories from different manufacturers in different countries, so e.g. you may find that a dealer-supplied liner for one of the brands listed above is of significantly lower quality than a Carbox prouct supplied in a different country.
Remember...
Liners and mats are designed for specific vehicles so they are

always a perfect fit

. There are well over 1,000 different liners in the range.

They are made with a "rim around the edge"

to ensure that whatever is on the liner stays there. The Low liners have a 3.5cm rim (Autoform) or 5cm rim (Carbox), the High liners up to 47cm!
They are created from

flexible, durable, waterproof, recyclable plastics

. Carbox products are made from polypropylene and high density polyethylene co-polymers, especially developed for them by Hoechst, the German chemicals giant. They are sufficiently rigid yet are also

shock proof, odourless, safe for food use, oil resistant

(to e.g. petrol, diesel) and fully recyclable. They are

resistant to hard impact and sharp edges, and don't deteriorate with use

, or crack, or whiten as ABS plastic products tend to do when knocked.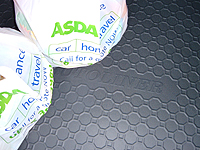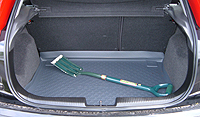 You'll save a lot of clearing up, should something leak out of its container on the way home from the supermarket.
"OK, I'm convinced, but I don't need to spend this kind of money! I'll go down the car accessory shop and buy a universal boot mat."
Find a boot liner for your vehicle
You'll find that most of our low liners cost about £10 more than most 'universal' low liners, but here's how we justify it:
Universal liners are only "universal" in that they help the stockist keep stock levels to the minimum; they don't do the consumer any favours. You need to cut them to fit - a trial and error job - and then by definition they won't fit your next car (unless the boot is smaller in every dimension).
More importantly, universal liners don't have a rim around the edge. Without the rim, and with the benefit of all those cutting lines, they channel spilt liquids very effectively to the edge of the liner and over the side. That's not the point!
Most of them are made of rubber; they usually smell worse in hot weather. Carbox and Autoform products are odourless.
Carbox and Autoform boot liners
Carbox and Autoform liners also stay firmly in place even under the most energetic driving conditions. There's enough dimensional stability and friction in the plastic to stop even the low liners moving under braking or violent sideways motion. Again, this isn't the story with several competitor products we've tested. The one criticism we do have of Carbox products is that the surface of their High liners is quite slippy, so here it makes sense to use an Anti-Slip Mat - see Product Range for details.
Please order in the confidence that if you aren't entirely satisfied with the product you just need to contact us and we'll arrange for its collection, picking up the return carriage costs and refunding you in full. (We only ask that the product must be unused or, if tested, unmarked such that it's "as good as new".)
Find a boot liner for your vehicle
Carbox Piccolo Dashboard Mat
You can also protect the inside of your car with a Carbox Piccolo Dashboard Anti-slip mat. A perfect way of keeping your car tidy.