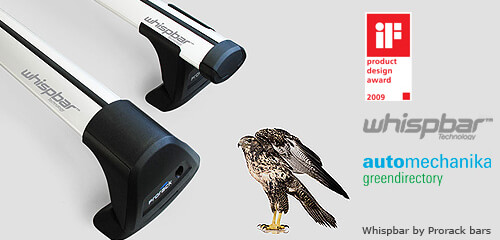 Please choose your vehicle to see what Roof Bar options you have
Welcome to our
Roof Rack

page

"Roof bars" or "roof racks"? We call them roof bars.

It can be confusing when a product group is known by two different names. Car roof racks and car roof bars are really the same thing. They are the basis of any load carrying system. We prefer to use the words 'roof bars' to describe these products so you will see us refer to them over the rest of our website as roof bars.

Roof racks are the foundation of any load carrying system - everything else is fixed to them. Even cars with front to back roof rails will need a set of cross bars. It makes sense to buy a good quality system, mainly for safety reasons, but also to avoid any damage to your vehicle.

We supply roof racks from four different manufacturers – CRUZ, Atera, Thule and Whispbar by Prorack – representing the best of the mid market to the very best.

A continuum of roof bar quality
When you click on our Roof bars product finder we will show you all the roof bar options available for your vehicle.
The purpose of this page is to help you to identify your type of car roof – for example, does it have roof rails, flush mounted roof rails or Fixpoints? – and then to help you decide which brand and style of roof bars to buy.
You need to be sure about exactly which car you have. When car models change we show an overlap, e.g. Ford Focus five door (1998 to 2004), and Ford Focus five door (2004 onwards). If your car was registered in 2004, is it the last of the old model or the first of the new? If in doubt please look carefully at the pictures we provide.
You can of course mix or match brands and products, e.g. you could put a KAMEI roof box and a Thule bike carrier on Whispbar by Prorack bars, or an Atera bike carrier and a Thule kayak carrier on Thule bars.
There are essentially six very different ways of fixing roof bars to cars, as shown in the following pictures. For example, if your vehicle has "roof rails", where you can slide your hand under the rail, then you must choose a set of bars that are "for cars with roof rails", otherwise the bars we send you will not fit.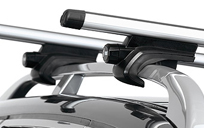 "for cars with roof rails" - you can push your hand under the bar.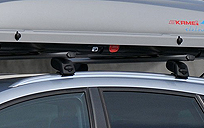 "for cars with flush mounted roof rails"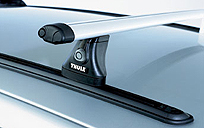 "for cars with T-tracks" - a channel in the roof with a slot running full length.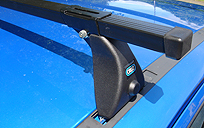 "for cars with Fixpoints" - these mounting points are usually hidden under flaps or sliders.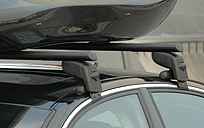 Roof bars usually clamp around the bodywork if you don't have rails, tracks or Fixpoints.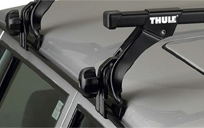 A few cars have old fashioned gutters.
Product overview
CRUZ (Spain) makes much the best quality mid market bars on the market, a modular system with separate adapter kits, i.e. when you change car you often only need a new adapter kit. Atera (Germany) and Thule (Sweden) make bars of equal quality. Atera bars, which are always available in either steel or aluminium, are supplied complete; everything is in one box, all adjusted and ready to fit onto the car. Thule bars are supplied in modular form, which means several boxes of components that you fit together. You may be able to use some or most of these components when you change vehicle, but the six different roof fixing types usually require different Thule Foot Packs. Thule is the world's largest manufacturer of roof racks. Their bars are always available in steel, sometimes in aluminium. Whispbar by Prorack S-wing bars are the new generation of roof bars, taking roof bar science a long way forward. They have an aerofoil-shaped aluminium wing that generates minimal drag and therefore makes next to no noise and has a negligible effect on fuel consumption. This is also a modular system but you use the same "foot" for all six roof fixing types, and you'll probably only need to change adapter kit when you change vehicle.
More on the brands we sell and what makes them special: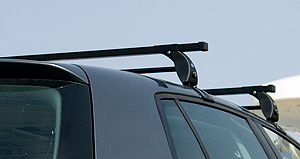 CRUZ roof bars
Cruzber is Spain's largest roof bar manufacturer, founded in 1963. Cruzber specialises in the mid market sector, and sells most of its products under the CRUZ brand label, using state of the art manufacturing machinery. Cruzber is very highly regarded in the European market in particular and is also Thule's Spanish distributor. More...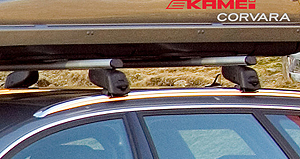 Atera roof bars
Atera is the best of the German roof car manufacturers. Most of their roof bars and accessories business is with the car manufacturers, where major customers include Audi, BMW, Daewoo, Chrysler, Fiat, Honda, Mitsubishi, Mercedes-Benz, Opel, Subaru, Suzuki, Vauxhall and Volkswagen. Their own branded SIGNO AS and SIGNO ASR roof bars are beautifully made, stylish, pre-assembled and ready to fit, More...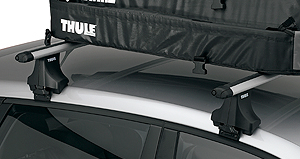 Thule roof bars
Thule makes excellent roof bars and has fittings for almost all car makes and models. Our database shows all the Thule bars available for your vehicle, together with any available options, e.g. aluminium aerobars instead of the standard black plastic-coated galvanized steel bars. We also show you where you can use longer bars than specified – this may useful if you have lots to carry, or if you already have the longer bars from a previous Thule roof bar system. More…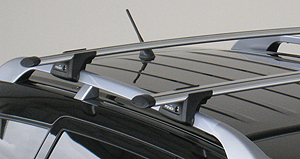 Whispbar by Prorack roof bars
Whispbar by Prorack's S-wing bars are a generation ahead of their competitors; they've been designed from first principles by people who have half a lifetime's experience of using roof bars. It shows. Apart from the unique aerofoil-shaped bar it's the sheer quality of design, materials and finish that sets them apart - you really need to handle them to appreciate this. Even the tools provided for fitting are designed or chosen to make the job as easy as possible. More…
I know what car I have, what roof fixings it has, and what brand I want. But are aluminium bars worth the extra money?
Most of the aluminium bars we sell are oval-shaped "aerobars". They certainly look very smart and, being aluminium rather than steel, they are always the more expensive option. There are however three important practical reasons for choosing aerobars:
(1) You can use the full length of the bars for fixing your accessories, which may allow you to carry more on the roof, and thereby get better value from the whole system. Whatever you're carrying on the roof bars is fixed to the aerobars via the slots that run full length along the tops of the bars. A frequent problem with the cheaper steel bars is that the roof bar feet get in the way of the accessory fixings.
2) Aerobars are substantially quieter than steel roof bars, as the name "aerobar" suggests. Roof bars generate a hum, sometimes a whistle, often around the 'middle C' frequency, which can become intrusive in certain situations, especially if the roof bars are exposed - it depends on the type of car, the type of roof bars, and the position of the roof bars on the roof. The volume tends to increase in line with speed. We don't want to exaggerate this issue – millions of roof racks have been sold over the years, and if the roof bars sometimes make an irritating noise, so also do the tyres, the engine, and the passengers! It's also important to note that roof rack whistle can usually be reduced to an acceptable level by moving the roof bars forwards or backwards, even by a centimetre, and that it's much less of an issue if there's a roof box to change the airflow.
(3) Aerobars create less drag than steel roof bars and therefore have less of an effect on fuel consumption. This is important, especially if you are likely to use your roof bars frequently or to leave them in place for many weeks at a time. Aerobar science has undergone a massive and we suggest fundamental leap forward with the launch of the beautiful looking Prorack "Whispbar"; this has been shown in test conditions to create almost 70% less drag than its major competitors. It is truly a product for our times and it's no surprise to see it winning prestigious design and environmental awards.

Customer Feedback
Tim says: Flawless customer service, with both original purchase AND dealing with a problem not of their making

Ann says: I am so impressed with how quickly this order came to the north of Scotland

Adam says: Overall a 5 star shopping experience

Danny says: Very prompt service - thank you very much

Simon says: I am very impressed with your company! A good website, easy ordering and efficient delivery.

Melanie says: It was so nice to find a company where I could actually speak to someone.

Grace says: Thank you so much for such an amazingly easy and quick service

Graham says: I just wanted to say thank you for the advice I was given when phoning to choose a tow-bar bike rack

David says: ...your customer care and satisfaction levels are excellent!

Ian says: Super service right from initial contact.

Kate says: Thanks very much for your helpfulness and efficiency.

Imelda says: I've received the dog bag and I love it ! The two dogs luv it too !!!

John says: I really appreciate the good customer service, it is quite rare these days :)

Rob says: Great website and flawless customer service

Jim says: ...once again, a first class, fantastic service!

Michael says: I am very impressed with the quality of the Atera bars-they are well made and very robust,by far the best Roof Bars I have had

Nick says: Very quick service and item extremely well packaged

Anne says: Very impressed with the item, it is just what I wanted, and very good quality.

Sean says: The Boot liner has arrived - excellent quality and a perfect fit

Anthony says: The advice given before purchase on what box to buy was excellent

Caroline says: It is a pleasure to make use of an amazingly efficient company

Chris says: You provide a truly excellent service from the speed of the delivery to the after-sales help

Tim says: Best service I've had in ages.

Janet says: ...it's a brilliant roof rack system and we are so pleased with it.

Brian says: You get 10 out of 10 for customer service.

Steve says: Thank you very much for sending a replacement and for such a brilliant service provided

James says: Excellent service from TRBC yet again – I do often cite you as one of the best consumer businesses I have ever known

Sarah says: Just to say - great pre and after-sales service from your company

Pete says: Web site very informative and easy to use. Order delivered speedily. Minor problems sorted out quickly.

Kim says: Your customer service is as good as your website!

Jon says: Many thanks for the quick service. Ecommerce at its best.

Bruce says: Great value for money from the roof box co along with good

Steve says: Excellent product from Kamei, and brilliant service from yourselves.
To see more, visit us on Facebook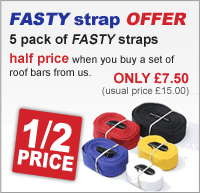 More on the brands we sell and what makes them special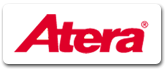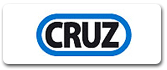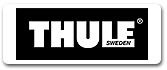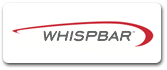 Prorack engineers built a mini wind tunnel for the Frankfurt Automechanika trade fair in September 2008, capable of generating wind speeds up to 160 km/h. A range of standard European roof bar profiles were compared to the Prorack Whispbar, and the results were graphed. They're compelling.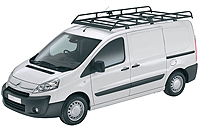 VAN-RACKS is the part of our business which supplies heavy duty ladder bars, roof racks, pipe carriers, bulk heads and other accessories for light commercial vans. We supply the full range of CRUZ commercial, Rhino, Saunders and Thule Professional.


"Which bits of my Thule roof bars can I reuse?"

Click here for our FAQs page.