Toyota
Toyota Corolla four door saloon (2002 to 2007)

Click on thumbnails or names for further information.
>> CRUZ bars:

>> CRUZ premium bars: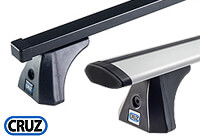 CRUZ premium roof bars package
OptiPLUS roof bars are smart looking and really well designed, load bearing to 75kg
This is the price for the steel bars, but Airo aluminium bars are also available - check the list on the next page
Fitting kits for future cars are relatively cheap
Great value!
>> Whispbar aluminium through bars: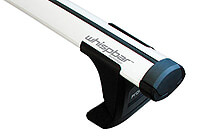 Whispbar roof bars package - S15 bars with K144 kit
The quietest roof bars on the planet. Outstanding long term value - uses the same Smart-Foot™ foot pack for every vehicle!
These are the quietest roof bars on the planet…
…because they have the lowest drag
Fuel efficiency + silence = leave the bars in place
Handsome styling = leave the bars in place
Outstanding long term value, thanks to SmartFoot. Use the same bars on all vehicle roof types, from plain roofs to raised roof rails
SmartFill keeps the T-tracks closed and saves a lot of effort
>> Whispbar aluminium flush bars: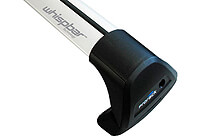 All our prices include VAT at 20%

"); } //-->