Welcome to
The Roof Box Company
We're UK distributors for many of the world's most innovative car accessory manufacturers, sourcing specialist products that come under the broad headings of "load carrying stuff", "interior car protection", and "tyre traction"; we also trade at the subtler end of the car styling market.

Each product group has its own Home Page, with details of Special Offers. Check out the Bargains pages if you're looking for cheap overstocks, end of range items, damaged or returned items - they're always sold very cheap.
Don't leave this page before looking at...
Please check out the following items. They're some of our best selling product ranges, useful things you might not have thought about before:

Customer Feedback
Tim says: Flawless customer service, with both original purchase AND dealing with a problem not of their making

Ann says: I am so impressed with how quickly this order came to the north of Scotland

Adam says: Overall a 5 star shopping experience

Danny says: Very prompt service - thank you very much

Simon says: I am very impressed with your company! A good website, easy ordering and efficient delivery.

Melanie says: It was so nice to find a company where I could actually speak to someone.

Grace says: Thank you so much for such an amazingly easy and quick service

Graham says: I just wanted to say thank you for the advice I was given when phoning to choose a tow-bar bike rack

David says: ...your customer care and satisfaction levels are excellent!

Ian says: Super service right from initial contact.

Kate says: Thanks very much for your helpfulness and efficiency.

Imelda says: I've received the dog bag and I love it ! The two dogs luv it too !!!

John says: I really appreciate the good customer service, it is quite rare these days :)

Rob says: Great website and flawless customer service

Jim says: ...once again, a first class, fantastic service!

Michael says: I am very impressed with the quality of the Atera bars-they are well made and very robust,by far the best Roof Bars I have had

Nick says: Very quick service and item extremely well packaged

Anne says: Very impressed with the item, it is just what I wanted, and very good quality.

Sean says: The Boot liner has arrived - excellent quality and a perfect fit

Anthony says: The advice given before purchase on what box to buy was excellent

Caroline says: It is a pleasure to make use of an amazingly efficient company

Chris says: You provide a truly excellent service from the speed of the delivery to the after-sales help

Tim says: Best service I've had in ages.

Janet says: ...it's a brilliant roof rack system and we are so pleased with it.

Brian says: You get 10 out of 10 for customer service.

Steve says: Thank you very much for sending a replacement and for such a brilliant service provided

James says: Excellent service from TRBC yet again – I do often cite you as one of the best consumer businesses I have ever known

Sarah says: Just to say - great pre and after-sales service from your company

Pete says: Web site very informative and easy to use. Order delivered speedily. Minor problems sorted out quickly.

Kim says: Your customer service is as good as your website!

Jon says: Many thanks for the quick service. Ecommerce at its best.

Bruce says: Great value for money from the roof box co along with good

Steve says: Excellent product from Kamei, and brilliant service from yourselves.
To see more, visit us on Facebook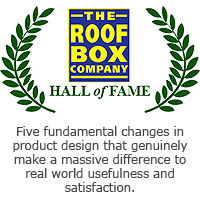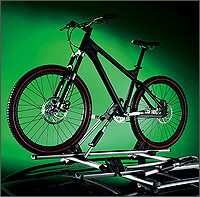 Bike Racks: ATERA GIRO AF
The previous GIRO was a worthy winner of the Auto Express Best Buy Award on several occasions. The
Atera GIRO AF
bike rack is its 21st Century replacement. It features automatic shoulder high single handed tensioning and locking, leaving one hand to hold the bike in place.
Superb
!
Check out the GIRO AF in our
bike carrier package deals
.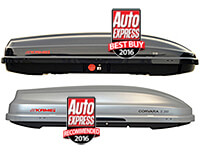 KAMEI has just won the Auto Express 'Best Roof Box' award for an incredible seventh time in a row.
"Our reigning roof box champion, the Kamei 510, holds on to its crown. While its stablemate, the Corvara S 390, runs it close." of the "stylish Kamei 510" they said "The slide action on the fixtures means there's flexibility so you can still open the tailgate. Add the dual-hinged, triple central locking top and three luggage straps included, and the box can't be beaten for convenience."

Auto Express - 4 May 2016
See the
Kamei roof box range

Thule roofracks and accessories
Thule makes excellent roof bars and has fittings for almost all car makes and models. Our database shows all the Thule load carriers available for your vehicle, together with any available options, e.g. aerobars instead of steel bars.
The Roof Box Company supply most Thule products, including Thule car roof racks, Thule Atlantis roof boxes, Thule Ranger roofboxes, Thule Spirit roof box, Thule bike carriers and bike racks, Thule ski and water sport carriers and Thule carrier baskets and car accessories.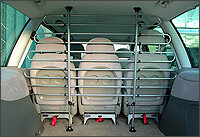 Saunders invented the modern dog guard and produce a range of excellent quality mid-market dog guards. They're quick and easy to fit and remove, with no tools required and no holes to be drilled.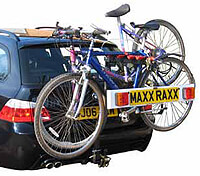 MaxxRaxx Premier
bike rack
The MaxxRaxx Premier is tiltable, versatile, ingenious and suitable for cars, vans and 4x4 vehicles with no rear mounted spare wheel. Spares are available to adapt the carrier for use with rear mounted spare wheels and also to any type of tow bar - there's even a ski carrier. 5 bikes can be carried on certain 4 x 4s and larger vehicles with nose weights of 100kg or more. The way the bikes fit provides some of the benefits of using a wheel support rack, but at more of a hang on rack price.
Click here to see MaxxRaxx videos.

Important
Always be sure to follow the manufacturers' instructions for the fitting and use of any equipment we supply, and the vehicle manufacturers' instructions, particularly in regard to maximum permitted roof and/or tow ball loadings. Where these instructions differ, observe the lower of the specified maximums.