Volvo
Volvo S60 Cross Country (2015 onwards)

Click on thumbnails or names for further information.
>> Rear door fitting bike carriers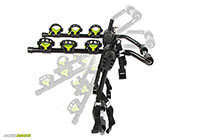 BUZZ RACK 'Beetle' strap on rack for 2 bikes
Robust rack that fits a wide range of different cars
Your bikes are held securely in place and are kept separate to avoid damage to the paintwork
This is a 3 bike carrier but it's only possible to carry up to 2 bikes on this vehicle
>> Rear door fitting bike carriers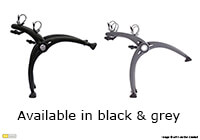 Saris Bones 2 bike carrier
Available in black and grey.

Saris says that the Bones is "The World's best selling rear rack" - it's sold in over 30 countries. This is very likely - it's definitely the best designed rear-door-fitting rack that we've ever tested, from the point of view of ease of fitting and use, and it must fit as wide a range of vehicles as any on the market. It's also uniquely stylish and individual.
£125.95
RRP

£142.50

>> Rear door fitting bike carriers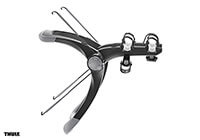 Thule RaceWay rear door carrier for 2 bikes no. 991
Thuleís strongest, most secure and easiest to use rear mounted bike carrier.. The FitDial system tells you where the support arms need to be positioned, taking the guesswork out of fitting the rack.
It uses Sure-Tight steel ratcheting cables to give a secure fit. You simply push a button to release these cables and then turn a handle until they are securely tightened. You canít over-tighten them.
All our prices include VAT at 20%

"); } //-->