SPIKES-SPIDER snow chains may be available...

Spikes-Spider snow chains finder
Weíve brought you here because you havenít found your tyre size on our standard tyre finder database. Itís likely that we will have a Spikes-Spider chain available, so please type your tyre size into the boxes below to find out whatís available.
Why use SPIKES-SPIDER snow chains?
Weíre proud to stock and distribute the best snow chains from the best chain manufacturers worldwide. But there are occasional tyre sizes that these manufacturers donít provide for, either because these tyres are too new, or the demand is likely to be too low.
With this in mind we have a Spikes-Spider size finder, where you can free type your tyre width and profile, choose a rim size, and see which Spikes-Spiders fit. There are Spikes-Spider chains available for all car tyres and almost all 4x4 tyres. How come? This is because, uniquely, Spikes-Spider chains are resizable by at least 220mm, so we can almost always supply a chain that will fit.
Choose from the Easy range, where the chains clip onto two wheel-bolt mounted studs, or the standard range, where the chains clip onto a pre-mounted hub plate. The standard chains are in fact quicker to fit than the Easy chains. If speed of fitting and removal is crucial, and you do not mind driving around with a hub kit fitted when snow is likely, then the standard range is the best option. If in doubt, choose the cheaper option!
Itís no surprise that Spikes-Spider are the preferred option for the emergency services in Germany and Switzerland. Until this year we supplied the Spikes-Spider SPORT to Land Rover for their Original Equipment range, who chose them after a very rigorous comparative test, but the strength of the Swiss franc now makes them too expensive for Land Roverís margin requirements, so theyíve switched to a cheaper system.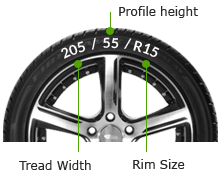 Select your vehicle