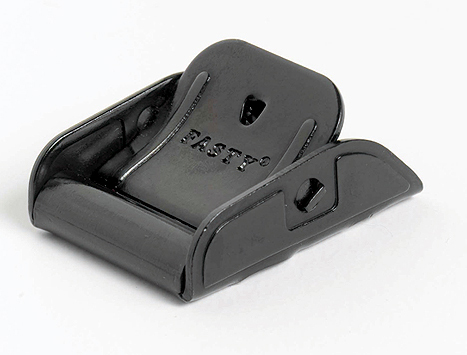 FASTY Straps buckle
The strongest straps on the market - now even stronger!
Our redesigned straps have been improved in a number of ways, two of which deserve particular mention:
The opening has been enlarged to make it easier to fit the strap, and we have used a stronger new spring to further enhance the quality feel.
All our buckles are finished in black, environmentally friendly zinc/iron trivalent chrome, which provides the best corrosion resistance on the market, as well as meeting the Volvo standard.
FASTY is also the only manufacturer in the world to have developed two special machines for totally automatic fitting of buckles. This ensures maximum reliability, since every single buckle is checked before it is fitted to the strap.
The remarkable Over-centre buckle not only adds tension to the load but is approved for loads up to 800kg, double the load of conventional 25mm strap buckles. We are very proud to be able to offer you what is undoubtedly the strongest 25mm loading strap on the market!