Customer feedback
Here are some examples of the many glowing emails, letters and photographs we regularly receive regarding the quality of our service. We have only use first names and in photos hide car number plates.
Subject: Prompt service
Just a quick note to say thankyou for your very prompt delivery of my thule roofbox / bag and roof bars. Excellent service, probably the cheapest website i've found and also you also carry the widest range of stock. Good work fellas. If i know anybody who needs any roof stuff i'll point them in your direction - Steven
Subject: Family camping trips
Just recieved my roofbox and bars today. Thank you for a quick, polite and efficiant service, despatched Monday and delivered Tuesday, brilliant! Should solve all my overcrowding problems when on the family camping trips. Once again many thanks.
Subject: Dog Bag
I would just like to commend you (the roof box company) for the speedy delivery of the purchased items which arrived already today, the quality of the Dog Bag is exceptional and the pop up put away technique makes it a pleasure.
Subject: Outstanding service
I want to say what outstanding service I have received from your company this week. I rang on tuesday to say i had problems with my Atera bike carrier, and was going away shortly. A replacement carrier arrived on wednesday and the faulty one was collected today. The ladies I spoke to were extremely polite and helpful. In fact I don't think i have ever experienced such good service. Thank you very much. Andrew
Subject: Thule 591 cycle carrier
After browsing the site, I called and spoke to a very helpful member of staff last thursday. Initially I was looking to order a pair of Thule 530 cycle carriers, but on the advice of the gentleman on the phone I opted for the 591's. I received the carriers yesterday, and I am very impressed with the quality of the product, and I am very glad that I opted to pay the bit extra for what is obviously a quality product. Furthermore, I am very impressed at the price which I paid for them, which is between 30-50% cheaper than many other retailers. I will definitely recommend your company to anyone needing any roof racks/bars/carriers, and I will certainly use you again. Thanks for a great service!
Subject: Thank you
Just a quick note to say thankyou for your very prompt delivery of my thule roofbox / bag and roof bars. Excellent service, probably the cheapest website i've found and also you also carry the widest range of stock. Good work fellas. If I know anybody who needs any roof stuff i'll point them in your direction - Steven
Subject: Thule bars and Atera bike carrier
I ordered some Thule roof bars and Atera bike carriers on the phone the other day. The lady who helped me was very pleasant and knew the products and the next day delivery option was great. The bars are now on the roof of my car along with a dirty bike, which no longer has to sit on my back seat!
Many thanks, Dan
Subject: Speedy response
Many thanks for the speedy response to my request for a spare part on an old Atera bike carrier - I was not hopeful of being able to get the part at all and it was supplied at no cost along with some other (chargeable) items. The items arrived within a few working days but the spare was incorrect. A quick call to you and the correct part arrived in the post the following day. Excellent service - my thanks to all of the staff involved - Best wishes Roger
Subject: Quick delivery
Just a note to say "thank you" for your excellent service. Having only ordered the AutoSocks on Sunday evening, I was truly surprised when they were delivered at 10.30 this morning! Especially in such awful weather! Thank you very much, Hilary
Subject: Autoform boot liner
Many thanks for Autoform liner received today. Well worth the wait - it is a perfect fit. Excellent product. John
Subject: MaxxRaxx bike rack
Dear Roofbox Company, I just thought that I would take the time to say a big 'thank-you' to you and specifically Sarah in sales for ensuring that I got delivery of my Maxxraxx bike rack in good time. When the order was placed it turned out that you were out of stock, but on hearing we urgently needed the rack, Sarah really went out of her way to help and arranged delivery straight from the manufacturer for the next day. This is customer service exactly as it should be. Many thanks for your help – I would definitely recommend your company to anyone.
Subject: Dog Guard
Just wanted to say thank you for your prompt dispatch of my order. I am delighted with my dog guard. Many thanks, Fiona
Subject: Great service
Wow, I cannot thank you enough for the outstanding response. I will look forward to recommending The Roof Box co. to anyone I come across requiring not only the cheapest box, but also a great service. Greatly appreciated. 10/10
Subject: Boot liner for Ford S-Max
Thank you very much for the boot liner for my Ford S-Max. Great delivery time and a perfect fit.
Subject: Atera Strada bike carrier
Just to let you know that the Strada arrived today and although I have not used it in earnest I have fitted it to the car and tried mounting my bike. So far it seems absolutely superb and justifies waiting for this rather than settling for an inferior alternative. Regards Chris
Subject: Recommendations
Just to let you know my bicycle rack arrived today as promised and does the job as advertised. For your info my decision to purchase was based on previous experience with you plus your useful "recommendations" section combined with sensible pricing. Many thanks, Dudley
Subject: Customer service
Just a quick note to say many thanks for such a quick and helpful response. Your customer service - before, during and after the sale - is one of the reasons that I keep using roofbox.co.uk and that I also recommend you to others. I'll continue to do so; your help on this occasion has reinforced my positive impressions. Best wishes, Russell
Subject: Fantastic AutoSocks
Just a note to say how fantastic Autosocks are. I got caught in the Scottish Highlands after following the dreaded satnav directions. Lost it coming down a hill in the snow, and managed to stop the car (don't know how. Fitted the autosocks and not even a twitch the rest of the way. A bit harder to fit than the video if you've large 18" wheels, but worth every penny. My Father has already ordered then for his trip to Austria, and 2 friends in Whaley Bridge are very keen. Your service has been excellent, for both items. Also very pleased with the roof box.
Subject: Thule bars and boot liner
Just wanted to let you know the thule bars and boot liner ordered on Friday (2nd Jan) arrived today - Monday 5th - how about that for speed and service! Well done guys. I will certainly use you again and recommend others do to. Very helpful pre-order advice too!
Subject: When we change cars
Thanks for the prompt service (again) my wife and I always buy I roof bars from you because of the great service we will use again when we change cars.
Subject: Package deal
I just wanted to say thanks for the excellent service and unbelievable fast delivery time. I originally ordered some roof bars for my car with the intention of getting a roof box of ebay but shortly after ordering I spotted the combined package deal so phoned up to see if I could change the order, a very helpful person whose name I think was Jack went off and got the paperwork, informed me that it wouldn't be a problem and said he would sort it out. One day later all the products arrived.I didn't get a roof hoist but wouldn't have used it anyway so no problem there and I will certainly recommend you to anyone I know who is looking for similar products. Kind regards John
Subject: Cycle carriers
Hi, I would just like to say a huge thank you - I ordered 4 x Cruz roof mounted cycle carriers yesterday around 5pm and they have arrived the very next day before noon! Excellent! thank you. Roof bars were delivered next day following late night internet order - very impressive, and thank you for such good service.
Subject: Roof box problem
Just a quick note to say many thanks to Charlotte for the excellent customer service I received when I had a problem with my roofbox. I am very happy with the replacement and extremely impressed with the speed with which you sorted it!
Subject: Superb website
Guys, I just wanted to write and congratulate you on your superb web-site, backed up by a first-class service! I logged on at 10pm last Wednesday, knowing virtually nothing about roof boxes. 30 minutes later I placed my order, absolutely confident that I had made an informed choice. On Thursday you telephoned to confirm the order, and on Friday morning at 9.15am you delivered my roof box and roof bars. This service is nothing short of miraculous! You are to be congratulated on your superbly informative website, and your superb service. Thanks again, and I shall undoubtedly be using your services again, as well as recommending you to anyone who will listen!!
Subject: Patience, courtesy and efficiency
The replacement Atera key which I needed urgently and which I ordered from you yesterday duly reached me today. I was very pleased to receive it so quickly and would like to tell you how grateful I am to Sarah, to whom I spoke on the telephone, for her help. She was a model of patience, courtesy and efficiency in dealing with what I needed. Regards John
Subject: Cruz roof bars
Cruz roof bars arrived next day. Fitted perfectly. Easy to install. 15mins customer services first class. If only all online companies where this good. Half the price of Halfords and better quality. Highly recommended, I will be back. Many thanks. Sharon
Subject: Excellent service
The roofbox arrived this morning but no cycle carrier, I called you. A very pleasant man (sorry I didn't take his name) said he'd look into it. Within the hour it appeared; as if by magic. Packaging excellent, items excellent, service excellent. Ordered on-line late Tuesday afternoon, delivered and on my car within 48 hours. Excellent!
Subject: Carbox Boot liner
Thanks again for the Carbox boot liner. Perfect for our boots and macs after a wet and windy holiday in Ireland.
Subject: Replacement key
Hi, I am writing to thank everyone involved in sorting me out with a replacement key. The service I received was excellent and have taken delivery of the key as promised. This allows us to carry in with our holidays as planned.
Thanks again, Steven
Subject: Dog guard
Just wanted to say thanks for the speedy dispatch of the dog guard. It is indeed very easy to fit and very sturdy.
Barbara
Subject: Prompt service
Dear Roofbox Co. My roofbox arrived today only one day after ordering! Thankfully the driver left it at the end of the drive as I hadn't left the side gate open, not expecting it until tomorrow or Saturday.
Many thanks for a prompt service, the Kamei box is the business. Well-made and sleek. Regards Simon
Subject: Roof bars and fitting kit
Dear Roofbox company,
I have received the roof bars and fitting kit today, as promised. May I thank you all and Andrew in particular for sorting out the issues that I had in an acceptable fashion. I will recommend your company to friends and acquaintances who require such products. Well done, a good service provided and staff willing to go the extra mile.
Kindest Regards
James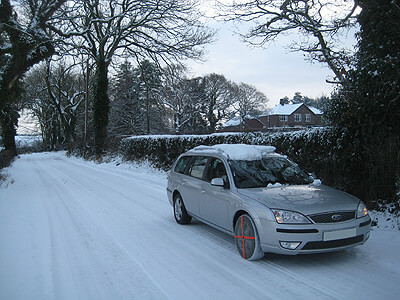 Subject: Recent AutoSock Feedback
I would like to offer you a big thank you for getting my Auto Socks to me so quickly. I've had them a week now and they've got me out of trouble 3 times now. I live in Nth Northumberland and work in Aberdeen, travelling weekly. Last week's snow in Edinburgh stranded many motorists overnight, but my Auto Socks got me through without any problem. Last night and this morning, Aberdeen was almost gridlocked, but once again my Auto Socks got me through. Best 50 quid I've ever spent! Thanks again Marti
Just got home in 4 -5 inches of snow, passing several stuck 4x4's (wondering why low profile road tyres were spinning!), even managed a steep hill, all be it on a second attempt. What car? A 10 year old Ford Focus. Thank you so much! - Stu
Auto socks - the most invaluable item you will ever carry in your vehicle throughout winter, I would never travel without them! Trog
Love my autosock and my dog bags that I have had from you. Both sock and bags have been a god send and I couldn't do without either. Thank you. Lesile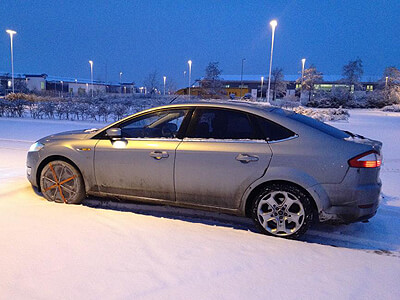 Subject: More AutoSock Feedback
Auto socks got me to work safe this morning downside is they got me to work :( Tony
Had to go to the butchers for the Christmas turkey. It's down a country lane, so I put on the AutoSocks. Fantastic! No slipping at all, even when going from 0-30mph in a straight line, thanks Roof Box Company - Chris (facebook)
I'D LIKE TO THANK THE ROOFBOX CO. FOR THEIR EXCELLENT SERVICE (RE DELIVERY IN EXTREME WEATHER CONDITIONS) OF A SUPERB PRODUCT (SNOW SOCKS FOR CARS ETC). I LIVE IN A VERY REMOTE LOCATION AND BOTH MY CAR AND VAN WOULD NOT CLIMB THE SNOW AND ICE COVERED TRACK..........UNTIL I FITTED SNOW SOCKS ! TOTALLY BRILLIANT THANK YOU. Keith
Hi, Just a really quick mail to say thanks for getting the snowsocks to us so quickly. Thats the 2nd time we have used your firm and the service has been great both times. Kind regards, Nick
Your Autosocks worked perfectly last year. On more than one occasion in last years snow mine was the only car that got up the hill to our house. Thanks David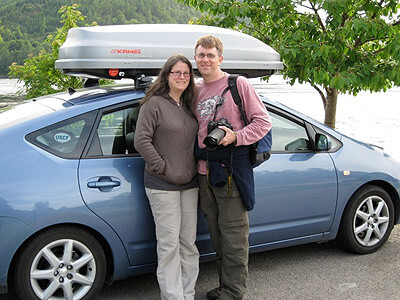 Subject: KAMEI Corvara and Whispbar roof bars
Hello. I just wanted to contact you to say the box and bars worked fantastically for the trip we just took to Scotland. It allowed my husband and I to pick my parents (who flew in from the USA) up at Heathrow, and travel in our Prius all over Scotland for 10 days. That's four adults, with 10 days of luggage, in a Prius for 10 days staying at bed and breakfasts all over Scotland. Brilliant! We even averaged over 50 mpg, some days closer to 60!!! And, as a US transplant with 25 years experience with Yakama & Thule, I have to say I've NEVER worked with easier roof bars to fit, or an easier system for putting the box on and off the bars. Kudos to both Whispbar by Prorack and KAMEI!!! And I've done canoes, bikes, kayaks, roofboxes-- the lot with both Thule and
Yakama. Thanks. Jessica

Subject: Toto and his Dog Bag USB on a plane
I already owned a Dog Bag Carrier from the Roof Box Company, so I selected from their USB line the Dog Travel Kit. The Travel Kit, like the Dog Bag Carrier, not only looked great, but actually w-o-r-k-e-d really well and believe you me, the outlined journey was no picnic – yet everything worked really well and Toto travelled quite easily in the carrier. - Judith
To read all about Toto's trip on an aeroplane click here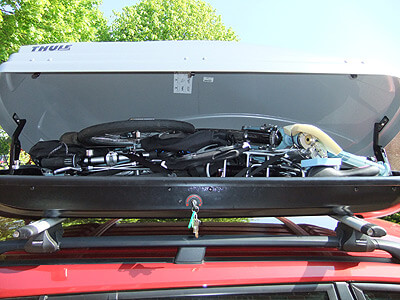 Subject: Thule Atlantis 200
Last year I contacted you to ask if the Thule Atlantis 200 roof box would accommodate a pair of Dahon 20" wheel folding bikes. You said you thought it probably would. I subsequently bought one from you and can now confirm that yes, they do fit very snugly - see photo attached. I have just travelled around France and for long distance trips, for security and reduced drag, this system of bike transportation is an excellent option. PS I have just placed another order with you. Regards, David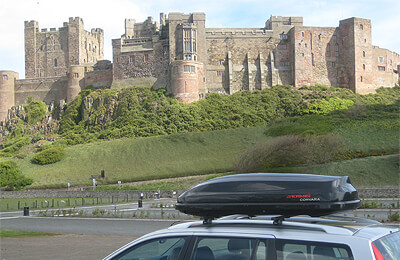 Subject: KAMEI Corvara 390K DuoLift and Atera Signo bars
I bought a KAMEI Corvara 390K DuoLift on the basis of it winning an Auto Express Best Buy award and I wasn't disappointed. Being able to open it on either side made it easy to load and unload 3 medium suitcases and a box full of food. I was also impressed at how easily the Atera bars were to put on the car. They took me less than 10 minutes from opening the box to fitting on the roof rails. Together they were the perfect companions for our trip to Northumberland. Photographed here at Banburgh Castle. Thanks Nicky.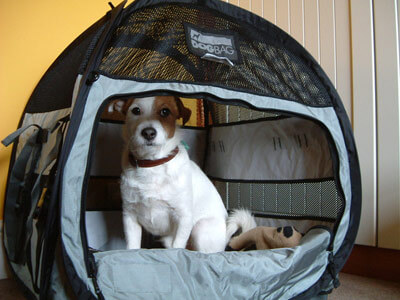 Subject: Riffi and his Dog Bag
Riffi loves his Dog Bag both in and out of the car. Clever product, folds away brilliantly. Thank you very much.
Subject: Impressed with the advice
Hi, Order received yesterday. All appears fine. Very impressed with the advice I received from when making an enquiry into which roofbox and bars to buy, and the service from your company at a competitive price too.
Many thanks, Neil
Subject: Snow chains
Thank you very much for the RUD snow chains. You have been the best internet company I have dealt with.
Subject: Thank you
Quick note to thank you for sending my order so promptly - ordered last Wednesday evening, arrived on Friday. Very pleased with you original assistance on the phone before placing my order, for the speed of delivery and for the product itself - thank you
Subject: Great service
No questions, no problems, just to say that I am impressed! After receiving very helpful advice from you, gave the order to you at 1:30 p.m. yesterday. Promised delivery by this Thursday, in 3 days time - not unreasonable. Received the adapters at 8:00 a.m. this morning.
Great service. Thank you. I will be back!
Best regards Geoffrey
Subject: Delighted with your service
I've now got the correct replacement part - have fitted it and am delighted with your service - THANKS SO MUCH!! - yours – David
Subject: Fantastic quality
Dear Roof Box
Order received and on the VW Transporter. Fantastic quality, just what was needed.
Thank You Rosemary
Subject: Advice guide
Hi I would just like to say thank you for my bike rack. I didn't know what to get so i used your advice guide. It took a day to get here and it took me 5 minutes to put on my car with the bike securely attached. It's a refreshing change for everything to work well.
Sarah
Subject: Very pleased customers
Thanks for sending the locking ends for my Cruz roof bars. I ordered them on Thursday and they arrived Friday morning. Great service and now my roof bars are safe. Very pleased customers.
Roger and Iris
Subject: Roof bars from my old car to my new car
Just a wee email to thank Nathan for all his help in advising me on the parts I needed to adapt my Cruz roof bars from my old car (Skoda Fabia) to my new car (Kia Ceed). The parts arrived the next day and I am delighted with the service I received. Thanks again, Craig
Subject: Ecommerce at its best
Many thanks for the quick service. Ecommerce at its best. All you guys should be proud. Have a great bank holiday weekend. All the best Stuart
Subject: First-class after-sales service
Thanks ever so much for searching out these instructions and emailing them to me - it's exactly what I was looking for.
Can I just take this opportunity to express my appreciation of the after-sales service from The Roof Box Company - it is absolutely first-class. Even though I purchased this Fapa box from you a number of years ago, I really appreciate that fact that you provided such prompt and effective post-sales support. I really appreciate you taking the time to help answer my query today. Best wishes Russell