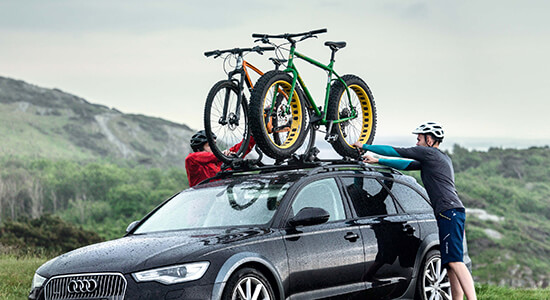 Multi-Buy Offers
Buy 2 or more and get better pricing, even if you mix cheap and expensive or different brands. All roof mounting racks included.

Package Deals
Huge Savings
Save up to 30% when you buy bike carriers and roof bars as a package.
Roof mounting bike carriers
There are three types of bike racks that fit to the roof of a car - frame holding, fork holding, and tyre holding. Check out the info links below for more information, and then use the Filter and Sort buttons to help you choose.
Roof mounting carriers have to be fitted to a set of roof bars going across the car. Some dealer supplied bars are not suitable - check the individual products for more information.
Look out for our "Pick and Mix Multibuys" and our Package deals, and note that all our roof mounting bike carriers are in our 90 day exchange scheme. Prices and value have never been so good!
Roof mounted options: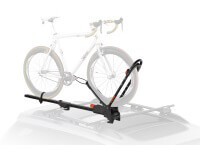 from

£104.95
RRP:

£135.00

The FrontLoader is a superb all-rounder which holds the bike by its front wheel; it's ideal for those who don't want their carbon frames or cables to be clamped.
Hands-free, relaxed loading as soon as the bike is rolled into the front tyre catcher.
Takes a wide range of frame sizes, wheel bases and tyre sizes.

Package Deals Available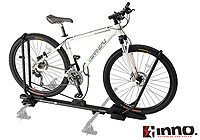 from

£137.95
RRP:

£175.00

INNOís Tyre Hold rack is another innovative and beautifully made product from Japanís market leader. The bike is held only by its tyres, so no part of the rack touches the bike frame or cables Ė making this rack the ideal, and often only, option for bikes with carbon frames, or for non-standard shaped frames that donít fit a standard bike carrier.
Incredibly easy to load and remove your bikes
Takes a wide range of frame sizes, wheel bases and tyre sizes.

Package Deals Available
All our prices include VAT at 20%