Yakima FrontLoader 8002104
RRP:

£140.00



Code:

YK8002104
Overview
:
Yakima's FrontLoader fits most cross bars and most bikes. The bike is held firmly by its front wheel (with the rack only touching the tyre), so it's ideal for anyone who doesn't want their carbon frames to be clamped, or anyone with bikes that won't fit on a frame-holder or fork-holder rack.
Do you need roof bars as well? If so, please check out our superb package deals - see below.
Click here to order
Yakima's FrontLoader fits most cross bars and most bikes. The bike is held firmly by its front wheel (with the rack only touching the tyre), so it's ideal for anyone who doesn't want their carbon frames to be clamped, or anyone with bikes that won't fit on a frame-holder or fork-holder rack.
Do you need roof bars as well? If so, please check out our superb package deals - see below.
Yakima's FrontLoader a truly versatile bike rack. It fits virtually all cross bars and takes a massive range of bikes. The bike is held firmly by its front wheel (with the rack only touching the tyre), so it's ideal for anyone who doesn't want their carbon frames or cables to be clamped, or anyone whose bottle holder is in the wrong place for a frame-holder carrier.
As well as being a favourite for those with carbon-framed bikes, it's also the ideal choice for anyone whose bikes have non-standard forks or disc brakes, the ones that won't fit in a fork-holder carrier.
It's quick and easy to install - no tools are required. Roll your bike into the front wheel catcher and it will be held steady, hands free, while you make the final adjustments. Securing the bike is done at roof level so you don't need to reach too far up.
Other features:
Takes wheels between 20" and 29", as well as 700c road tyres.
Accommodates disc brakes, thru axles and full suspension frames.
The adjustable rear wheel holder takes a range of wheel sizes up to 3", including deep section wheels up to 70mm.
An integrated cable lock secures your bike to the rack while another lock secures the rack to your roof bars.
The arms fold flat when you are not carrying a bike.
This carrier fits around bars up to 88mm wide by 38mm deep, so it will fit all our roof bars.
Please note: the carrier can be mounted either forward facing or rear facing, depending on the size of your car, to allow you to open the tailgate fully on shorter vehicles.

This carrier is priced as low as £124.95 - if you order more than one roof mounting bike carrier, any brand, any price, we'll give you our cheapest Multi Buy price:
Buy 1 = £129.95 each
Buy 2 or more = £124.95 each

There are even bigger savings if you buy roof bars at the same time! If you need roof bars as well, please check out our discounted Package Deals - whichever CRUZ, Atera, Thule or Yakima roof bars you need for your car, (locks included), together with 2 or 3 FrontLoaders, all for a fixed price, whatever vehicle you have!

Exchange scheme: Roof mounting bike carriers are part of our 90 day exchange scheme. The bottom line is that if you aren't satisfied that the Yakima FrontLoader fits the bill you can exchange it for an alternative roof mount, or a tow bar bike rack.

Yakima Frontloader Tyre Hold Bike Carrier
Yakima FrontLoader bike carrier 8002104 Reviews
Patrick M - Vehicle type: 4x4
Just had a holiday in Portsmouth, driving down there from Glasgow, had 2 bikes on the roof first time I had used the Yakima Frontloaders over long distance, The bikes were there on arrival, still held firmly in place I'd say job done, only downside was the hieght of the 4x4 but this would have been same for any roof mounted racks, problem solved with a step up both bikes on in under 5 mins.
Gary W - Vehicle type: MPV
I've got other bike carriers including Thule ones, but they don't come close to the quality and ease of use as this Yakima Front Loader. It's so easy to get your bike in and out, and holds it securely while you finish tightening it place while putting your bike on. If you have a carbon frame bike then this is a must buy as your bike is secured by the wheels only. It's so good I have bought 3 now and got rid of my others. They are expensive but worth every penny.
David L - Vehicle type: MPV
Easy to fit, easy to use. Only slight fault is it sits quite high from the roof bars when
Alan H - Vehicle type: Estate
The rack itself is quite heavy and it took a few wiggles to make sure it was secure on my Pro Rack Whispbar. But, once on, it is a cinch to put a bike on it. I have used it for my road bike (700x20 tyres), my mountain bike (29ers) amd my daughters bike (24"), all fit really well on the Front Loader, and are so much easier to load than the Cruz Bici-Racks that I have. Definitely Recommended.
Dave W - Vehicle type: Hatchback
Great bike carrier, easy to mount on the roof rack and easy to secure the bike and release it. Used with my very expensive pride and joy TT bike, so I trust this item loads.
Craig B - Vehicle type: Estate
This bike carrier is great, feels very secure when up on the roof all tightened down, I feel happier now knowing it is up on the roof in a very secure and balanced fashion. It is very easy to install, so easy in fact, that I take it off when I have finished with it, unlike some of them that people seem to leave on and ruin their fuel consumption into the bargain! I am very happy with this purchase and would recommend to a friend and will be looking to buy another for my son when he is ready to move up to a bigger bike! Well priced and fantastic quality. The only gripe I would have is that the lock on it could be more substantial, but as I never leave it anywhere dodgy with bikes on the top, that doesn't really bother me!
Richard R - Vehicle type: Saloon
Easy to use, supports the bike well without touching the carbon frame. Good value
Dominik H - Vehicle type: Estate
Took some time to research before buying this and so glad I did. It came out well in on line reviews and has been a joy to use. It 's very well made and very easy to operate.
Ian M - Vehicle type: Estate
Great, flexible roof rack which will fit all the bikes we have - from a child's 24" wheel road bike up to our carbon road bikes. And all without putting pressure on those delicate carbon frames! Recommended.
Mark G - Vehicle type: 4x4
I'm not overly impressed with this bike carrier - bits broken in the box on arrival - moreover I find that getting the bike into a stable position when putting it on the car a bit dicey ..... you need to get the rear part of the front section to rotate forward to hold the front wheel securely and this is not straightforward when the bile is above you - (the guy in the video on the web site is doing this at table height - not holding the bike above a car which is entirely different). I've got the knack now but have to be careful not to end up with my bike crashing down onto the car roof - wish I'd gone for the more expensive INNO which holds both wheels ...... - Once the bike is up there it's secure enough but that's not special ... that's what it's supposed to do!
Malcolm M - Vehicle type: Hatchback
Well built easy to fit rack, holds bike securely never any worries about a mishap.
James M - Vehicle type: Hatchback
It is easy to use and set up. The design means my carbon frame is nice and safe and my bike feels securely located to the rack. The integrated cable lock isn't up to much due mainly to being attached by a plastic clip. I use my own, so not a big issue. My only concern is the design of the front rail attachment device. It is made solely of plastic and is quite narrow meaning there is quite a lot of strain when turning. Had this had been made of metal, then I would have no concerns. It just means that I check for signs of movement and stress whenever I stop. Overall I am happy with my purchase.
Dave T - Vehicle type: Estate
Very easy to fit and remove, very easy to load bikes onto, drove 600 miles recently carrying my mountain bike up to scotland and back at 70 mph, no issues at all, thinking of replacing my other two thule racks with these as they don't damage the bike in any way, bit more wind noise than the thule when not in use but still bearable
About our reviews:
We test, and often use personally, almost all the products we sell, and we stand behind our comments and recommendations unless customers convince us they need changing. Our Customer Services and Workshop staff also have input into our recommendations.
But it's because we've learned a lot over many years that customer feedback is so important. Fresh, first time out opinions are the most useful ones, and in any event we certainly don't have access to the full range of vehicles that our customers have between them.
Product feedback from existing customers helps our new customers make choices, and also helps our suppliers with their product development.
We e-mail our customers a week or so after their order arrives and invite them to send in a review.
Some reviews are suitable for multiple products. Where appropriate we may, for example, use the same review for a number of different roof bar products where the only difference is the length of the roof bar.
We offer our existing customers a full "Next Day if possible" spares service, and will cannibalise new stock as required to find you the parts you need.
To find the spare parts you need, please see the diagram below, identify the product codes, then choose them from the list below. If you need more than 1 of any item, change the quantities in the Shopping Basket.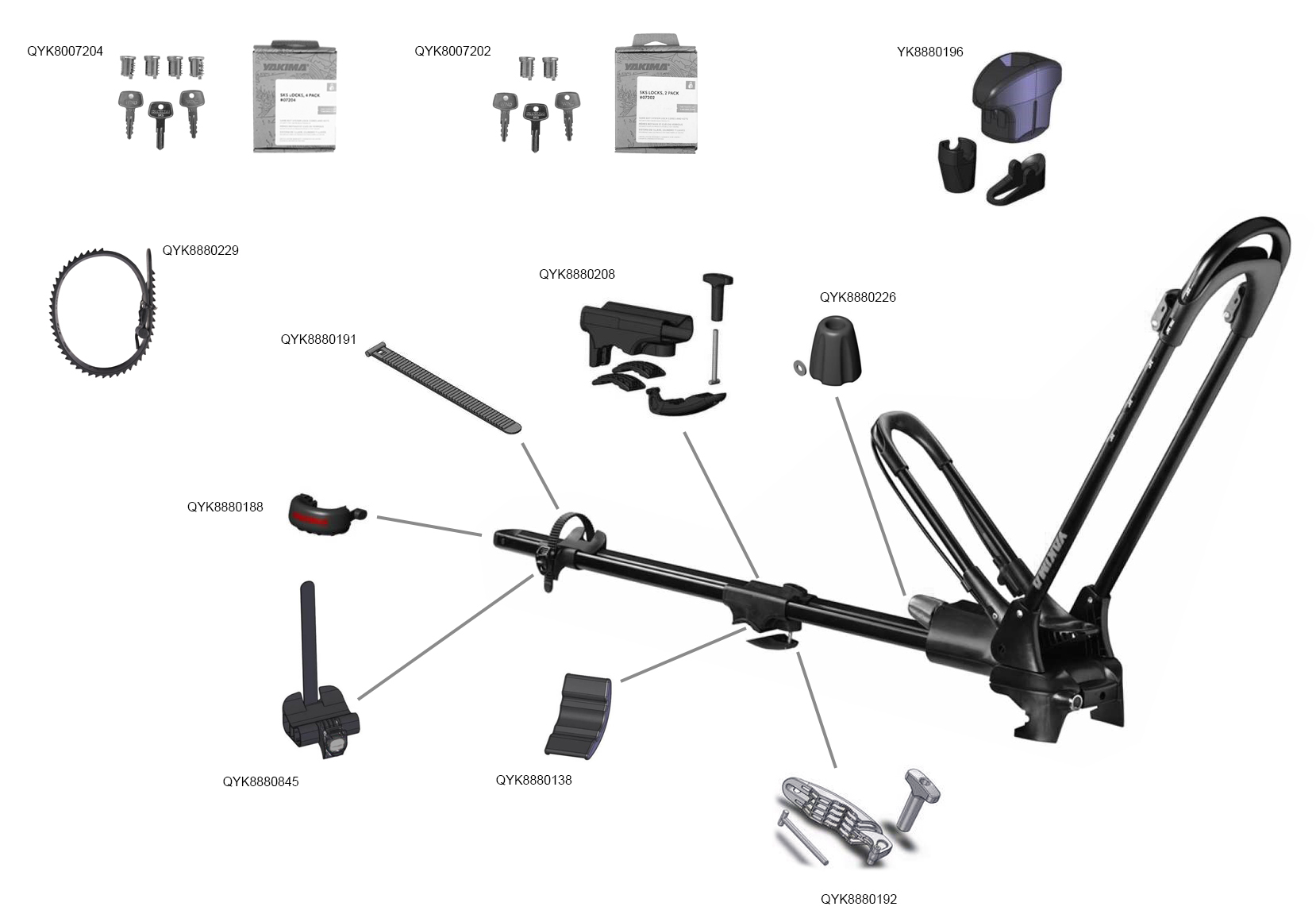 Technical specifications at a glance:
Fits roof bars up to: 88mm wide by 16-38mm deep (fits all the bars we sell apart from Thule Pro and Slide bars and Dropracks)
Fits aerobars: most, fits around bars up to 88mm wide by 38mm deep
Weight: 6kg
Max load capacity: 18kg
Max wheel size: 20" to 29" tyres, up to 3" in width
Maximum wheelbase: 123cm
Bar to carrier lock: yes
Carrier to bike lock: yes
Matching locks available: no
Width: One takes 19cm of roof bar space, two (top and tailed) takes 49cm of roof bar space
Fits roof bars spaced between: 46-122cm apart
Guarantee: 5 years
Additional information:
Not suitable for bikes with mudguards fitted very close to the tyres. Requires at least 3.8cm of clearance between the bottom of the roof bar and the roof of the vehicle. If mounting to roof bars that are 410-460mm apart, the max bike weight is reduced to 13.6kg and no more than 2 bike carriers to be fitted.
Specification PDFs
Delivery charges and arrangements:
We charge a contribution towards delivery costs, depending on what you order, where you live, and how quickly you want the goods.
These are our standard charges; there are usually surcharges for all offshore destinations and some remote postcodes - for details please see our delivery information page.
| | | |
| --- | --- | --- |
| Express Delivery | £ 9.50 | 1 to 2 working days |
| Standard Delivery | £ 6.50 | 3 to 4 working days |
Delivery of other items
| | | |
| --- | --- | --- |
| Express delivery | £ 6.95 | 1 to 2 working days |
| Standard delivery | £ 4.95 | 3 to 4 working days |
| | | |
| --- | --- | --- |
| Express Delivery | £ 19.50 | 1 to 2 working days |
| Standard Delivery | £ 14.50 | 3 to 4 working days |
| | | |
| --- | --- | --- |
| Express Delivery | £ 19.50 | 2 working days |
Delivery times
Delivery times are calculated in working days (Monday to Friday, excluding Bank holidays).
Cut-off times for Express Delivery orders
Express Delivery orders placed before before the cut-off times shown below will usually be desptached on the date of order. Express Delivery orders placed after these cut-off times will be despatched the next working day.
| | |
| --- | --- |
| Small and Standard Sized Items | Order by 4pm for same day despatch |
| Roof Boxes, Dropracks and Roof Tents | Order by 1pm for same day despatch |
Delivery FAQs
When will my order arrive?
There are no deliveries on Saturdays, Sundays or Bank Holidays, except for postable items where Royal Mail has a Saturday delivery. Express Delivery orders placed on a Friday (before 1pm) should be delivered on the Monday or Tuesday, Express Delivery orders placed on a Saturday or Sunday should be delivered on the Tuesday or Wednesday. The arrangements for Very Heavy Items are different and are shown above.
What about Next Working Day delivery?
We have offered a reliable Next Working Day service for well over 20 years but, due to the pressure on the couriers caused by the coronavirus crisis and the huge increase in online shopping, we can no longer be confident about the delivery date, which is why we now call the service 'Express delivery'. Most Express delivery orders will arrive on the next or second working day, but some will arrive on the second or third working day, or be split between these days. So-called "split deliveries" happen when the couriers do not have enough trailer space for everything that should be moved around the UK, so they will load what they can and leave the rest for the next trailer.
Is my delivery day guaranteed?
No retailer or courier company can ever "guarantee" a Next Working Day delivery. As well as split deliveries, all courier companies occasionally have the same transport problems as can happen to everyone else, including snow blocked roads, closed roads, traffic jams, mechanical breakdown, an inability to find the delivery address, or to gain access to it if, for example, it's in a block of flats. We work with some of the best couriers in the business, and overall they provide an outstanding service.
Do I need to be at home?
We are very flexible with our deliveries and will aim to deliver to an address which suits you – this does not need to be your home address. Goods can usually be left without signature - we prefer this with roof boxes. There's a "Special Delivery Instructions" box in the checkout area where we'll ask you to choose a typical instruction and then amend it to suit your particular requirements.
Payment options:
We take the following cards, and also PayPal. Please note that the entry on your card statement will be from "The Roof Box Company".
Secure payments
Our website is secured by Sectigo (formerly Comodo CA), the largest commercial Certificate Authority in the world.
Yakima has a comprehensive network of international distributors, so we do not sell or ship Yakima branded products overseas, including to Northern Ireland or to the Republic of Ireland. We hope you can find the Yakima products you want, locally.
Deciding which bike carriers to buy is not always easy, especially as you may not have had experience of using bike carriers before. We hope that our buying guides provide useful guidance about which bike carrier 'strategy' will be most appropriate for your circumstances, as well as highlighting the best features of particular models. We also have troubleshooting FAQs - for example, some customers struggle at first to fit four bikes onto a tow ball carrier, and wonder whether a different carrier would allow the bikes to be spaced wider apart. (It won't, but we have some good tips which make bike fitting much easier.)
Our bike carriers Exchange Scheme covers roof mounting and tow ball mounting bike carriers only. Rear door mounting / strap on carriers are not included, and nor are roof bars. It allows you to exchange within 90 days of invoice date. Most exchanges are for roof mounting upgrades, or are tow ball carriers with very basic tilting systems being exchanged for easy to use sliding / tilting carriers.
These are the rules of the bike carriers Exchange Scheme:
You are allowed one exchange only.
The original equipment must be in "as new" condition, subject only to fair wear and tear.
The replacement items must be different models from the originals. Not just an alternative colour.
The replacement items must not be part of a package deal or be from our Bargains section.
Roof bars are never part of the Exchange Scheme.
This is how the exchange scheme works:
We charge in full for the replacement items, including the appropriate carriage charge and a charge for any packaging needed for the return of the originals.
We pay the return carriage costs.
When the originals arrive back here we refund you for their invoice value, but you won't get back more than the invoice value of the replacements. In other words, if the replacements are cheaper than the originals we won't be giving you "extra cash back".
Please note: we can only collect items from mainland UK.
Fitting PDFs
Yakima Frontloader - How to fit to steel bars
Yakima Frontloader - How to fit to aero bars
Delivery charges and Payment options
Our 90 day Exchange Scheme
Returned products
We sell returns at very cheap prices, often less than cost if they're ex Hire or damaged. Each of these items is offered with the full guarantee as if it had been purchased new, unless we state otherwise.