Atera GENIO PRO folding bike carrier (2 bikes) no. 022780
RRP:

£572.50



Code:

AR2780
Temporarily out of stock
Due to component supply problems we are unfortunately not expecting to see the Genio Pro back in stock until August at the earliest.
Overview
:
It tilts far enough that even vertical tailgates can be opened - ideal for vans like the VW T5 and T6 and the Mercedes Vito
Foldable so it's very easy to carry and store
Takes heavier and wider bikes (up to 30kg each) - great for eBikes or larger mountain bikes but equally suitable for small children's bikes
Click to pre-order
We will notify you by email when we have an estimated despatch date. You will not be charged until your order is ready for despatch.
It tilts far enough that even vertical tailgates can be opened - ideal for vans like the VW T5 and T6 and the Mercedes Vito
Foldable so it's very easy to carry and store
Takes heavier and wider bikes (up to 30kg each) - great for eBikes or larger mountain bikes but equally suitable for small children's bikes
Atera have been making superb tow bar racks for may years, the Genio Pro is their most innovative yet. They've really future-proofed this rack. It carriers anything from a small kid bikes, to huge MTBs or heavy eBikes. It has a massive tilting angle - you can even open the vertical tailgate of an MPV or a van (e.g. the Vito or T6). You can rest assured that whatever bike you ride, or car you drive, you'll be using the Genio Pro for years to come.
What makes the Genio Pro so special?
The Genio Pro tilts far enough that vertical tailgates can be opened. Most tow bar racks only tilt far enough to open the boot on a hatchback / saloon / estate or SUV. The Genio Pro has two tilt settings, the extended angle is ideal if you have an MPV or a van with a vertical tailgate (e.g. the T5/T6 or Vito).
The Genio Pro features Atera's new 'Plug & Drive' system. This intuitive quick-release fitting features the most sophisticated, one-hand mounting ever for a bike carrier. Simply put the folded Genio Pro on the tow bar, press down the lever and you're done.
The wheel trays fit virtually all bikes. The 124cm wide platform will take anything from small children's bikes to large bikes with bigger wheelbases. It will carry bikes up to 30kg, so is a great option for eBikes. The wheel straps take anything from skinny road bike tyres to 4" wheels.
The bike holder arms can be removed (when unlocked) so they can be repositioned without the need to remove the bikes and start again. They fit oval and other outsize frames, as well as round ones. Cushioning on the straps protects your bike frame. The lockable wrap-around strap provides a much safer grip on the bike frame than just a 'jaws' type holder; Atera's strap has a sprung steel core to it, giving very good theft protection as well as extra safety – it's not just a plastic strap!
The bike platform rotates to fold in an innovative way. As well as protecting the lights from damage – the lights are always the vulnerable part of a tow bar carrier - this folding system means that it's the clean side of the platform (not the underside) that's on the outside when folded. This means that you won't be cleaning off the grease and salt from the road on your clothes, or on anything else in your car boot space.
You can carry the Genio Pro very ergonomically, standing upright and with no strain on your back. When you place it on the tow ball it stays on the horizontal.
Easy folding allows for ergonomic / safe handling and fitting, and also makes the carrier small enough to put safely in the car boot, out of the way, when you're out for a ride – making it easier to fit your car into a packing space.
The environment behind a car is a pretty hostile place for a bike – a steady spray of dirty salt and grease – the bike platform provides useful protection for the bikes compared to most tow bar carriers. The frame is made from matt anodised aluminium - strong and lightweight.
A 3rd bike adapter is available – extremely easy and quick to fit and remove (it takes seconds) compared to the other systems on the market. There's also a loading rail (useful for e-bikes in particular) and a storage bag (see below).
Other specifications:
Max load capacity: 60kg, or 66kg with the 3rd bike adapter (tow bar nose weight limit permitting)
Maximum weight per bike: 30kg
Weight: 19.6kg
Fits frames 25 to 80mm
Fits tyres up to 4"
Maximum wheelbase: 1300mm
Lockable: the rack locks to the tow ball and the bikes are locked to the rack
Supplied fully assembled
Comes with a 13 pin plug for 13 pin continental type electric sockets. We also provide a 7 to 13 adapter, free of charge, for cars with 7 pin sockets.
Technical specifications at a glance:
Max number of bikes: 2 (3 with adapter 2781; shown below)
Suitable for electric bikes:Yes, up to two
Fits bolt on tow ball: yes
Fits swan neck / detachable tow ball: yes
Dimensions: 124cm (width) x 65cm (depth) x 70. 5cm (height)
Dimensions (folded): 38.5cm (width) x 65cm (depth) x 70. 5cm (height)
Weight: 19.6kg
Max load capacity: 60kg (66kg with 3rd bike adapter)*
Max weight per bike: 30kg
Max wheelbase: from 130cm (29" bikes: 130cm, 28" bikes: 132cm, 27" bikes: 135cm, 26" bikes: 137cm). 120cm for the 3rd bike adapter.
Max tyre width: 4"
Distance between bikes: 21cm
Tilting: yes
Integral lighting board: yes
Lighting board plug type: 13 pin (7 pin adapter available if required; shown below)
Bike carrier to tow ball lock: yes
Bike carrier to bike lock: yes
Possible to tow when in use: no
Fits with a spare wheel: no
Guarantee: 3 years
Useful information:
* The maximum permitted load you can carry is also determined by your nose weight; you will need to check you don't exceed this before using any tow ball mounted bike carrier.
Specification PDFs
Deciding which bike carriers to buy is not always easy, especially as you may not have had experience of using bike carriers before. We hope that our buying guides provide useful guidance about which bike carrier 'strategy' will be most appropriate for your circumstances, as well as highlighting the best features of particular models. We also have troubleshooting FAQs - for example, some customers struggle at first to fit four bikes onto a tow ball carrier, and wonder whether a different carrier would allow the bikes to be spaced wider apart. (It won't, but we have some good tips which make bike fitting much easier.)
Our bike carriers Exchange Scheme covers roof mounting and tow ball mounting bike carriers only. Rear door mounting / strap on carriers are not included, and nor are roof bars. It allows you to exchange within 90 days of invoice date. Most exchanges are for roof mounting upgrades, or are tow ball carriers with very basic tilting systems being exchanged for easy to use sliding / tilting carriers.
These are the rules of the bike carriers Exchange Scheme:
You are allowed one exchange only.
The original equipment must be in "as new" condition, subject only to fair wear and tear.
The replacement items must be different models from the originals.
The replacement items must not be part of a package deal or be from our Bargains section.
Roof bars are never part of the Exchange Scheme.
This is how the exchange scheme works:
We charge in full for the replacement items, including the appropriate carriage charge and a charge for any packaging needed for the return of the originals.
We pay the return carriage costs.
When the originals arrive back here we refund you for their invoice value, but you won't get back more than the invoice value of the replacements. In other words, if the replacements are cheaper than the originals we won't be giving you "extra cash back".
Please note: we can only collect items from mainland UK.
Delivery charges and arrangements:
We charge a contribution towards delivery costs, depending on what you order, where you live, and how quickly you want the goods.
For most UK addresses, the charge for our Standard three to five day service is £6.50 (£14.50 for orders including a roof box) and our charge for Express Delivery (one or three days) is £9.50 (£19.50 for orders involving a roof box). AutoSock, shoe chains, RUD i-Sock, and small spare parts, are charged £3.95 (Royal Mail Tracked), £4.95 (Royal Mail Express Tracked) or £5.95 (courier, usually Express Delivery).
There are different charges for any delivery including a sea crossing, and deliveries to Skye - we will contact you with a quote on receipt of order.
Orders for Express Delivery need to be received by 4pm.
When will my order arrive?
There are no deliveries on Saturdays, Sundays or Bank Holidays, except for postable items where Royal Mail has a Saturday delivery. Express Delivery orders placed on a Friday should be delivered on the Monday or Tuesday, Express Delivery orders placed on a Saturday should be delivered on the Tuesday or Wednesday.
What about Next Working Day delivery? 
We have offered a reliable Next Working Day service for well over 20 years but, due to the pressure on the couriers caused by the coronavirus crisis and the huge increase in online shopping, we can no longer be confident about the delivery date, which is why we now call the service 'Express Delivery'.  Many Express Delivery orders will arrive on the next working day, but some will arrive on the second working day, or be split between these two days. So-called "split deliveries" happen when the couriers do not have enough trailer space for everything that should be moved around the UK, so they will load what they can, and leave the rest for the next trailer.
Is my delivery day guaranteed?
No retailer or courier company can ever "guarantee" a Next Working Day delivery. As well as split deliveries, all courier companies occasionally have the same transport problems as can happen to everyone else, including snow blocked roads, closed roads, traffic jams, mechanical breakdown, an inability to find the delivery address, or to gain access to it if, for example, it's in a block of flats. We work with some of the best couriers in the business, and overall they provide an outstanding service.
Do I need to be at home?
We are very flexible with our deliveries and will aim to deliver to an address which suits you – this does not need to be your home address. Goods can usually be left without signature - we prefer this with roof boxes. There's a "Special Delivery Instructions" box in the checkout area where we'll ask you to choose a typical instruction and then amend it to suit your particular requirements.
Payment options:
We take the following cards, and also PayPal. Please note that the entry on your card statement will be from "The Roof Box Company".
Secure payments
Our website is secured by Sectigo (formerly Comodo CA), the largest commercial Certificate Authority in the world.
Bike carriers with 7 pin plugs
Wheel support bike carriers which are supplied with 7 pin plugs usually only include rear lights, brake lights and indicator lights, which is why they are often called '3 function lights'.
Unusually, Thule bike carriers with 7 pin plugs also include a fog light; this works when plugged into 7 pin electrics, but it does not work when plugged into 13 pin electrics via an adapter.
Bike carriers with 13 pin plugs
Bike carriers which are supplied with 13 pin plugs include a fog light and reversing light, as well as rear lights, brake lights and indicator lights – which is why they are often called '5 function lights'.
If these are plugged into 13 pin electrics then all 5 functions will work.
If they are plugged into 7 pin electrics via an adapter then the fog light should work, but the reversing light on the bike carrier will not work.
Please note
These notes assume that your tow bar electrics have been wired correctly!
Tow bar wiring in the digital age is much more complicated than it used to be when everything was analogue. Our experience is that if you are having lighting problems, e.g. a fog light does not work in 7 pin tow bar electrics, the problem is much more likely to be caused by the wiring, not by a dud bulb in the bike carrier.
We offer our existing customers a full "Next Day if possible" spares service, and will cannibalise new stock as required to find you the parts you need.
To find the spare parts you need, please see the diagram below, identify the product codes, then choose them from the list below. If you need more than 1 of any item, change the quantities in the Shopping Basket.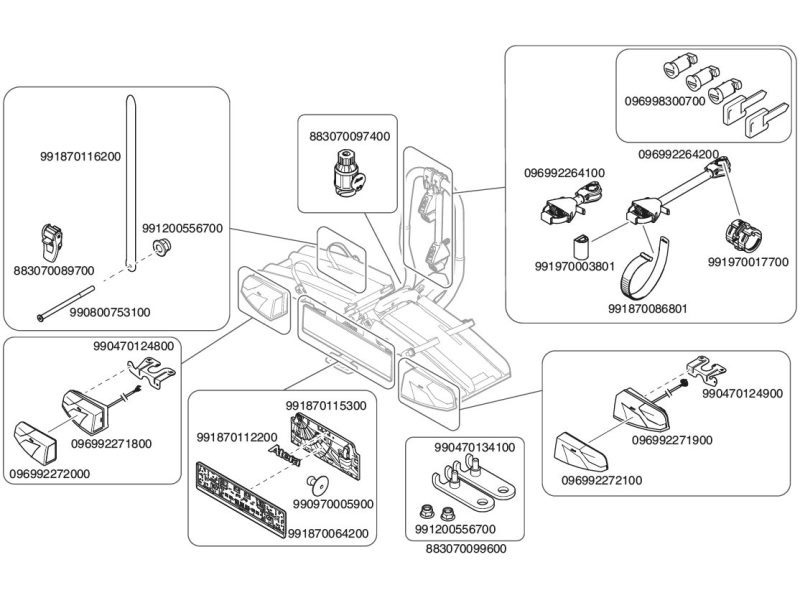 Our 90 day Exchange Scheme
Delivery charges and Payment options
7 pin or 13 pin tow bar electrics?