Atera STRADA E-bike - 2 bike carrier no. 022 686
RRP:

£447.50



Code:

AR2686
Overview
:
Designed to transport two electric bikes (e-bikes) or bicycles. The distance between the bike rails is 230 mm, leaving plenty of space for the drive unit or battery. It fits to 'bolt on' or 'swan neck' tow balls without any adjustment; you just place it on the tow ball and push down the handle - no spanners or Allen keys are required. The tilting mechanism allows quick access to the boot – whether loaded or unloaded. The optional drive-up rail makes the loading particularly comfortable.
Click here to order
Designed to transport two electric bikes (e-bikes) or bicycles. The distance between the bike rails is 230 mm, leaving plenty of space for the drive unit or battery. It fits to 'bolt on' or 'swan neck' tow balls without any adjustment; you just place it on the tow ball and push down the handle - no spanners or Allen keys are required. The tilting mechanism allows quick access to the boot – whether loaded or unloaded. The optional drive-up rail makes the loading particularly comfortable.
We reckon that Atera's STRADA tilting carriers are the best designed and best engineered tow ball carriers on the market, bar none. This page shows the E-bike which has been designed to transport two electric bikes (e-bikes) or standard bikes. The distance between the bike rails is 230 mm, leaving plenty of space for the drive unit or battery. The tilting mechanism allows quick access to the boot – whether loaded or unloaded. The optional drive-up rail makes the loading particularly comfortable.
Apart from its all round style, what's so special about the STRADA E-bike?
(1) It fits to 'bolt on' or 'swan neck' tow balls without any adjustment; you just place it on the tow ball and push down the handle - no spanners or Allen keys are required. It now features an improved aluminium handle.
(2) It's not only light but compact. At only 1 metre wide it should fit into most if not all car boots, allowing you to park safely without risk of the bike carrier being damaged. You only need to flick up a couple of cam levers to fold the upright bike holder support.
(3) The bike frame holders are without a doubt the most sophisticated units available. They fit oval and other outsize frames as well as round ones, wrapping a strap right around the frame for safety and security. (This looks like a simple plastic strap, but it is in fact 'sandwiched' around a spring steel core.) With swivel joints at both ends, and a slight curve in the aluminium support rod to increase the opportunities available, we haven't yet come across any combination of bike sizes and styles that can't easily be locked into place using the same key which locks the whole unit to the tow ball.
It makes sense when using this carrier to place a safety strap around all the bikes and the bike holder support frame. We're therefore providing a free strap with each carrier - one strap per carrier! As well as providing peace of mind the strap will also help to minimise vibration.
Technical and miscellaneous:
Weight of carrier =14.9kg
Maximum payload: 60kg
Approximate dimensions when folded: 1000 x 200 x 590 mm
The wheels are held in place with quick fit polypropylene straps which accommodate tyres up to 2.4" - 2.6" (dependent on rim height). Longer straps are available for tyres up to 4" - listed below.
The STRADA has five function rear lights so it is fitted with a 13 pin plug for 13 pin continental type electric sockets. If you have a 7 pin socket you will need the Lighting adapter '13 pin' (rack) to 7 pin (car) listed below. If you need one of these remember to tick the box below to add this to your order.

(If you have a 7 pin socket the reversing light and fog light will not work. The 7 pin socket isn't wired for these functions)
Note for vehicles with a rear mounted spare wheel: You may not be able to fit the STRADA onto vehicles with a rear mounted spare wheel: in our experience you almost always have to remove the spare wheel. This could be (1) to get the bike carrier onto the vehicle (the upright may hit the spare wheel), (2) to get the bikes to fit on the carrier (the handlebars etc could hit the spare wheel) or (3) take the carrier off the tow bar after use (the handle to remove it could clash with the spare wheel).
You'll need a lighting adapter if your vehicle has a standard UK style 7 pin socket - buy a STRADA E-bike from us this season and we'll give you this for free, saving up to £20 at typical prices!

Made in Germany.
2 to 3 bikes - Atera STRADA E-bike Reviews
Stephen G - Vehicle type: Van
We were looking for a rack that would be suitable for two E bikes that we were taking to the continent during the summer and this rack seemed to fit our needs. We have not been disappointed as the rack is well made and is very sturdy when the bikes are loaded. The rack is easy to fit and folds flat for storage. Of particular note is the extra space between the rails that ensures the two bikes are not touching each other. Would definitely recommend this rack for E bikes
Sue T - Vehicle type: Van
Use on the back of my Motohome used on trip to Slovenia round trip of about 3000 miles cannot fault it first class piece of kit.
Gary F - Vehicle type: MPV
Excellent quality, quick and easy to install. I bought this to carry my e-bike, which is a fairly hefty beast. The carrier itself is easy to carry, and lift up and down from my garage wall. The installation instructions were first class, and backed up by an informative 'YouTube' video. In fact the first time I fitted the carrier it all seemed so straightforward I was convinced I must have done something wrong! The locking action to my tow bar was positive, and the indicator acts as a useful double check that everything is correctly installed. When loaded, even given the weight of my bike, the carrier is rock solid. I've always had total confidence in the carrier, whether on the motorway or a rutted track to one of my favourite off road riding areas. Being able to lock bike to carrier is reassuring, although the carrier is so easy to fit that in more remote areas after unloading my bike I simply fold the carrier and stow it in the boot. Two standout features. Firstly the width of the channels that hold the wheels. With the oversized tyres on my previous bike, there was no problem wheeling the bike onto the carrier. The second useful feature is the ability to tilt the rack to allow the tailgate to open. I often have a boot full of camping and photography equipment, and being able to access this without removing the bike and rack is a real boon. I would recommend this product.
Stephen C - Vehicle type: Hatchback

Excellent build quality. Heavier than expected which makes it somewhat difficult to manoeuvre into the correct initial position onto tow ball but once mounted the rest of lock down process is easy. Ours is used to carry two Scott Ebikes and their combined total weight plus rack exceeded the legal limit for a small hatchback but was well within the 70kg limit for a VW Golf. Tow ball loading weights vary across vehicle types and any breach could invalidate insurance. Loading heavy Ebikes is a cinch using the optional ramp but you need to sort out pedal and securing cross tubes into the best positions beforehand. The wheel locking straps are very robust and quite stiff so it is best to fold them out of the way using cable ties. The cross tubes and ratchet locking systems are great and easy to use. Optional securing straps are good for added peace of mind with expensive kit. Have used the rack in 2017 for several journeys and the whole unit sits securely with very little sideways slop on corners and tight traffic conditions. Tow ball showing some slight wear at point of attachment. Overall very pleased with purchase
Paul R - Vehicle type: Estate
The Atera seems good quality and is simple to fit and remove. It also fits inside my car's boot if I'm off cycling for a longer period.
David W - Vehicle type: 4x4
Very good product, easy to fit and remove. Very substantial.
Gillian O - Vehicle type: Hatchback
We carried 2 electric bikes 3000 mls round trip to Spain and the carrier performed brilliantly. The tilt function worked really well and the bikes always felt safe and secure. the staff we spoke to at Roof Box were very helpful and delivery was speedy. Thank you
Alec B - Vehicle type: 4x4
Amazingly solid when fitted and carrying 2 bikes - one being a heavy electric mountain bike. Getting the rack onto the tow ball is easy once you get the mounting angle right. If I'd read the instructions first it would have been easier!! The wheel straps don't fold back far enough for my liking, but my roof rack didn't either. The frame support clamp works well, even on my oddly shaped eBike frame. The frame support for the second bike needs to be unclamped first. I needed to tilt my bike too far forward to allow the support to swing into place, so removing then refitting the support is better but fiddly. Overall I'm very pleased with the rack and the customer service
John - Vehicle type: 4x4
This a very well made item that transports our two e-bikes easily. It's mostly aluminum construction is easy to clean, light and strong. good value (have I said I like it?)
Richard - Vehicle type: Van
I love it. Rack is easy to fit, and lock onto tow bar. Bikes lock onto rack. Everything feels solid. Would highly recommend this rack 😊
Cliff O - Vehicle type: MPV
I am very pleased with this product from every point of view it is first class in every way, good quality,strong,easy to use and looks good.
Chris W - Vehicle type: Hatchback
An absolute brilliant buy. Am hoping to have it for years. It's really well made and incredibly sturdy. Have used it for trips to the highlands of Scotland and Wales. You could almost forget the bikes where there such is the confidence this bike rack gives you. Top marks.
Barry G - Vehicle type: Estate
An excellent bit of kit. Takes 2 heavy e bikes with ease have driven with it 650 miles in a day to southern France. The tilt back feature is excellent for getting at things on route. A little difficult to get the hang of putting it on initially. Excellent.
Mark H - Vehicle type: Estate
At first I was a little nervous about using the bike carrier because the only point of connection was the tow bar and two electric bikes weigh in excess of 45kg. However, having travelled to France and back twice (over 2,000 miles) including manoeuvring in confined areas at the ferry ports and on board, I continue to be impressed by the sturdiness, stability and ease of use of the carrier. What particularly impressed the French border police was when I operated the tipping function so that they could inspect the interior of the car. I think that they were expecting me to have to remove the bikes and the carrier (a 10 minute job) but just tipping the carrier took only a matter of seconds. I constantly monitor other bike carriers as we travel and I have yet to see a better product. As a postscript, engineers at the Roof Box Co were extremely helpful and solved an issue that I had immediately after purchase the carrier using a video link via iPhones to solve the problem.
Ben I - Vehicle type: Estate
I have used this with ordinary bikes not electric bikes but I have found it to be excellent. Just come back from a month's holiday in France and found the carrier very easy to use and very solid and reassuring when driving at any speed on the autoroute. If the bikes are covered which I suppose interferes with air flow there is a slight but noticeable increase in vibration (shaking) when going 65mph or more, but nothing alarming. If the bikes are not covered any speed is fine. Easy to fit and remove. Folds for easy storage. Very happy with the product.
Jeff - Vehicle type: 4x4
The straps that tie the wheels to the rack are a little stiff and need some practice to use. Once on, the two bikes felt really secure. The rack has been used with electric bikes which are a bit heavier than usual. The grip on the tow ball is superb. Releasing the rack from the toe ball again takes a bit of practise but is easy when you know how. Overall quality of the rack is excellent.
Richard - Vehicle type: Estate
Well put together and easy to use, this is a well made bit of (quite heavy) kit which feels like it should last a while. Have used it for a year with a variety of bikes, inc road, touring and full suss MTB and it has handled them all well. Quick to get bikes on once used to the set up and the tow bar attachment is pretty foolproof (though it pays to pay attention). Having had roof bars and now a tow bar carrier there are pros and cons to each. The advantage of the tow bar mount is that is out of the way and doesn't impact on performance / fuel efficiency in the same way as the roof bars. But the roof bars can be left on for daily use. I bought the wall hanger attachment which felt over priced but makes it easy to store. When folded it fits in the back of an Astra estate with some room to spare
Jonathan M - Vehicle type: Van
Delighted with product which we use on our motorhome tow ball. Carried 2 heavy German (Kalkhoff) electric bikes around Europe with no problems.
Anthony W - Vehicle type: MPV
Brilliant. Easy to attach to car. Once bikes have been put on once and distances between wheel adjusted. It takes less than 5 minutes to fit bike in future. That travel steady as a rock on the back.
Helen L - Vehicle type: Estate
Excellent build quality - just what I would expect from a German made product. Our e bikes fit quickly and easily and are transported safely. While this bike carrier is more expensive than others it is well worth the money.
Michael T - Vehicle type: Van
Solid piece of kit, fairly easy to use. Keeps bikes secure and stable. Highly recommended.
Graham G - Vehicle type: Saloon
Very pleased with quality and attention to detail in the design. I am delighted with this purchase and have no hesitation in recommending it.
Pat C - Vehicle type: MPV
superb piece of kit, best on the market, so well made and will last a life time, we carry two electric bikes on the carrier and have used it many times.
Pauline R - Vehicle type: Hatchback
Have only used the bike carrier once but was really pleased with the ease of fitting it to the towbar and putting the two bikes on.
Christine D - Vehicle type: Estate
This bike rack is very well designed and holds the bikes very securely. Would recommend!
Andrea M - Vehicle type: Van
When we bought a new motorhome complete with a tow bar and rear window, the best solution to make sure we could take our E-Bikes with us everywhere was a tow ball mounted bike rack. I was very sceptical that it would work at all, but the Atera Strada has proved to be an excellent product. We had a problem getting it aligned (horizontally) at first but a trip back to TowTal sorted all the problems out. We have been delighted (and very relieved) with the way the rack performs and after a few tries, now have no problems fitting it properly. Considering our two bikes weigh 20KGs each (without batteries) the rack manages them with no difficulty - they stay where they are put! We are about to embark on our first extended trip around France and have no qualms about this product being up to the job. I have to say that one very important reason for choosing this product was that it is lighter than the other similar products - and just happened to be cheaper too!
Frank M - Vehicle type: MPV
The Bike rack fits on the tow ball easily and seems to be secure I have only been out once so far taking an electric mountain bike and my wife's electric shopper bike. All went well although i was a bit anxious at first that it could handle the weight. However it did fine so im very pleased. The only thing i had to do was turn round the two short wheel troughs to allow more over hang as her bike has a battery behind the seat stem and that makes her wheelbase too long for the wheel supports as they are. Overall very pleased
Rebecca O - Vehicle type: 4x4
We purchased this product not for ebikss but for Pawtrekker dog scooters and bikes. The Roof Box Company was very helpful checking out the dimensions of the scooters and considering that scooters don't have seat posts and are heavier and longer than most bikes would be. they advised this. They were quite right this has extra length we needed and takes the extra weight. It also easily adjusts to fit various sized bikes. it is quick and easy to fit although we did have to get the hand of it at first. Its easy to carry and fits on a bike rack when not in use. it is well made and never moves during travel. We have a Landrover Discovery so putting bikes on the roof was not practical. The dogs travel in the back this Drops down on the press of a button below the tail gate allowing the dogs to get in and out whilst the bikes and scooters are still in place. Most bike carriers could not do all of this, we are very pleased with it. we were also impressed with the speed in dealing with an electric adapter fault and the help that the roof box Company gave us in selecting this product. Highly Recommend it.
Graham B - Vehicle type: 4x4
I bought the Strada e-bike carrier after reading a number of reviews, including those of alternatives. The important criteria for my bike rack were it was a tow ball fitted model, it was easy to use and reliable. It also had to move away from my Freelander's tailgate for access. After several months of use, I am delighted with my choice. The build quality of the carrier is excellent. Everything is easy to use and looks like it will last a long time. Fitting the carrier to my car is straightforward after watching a video on YouTube and reading the instructions sent with the item. I love the security of the fittings and feel my bike is safe and secure. Putting the carrier on and off the tow ball is easy even though I have arthritis and limited strength in my arms and hands. The hitch indicator tells you when it's fitted properly just like caravan hitch indicators, a useful extra. All the electrics work fine and the carrier is fitted with a 13 pin plug - a 7 pin adapter is supplied as well. In summary, a brilliantly designed and well made carrier that makes transporting my 25kg bike straightforward.
Nigel M - Vehicle type: Estate
This is a first-class quality item which is well designed and built. We carry two heavy e-bikes and they are very secure, with individual locks and a lock on the whole carrier. We have had roof-bar mounted and rear window mounted racks previously for non e-bikes, but this is the most reliable. The service from the Roofbox Co was brilliant and they have been able to send additional instructions when I misplaced the originals. I would recommend them for any similar items. The only negative comment I can make is that the wheelbase of one of my e bikes is quite long and the wheels sit a little wide of the wheel holders on the rack. However the bike is still held very securely by the frame and the straps on the wheels so we have had no problems with it. A great piece of kit!
Alfred W - Vehicle type: Hatchback
I needed a carrier for our E Bikes and the Atera Strada E Bike carrier fits the bill perfectly. It's well built and should last for years. The straps that hold the bike wheels are sturdy and the locking bars hold the bike securely to the carrier. You can pull a lever and the bikes tilt forward allowing access to the boot - great. The carrier is fairly heavy but is easy to attach to the tow bar and although expensive is worthy every penny. Highly recommended.
Mike P - Vehicle type: 4x4
Very well built,relatively easy but not simple to operate,feels totally secure when loaded with my heavy electric bike,straps and locks would deter all but the most well-prepared thief. Only negative is that the build quality and solid construction makes it no light-weight to lift into position on the tow-hook
Steven S - Vehicle type: Estate
Easy to fit and to remove from the tow ball. Holds bikes securely in transit. Bikes straight forward to put on and get off. Excellent all round.
About our reviews:
We test, and often use personally, almost all the products we sell, and we stand behind our comments and recommendations unless customers convince us they need changing. Our Customer Services and Workshop staff also have input into our recommendations.
But it's because we've learned a lot over many years that customer feedback is so important. Fresh, first time out opinions are the most useful ones, and in any event we certainly don't have access to the full range of vehicles that our customers have between them.
Product feedback from existing customers helps our new customers make choices, and also helps our suppliers with their product development.
We e-mail our customers a week or so after their order arrives and invite them to send in a review.
Some reviews are suitable for multiple products. Where appropriate we may, for example, use the same review for a number of different roof bar products where the only difference is the length of the roof bar.
Technical specifications at a glance:
Max number of bikes: 2 (3 with adapter 2624; shown below)
Suitable for electric bikes:Yes, up to two
Fits bolt on tow ball: yes
Fits swan neck / detachable tow ball: yes
Dimensions: 100cm (width) x 59cm (depth)
Weight: 14.9kg
Max load capacity: 60kg (68kg with 3rd bike adapter) *
Max wheelbase: 120cm
Distance between bikes: 23cm
Tilting: yes
Integral lighting board: yes
Lighting board plug type: 13 pin (7 pin adapter available if required; shown below)
Bike carrier to tow ball lock: yes
Bike carrier to bike lock: yes
Possible to tow when in use: no
Fits with a spare wheel: no
Guarantee: 3 years
Useful information:
*The maximum permitted load you can carry is also determined by your nose weight; you will need to check you don't exceed this before using any tow ball mounted bike carrier.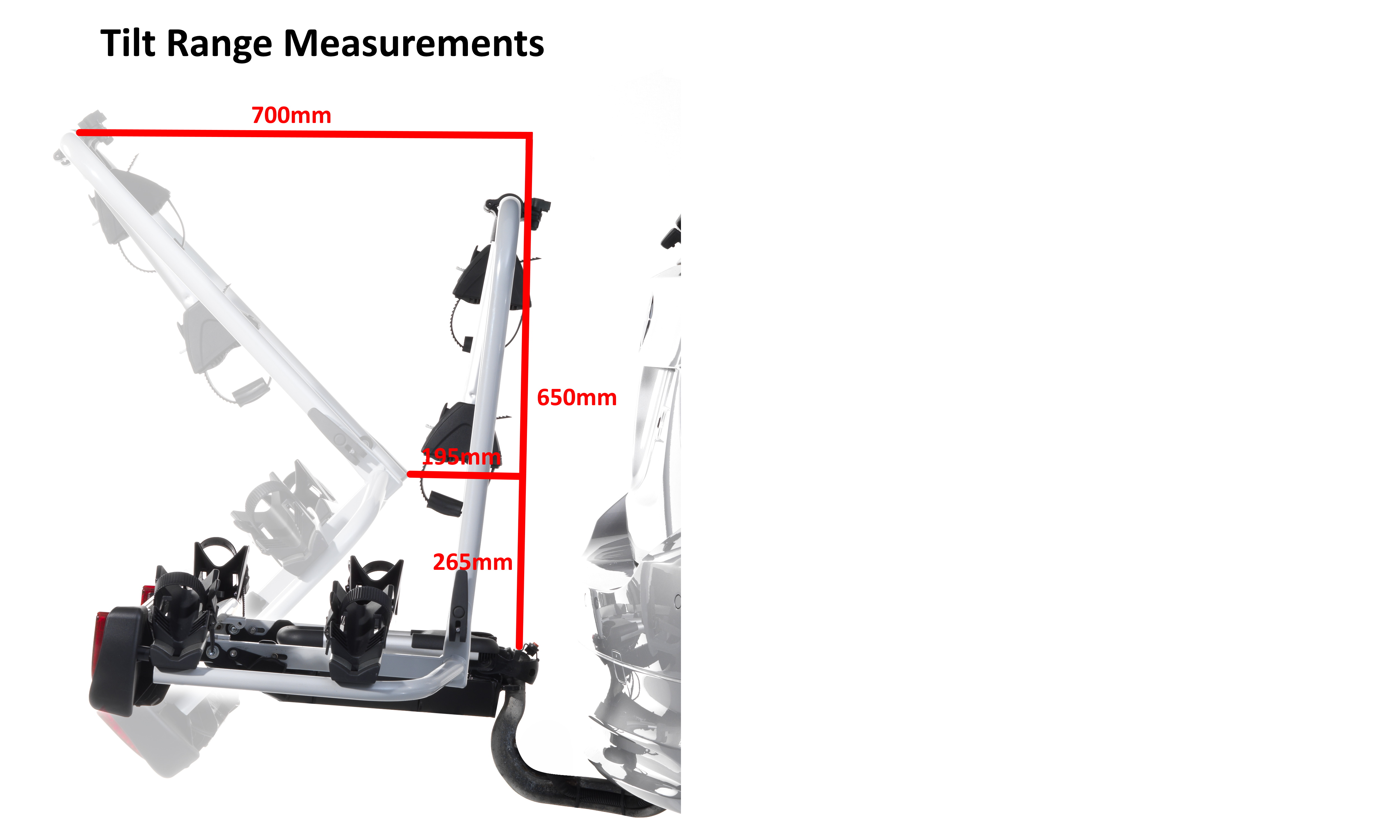 We offer our existing customers a full "Next Day if possible" spares service, and will cannibalise new stock as required to find you the parts you need.
To find the spare parts you need, please see the diagram below, identify the product codes, then choose them from the list below. If you need more than 1 of any item, change the quantities in the Shopping Basket.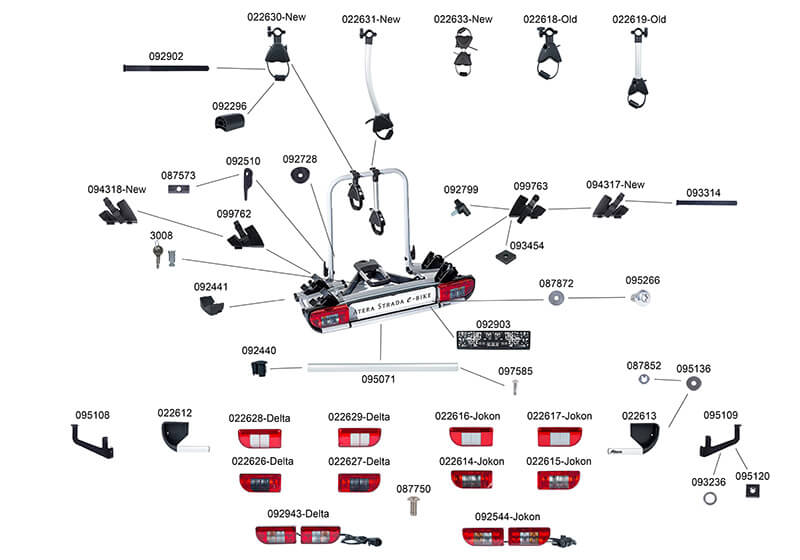 Deciding which bike carriers to buy is not always easy, especially as you may not have had experience of using bike carriers before. We hope that our buying guides provide useful guidance about which bike carrier 'strategy' will be most appropriate for your circumstances, as well as highlighting the best features of particular models. We also have troubleshooting FAQs - for example, some customers struggle at first to fit four bikes onto a tow ball carrier, and wonder whether a different carrier would allow the bikes to be spaced wider apart. (It won't, but we have some good tips which make bike fitting much easier.)
Our bike carriers Exchange Scheme covers roof mounting and tow ball mounting bike carriers only. Rear door mounting / strap on carriers are not included, and nor are roof bars. It allows you to exchange within 90 days of invoice date. Most exchanges are for roof mounting upgrades, or are tow ball carriers with very basic tilting systems being exchanged for easy to use sliding / tilting carriers.
These are the rules of the bike carriers Exchange Scheme:
You are allowed one exchange only.
The original equipment must be in "as new" condition, subject only to fair wear and tear.
The replacement items must be different models from the originals.
The replacement items must not be part of a package deal or be from our Bargains section.
Roof bars are never part of the Exchange Scheme.
This is how the exchange scheme works:
We charge in full for the replacement items, including the appropriate carriage charge and a charge for any packaging needed for the return of the originals.
We pay the return carriage costs.
When the originals arrive back here we refund you for their invoice value, but you won't get back more than the invoice value of the replacements. In other words, if the replacements are cheaper than the originals we won't be giving you "extra cash back".
Please note: we can only collect items from mainland UK.
Delivery charges and arrangements:
We charge a contribution towards delivery costs, depending on what you order, where you live, and how quickly you want the goods.
These are our standard charges; there are usually surcharges for all offshore destinations and some remote postcodes - for details please see our delivery information page.
| | | |
| --- | --- | --- |
| Express delivery | £ 6.95 | 1 to 2 working days |
| Standard delivery | £ 4.95 | 3 to 5 working days |
| | | |
| --- | --- | --- |
| Express Delivery | £ 9.50 | 1 to 2 working days |
| Standard Delivery | £ 6.50 | 3 to 5 working days |
| | | |
| --- | --- | --- |
| Express Delivery | £ 19.50 | 1 to 2 working days |
| Standard Delivery | £ 14.50 | 3 to 5 working days |
| | | |
| --- | --- | --- |
| Express Delivery | £ 19.50 | 2 working days |
Delivery times
Delivery times are calculated in working days (Monday to Friday, excluding Bank holidays).
Cut-off times for Express Delivery orders
Express Delivery orders placed before before the cut-off times shown below will usually be desptached on the date of order. Express Delivery orders placed after these cut-off times will be despatched the next working day.
| | |
| --- | --- |
| Small and Standard Sized Items | Order by 4pm for same day despatch |
| Roof Boxes, Dropracks and Roof Tents | Order by 1pm for same day despatch |
Delivery FAQs
When will my order arrive?
There are no deliveries on Saturdays, Sundays or Bank Holidays, except for postable items where Royal Mail has a Saturday delivery. Express Delivery orders placed on a Friday (before 1pm) should be delivered on the Monday or Tuesday, Express Delivery orders placed on a Saturday or Sunday should be delivered on the Tuesday or Wednesday. The arrangements for Very Heavy Items are different and are shown above.
What about Next Working Day delivery?
We have offered a reliable Next Working Day service for well over 20 years but, due to the pressure on the couriers caused by the coronavirus crisis and the huge increase in online shopping, we can no longer be confident about the delivery date, which is why we now call the service 'Express delivery'. Most Express delivery orders will arrive on the next or second working day, but some will arrive on the second or third working day, or be split between these days. So-called "split deliveries" happen when the couriers do not have enough trailer space for everything that should be moved around the UK, so they will load what they can and leave the rest for the next trailer.
Is my delivery day guaranteed?
No retailer or courier company can ever "guarantee" a Next Working Day delivery. As well as split deliveries, all courier companies occasionally have the same transport problems as can happen to everyone else, including snow blocked roads, closed roads, traffic jams, mechanical breakdown, an inability to find the delivery address, or to gain access to it if, for example, it's in a block of flats. We work with some of the best couriers in the business, and overall they provide an outstanding service.
Do I need to be at home?
We are very flexible with our deliveries and will aim to deliver to an address which suits you – this does not need to be your home address. Goods can usually be left without signature - we prefer this with roof boxes. There's a "Special Delivery Instructions" box in the checkout area where we'll ask you to choose a typical instruction and then amend it to suit your particular requirements.
Payment options:
We take the following cards, and also PayPal. Please note that the entry on your card statement will be from "The Roof Box Company".
Secure payments
Our website is secured by Sectigo (formerly Comodo CA), the largest commercial Certificate Authority in the world.
Bike carriers with 7 pin plugs
Wheel support bike carriers which are supplied with 7 pin plugs usually only include rear lights, brake lights and indicator lights, which is why they are often called '3 function lights'.
Unusually, Thule bike carriers with 7 pin plugs also include a fog light; this works when plugged into 7 pin electrics, but it does not work when plugged into 13 pin electrics via an adapter.
Bike carriers with 13 pin plugs
Bike carriers which are supplied with 13 pin plugs include a fog light and reversing light, as well as rear lights, brake lights and indicator lights – which is why they are often called '5 function lights'.
If these are plugged into 13 pin electrics then all 5 functions will work.
If they are plugged into 7 pin electrics via an adapter then the fog light should work, but the reversing light on the bike carrier will not work.
Please note
These notes assume that your tow bar electrics have been wired correctly!
Tow bar wiring in the digital age is much more complicated than it used to be when everything was analogue. Our experience is that if you are having lighting problems, e.g. a fog light does not work in 7 pin tow bar electrics, the problem is much more likely to be caused by the wiring, not by a dud bulb in the bike carrier.
Fitting PDFs
Atera STRADA - E-BIKE & E-BIKE ML - Fitting to the tow ball
Our 90 day Exchange Scheme
Delivery charges and Payment options
7 pin or 13 pin tow bar electrics?