BUZZ RACK BB4 - 4 bike wheel support rack no. BRP304
RRP:

£240.00



Code:

BRP304
Overview
:
An excellent value for money carrier that is way ahead of the competition in terms of build quality and ease of use. You will need to remove your bikes to access the tailgate.
Click here to order
In Stock -

Get it by Wednesday 22nd January
An excellent value for money carrier that is way ahead of the competition in terms of build quality and ease of use. You will need to remove your bikes to access the tailgate.
Also known as BUZZ RACK 'Buzzy Bee' 4 bike wheel support rack no. BRP304.
This bike carrier proves excellent value for money. It is secure, strong, durable and long lasting. We have seen a lot of bike carriers at the cheaper end of the market and this rack is way ahead of the competition in terms of build quality and ease of fitting.
This rack does not tilt to allow access to the tailgate when carrying bikes. However, when the bikes are removed you can easily fold the support arms to give you access to the tailgate.
The patented conical tow ball clamp fits onto all 50mm diameter tow balls, even the ones which don't meet BS standards with e.g. rough casting around the tow ball neck.
Additional tensioning of a Nyloc nut is required (spanner supplied) to make sure the carrier is firm, but future fitting and removal is a quick, easy and ergonomically satisfactory thing to do. Turn the key in the tightening wheel and the carrier is then locked to the tow ball.
The wheel holders include tough and easily adjusted wheel straps which are long enough to hold the biggest rims we've found.
The frame holders have high density protection foams, used in conjunction with straps to hold the bike frames in place. Use a cable lock (available separately) to lock your bikes to the rack.
The carrier folds flat for easier storage.
It's the right shape for storing in the boot when not in use.
All parts are replaceable if e.g. someone forgets that a tow bar carrier is fitted and reverses into a wall - which happens!
Dimensions = 106cm wide by 90cm deep (measured from the centre of the tow ball mount to the outside edge of the number plate holder).
Weight = 14.5 kg.
This rack is supplied with UK standard 3 function lights and a 7 pin plug; electrical adapters are available for those with 13 pin systems - see below.
The build quality - tube bending, welding, rust proofing, painting, component quality, is exemplary. All tools you might need are provided.
Exchange scheme: Tow bar carriers are part of our 90 day exchange scheme - click on the link below for details - so you can order without financial risk. All current tow bar carriers from all the brands we stock are available for exchange, even if they are no longer part of our standard stock range.

BUZZ RACK is manufactured by King Rack of Taiwan, a specialist bike sector engineering company since 1996. Their factory is state of the art, with much of their production being tube bending, specialist welding and finishing for well known brands.
4 bikes - BUZZ RACK BB4 carrier Reviews
Anne F - Vehicle type: Saloon
Good quality Rack. Easy to assemble. Great little straps to hold bikes they are easy to tighten and hold bikes securely. Quick to load with 4. Bikes when you have the hang of it. Great that it locks onto the tow bar so you can leave it on the car but quick to take off and put in the boot if you would rather. We take it off as due to length of the car would stick out too much. All round we are glad we chose this rack.
Shaun W - Vehicle type: Estate
Item is well built, slightly cumbersome to attach, but fits the 4 bikes well.
Brian W - Vehicle type: 4x4
I have owned this bike rack for nearly a year and have used it extensively to transport the family's bike for days out and for holidays. It is really easy to use, although depending on your individual strength, you may need another person to help hold it in place whilst you tighten the rack onto your tow bar. Once fitted to my car, the bikes are held securely in three points each. What I really like is the rubberised covers on all the points that will touch the bike ensuring that your bike remains undamaged. This rack is fully adjustable and fits bikes from my 26 inch frame to my son's 12 inch wheel first bike. The construction is robust and does not feel flimsy but this is a good thing despite it being heavy. The finish is excellent and will survive anything that the weather throws at it. The electrics are as you expect and ensure that you stay legal when carrying bikes. The fitting for a number plate is secure but does allow for a quick change should you wish to use the rack on another car. If you are going to do this it maybe worth getting a single number plate made up for one car and then get a printed stick on number plate made up for the other and stick it on the back of the number plate. This allows you to flip the number plate over quickly and easily as required. Overall I was very impressed with this rack, especially for the price compared to some of the more expensive well known brands. I would recommend it to others
Stephen R - Vehicle type: Hatchback
Outstanding value easy to fit really really good . Would buy again but im sure i wont have too. Ive had lots of boot mounted racks never again!
Andrew T - Vehicle type: Estate
REALLY GOOD WELL MADE RACK. QUALITY LIGHTS, EASILY ADJUSTED FOR DIFFERENT SIZE OF BIKES, ONLY THING I WOULD SAY TO WATCH IS THE SECURING STRAPS DO TEND TO COME OFF VERY EASY WHEN UNDONE I HAVE LOST ONE .OVERALL I WOULD SAY REALLY GOOD VALUE FOR MONEY AND I WOULD RECOMMEND IT
Stephen B - Vehicle type: MPV
Have used this rack for almost a year now and delighted with it. Bikes fix easily to it, and secure well with straps. I have 4 children's bikes on the rack and all work well, and also with adult bikes x2 and 2 children bikes. Have only used it for short journeys of about 15 miles but all is steady and without fault. Clearly the connivence of the more expensive buzz rack with different attachment methods is good, but for a 4 bike rack, this is one that more than meets the objectives of easy to load, secure and confidence that all will be still attached when you arrive.
Martin H - Vehicle type: Estate

Have fitted four downhillbikes at the same time. Tight but it works! The lock failed quickly but besides that a solid construction. Great value for money!
Colin E - Vehicle type: 4x4
My family expanded last year and I needed a way to safely and securly transport 4 bikes, I use the rack about 3/4 times a week and didnt want a boot mounted rack or one of the hang on types as I wanted something to hold my bikes securely with out risk of damage to them or the car and nor did I want to continue lifting bikes on to my roof rack as I'd just moved from Audi estate to a Volvo XC 90 and lifting bikes on the roof isnt the easiest task in the world. The rack arrived quickly from the Roof Box Company, was unpacked and assembled in no time at all (number plate added and straps put on for holding bikes) then it was simply a case of dropping it onto my combination tow jaw/ball hitch, tighten up the locking wheel/knob, turn the key to lock it securly in place, plug in the electrics (which come fully fitted) load bikes, strap them down with the nifty rubber clad straps and off you go, arrive at location, undo straps, roll bikes off and go ride. No need to remove rack as it locks to hitch and boot can be opened / closed with rack and even bikes on the back. So many friends and neighbours have commented on the rack and I know of at least one who has ordered one from the Roof Box Company based on seeing and using mine. I've owned many bike racks, tow ball, boot mounted and roof mounted from a well known Swedish company over the years and this has to be the best of the lot. To sum it up, its easy to install & remove, stores away neatly in my shed, it takes 4 full suspension mountain bikes with out any bother, bikes are safe and secure, rack is secure and stable when fully loaded and at speed, and you can still access your boot with the rack on. I dont really see the point in spending twice as much for a towbar mounted rack when this does the ticks all the boxes.
Steven D - Vehicle type: MPV
Couldn't be happier with my purchase! Much cheaper than the other brands and friends that have seen it in action are well impressed with it. Highly recommend this product. And the same goes for the Roof Box Company!!
About our reviews:
We test, and often use personally, almost all the products we sell, and we stand behind our comments and recommendations unless customers convince us they need changing. Our Customer Services and Workshop staff also have input into our recommendations.
But it's because we've learned a lot over many years that customer feedback is so important. Fresh, first time out opinions are the most useful ones, and in any event we certainly don't have access to the full range of vehicles that our customers have between them.
Product feedback from existing customers helps our new customers make choices, and also helps our suppliers with their product development.
We e-mail our customers a week or so after their order arrives and invite them to send in a review.
Some reviews are suitable for multiple products. Where appropriate we may, for example, use the same review for a number of different roof bar products where the only difference is the length of the roof bar.
Technical specifications at a glance:
Max number of bikes: 4
Fits bolt on tow ball: yes
Fits swan neck / detachable tow ball: yes
Dimensions: 114cm x 93cm (measured from the centre of the tow ball mount to the outside edge of the number plate holder)
Dimensions when folded: 114 x 96 x 19cm
Weight: approx 14.5kg
Max load capacity: 60kg
Max weight per bike: 15kg
Min wheelbase: : 53cm
Max wheelbase: : 127cm (26" wheel) - 140cm (29er)
Tilting: no
Integral lighting board: yes
Lighting board plug type: 7 pin (13 pin adapter available if required; shown below)
Bike carrier to tow ball lock: yes
Bike carrier to bike lock: no (we recommend you use a cable lock - listed below)
Possible to tow when in use: no
Fits with a spare wheel: no
Guarantee: 3 years
Useful information:
The maximum permitted load you can carry is also determined by your nose weight; you will need to check you don't exceed this before using any tow ball mounted bike carrier.
Requires 65mm clearance from centre of tow ball to rear of vehicle.
We offer our existing customers a full "Next Day if possible" spares service, and will cannibalise new stock as required to find you the parts you need.
To find the spare parts you need, please see the diagram below, identify the product codes, then choose them from the list below. If you need more than 1 of any item, change the quantities in the Shopping Basket.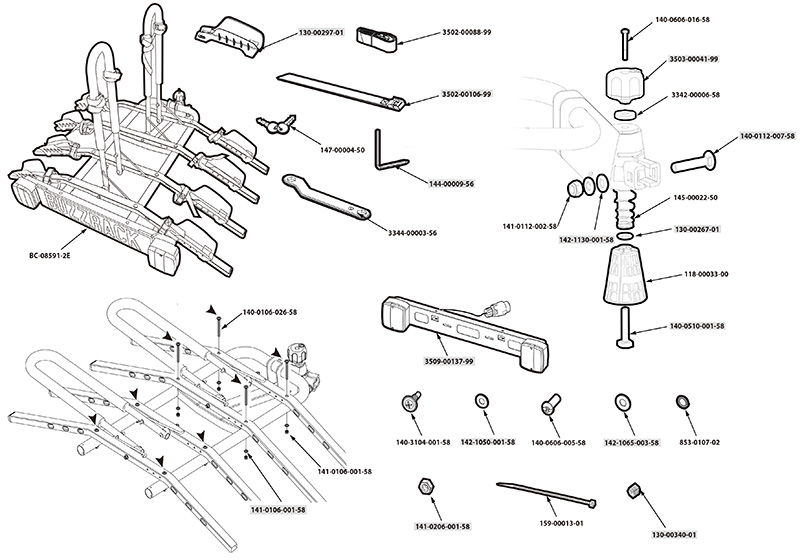 Deciding which bike carriers to buy is not always easy, especially as you may not have had experience of using bike carriers before. We hope that our buying guides provide useful guidance about which bike carrier 'strategy' will be most appropriate for your circumstances, as well as highlighting the best features of particular models. We also have troubleshooting FAQs - for example, some customers struggle at first to fit four bikes onto a tow ball carrier, and wonder whether a different carrier would allow the bikes to be spaced wider apart. (It won't, but we have some good tips which make bike fitting much easier.)
Our bike carriers Exchange Scheme covers roof mounting and tow ball mounting bike carriers only. Rear door mounting / strap on carriers are not included, and nor are roof bars. It allows you to exchange within 90 days of invoice date. Most exchanges are for roof mounting upgrades, or are tow ball carriers with very basic tilting systems being exchanged for easy to use sliding / tilting carriers.
These are the rules of the bike carriers Exchange Scheme:
You are allowed one exchange only.
The original equipment must be in "as new" condition, subject only to fair wear and tear.
The replacement items must be different models from the originals.
The replacement items must not be part of a package deal or be from our Bargains section.
Roof bars are never part of the Exchange Scheme.
This is how the exchange scheme works:
We charge in full for the replacement items, including the appropriate carriage charge and a charge for any packaging needed for the return of the originals.
We pay the return carriage costs.
When the originals arrive back here we refund you for their invoice value, but you won't get back more than the invoice value of the replacements. In other words, if the replacements are cheaper than the originals we won't be giving you "extra cash back".
Please note: we can only collect items from mainland UK.
Delivery charges and arrangements:
We charge a contribution towards delivery costs, depending on what you order, where you live, and how quickly you want the goods.
For most UK addresses, the charge for our two to three day service is £5.50 (£9.50 for orders including a roof box) and our charge for Next Working Day deliveries is £8.50 (£12.50 for orders involving a roof box). AutoSock, shoe chains, RUD i-Sock, and small spare parts, are charged £3.95 (Royal Mail Tracked), £4.95 (Royal Mail Express Tracked) or £5.95 (express courier, usually Next Working Day).
There are different charges for any delivery including a sea crossing, and deliveries to Skye - we will contact you with a quote on receipt of order.
Orders for Next Working Day delivery need to be received by 4.00pm.
There are no deliveries on Saturdays, Sundays or Bank Holidays, except for postable items where Royal Mail has a Saturday delivery. Next Working Day orders placed on a Friday will be delivered on the Monday, Next Working Day orders placed on a Saturday will be delivered on the Tuesday.
We are very flexible with our deliveries and will aim to deliver on a day and at an address which suits you. Goods can usually be left without signature - we prefer this with roof boxes. There's a "Special Delivery Instructions" box in the checkout area where we'll ask you to choose a typical instruction and then amend it to suit your particular requirements.
No retailer or courier company can ever "guarantee" a Next Working Day delivery. All courier companies occasionally have the same transport problems as can happen to everyone else, including snow blocked roads, closed roads, traffic jams, mechanical breakdown, an inability to find the delivery address, or to gain access to it if, for example, it's in a block of flats. We work with some of the best couriers in the business, and overall they provide an outstanding service.
Payment options:
We take the following cards, and also PayPal. Please note that the entry on your card statement will be from "The Roof Box Company".
Secure payments
Our website is secured by Sectigo (formerly Comodo CA), the largest commercial Certificate Authority in the world.
Bike carriers with 7 pin plugs
Wheel support bike carriers which are supplied with 7 pin plugs usually only include rear lights, brake lights and indicator lights, which is why they are often called '3 function lights'.
Unusually, Thule bike carriers with 7 pin plugs also include a fog light; this works when plugged into 7 pin electrics, but it does not work when plugged into 13 pin electrics via an adapter.
Bike carriers with 13 pin plugs
Bike carriers which are supplied with 13 pin plugs include a fog light and reversing light, as well as rear lights, brake lights and indicator lights – which is why they are often called '5 function lights'.
If these are plugged into 13 pin electrics then all 5 functions will work.
If they are plugged into 7 pin electrics via an adapter then the fog light should work, but the reversing light on the bike carrier will not work.
Please note
These notes assume that your tow bar electrics have been wired correctly!
Tow bar wiring in the digital age is much more complicated than it used to be when everything was analogue. Our experience is that if you are having lighting problems, e.g. a fog light does not work in 7 pin tow bar electrics, the problem is much more likely to be caused by the wiring, not by a dud bulb in the bike carrier.
Our 90 day Exchange Scheme
Delivery charges and Payment options
7 pin or 13 pin tow bar electrics?