Package deal: KAMEI KM367 Delphin 470 box, gloss black, (LEFT opening) and bars
Overview
:
This package deal is only available at this "from price" if CRUZ has steel roof rail bars for your vehicle (CRUZ has bars for most vehicles), but we're also offering packages with our other bar brands, at higher prices but with even bigger savings.
All our roof bars packages provide everything you need. All you need to do is to click on "Add to basket and choose bars" (see bottom of page), then choose your car to see the options and the savings.
Click here to order
This package deal is only available at this "from price" if CRUZ has steel roof rail bars for your vehicle (CRUZ has bars for most vehicles), but we're also offering packages with our other bar brands, at higher prices but with even bigger savings.
All our roof bars packages provide everything you need. All you need to do is to click on "Add to basket and choose bars" (see bottom of page), then choose your car to see the options and the savings.
This superb box and bars package deal provides everything you need for a fixed price, including locking roof bars. All you need to do is to click on "Add to basket and choose bars" to place your order; we'll then show you which roof bars are available. You'll pay more for aluminium than steel, and you'll pay more for Atera, Thule, or Yakima, but the savings on buying the components individually are huge. We're confident that you won't find such good value anywhere else.
Aerobar box adapters will also be included; tick the Roof box adapters box at the bottom of this page if you intend to order aerobars. (Please note that we won't supply these adapters if you order steel bars.)
KAMEI makes the best quality boxes on the market. Don't just take our word for it! They're a specialist box manufacturer, Quality Assured to ISO 9001, represented in over 40 countries, with numerous Best Buy awards over the years, including the 2008 and 2009 Auto Express "Best Buy" award for the Corvara DuoLift 390, with this Delphin 470 box taking second prize. With their innovative and intelligent designs, top quality materials and engineering, and outstanding build quality, it's no surprise that they are Original Equipment box suppliers to several major manufacturers, including Audi, Mercedes-Benz and VW. And KAMEI boxes have the longest guarantee of any manufacturer in the car rack systems sector - 6 years!
KAMEI makes a virtue of the 'Click' and 'Push button' locking system used in this box: Long boxes with central locking can be awkward to close, especially on taller vehicles, and when stuffed full. You need to hold the box tightly closed at the front, at the middle, and at the rear, and turn the key; this often requires two people. With a KAMEI Delphin box you pull down on one end of the box until it clicks shut, then pull down on the other end, and then push the locks in and cover them with a weatherproof flap.
Made from top quality 'DUROKAM', an ABS plastic developed by KAMEI to optimise weight, stability and impact resistance. If you'd like to see a sample of this plastic, to see the colour and feel the quality, please click here. We'll post a 10cm x 10cm square by 1st Class post, free of charge to UK addresses only. It will make a very good coaster but in any event we hope that you'll appreciate the quality differences between Durokam and the run of the mill material that is used in most roof boxes you'll see on UK roads.
Wind tunnel development as well as TÜV and GS (security) testing and approval.
Opens from the left hand side.
Stabilus gas struts for wide and easy opening and closing.
Sliding box to bar fittings so there's never a need to drill new holes if the distance between your roof bars is non standard.
This box comes with T-track adapters which slide into the slots in the top of aluminium roof bars (including all the aluminium bars we sell), and also with U-bolts (M8 thread) which fit around bars up to 83mm wide x 32mm deep. It always makes sense to use T-track adapters with aluminium roof bars, because these allow you to position the box anywhere on the full length of the bars, they produce a much smarter look (no bits of metal visible below the roof bar) and it's a more aerodynamic fitting system. T-track adapters also allow you to push the box further back or forward than is possible with U-bolts - which can be important if there's a potential clash with a fully opened tailgate. And T-track adapters also provide more flexibility in roof box positioning than claw style fittings (this is the type which grabs around the roof bars and is tightened with a turning wheel inside the box) - this is because claw fittings should not be used in the area of the roof bar feet (these fittings will touch the feet before they are tight enough on the bars) so you may not be able to position the box just where you want it. Claw fittings also limit front to back positioning. This is why KAMEI includes standard T-track adapters (which are an extra cost for all other brands of roof box) and does not use claw style fittings.
6 year guarantee.
Holds up to 6 sets of skis.
Weight 19kg empty, maximum load 75kg, gross loading limit 94kg.

Very few customers know much about the roof box market before they visit our site. We have a lot of information about the things to think about before buying, and the "real world usefulness" of various roof box features, but you'll be buying sight unseen, and you probably won't have used a roof box before, so there is inevitably some luck in getting a box that you'll be happy with.
We want to remove the risks of buying these large and often expensive items, perhaps from brands which almost every other roof box retailer doesn't stock, and so we have a unique "90 day Exchange Scheme" for roof boxes.
This allows you to use a roof box and, with the benefit of experience, to exchange it for a new one within 90 days of invoice date, only paying a contribution to our carriage costs. Most exchanges are from a shorter box to a longer one, or from a wider box to a narrower one.
These are the rules of the Exchange Scheme:
You are allowed one exchange only.
The original box must be in "as new" condition, subject only to fair wear and tear.
The replacement box must be a different model. Not just an alternative colour.
The replacement box must not be part of a package deal or be from our Bargains section.
Roof bars are never part of the Exchange Scheme.
This is how the Exchange Scheme works:
We charge in full for the replacement box, including carriage charges, and a charge for any packaging needed for the return of the original.
If you want us to collect the original box, there will be a £50 carriage charge.
We arrange the collection, if requested.
When the original box arrives back here we refund you for the invoice value of the original box, but you won't get back more than the invoice value of the replacement box. In other words, if the replacement is cheaper than the original we won't be giving you "extra cash back".
If you want to exchange a box that was purchased as part of a package deal, the scheme works in exactly the same way. Please note that the roof bars in package deals will be invoiced at the full "Our Price" that was advertised at the time of order, with the box representing the difference between the package deal price and the roof bars. Package deal roof boxes are often invoiced at a very substantial discount to the cost of buying that box on its own, so it's likely that you'll need to pay a bit extra if you want to exchange for a box that is normally the same price as the one you're trading in.
Please note: we can only collect roof boxes from mainland UK.
Technical Specifications at a glance:
External dimensions: 230 (l) x 75 (w) x 40 (h) cm
Internal dimensions: 218 (l) x 65 (w) 36 (h) cm
Volume: 470 litres
Weight: 19kg
Max load capacity: 75kg
Max number of skis: 6
Opens from: left hand side
Type of struts: hydraulic gas struts
Opens how wide: 33cm
Distance between roof bar fittings: 62 – 87cm
Guarantee: 6 years
When ordered as part of a Package Deal, we will automatically include any relevant adapters to attach this box to any of the roof bars we sell – steel or aluminium (CRUZ, Atera, Thule or Whispbar).
We offer our existing customers a full "Next Day if possible" spares service, and will cannibalise new stock as required to find you the parts you need.
To find the spare parts you need, please see the diagram below, identify the product codes, then choose them from the list below. If you need more than 1 of any item, change the quantities in the Shopping Basket.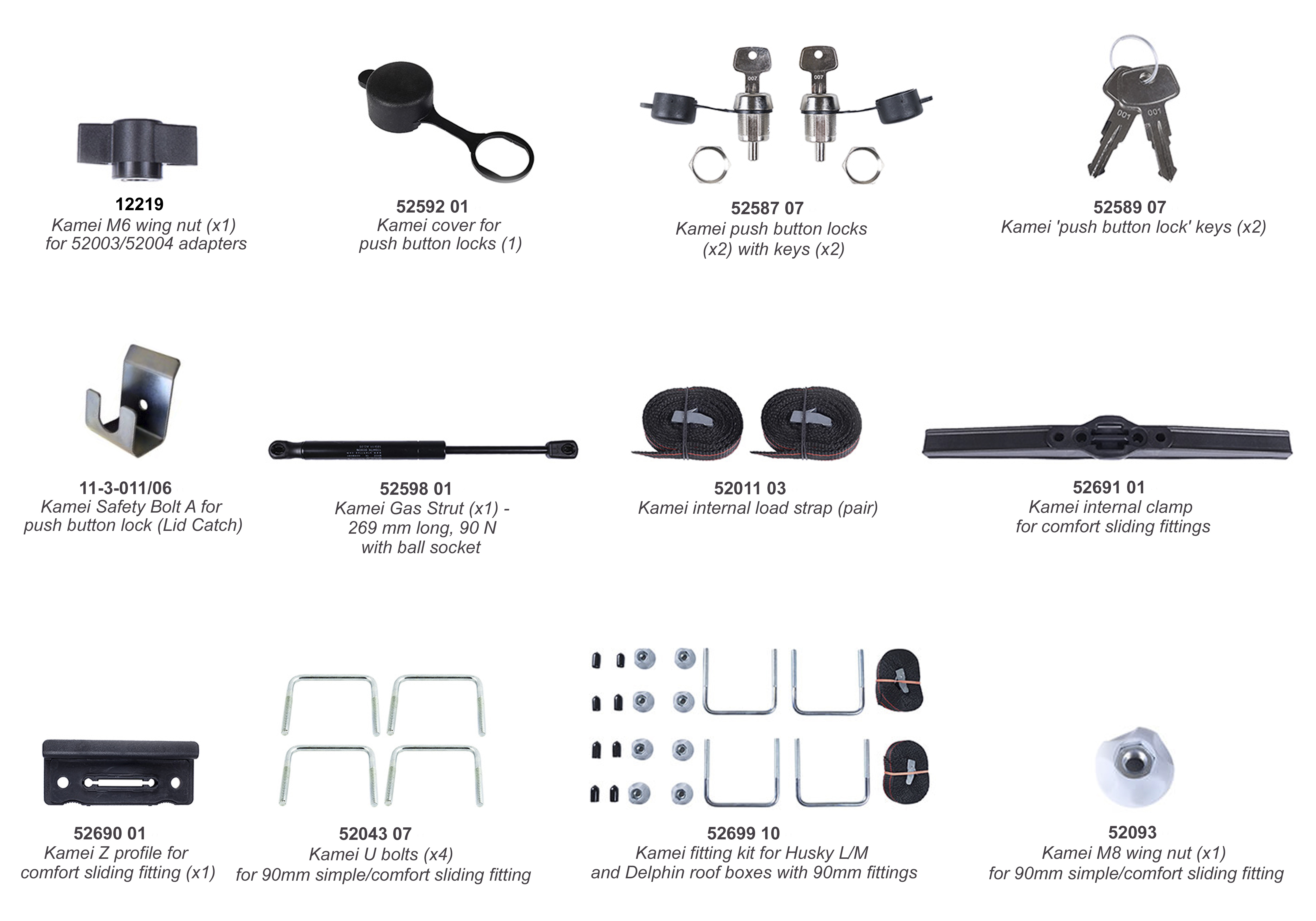 Delivery charges and arrangements:
We charge a contribution towards delivery costs, depending on what you order, where you live, and how quickly you want the goods.
These are our standard charges; there are usually surcharges for all offshore destinations and some remote postcodes - for details please see our delivery information page.
| | | |
| --- | --- | --- |
| Express delivery | £ 6.95 | 1 to 2 working days |
| Standard delivery | £ 4.95 | 3 to 5 working days |
| | | |
| --- | --- | --- |
| Express Delivery | £ 9.50 | 1 to 2 working days |
| Standard Delivery | £ 6.50 | 3 to 5 working days |
| | | |
| --- | --- | --- |
| Express Delivery | £ 19.50 | 1 to 2 working days |
| Standard Delivery | £ 14.50 | 3 to 5 working days |
| | | |
| --- | --- | --- |
| Express Delivery | £ 19.50 | 2 working days |
Delivery times
Delivery times are calculated in working days (Monday to Friday, excluding Bank holidays).
Cut-off times for Express Delivery orders
Express Delivery orders placed before before the cut-off times shown below will usually be desptached on the date of order. Express Delivery orders placed after these cut-off times will be despatched the next working day.
| | |
| --- | --- |
| Small and Standard Sized Items | Order by 4pm for same day despatch |
| Roof Boxes, Dropracks and Roof Tents | Order by 1pm for same day despatch |
Delivery FAQs
When will my order arrive?
There are no deliveries on Saturdays, Sundays or Bank Holidays, except for postable items where Royal Mail has a Saturday delivery. Express Delivery orders placed on a Friday (before 1pm) should be delivered on the Monday or Tuesday, Express Delivery orders placed on a Saturday or Sunday should be delivered on the Tuesday or Wednesday. The arrangements for Very Heavy Items are different and are shown above.
What about Next Working Day delivery?
We have offered a reliable Next Working Day service for well over 20 years but, due to the pressure on the couriers caused by the coronavirus crisis and the huge increase in online shopping, we can no longer be confident about the delivery date, which is why we now call the service 'Express delivery'. Most Express delivery orders will arrive on the next or second working day, but some will arrive on the second or third working day, or be split between these days. So-called "split deliveries" happen when the couriers do not have enough trailer space for everything that should be moved around the UK, so they will load what they can and leave the rest for the next trailer.
Is my delivery day guaranteed?
No retailer or courier company can ever "guarantee" a Next Working Day delivery. As well as split deliveries, all courier companies occasionally have the same transport problems as can happen to everyone else, including snow blocked roads, closed roads, traffic jams, mechanical breakdown, an inability to find the delivery address, or to gain access to it if, for example, it's in a block of flats. We work with some of the best couriers in the business, and overall they provide an outstanding service.
Do I need to be at home?
We are very flexible with our deliveries and will aim to deliver to an address which suits you – this does not need to be your home address. Goods can usually be left without signature - we prefer this with roof boxes. There's a "Special Delivery Instructions" box in the checkout area where we'll ask you to choose a typical instruction and then amend it to suit your particular requirements.
Payment options:
We take the following cards, and also PayPal. Please note that the entry on your card statement will be from "The Roof Box Company".
Secure payments
Our website is secured by Sectigo (formerly Comodo CA), the largest commercial Certificate Authority in the world.
How the Exchange Scheme works with package deals
Delivery charges and Payment options