Thule RideOn 3 bike tow bar carrier no. 9503

We have been made aware that there is a compatibility problem between the RideOn carriers and the RideOn lock 957 - the lock is too tight and cannot be easily removed. We don't yet know whether the problem is with the bike carriers or the lock; we will update this page ASAP. In the meantime, please do not buy the lock. A cable lock is available, shown here at a much cheaper price than usual - this can be passed around the towing eye or hook for good protection.

The Thule RideOn 9503 is Thule's entry level 3 bike wheel support rack. As you'd expect for a rack at this price it's not a bells and whistles carrier, but it does the job OK. It fits to both 'bolt on' and 'swan neck' tow balls without adjustment - you just tighten it on with a spanner (supplied).

There's a rudimentary tilt mechanism to allow you to open the tailgate without removing the bikes and the carrier. This requires two handwheels to be loosened, one on either side of the carrier.
3 bikes maximum
Maximum total load 45kg, and as the carrier weighs 12kg, the maximum tow ball loading should not be more than 57kg
The maximum weight per bike is 20kg, should you have any particularly solid bikes!
Fits frames from 22mm to 70mm, which are strapped onto the uprights
Buy a cable lock if you want to lock the bikes to the carrier - listed below
Can be locked to the tow ball using a 957 lock - also listed below
Comes with standard UK 7 pin lights, i.e. no fog lights or reversing light
It makes sense when using this carrier to place a safety strap around all the bikes and the bike holder support frame. Why? The bike holders sometimes only grip around the top and sides of the bike frame, especially on irregular shaped frames, so there's the potential for the bike holder to jump off the frame, e.g when travelling over bumpy roads or speed bumps. We're therefore providing a free strap with each carrier - one strap per carrier! We've reduced the price of the carrier by 10p to allow for this.
Summary: No TÜV approval, but overall good value for money.
Technical specifications at a glance:
Max number of bikes: 3
Fits bolt on tow ball: yes
Fits swan neck / detachable tow ball: yes
Dimensions: 105 cm (width) x 75 cm (depth)
Weight: 12kg
Max load capacity: 45kg
Max weight per bike: 20kg
Tilting: yes
Integral lighting board: yes
Lighting board plug type: 7 pin (13 pin adapter available if required; shown below)
Bike carrier to tow ball lock: available (adapter 957; shown below)
Bike carrier to bike lock: no (you can use a cable lock; shown below)
Possible to tow when in use: no
Fits with a spare wheel: no
Guarantee: 5 years
Useful information:
The maximum permitted load you can carry is also determined by your nose weight; you will need to check you don't exceed this before using any tow ball mounted bike carrier.

Please click here or on the pdf symbol below to see the fitting instructions:



Fitting PDFs
We offer our existing customers a full "Next Day if possible" spares service, and will cannibalise new stock as required to find you the parts you need. For new customers, i.e. those who have not bought from us before, we will order the parts from Thule which usually takes 2 to 4 weeks.
To find the spare parts you need, please see the diagram below, identify the product codes, then choose them from the list below. If you need more than 1 of any item, change the quantities in the Shopping Basket.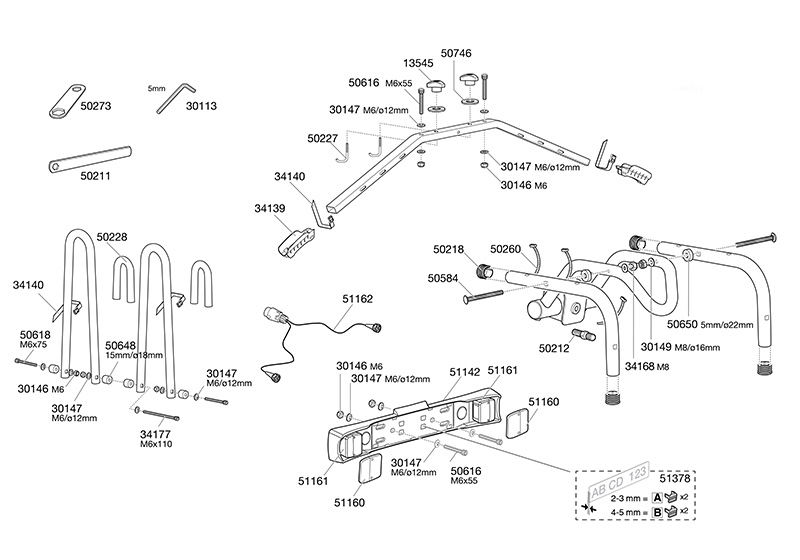 Delivery charges and arrangements:
We charge a contribution towards delivery costs, depending on what you order, where you live, and how quickly you want the goods.
These are our standard charges; there are usually surcharges for all offshore destinations and some remote postcodes - for details please see our delivery information page.
| | | |
| --- | --- | --- |
| Express delivery | £ 6.95 | 1 to 2 working days |
| Standard delivery | £ 4.95 | 3 to 5 working days |
| | | |
| --- | --- | --- |
| Express Delivery | £ 9.50 | 1 to 2 working days |
| Standard Delivery | £ 6.50 | 3 to 5 working days |
| | | |
| --- | --- | --- |
| Express Delivery | £ 19.50 | 1 to 2 working days |
| Standard Delivery | £ 14.50 | 3 to 5 working days |
| | | |
| --- | --- | --- |
| Express Delivery | £ 19.50 | 2 working days |
Delivery times
Delivery times are calculated in working days (Monday to Friday, excluding Bank holidays).
Cut-off times for Express Delivery orders
Express Delivery orders placed before before the cut-off times shown below will usually be desptached on the date of order. Express Delivery orders placed after these cut-off times will be despatched the next working day.
| | |
| --- | --- |
| Small and Standard Sized Items | Order by 4pm for same day despatch |
| Roof Boxes, Dropracks and Roof Tents | Order by 1pm for same day despatch |
Delivery FAQs
When will my order arrive?
There are no deliveries on Saturdays, Sundays or Bank Holidays, except for postable items where Royal Mail has a Saturday delivery. Express Delivery orders placed on a Friday (before 1pm) should be delivered on the Monday or Tuesday, Express Delivery orders placed on a Saturday or Sunday should be delivered on the Tuesday or Wednesday. The arrangements for Very Heavy Items are different and are shown above.
What about Next Working Day delivery?
We have offered a reliable Next Working Day service for well over 20 years but, due to the pressure on the couriers caused by the coronavirus crisis and the huge increase in online shopping, we can no longer be confident about the delivery date, which is why we now call the service 'Express delivery'. Most Express delivery orders will arrive on the next or second working day, but some will arrive on the second or third working day, or be split between these days. So-called "split deliveries" happen when the couriers do not have enough trailer space for everything that should be moved around the UK, so they will load what they can and leave the rest for the next trailer.
Is my delivery day guaranteed?
No retailer or courier company can ever "guarantee" a Next Working Day delivery. As well as split deliveries, all courier companies occasionally have the same transport problems as can happen to everyone else, including snow blocked roads, closed roads, traffic jams, mechanical breakdown, an inability to find the delivery address, or to gain access to it if, for example, it's in a block of flats. We work with some of the best couriers in the business, and overall they provide an outstanding service.
Do I need to be at home?
We are very flexible with our deliveries and will aim to deliver to an address which suits you – this does not need to be your home address. Goods can usually be left without signature - we prefer this with roof boxes. There's a "Special Delivery Instructions" box in the checkout area where we'll ask you to choose a typical instruction and then amend it to suit your particular requirements.
Payment options:
We take the following cards, and also PayPal. Please note that the entry on your card statement will be from "The Roof Box Company".
Secure payments
Our website is secured by Sectigo (formerly Comodo CA), the largest commercial Certificate Authority in the world.