Atera STRADA DL 2 to 3 bike carrier (UK lights) no. AR2602 - now discontinued

This bike carrier has now been discontinued. We have left this page so that customers who wish to buy spare parts can do so - see the Spares tab - and for comment and specifications to help with secondhand sales.
The 3rd bike adapter is still available - Click here for more details.
.
View Alternative Bike Carriers


This bike carrier has now been discontinued. We have left this page so that customers who wish to buy spare parts can do so - see the Spares tab - and for comment and specifications to help with secondhand sales.
The 3rd bike adapter is still available - Click here for more details.
.
View Alternative Bike Carriers

Apart from its all round style, what's so special about the STRADA DL?
(1) Fundamentally, it slides away from the vehicle, rather than tilting, i.e. the bike carrier takes the weight of the bikes, rather than you. If you do have a vehicle with a vertical tailgate we would recommend the Strada DL3 which has a deeper frame so it slides out even further to give tailgate clearance even for vehicles with vertical tailgates. It's by far and away the easiest tilting carrier to use.
(2) It fits to 'bolt on' or 'swan neck' tow balls (including detachable tow bars) without any adjustment; you just place it on the tow ball and push down the handle - no spanners or Allen keys are required.
(3) It's very easy to carry - it won't bump your shins if carried properly - and as soon as you place it on the tow ball the weight is taken, so you can straighten up and rest your back. Other carriers require you to support the platform with one hand while fiddling with the fixing system with the other.
(4) It's much the lightest of the 2 or 3 bike tilting wheel support racks on the market.
(5) Furthermore, it's the most compact 2 to 3 bike carrier available. At only 1 metre wide it should fit into most if not all car boots, allowing you to park safely without risk of the bike carrier being damaged. You only need to flick up a couple of cam levers to fold the upright bike holder support.
(6) The bike frame holders are also without a doubt the best available, incorporating a ratchet tightening mechanism. They fit oval and other outsize frames as well as round ones, wrapping a strap right around the frame for safety and security. (This looks like a simple plastic strap, but it is in fact 'sandwiched' around a spring steel core.) All bike holders have swivel joints, and the long holder has a slight curve in the aluminium support rod to increase the opportunities available. We haven't yet come across any combination of bike sizes and styles that can't easily be locked into place (using the same key which locks the whole unit to the tow ball).
(7) The frame is triangular which allows you, when the bikes have been slid out of the way, to stand almost right up against the tow ball. This means you can lift items into and out of the boot both safely and easily. This is not a trivial benefit - most other bike carriers have rectangular frames and although you may be able to open the tailgate easily enough, you usually have to lean across the bike carrier frame to reach the boot space, which is definitely not ergonomic.
(8) The fog lights on this special 'GB' version are UK legal, i.e. the fog light is on the right / offside of the car. Other bike carriers with fog lights have these on the left / nearside of the car, which is illegal, (even when the car is used on continental roads!) Atera gets around this problem by using the lighting rig which they supply for BMW bike carriers. This includes a fog light on both sides, and there is nothing illegal about this!
It makes sense when using this carrier to place a safety strap around all the bikes and the bike holder support frame. We're therefore providing a free strap with each carrier - one strap per carrier! As well as providing peace of mind the strap will also help to minimise vibration.
Technical and miscellaneous:
Weight of carrier =12.5kg
Maximum payload: 47kg
Approximate dimensions when folded: 1000 x 250 x 560 mm
The wheels are held in place with quick fit polypropylene straps which accommodate tyres up to 2.4" (dependent on rim height). Longer straps are available for tyres up to 4" - listed below.
The STRADA DL has five function rear lights so it is fitted with a 13 pin plug for 13 pin continental type electric sockets. If you have a 7 pin socket you will need the Lighting adapter '13 pin' (rack) to 7 pin (car) listed below. If you need one of these remember to tick the box below to add this to your order.

(If you have a 7 pin socket the reversing light will not work. The 7 pin socket isn't wired for this function)
Note for vehicles with a rear mounted spare wheel: You may not be able to fit the STRADA DL onto vehicles with a rear mounted spare wheel: in our experience you almost always have to remove the spare wheel. This could be (1) to get the bike carrier onto the vehicle (the upright may hit the spare wheel), (2) to get the bikes to fit on the carrier (the handlebars etc could hit the spare wheel) or (3) take the carrier off the tow bar after use (the handle to remove it could clash with the spare wheel).
2 to 3 bikes - Atera STRADA DL 2 - now discontinued Reviews
Rick - Vehicle type: 4x4
Well-made, easy to fit, securely locks onto tow bar and bikes lock onto the carrier. Very happy with it!
Peter S - Vehicle type: 4x4
I am really pleased with the Atera STRADA DL 2 bike carrier. I needed to change from my roof-mounted Thule carrier which was too high to load easily on my new 4x4 - and wobbled. I researched tow-bar mounted carriers thoroughly and chose the Atera and it's brilliant. It is easy to mount, rock solid and I love the way it slides away to give full access to boot space. Far better access than with a simple tilt. Highly recommended.
Andy M - Vehicle type: 4x4
Excellent product, well made and sturdy. Bit pricey compared to alternatives but well worth it. Build quality and usability (especially being able to slide it out of the way of the tailgate while the bikes are still mounted is fantastic. Takes a bit of getting used to, to fit and remove but after a few tries its easy. I can fit and remove including two bikes in around 5 minutes. Goodbye to needing five pairs of hands to fit rear tailgate hanging sort!
Dave B - Vehicle type: Hatchback
This is a great product! Very easy to use, well made, and the access to the rear of the vehicle is a real bonus thanks to the ability of the rack to slide. It also folds away to fit into the boot.
Roger W - Vehicle type: Estate
Very easy to use - we carried 2 x Cube Delhi Ex's (large touring bikes) all around Europe last summer. Its very stable - excellent item.
Andrew D - Vehicle type: 4x4
If you have a tow bar, then this bike rack really ticks all the boxes. Seconds to put on and take off, secure, robust, well built a shining example of a thought through design. Being able to slide the rack away from the back of the car so you can open the boot is great. No more driving around with step ladders so I can reach to put a bike on the roof;)
Michael T - Vehicle type: 4x4
Excellent piece of kit - strongly-built, very good quality. Mechanism takes a little time to get used to, but, once you are familiar with it, is very quick & easy to assemble. It is the best example of this type of product that I have seen.
Norman J - Vehicle type: Hatchback
Very good product, well designed. Once used to carrier now only takes about 15 minutes to load carrier to towbar and bikes to carrier.
Peter R - Vehicle type: Hatchback
From my first call to the Roof Box Company its been a pleasure dealing with you ,your expertise have helped me make the best choice of bike carrier with very honest answers to my many questions ,each time I called everyone very friendly and helpful , Under the 90 day exchange policy I upgraded to a 3 bike carrier (it was exchange without the slightest hesitation ) The Atera Strade DL is a perfect product and very good value (you only get what you pay for) very easy to use and also safe . Well done Roof Box Company.
Rudi F - Vehicle type: Hatchback
This is a very solid towbar rack. The bikes are very stable on this rack when fitted to the towbar. There is absolutely no movement of the rack on the towbar. Once you get the hang of it, it is very easy to set up on the towbar. Distance between the bike racks could be a little bit larger for mountain bikes - I have to add some padding to stop the two bikes rubbing together but that is a small issue when considering the robustness of this rack.
Gordon F - Vehicle type: Hatchback
First class product very easy to use its a bit more expensive than similar products but it's worth the extra for the quality I used roof mounter bike racks in the past but it was becoming more difficult to lift the bikes onto roof of the car looking forward to many trips to the country side with our bikes on the Atera strada bike carrier.
Andrew B - Vehicle type: 4x4
I looked at many other bike racks before purchasing the Altera Strada DL. The build quality is excellent and its simplicity is the defining quality of this bike rack. Very easy to fit, no fiddling or adjusting necessary and once the bikes are loaded and locked they are secure and safe. Even with the addition of optional 4th bike stowage rail, the rack is extremely stable when driving. The feature to allow access to the boot space is once again simple but very effective; one button push and the bike rack effortlessly slides rearwards to allow the boot to open, then locks back into its original position with a push. If you are looking for a bike rack that is straightforward to use, durable and secure then the Altera Strada DL is the one to choose
Stuart M - Vehicle type: Van
Bought my DL3 rack specifically for my VW T5 California as it allows the rear door to be fully opened without removing the rack or bikes. Note that the only the DL3 allows the rear door to open on the T5 so even is you only need it for two bike you must get the DL3 not the DL2. Fitting is very simple, slide out mechanism well designed, bike attachment and locks work perfectly, would I recommend it? yes most definitely.
Zoe C - Vehicle type: Hatchback
Light and well built. I found the instructions a little tricky to follow, but watching roofbox's video on youtube was a great help. As a woman, I don't struggle to lift the carrier on or off the tow bar. When driving it feels safe and only reduced our fuel economy by about 4 mpg
Chris K - Vehicle type: 4x4
Well built easy to quickly fit on the tow ball,slowest part is connecting the electrics.You have to think about handlebars and saddles when loading when loading 3 bikes as on all carriers.Easy to secure the carrier and then to lock the bikes. Best carrier I have seen!
Hilary H - Vehicle type: Hatchback
It is important to read the instructions thoroughly because it then makes it so eay to use. After the first time of learning how to set up, just a few seconds for taking it on and off. Great product.
Alan P - Vehicle type: MPV
An excellent bike carrier and very well made. I've only had it for a couple of months and used it probably a dozen times, but it is fairly easy to use. The wheel straps can be a bit fiddly (they were easier on my BMW roof mounted rack) and the two cross bar mounts sometimes don't align well on different bikes, but once on the whole thing is very sturdy. As for mpg, I'm seeing a huge improvement over how the roof rack on my old BMW used to knock mpg (I was losing between 10-15%), with the Altera having no noticeable effect on mpg at all. Mine is fitted to a Kia Sportage KX4
Michael G - Vehicle type: MPV
I wanted a towbar bike carrier and after a lot of research I chose this Altera and was not disappointed. It carries two bikes and I feel confident in the construction and security to carry the bikes over long distances. The Roofbox fitting and removal video is very helpful and a must view. Whilst the unit has a full set of lights, my electrics don't give power to the fog and reversing lights, but the hazards on the unit and vehicle lights serve for the latter. My only criticism is minor and that is with the motion, the tough plastic wheel straps wore away the coating of our wheel rims on our first trip. We make sure we pad between the strap and rims now.
Tim S - Vehicle type: 4x4
Fits very quickly to the towball. A sturdy item so requires some lifting. It would be a struggle to fit it single handed if you were a bit frail. We use it to carry two carbon road bikes. I like the way the fittings do not scratch or mark the frames in any way. The bikes are also easily mounted so that they do not touch each other. The slide mechanism to allow boot opening is well designed and easy to operate. Only improvement I can think of would be clips or a strap to keep it all folded together when not in use. Not difficult to self source though.
Anne B - Vehicle type: Hatchback

A really good product, much faster to install and load than my previous tailgate bike carrier. Feels very secure, and solid but still I (5ft 3inch, female, and in my late sixties) can put it onto the towhook and load the bikes myself. Very easy to install and remove(provided you follow the clear instructions!). Purchased the third rail for the 2 bike carrier, and we used it in bringing 3 adult bikes back from a Gretna to John O'Groats ride. If you take a little time, you can adjust the bike supports for the 3 bikes so that they are not touching one another. Already this summer we've taken the bikes away more than in the whole of last summer.
Tim S - Vehicle type: 4x4
Fits very quickly to the towball. A sturdy item so requires some lifting. It would be a struggle to fit it single handed if you were a bit frail. We use it to carry two carbon road bikes. I like the way the fittings do not scratch or mark the frames in any way. The bikes are also easily mounted so that they do not touch each other. The slide mechanism to allow boot opening is well designed and easy to operate. Only improvement I can think of would be clips or a strap to keep it all folded together when not in use. Not difficult to self source though.
Jayne B - Vehicle type: Hatchback
Great product easy to use also had a couple of people stop and ask me about it. As a female I find it makes light work of bike carrying and simple to remove when not in use. Highly recommend this product and the advice given prior to purchase of this product from the roof box company.
David P - Vehicle type: Hatchback
Great bike carrier, bike feels very safe on there and dead easy to use
Wayne H - Vehicle type: Hatchback
This a great product that securely carries the bikes and is easy to use. Much easier than roof mounted rails.
Mike J - Vehicle type: Hatchback
This is a superb bit of kit! I have the 4 bike version that I use on my van and this one does the job on my smaller hatchback. Compared with many other racks I've tried before for quality , ease of fitting, and convenience it really is the best. Then when you've got over how neat it is to use, just fold it up and stow it in the boot. Definitely the 'go to ' bike rack manufacturer
David W - Vehicle type: Van

I agree with all the other reviews with regard to design and build quality which is excellent. The initial installation took some time but once the sequence had been mastered it was quick to put on and take off my VW camper.I would advise any new user to mount the carrier for the first time some days before going away! My only disappointment is that I cannot open the tailgate of my VW transporter with the rack in place. The sales description gave the decided impression that I would be able to do this with the rack fully tilted backwards. I have had tow bar mounted racks before where there is some adjustment allowed once the rack is on the tow bar ball and before activating the locking mechanism. The attached photo shows the rack fitted and there is a slight tilt of the bike support back towards the van. David W
Bill S - Vehicle type: Hatchback
Robust,well made and very easy to use. Only takes a few minutes to fit the rack to the car, load bikes and lock on. It is so much better than previous bike racks I have had with lots of straps to tighten. The electrical connection is a little awkward to get at and care is needed to ensure it is firmly attached. Excellent overall
David T - Vehicle type: Estate
Superb product that is easy to use. No hesitation in recommending it to others
John B - Vehicle type: 4x4
Two bike Altera Strada - Brilliant piece of engineering. Easy to load, use and dismount. Secure bike retainers and tilt mechanism is very useful. Highly recommended. Only question mark - I bought the 3rd bike extension but it comes as lots of bits, haven't fitted it yet but looks complicated and not easy to put on and take off.
Martin B - Vehicle type: 4x4
Excellent piece of kit, which I would definitely recommend.
John D - Vehicle type: 4x4
The box had been standing, unopened, in the garage for some time. At last half a day free to play around and sort out the bike carrier- Didn't need that much time at all- watched the Roof Box Company You Tube- made it seem easy but in reality it was even easier. Bikes loaded and then to test opening the rear hatch of my BMW. Just one click away- so easy, so simple. Why would anyone wish to buy an alternative. Great product- now no excuse not to head off with the bikes. Will also double as a spare wheel carrier in this day of manufacturers excluding such items, thanks to the crazy EU economy test standards. That's progress, or is it?
John G - Vehicle type: Hatchback
I have the 2 bike version, it is light weight so easy to put on the towbar. It locks onto the towbar and the bikes lock on to the carrier so the bikes are reasonably secure when left parked somewhere. The mechanism for fastening on to the towbar is very easy to use although the ratchet clicks are fairly quiet and can be felt rather than heard. The same is true for the tilt mechanism so make sure it is well fastened back after tilting. With two bikes I have to remove a saddle on one bike otherwise the handle bars of the other bike dig into the saddle, this is a bit of a nuisance but once it's set up for the bikes it's quite easy to load and unload them. I think the carrier is pretty good, it's quite compact and much lighter than others such as the thule carriers that I am familiar with. The draw back to it being compact is that the bikes are very close to each other and parts of one bike can get in the way of the other bike, in my case, as I said, I need to remove a saddle from one bike, not a big issue, and it would depend on the relative height of saddles and bars of the two bikes so might not always be necessary. The arms that fasten to the bike frames to hold them in place are good for any shape frame, well padded and easy to use without marking or damaging the frame. The straps for the wheels are also easy to use. For a small lightweight carrier it's very good and much better, in my opinion, than some other carriers which are enormous by comparison and also much heavier needing two people to put the carrier onto the towbar.
Christine B - Vehicle type: Hatchback
We have always had a bike rack that fits on to the back of the car with straps. It was getting difficult to lift the bikes up to put them on the rack (we are 60+!!) so researched for quite some time before choosing the Atera Strada DL. It is brilliant! We like it because it is light enough to lift on and off the tow bar, it is great to be able to tilt it back to get in the boot and so good to be able to lock the bikes. We went to France with it and it was admired by many! We nearly did not buy it because it seemed a bit expensive but to be honest we think it is worth every penny!
Steve B - Vehicle type: Estate
Hi, I've taken this bike rack across France and Spain, with 3 bikes on the back with no problems.. I have a volvo xc70 with 2 Bullmastiffs taking up the rear, they also need to get in and out, and this seemed to be the only bike rack which slides easily out of the way to allow this. The guys at the roofbox store were also so very helpful.. In summary, if you have hounds in the back, a roofbox on top, and wish to also carry bikes, then this ticks all the boxes better than anything else by far.. And no problems with it after a year's use. 5 stars.
Chris C - Vehicle type: Estate
I opted for this bike carrier after online research and mainly on the advice of the roofbox.co.uk website. I have not been disappointed and understand why they rate it so highly. Plus points are: - weight. It is pretty easy to lift and move around. - size. It fits nicely in the boot when I'm out on the bike. - ease of use. Everything just works and almost all the controls and catches are a doddle to use. The tow ball clamp is particularly good. - slide back mechanism. This is the BEST BIT. It easly slides back to allow the tailgate to open, even with 2 bikes fitted. Essential when going out with the dog! - build quality. Is excellent. A true example of getting what you pay for. It wasn't the cheapest carrier but well worth the expense and I doubt it will ever wear out. The only negative I can think of (and it is a small negative) are the clamp locks on the folding upright bar. They are threaded so you get the right amount of friction but I alway find they are either just a bit too tight (and hard to shut) or just too loose (and the bar is not as firm as I'd like it to be).
Chris H - Vehicle type: Hatchback
A good quality product even though a little expensive. However I feel confident that it will last well. Somewhat heavier than expected and a bit of a fiddle to secure to the tow bar at times, but I suspect once I've got the "knack" it will be fine. Roofbox are good to deal with and their advice was most welcome.
David L - Vehicle type: Saloon
Excellent product
Andrew M - Vehicle type: 4x4
Recently purchased and only used a couple of times do far, but I would definitely recommend the Atera Strada. It is quick and easy to fit and the bikes sit securely. Before I bought it I checked out the utube video link supplied by the roof box company - which shows very clearly how straightforward it is to use. The ability to still easily open the rear hatch with the bike rack on is another plus. I have 13pin towbar electrics and so all the lights work perfectly, and the extra number plate just drops in easily too. My one teeny tiny criticism is that if you buy the wall hanging mount for the rack - it does not fit easily unless you cut off the cable ties fitted on the bike rack and adjust the lightinng cable positions with new ties.... but that really is a trivial point overall.
Chris M - Vehicle type: 4x4
Having used the Atera Strada bike carrier for a few months now I can confirm that the carrier is every bit as good as the description on the Roofbox Company site. Fixing the carrier to the tow bar is easy - providing that the instructions are followed to the letter. As back up I also have a copy of the Youtube installation instruction video on my iPad reading list. Friends and family have been impressed with it when we've met up for bike rides and my daughter is planning to buy her husband the 3 bike version as a surprise birthday present this month. Finally, in dealing with the Roofbox Company a number of times over the years, I have always been impressed with their integrity. Their service is second to none.
Fraser S - Vehicle type: Estate
Almost perfect. 13pin electrics so it has a fog light, which I'm sure will come in useful one day. Very easy to attach to the tow bar And very fast and easy to secure bikes with ratchet straps. Can attach tow bar, carrier and two bikes within 5 minutes easily. Main plus point for me was the fully circular frame clamp,so to steal a bike off the back would require bolt cutters. Slide back feature excellent, so can access full width of boot from either side ofthe car without scraping your shins on any connecting parts.
Bob S - Vehicle type: 4x4
This is a reasonably light, robust, well built and easy to use tow bar rack. Comes off easily for stowage in boot when parked, locks on although is advisable to use a more substantial cable and lock to secure everything to the tow bar when leaving bikes on parked car. Bikes come on and off quickly with 3 simple ratchet-type straps (one with lock). I use it on my Landcruiser as my MTB is too tall to fit in the back with the dog. Also keeps mud out of truck. Great buy and good service from the Roofbox guys.
Gary P - Vehicle type: Estate
Somewhat expensive but a great high quality product. Really easy to use and well designed. Holds bikes firmly and gives me confidence re: safety The drop and slide feature works very well giving access to hatch space and the low weight of the carrier makes it easy to take on/off with a little technique Apart from the somewhat high price, a "no regrets purchase"
Paul F - Vehicle type: 4x4
An excellent product easily fitted when you get your head round the fitting instructions
John D - Vehicle type: Hatchback
I have used towbar mounted carriers before and while they were solid and safe, there was a lot of fiddling with screws and straps not to mention looking for the appropriate allen key. Apart from the key, everything is incorporated on the carrier so no parts go missing. I have found it relatively easy to fit on my own (although fit I am 67 years old)and I don't dread the whole mounting / dismounting process any more. It is very safe and secure and I would have no hesitation recommending it to others.
Andy S - Vehicle type: Hatchback
Great carrier, easy to use. Highly recommended
Richard W - Vehicle type: Estate
This is a brilliantly engineered piece of kit. It fits onto the tow ball easily is incredibly secure and allows access to tailgate which for us is important as it lets the dogs get out! Its not the cheapest carrier on the market but it is truly worth its weight in gold, I recommend it 110%.
Alison E - Vehicle type: Hatchback
Great piece of equipment. Very sturdy. Not quite as easy to use as suggested. I find it slightly tricky to get the locking mechanism right. Once on though you feel very safe. Very easy to get bikes on and off and I find the tilt option particularly useful to be able to access the boot while bikes are still on On the whole I would recommend this item.
Chris H - Vehicle type: Estate
We have now done 3 trips to France and numerous short trips in the UK, so about 4-5000 miles over a couple of years. Build Quality: on receipt the carrier was missing a couple of bolts, which were replaced by return, so I dropped a star there. On storing the carrier it does end up resting on the cables, so another star dropped there. Otherwise nothing has gone wrong in the period. Ease of Use: it is as easy to load onto the tow ball and hook up as claimed; however only after a bit of practice.My only criticism is that it is an awkward shape/size to move from its storage to the car; hence 8 stars not 10. As a product concept it is excellent: I never liked putting the bikes on the roof; it doesn't look "right" and is a pain with French toll booths; the tilt function works well and is a "must have" as you always want to access the boot once the bikes are loaded. Unfortunately I have found that either approach - roof or tow bar - does cost about 4-5mpg. So a wish would be for a more aerodynamic solution. In the meantime I have no problem recommending the Altera Strada.
James T - Vehicle type: Saloon
This equipment was recommended by the Roofbox Co and I can see why. No problems with delivery and assembly. We've used it a number of times and for build quality and convenience it must be second to none.
David A - Vehicle type: 4x4
Overall build quality is excellent. It secures nicely on the tow bar and holds the bikes well. Tilts away from the rear of the car allowing the tail gate to open and close without removing the bikes. Cons I have trouble removing the key when locking the rack on to the tow bar and the rack is too heavy for my wife to fit
Michael G - Vehicle type: Hatchback
The Atera Strada is every thing you claim it to be. The one downside is it is only 1m wide. My hybrid bike has a wheelbase just over 1m so each bike wheel is just falling down slightly over the ends of the rack. I was a bit surprised by this. Mechanically this does not seem to be quite right. Based on my advice my brother has gone for a slightly wider rack
James B - Vehicle type: Hatchback
Excellent quality, light and easy to fit and remove from tow bar. Now carrying two electric bikes on it and the rack is easily strong enough for them and the bikes are held on the rack very securely although I notice that an electric bike specific model is now available. The included electrics work perfectly and the ability to slide the whole rack backwards, with the bikes loaded on, must be unique but guarantees access to the boot at all times.
Duncan B - Vehicle type: Saloon
The Atera Strada 2 is the 4th bike rack I have owned and both in function and quality is the best. It was also the most expensive. I have tried roof racks, folding boot racks and one other tow bar mounted rack. All have pros and cons. This rack is the most secure, easiest to fit and feature rich of all racks. It takes a few attempts to get used to the tow ball engagement. The only draw back is its weight and storage footprint, that aside I cant see where it could be improved.
Peter I - Vehicle type: Estate
A solid carrier that has always felt sturdy and safe
Caroline G - Vehicle type: Hatchback
Good quality and once it is on it is great. Had trouble fitting it to towbar initially, but once I'd found the online video and ignored the instructions, it seems to go on fine ( though according to the instructions, I might be overstressing it by using the video method).
Stephen C - Vehicle type: Estate
Quick and easy to fit to the car although sometimes the handle doesn't release easily, otherwise I would have rated a perfect 10. The slide feature allowing it to slide away from the car to allow access to the car is a huge plus. Once attached to the towbar it feels very secure.
Richard B - Vehicle type: Hatchback

I drive a MKV Golf and this bike rack is perfect. Really high build quality, super easy to operate and some really good features like the tilting mechanism. This takes all the stress out of taking the bikes away.
Judith D - Vehicle type: Estate
So much easier than putting them on a roof rack! Feels more secure with them behind rather than on top of the car. Very safe way of transporting bikes once you get used to the system. Highly recommended.
Colin C - Vehicle type: Hatchback
It really is as easy as it shows in the video! We have used this carrier so many times since we bought it as it attaches to the car quickly and means we can head out the moment the sun comes out. We have the 2 bike carrier and it sits happily on our Toyota Yaris. A great product we don't regret swapping from roof bars!
Nina H - Vehicle type: 4x4
This is a great product, we have just travelled 425 miles and we did not have to adjust the bikes once they never moved. We also use this as a stand for the bikes inside our caravan awning which is a bonus. It's quick and neat for putting in your boot before riding off, also if you forget and need to get into your boot after the bikes are on your car the slide mechanism which drops them clear of it is very handy, after a couple of times using the rack you don't even think about what goes where.
Andrew J - Vehicle type: Van
Great bit of kit, next time I would buy the three bike rack. I would like to see the rack come with a cover to stop the elements getting at the bikes.
David T - Vehicle type: 4x4
An excellent product. After a little time setting up the fittings for our two cycles it just takes minutes to fit the bikes to the rack securely. The time spent sorting the fitting is well worthwhile because I now know the to bikes are not in contact with each other at any point. Also I know the small projection on each side of the car is equal distance. The product is easy to mount on the tow bar and the electrical connection is an excellent it for my 12 pin electric socket. As I have a 4+4 the system is much easier to use than the bikes on the roof rack (that I still need to use when towing my caravan)
Ian S - Vehicle type: Estate
A great product. The rack is sturdy and absolutely rock solid on the tow bar. I haven't tried the 3rd bike optional add-on yet, but fitting of 2 bikes is straightforward. Fitting to the towbar can be done by one person, but not easily. The video shows some slip of girl doing it by herself, but I can only assume that she is an ex-East German female weight lifting champion. No really, it isn't that difficult, and I can do it by myself but the attachment control of the handle is a bit quirky (it seems to have a dual mode, where you pull it down just slightly to release the grip mechanism for fitting) so it is handy to have someone else there to take the weight. The full lighting kit is excellent - with a full set of rear lights, including fog and reversing. Highly recommended.
Brynley W - Vehicle type: Saloon
Best gadget ever.
Ewan L - Vehicle type: Estate
The high quality and attention to detail is obvious from the minute to pull it from the box. It is very easy to set up and the attachment for 4th bike which I bought with it is also simple to fix and have confidence in. 4 bikes is a lot to have hanging on the back of the car but after a trial set up and a nervous trip around town, I had full confidence in the carrier. The rear door straps do not take weight but simply stop the whole outfit from swinging too much while cornering. Fixing the bikes and removing them is simple once you find a positioning formula that works - I took photos when I was happy so now I have a visual cue to speed loading. A great product which I am glad I purchased.
James R - Vehicle type: MPV
A very well thought out and solidly built piece of kit that, together with the extra rack, enables us to carry four bikes with confidence. It felt like a big investment at the time but because of the quality, I'm sure it will prove value for money in the long run. It's quite heavy to load on to the tow bar, but once in place it's easy to use and the sliding mechanism means you shouldn't have to unload all the bikes just to open the boot (unless your car has an enormous boot lid like our Peugeot Partner in which case it won't quite clear the bike nearest the car.) All in all a very good buy.
Peter B - Vehicle type: 4x4
Excellent product. very quick to put on car and take off. Light and easy to store. screws securing plastic light covers should be brass or stainless steel so they don't rust but apart from this everything is of a high quality.
Ange F - Vehicle type: MPV
Fantastic product. Really easy to use and solid. The only issue I have is that I find it quite heavy to lift when fitting. Once on its superb though. Particular useful tilt function.
Erica M - Vehicle type: Hatchback
We purchased this bike carrier after lots of research and we have not been disappointed ... We have the extension so carry 4 bikes. It is easy to fit (I can do it without the help of my husband) bikes fit on securely and safely as all bikes can be locked on and the rack locks onto the tow ball. Would recommend to all...... Best purchase we have made for years!!!
Graham C - Vehicle type: Hatchback
I have the extension for 4 bikes and find it very stable and safe on the car. the 4th carrier does make it slightly heavier which is my only complaint. The way it slides away from the car to allow access to the boot is a fantastic piece of design.
Patrick T - Vehicle type: Estate
Well made, easy to fit to car. Due to nature of design bikes are close together, so need to be very careful on loading bikes to prevent scratches from pedals etc.. Once you have method it's easy! We find tilt mechanism for boot access fabulous, well worth paying extra for. We also purchased extra rail for fourth bike, which is a doddle to fit, and works with no problems. The clamps to hold bikes are lockable which are also really useful, the rack also locks to the car. One issue we do have, which might be caused by our tow bar (brand new westfalia on vw passat) is that the rack doesn't stay level, I.e. it tilts a few degrees off horizontal, no matter how much pressure we apply to the towball, we install it horizontally, but a few miles down the road it is tilted, only a few degrees, but noticeable, once it's settled, it doesn't move any further.
Christopher S - Vehicle type: Van
Was the only towbar mounted bike carrier that we could attach to the back of our VW LT35 and still open the back doors. Really pleased with it and the Roof Box Company's quick delivery.
Justin C - Vehicle type: Hatchback
The rack is of high quality and is very easy to use. The wrap round straps are so much more secure and easy to use than any clamp equivalent. Roofbox delivered promptly and showed great customer service.
Stewart B - Vehicle type: Hatchback

Easy to use, even with 4 bikes, we use it all the time. What sets it apart from other good rear tow bar carriers is the ease at putting the bikes on to the rack by using the straps. The product has met all expectations in terms of ease of use, reliability and quality, and in terms of performance. 5 mins to install and uninstall and the rest is easy. Happy with this product.
Clare R - Vehicle type: Estate
Having used hang on racks for years we finally splashed on a decent carrier. The build quality is good although the handle doesn't seem to ratchet quite as tight a it first did. Saying that it has never moved when on the car loaded. I recently also bought the 4th bike kit which was a bit tricky to fit but great quality also. The only disappointment was the requirement for straps which clip to roof rails or tail gate when using 4 bikes. This wasn't clear on the site. All in all though I would recommend this rack to anyone looking to easily transport 4 bikes safely.
TRBC reply - 19/04/2013
This is very useful feedback; we've added a note to the web page to the effect that the straps are not required. They were suggested by TÜV before they tested this carrier, the aim being to prevent any lateral movement, and to minimise vibration. Be assured that they are not required, and that the carrier does not move from side to side! The same self adjusting tow ball fitting and sliding system is used on the latest STRADA models (e.g. EVO), without any requirement for straps. In due course we hope that Atera will retest the STRADA DL, without straps, so that they are no longer included. There's no doubting the overall strength of the STRADA DL -
click here
to see an extra 95kg on top of at least 50kg of bikes!
Christopher D - Vehicle type: MPV

This is a great product - well designed with some nice touches to make it relatively quick to get the bikes on the rack. Having driven a thousand miles through France loaded up with 3 bikes, it always felt secure. There is a bit of a technique to fitting it to the towbar in the first place, but apart from that, no complaints. Another major benefit for me is that you can fold it up and put it in the boot. Fast delivery and good price from the Roof Box company.
Graham S - Vehicle type: 4x4
Very good product. Very well packaged. Easy to use. I bought the 4th bike attachment which fitted well. All tools and parts required were included. It is a tight squeeze to fit 4 bikes but it just takes a bit of time to get it right.
Lee A - Vehicle type: 4x4

This is an excellent choice to go on the back of a ford galaxy due to the excellent access provided by the slide back facility. Not too difficult either to push all the bikes back up when the carrier has been pulled downwards. Superb build quality. Takes a bit of getting used to the taking on and off, the slightest movemet of the pull down handle can affect if it goes on or off easily. I purchased and installed the extre 4th rail which is only suitable for smaller bikes. Driven 500 miles with no effect on handling or fuel economy. It is a much easier and quicker method of loading up the bikes for a family day out than hang on style and the invaluable access to the boot. Not so easy trying to get parked though, you will need two spaces in the car park. One of the locks on the fold down supports has broken which was disappointing but I'm sure roofbox will sort it for me. Very pleased with my purchase.
Simon N - Vehicle type: 4x4
Very neat bit of kit, it was a bit awkward to use the first few times but once I got the hang of it very easy. We took three bikes 1800 km driving down to the alps. The bikes were very stable and the rack has a great feature for sliding the bikes away from the hatchback if you (and you know you will!) need to get in there, good viability thru the rear window, lighting board and number plate holder all good quality, have already recommended this unit to a friend, who is also happy with it.
George L - Vehicle type: 4x4
Excellent product. Easy to fit and detach, holds the bikes solidly. Stores in the boot. Worth the money in every way.
Matt D - Vehicle type: Estate
The rack is very well built and designed. The fourth bike adapter works but makes when fully loaded makes the tilting a challenge as the unit becomes very heavy. Perhaps a horizontal slider on bearings should be considered in the next version as this is the only refinement I would like to see. Other than that this is definitely the best rack I have seen in the uk and as good as the best I have seen in Europe during many years of camping trips to france with kids. Would advise its purchase.
About our reviews:
We test, and often use personally, almost all the products we sell, and we stand behind our comments and recommendations unless customers convince us they need changing. Our Customer Services and Workshop staff also have input into our recommendations.
But it's because we've learned a lot over many years that customer feedback is so important. Fresh, first time out opinions are the most useful ones, and in any event we certainly don't have access to the full range of vehicles that our customers have between them.
Product feedback from existing customers helps our new customers make choices, and also helps our suppliers with their product development.
We e-mail our customers a week or so after their order arrives and invite them to send in a review.
Some reviews are suitable for multiple products. Where appropriate we may, for example, use the same review for a number of different roof bar products where the only difference is the length of the roof bar.
Max number of bikes: 2 (3 with adapter 2610; shown below)
Fits bolt on tow ball: yes
Fits swan neck / detachable tow ball: yes
Dimensions: 100cm (width) x 56cm (depth)
Weight: 12.5kg
Max load capacity: 47kg
Max bike weight: 23.5kg
Max wheelbase: 120cm
Distance between bikes: 18cm
Tilting: yes - slides away from the vehicle
Integral lighting board: yes
Lighting board plug type: 13 pin (7 pin adapter available if required; shown below)
Bike carrier to tow ball lock: yes
Bike carrier to bike lock: yes
Possible to tow when in use: no
Fits with a spare wheel: no
Guarantee: 3 years
Useful information:
The maximum permitted load you can carry is also determined by your nose weight; you will need to check you don't exceed this before using any tow ball mounted bike carrier.
We offer our existing customers a full "Next Day if possible" spares service, and will cannibalise new stock as required to find you the parts you need.
To find the spare parts you need, please see the diagram below, identify the product codes, then choose them from the list below. If you need more than 1 of any item, change the quantities in the Shopping Basket.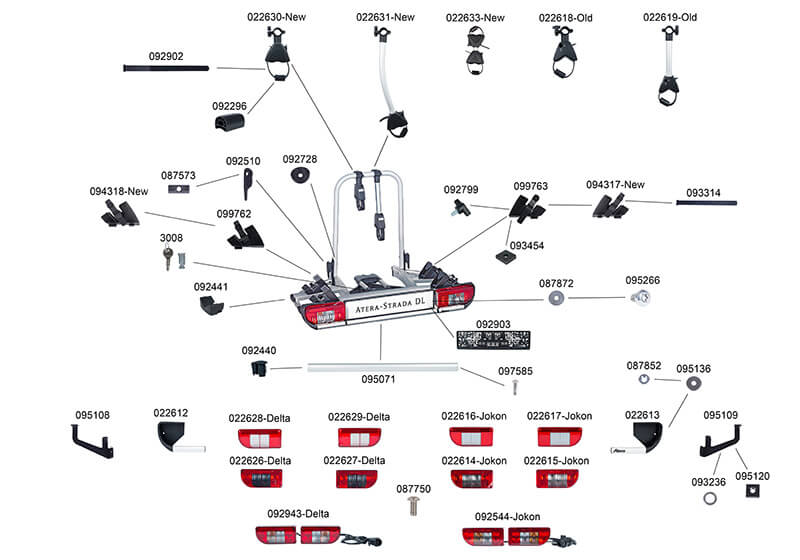 Delivery charges and arrangements:
We charge a contribution towards delivery costs, depending on what you order, where you live, and how quickly you want the goods.
These are our standard charges; there are usually surcharges for all offshore destinations and some remote postcodes - for details please see our delivery information page.
| | | |
| --- | --- | --- |
| Express Delivery | £ 9.50 | 1 to 2 working days |
| Standard Delivery | £ 6.50 | 3 to 4 working days |
Delivery of other items
| | | |
| --- | --- | --- |
| Express delivery | £ 6.95 | 1 to 2 working days |
| Standard delivery | £ 4.95 | 3 to 4 working days |
| | | |
| --- | --- | --- |
| Express Delivery | £ 19.50 | 1 to 2 working days |
| Standard Delivery | £ 14.50 | 3 to 4 working days |
| | | |
| --- | --- | --- |
| Express Delivery | £ 19.50 | 2 working days |
Delivery times
Delivery times are calculated in working days (Monday to Friday, excluding Bank holidays).
Cut-off times for Express Delivery orders
Express Delivery orders placed before before the cut-off times shown below will usually be desptached on the date of order. Express Delivery orders placed after these cut-off times will be despatched the next working day.
| | |
| --- | --- |
| Small and Standard Sized Items | Order by 4pm for same day despatch |
| Roof Boxes, Dropracks and Roof Tents | Order by 1pm for same day despatch |
Delivery FAQs
When will my order arrive?
There are no deliveries on Saturdays, Sundays or Bank Holidays, except for postable items where Royal Mail has a Saturday delivery. Express Delivery orders placed on a Friday (before 1pm) should be delivered on the Monday or Tuesday, Express Delivery orders placed on a Saturday or Sunday should be delivered on the Tuesday or Wednesday. The arrangements for Very Heavy Items are different and are shown above.
What about Next Working Day delivery?
We have offered a reliable Next Working Day service for well over 20 years but, due to the pressure on the couriers caused by the coronavirus crisis and the huge increase in online shopping, we can no longer be confident about the delivery date, which is why we now call the service 'Express delivery'. Most Express delivery orders will arrive on the next or second working day, but some will arrive on the second or third working day, or be split between these days. So-called "split deliveries" happen when the couriers do not have enough trailer space for everything that should be moved around the UK, so they will load what they can and leave the rest for the next trailer.
Is my delivery day guaranteed?
No retailer or courier company can ever "guarantee" a Next Working Day delivery. As well as split deliveries, all courier companies occasionally have the same transport problems as can happen to everyone else, including snow blocked roads, closed roads, traffic jams, mechanical breakdown, an inability to find the delivery address, or to gain access to it if, for example, it's in a block of flats. We work with some of the best couriers in the business, and overall they provide an outstanding service.
Do I need to be at home?
We are very flexible with our deliveries and will aim to deliver to an address which suits you – this does not need to be your home address. Goods can usually be left without signature - we prefer this with roof boxes. There's a "Special Delivery Instructions" box in the checkout area where we'll ask you to choose a typical instruction and then amend it to suit your particular requirements.
Payment options:
We take the following cards, and also PayPal. Please note that the entry on your card statement will be from "The Roof Box Company".
Secure payments
Our website is secured by Sectigo (formerly Comodo CA), the largest commercial Certificate Authority in the world.
Atera STRADA DL Tow bar mounting bike carrier