BUZZ RACK Buzz Quattro tilting 4 bike carrier no. BRP204

A very good quality, tilting 4 bike carrier. It was one of our top sellers for several years, now replaced by the BuzzRacer 4.
Spare parts are available, see the 'Spare parts' tab.

Alternatively, view all "Bike Carriers"


A very good quality, tilting 4 bike carrier. It was one of our top sellers for several years, now replaced by the BuzzRacer 4.
Spare parts are available, see the 'Spare parts' tab.

Alternatively, view all "Bike Carriers"

What's the big deal about the Buzz Quattro? Fundamentally it's down to design, safety, quality, and ease of use - and it is to our knowledge one of only two 4 bike wheel support racks which meets the requirements of ISO standard R18-904-4 (the other is the BUZZ RACK Eazzy 4). Consider the following:
It's supplied almost fully assembled; minimum work is required.
It's the right shape for storing in the back of the car when not in use.
It fits to all tow balls, even the occasional tow ball that does not meet BS standards.
The Buzz Quattro is particularly well balanced and therefore you can walk it onto the tow ball without it bumping on your shins.
Fitting is a matter of spinning a hand-turning wheel, a really quick, easy and ergonomically satisfactory thing to do. Turn the key in the tightening wheel and the carrier is then locked to the tow ball. Additional tensioning of a Nyloc nut is sometimes required (spanner supplied), depending on the tow ball, to make sure the carrier is firm.
The Buzz Quattro is genuinely easy to tilt, well balanced during the tilting phase, and tilts far enough for use even on some MPVs with vertical tailgates.
It sits high on the tow ball, well clear of speed bumps and other hazards such as steep ferry ramps.
The wheel holders, much more robust than we've seen elsewhere, have multiple securing points that will accommodate all wheelbases, even small children's bikes.
The wheel holders include tough and easily adjusted wheel straps which are long enough to hold the biggest rims we've found.
All 4 bike holders have identically keyed locks.
All parts are replaceable if e.g. someone forgets that a tow bar carrier is fitted and reverses into a wall - which happens!
Dimensions = 94cm wide by 85.5cm deep (measured from the centre of the tow ball to the outside edge of the number plate holder).
Weight = 19.7kg.
Buzz Quattros are supplied with UK standard 3 function lights and a 7 pin plug; electrical adapters are available for those with 13 pin systems - see below.
The build quality - tube bending, welding, rust proofing, painting, component quality, is exemplary. All tools you might need are provided.
It's TÜV approved to the proposed ISO standard R18-904-4, a standard some way tougher than current requirements.
We also think it looks great!
Unfortunately this carrier is not suitable for Volkswagen T5 / T6 models - the bottom of the tailgate clashes with the tow ball fitting mechanism.
Owners of larger vehicles with vertical tailgates (such as the VW Touran, Ford Galaxy & S-max, Citroen C8 and Vauxhall Zafira) report that the rack doesn't tilt far enough back to open the tailgate. If you have a vehicle with a vertical tailgate you may not be able to open the tailgate with this rack. We would recommend considering the Atera STRADA DL3.
All things considered it's no surprise to see this carrier winning product honours - it won an Innobike Gold award at the prestigious Taipei International Cycle Show.

Exchange scheme: Tow bar carriers are part of our 90 day exchange scheme - click on the link below for details - so you can order without financial risk.

BUZZ RACK is manufactured by King Rack of Taiwan, a specialist bike sector engineering company since 1996. Their factory is state of the art, with much of their production being tube bending, specialist welding and finishing for well known bicycle and car rack brands.
BUZZ RACK Quattro Tilting 4 bike carrier
4 bikes - BUZZ RACK 'Buzz Quattro' Reviews
Martin H - Vehicle type: Estate
I purchased this for a specific trip so i had not used it until recently. However i was astounded by the number of people who have approached me and commented on the tilting facility of the rack when fully loaded. Generally they say that i will have the same problems of access to my tailgate as they do. When i tilt the rack they wonder why they didnt know this facility could be available and would have paid extra for it as the inconvenience of access over the back seat is highly annoying for them. The rack has proved invaluable to me and my 5 bike family as i now put one on the roof as well as a roof box supplied by you and four bikes on the back for frequent trips to Northumberland and Scotland. A fantastic addition to our motoring equipment family.
Bill C - Vehicle type: MPV
Very good rack. Fitted 4 adult road bikes with only minor adjustments to one of them. Could not open the boot when rack on car - even with extension on tow bar. Needed to synchronise the two actions! not really a major issue. Brilliant rack
Mark G - Vehicle type: Hatchback
Fantastic piece of kit, easy to use and initially set up. Love the boot access feature. Bikes stay rock steady when negotiating Sheffield's pothole ridden roads. Minimal lateral bike overhang due to being able to centralise the bikes on the rack. Highly adjustable, easy to set up for child or adults bike. Integrated lightboard saves time and effort fitting and securing additional lightboards. The only downside is the weight of the carrier (25kg) would recommend getting assistance positioning it on your tow bar if you are not built like geoff Capes
Alan F - Vehicle type: 4x4
This is a fabulous piece of kit. It is so solid, both in itself and when fitted to the towbar, that it is wonderful on long distance drives. There is not an iota of movement. The self-contained locks are effective and, whilst no doubt capable of destruction by a determined thief, supplemented by decent chains they provide an excellent deterrent. And the fact that the carrier is itself locked onto the towbar is invaluable. It holds 4 full size bikes more comfortably than any other rack I've tried or found, and does so safely (para 1). Why an 8 for ease of use? It is heavy. My wife could not fit it alone and she will not be the only one. And it is cumbersome, so awkward to manoeuvre when not in use, and requires a fair space to store (although I've put it on a wall and it sits quite flat). And the tilt facility is nice to have - and it works well - but I think I'd rather pack more carefully and obviate the need for tipping 60kg back and forward to get to my toothbrush!! Not cheap, but very well worth the money, particularly if you want to move 3 or 4 bikes anything more than short distances
Jeffrey T - Vehicle type: Estate
This is a fantastic product. There are not many 4 bike rack and I have been very impressed with the build quality and ease of use. The rack is very secure and sturdy even when fully loaded. I would definitely recommend this product
Julian R - Vehicle type: MPV
Superb and very good value
Chris S - Vehicle type: MPV
This rack is so much better than the boot mounted rack I had before. It's still a bit fiddly to get four bikes all secured, but this includes child bikes which were impossible to fit on the old rack. Even with the tilting mechanism I can't open the boot of my Zafira, but this isn't a great problem since with a bit of thought, all required items can be accessed by folding the rear seats. To tighten the tow ball clamp, I find sitting in the boot and supporting the rack slightly with my upper legs helps. I also use the rack as a useful place to hold the bikes in my garage
Robert G - Vehicle type: MPV
This is a fantastic product. Really easy to assemble and use. It means we use our bikes as a family much more that we would otherwise. Really secure attachment mechanisms. Very flexible to suit all bike sizes.
Alfredo G - Vehicle type: Estate
Sturdy build and holds 4 bikes well without too much effort in loading them. I would definetely recommend this product. Please note that this rack is heavier than some of its competitors so check the nose weight figure for your car to see if it is suitable (best way ti find nose weight is the caravan club website).
Neil B - Vehicle type: MPV
Have now used it a few times, and once you've worked out what order to load the bikes etc, there's nothing to worry about. Some extra guidance on how to load the carrier as well as how to fit it would be helpful.
Glen H - Vehicle type: Estate
Great quality rack - very sturdy carrying 4 bikes. A little fiddly attaching the rack arms at delivery but clearly this is only done once and I'm very pleased with product. 2 separate families asked me what make / where purchased as it looks good, is built good and certainly at this price, very we'll worth it.
Dave L - Vehicle type: MPV
Excellent item, fits very securely and holds four full suspension mtbs with no probs. Definitely recommended.
Gareth M - Vehicle type: Hatchback
Great value and very solid construction. I have used this to carry adult and child bikes and its not missed a beat. Its quite heavy but can be moved by one person. The bikes feel secure and I've done over 2000 miles with it on the back without any problems. Happy with the purchase and expect many years of trouble free use.
Rob N - Vehicle type: MPV
A good product. Somewhat heavy to fit on your own and a bit fiddly to get right on the tow bar but once it's one it's easy to load bikes and away you go. Much better than our previous rack and would recommend.
Rosie B - Vehicle type: 4x4
This bike rack is so easy to fit and use. It's just a one person job, feels very secure and safe. I love the fact you can lock the bikes to the rack, meaning you can load up the night before ready for an early start without worrying about the bikes.
Jaz G - Vehicle type: Van
Great quality rack. Fits easily, easier with Two. Feels very solid taking four bikes. But of jigging around so pedals and handle bars don't clash. Have driven to south of France and the rack didn't budge. This roughly recommend.
Jim G - Vehicle type: Estate
Great bike rack, solidly built but not so heavy that it can't be easily lifted. Dead easy to plonk on to the towball and tighten up within seconds. Can't recommended it highly enough, beats other similar racks by miles!
Richard L - Vehicle type: 4x4
I bought this bike rack to use on my 4x4 and motorhome. It does the job very well , keeping all four bikes secure. I only have one gripe, which relates to the weight of the rack. I'm a strong chap , but still find fitting the rack hard work. I understand that the rack needs to be robust , and I guess if it was made from aliminium , then the price could be a lot higher. To summarise , the rack is great once fitted , but fitting it , is hard work , due to the weight of it . Hope this helps.
David E - Vehicle type: Hatchback
Easy to fit, easy to use, well built and excellent value for money. Who could ask for more. A real star of a find as some other more famous makes don't do versions for 4 bikes.
Andrew H - Vehicle type: 4x4
I find the whole concept of 4 bikes holding on to a round ball terrifying. Feels like sticking two fingers up at the laws of physics. But, this product gets it right somehow. Its quite a heavy rack, but it needs to be strong and once attached to the hitch, the weight doesn't matter. The tilt works really well: the hinge is near the centre so it is nicely balanced, even when loaded with bikes. Just don't buy a cheap copy version, unless you want 4 bikes causing a pile up on the motorway when the rack comes off. This one is earning my respect.
Anthony R - Vehicle type: 4x4

This is exactly the bike rack we needed for a busy 4 bike family and a dad that hates fussing with roof racks and bars especially with a high sided Volvo XC 90. The staff on the phone gave me excellent advice and pointed out useful features I wouldn't have thought of (and suggested this rack was better for our needs than more expensive ones). The rack is light enough for my wife to fix. The locking mechanisms are sound. When fully loaded, the tilting mechanism (to allow you to open the boot/tailgate) is beautifully balanced that it tips back with the press of a finger (after you easily undo one bolt with a easy-twist knob). Solidly built to last (and it even impressed the mechanic who fitted the tow bar). A great piece of kit that will give us years of mobile biking with the minimum of fuss. Worth also mentioning we bought a ski box from these guys last year - great, consistent honest advice and service.
Michael H - Vehicle type: Hatchback
Really easy to use, and very sturdy.
John A - Vehicle type: MPV

I purchased the rack as a result of other positive reviews and I have not been disappointed. The instructions are very clear and installation and removal are very easy, though for safety, it is a two person job. Brute force and ignorance are not a requirement though! Fitting 4 bikes also required some thought as to which one first or last and which way they would go round. We took advice from other users who said, "Don't do this just before you set off on holiday, or you'll miss your ferry." I had not had a bike rack before and a 'trial' outing (essential) was a real acid test for me, the car and the rack. We all came through safely though. On our first full outing we drove to Brittany from North London via Dover with stops along the way. Because of the dry run I had no concerns about the rack or the bike safety. I did purchase some good quality security chains which we left on the bikes/rack during transport and stops. The Quattro locks are good but you can never be too safe. Overall, a great product that lives quite happily in our garage when not in use and from the quality build, looks like it will be in service for many years to come. Overall, a well built quality product at a good price.
Anthony B - Vehicle type: Saloon

Bought this after much research an comparison to other products, and I am very pleased with my decision. The Buzz Quattro 4 is a heavy duty and easy to install bike rack and I really like how the bikes are easily secured (and locked) into the bike rack. It is strong and durable (with possible exception of the reg plate holder which is a little bit flimsy) and everything I needed for my family's cycling needs!
Matt C - Vehicle type: MPV

Absolutely brilliant. Worth paying just a little extra to get this as it is so solid and easy to fit. I'd never used one before and our first outing was a 400 mile drive from Oxford to Centerparks in Holland. Fitted to a ford S-Max, we can still go through the Eurotunnel as a car (ie it doesn't go over the height regulations). I was a bit nervous at first, and checked everything every time we stopped. It didn't budge and held our bikes safely the whole way. I did invest in a long steel lock which I looped through the towbar for added overnight security. Top tip - the best way I have found to fit it single handed is to lay it flat on the floor, step 'inside' it and lift from there - it is quite heavy.
Ian J - Vehicle type: MPV

We are over the moon with our bike rack! My children are not very confident on their bikes so we always have to travel somewhere safe and quiet for them to practise on their bikes. Before we got this rack, we really struggled to do this! Nowadays it's really not an issue. I simply lift the rack out of the garage and attach it to the car - it takes about 5 minutes to put it on and tighten up the tow ball mount. It's then a matter of lifting each bike on and fixing it in place - probably a few minutes for each bike. I like the fact that both the rack and the bikes themselves are locked in position - this makes leaving the car parked with the rack and bikes on the back less of a worry. I'm seriously impressed with how this rack mounts onto the tow ball so securely yet so quickly. When I first fitted it, I stood on the rack and bounced up and down to show my wife how secure it was!
Kevin N - Vehicle type: 4x4
Easy to set up, the rack is heavy though and needs a little bit of man handling to get on to the towbar. Once there however it is easy to tighten up and feels secure. Getting the bike onto the rack takes a little bit of though. There is not a lot of room to get the pedals lined so you can get 4 bikes onto the rack. May get some pipe lagging just to prevent accidental scratches. Once attached to the rack the bikes feel very secure, with very little wobble. The tilt mechanism works well and allows the tailgate to open fine (I've an ix35). Overall if you have 4 bikes the rack works well.
Scott O - Vehicle type: 4x4
This is a great bit of kit, as is all the kit Roofbox.co.uk sells. It secures easily and safely to my tow bar and easily carries four bikes without the worry of having a wobbling boot mounted carry, such as the ones I've had in the past. It also has the ability to tilt backwards so even when fully loaded up you can get access to your boot.. fantastic feature. I'm looking forward to using it all over France this summer!
Kate P - Vehicle type: MPV
This is a well made product but it is very heavy and so whilst I can load it single handed onto the car it is not easy. I would in retrospect have preferred one which I could leave on the car but fold up whilst not using it for bikes. Good product overall
Ryan P - Vehicle type: 4x4
Very good product used to carry my bikes to a sportive about 50 mile away, did it no problems holding my bikes securely.Would recommend it!
Peter W - Vehicle type: MPV

After far too many years of damaging my car and bike with a strap on the back carrier, I decided to have a tow bar fitted and get a carrier. The buzz Quattro is a well made and attractive bit if kit. It's very easy to assemble and it pops on the tow ball as if by magic. I'm not sure how robust the tightening bolt will be after related use but it seems solid and is and easy part to replace if required. The only downside is the tilt is not far enough to open a citroen C8 tailgate, and I imagine other similar MPVs will be difficult too. I've decided to stick with the product all the same as its very good value and really well made.
Alex S - Vehicle type: Estate
Great value for money. It's very easy to fit, and comfortably fits 4 bikes on it. The lockable features give you peace of mind when you are away from the car and it fits the tow ball tightly and doesn't move around. I've not used the tilting function, but this doesn't look as good as the other features - only time will tell but I've not needed to use it so far. Overall, very happy with our purchase!
Phil R - Vehicle type: 4x4
1 year on after buying this I'm still 100% satisfied. Very robust. Nothing lacking compared to the more expensive alternative. I'd recommend anyone who buys this to carefully clean all grease of the tow hook to ensure this stays firm.
Simon R - Vehicle type: Estate
I recently bought a Buzzrack Quattro. I'm very impressed with the overall quality of the bike rack. The initial construction of the rack from the pieces it came in took a little while, I wanted to make sure it all went together correctly. The instructions were clear and easy to follow. Once constructed It is easy to fit to the towball and lock into place, and also remove when you are finished using it. If you are looking for a four bike towball rack I can tell you this one will do the job, and you will feel confident putting expensive bikes on for a journey. I cant speak for the long term build quality, as I've only had it a month and used it three or four times, but so far - so good!
Jaymes S - Vehicle type: Hatchback
In line with what a lot of other reviews say this thing is brilliant. Very easy to instal, very easy to fit individual cycles to it, even spurious frame designs are easy to fit, sometimes you have to think about how to lock the frame in, no more than 30secs though! :-) The build quality really is great, I didn't give it 10/10 for the simple reason that the plastic around the number plate holder and tail lights seems quite soft, although this might be a good thing and prevent it from snapping like harder plastic might. I might be being a little unfair and mine hasn't been damaged so I've nothing to back this claim up with. It really is a brilliant example of German engineering. Also it is one of the heavier ones on the market, which I'm sure adds to it's strength but lighter material would make ease of use greater for less strong people, again I think I am being unfair. The tilt function is better than I expected and easy enough for my 8 stone gf to tilt with 8 stone of bikes on the rack. I've only used this with 26" wheeled bikes and they were either large or extra large frames. Incidentally the wheels are almost out of the wheel holders but that is due to the extreme end of the cycle sizing that me and my friends ride and they are still secure. Just not sure if you could get a really long wheel based cycle to sit safe in the rack. You probably could as this thing is so good. Overall I don't think there is a better rack on the market for 4 cycles and the only reason I haven't given it 10/10 is the fact that it's on the heavy side and would possibly be difficult for slight folk to fit by themselves and the fact that this ultimately equates to extra weight on your towball. To be fair the only way to make this better would be to make it out of titanium and then it would be a grand to buy it and it would never sell. Ha ha, not a good salesman am I?
Glynis S-P - Vehicle type: MPV
Whilst this rack was at the higher end of our budget, I am pleased we went for it as the quality of this product is excellent and will (in our opinion) last much longer than some of its cheaper rivals. It works as described in the review, fits easily to the towbar, the bikes are all safe and secure with the individual locks and wheel braces and is adaptable enough to take four bikes of very different sizes.
Fabian - Vehicle type: MPV
The carrier was very robust, and solid. Unfortunately, although it had a tilting mechanism, which did work, it did not tilt far enough for our Ford Smax, as it did not allow the door rear door to open with the carrier attached, which meant it was not for us. However, the response from Roofbox to our query about it was very helpful and prompt, and the exchange facility they offer worked a treat for us. Very happy with the replacement Atera model, and very pleased with the service from Roofbox. Shame the first carrier was not quite suitable for us, hence why I would not recommend it for Smax drivers.
Mark S - Vehicle type: 4x4
Solid construction and bike fixings. Easy to fit and use. Good ground clearance. Excellent value for money in comparison to other brands. I use it on a 4x4 campervan.
David W - Vehicle type: Estate
Easy to assemble. Very robust. Great value for money
John W - Vehicle type: MPV
Having used it a couple of times I am very happy with it. It is well built. I just struggled to attach it onto the towbar on my own. A little heavy for me. Unable to use the tilt function with the bikes attached. Can only open the boot of the car without the bikes on it. That doesn't really matter. Overall it is a good bike rack.
About our reviews:
We test, and often use personally, almost all the products we sell, and we stand behind our comments and recommendations unless customers convince us they need changing. Our Customer Services and Workshop staff also have input into our recommendations.
But it's because we've learned a lot over many years that customer feedback is so important. Fresh, first time out opinions are the most useful ones, and in any event we certainly don't have access to the full range of vehicles that our customers have between them.
Product feedback from existing customers helps our new customers make choices, and also helps our suppliers with their product development.
We e-mail our customers a week or so after their order arrives and invite them to send in a review.
Some reviews are suitable for multiple products. Where appropriate we may, for example, use the same review for a number of different roof bar products where the only difference is the length of the roof bar.
Max number of bikes: 4
Fits bolt on tow ball: yes
Fits swan neck / detachable tow ball: yes
Dimensions: 96cm (width) x 85cm (depth)
Weight: 19.7kg
Max load capacity: 60kg
Max weight per bike: 15kg
Fits wheelbases: 53-119cm (i.e. 111cm for a 26" wheel, 119cm for a 29" wheel)
Tilting: yes
Integral lighting board: yes
Lighting board plug type: 7 pin (13 pin adapter available if required; shown below)
Bike carrier to tow ball lock: yes
Bike carrier to bike lock: yes
Possible to tow when in use: no
Fits with a spare wheel: On some vehicles but as a three bike carrier. If you have a rear spare wheel that sticks out beyond the centre of the tow ball, it's likely that this will occupy the first bike space, and may even prevent the bike carrier being fitted at all. If you have a bolt on tow ball, it may be possible to fit a spacer plate of up to 50mm to move the tow ball centre 50mm further from the car. If your tow ball sticks out beyond the rear spare wheel then you will probably have no problems in fitting this carrier.
Guarantee: 3 years
Useful information:
The maximum permitted load you can carry is also determined by your nose weight; you will need to check you don't exceed this before using any tow ball mounted bike carrier.
Requires 65mm clearance from centre of tow ball to rear of vehicle.
We offer our existing customers a full "Next Day if possible" spares service, and will cannibalise new stock as required to find you the parts you need.
To find the spare parts you need, please see the diagram below, identify the product codes, then choose them from the list below. If you need more than 1 of any item, change the quantities in the Shopping Basket.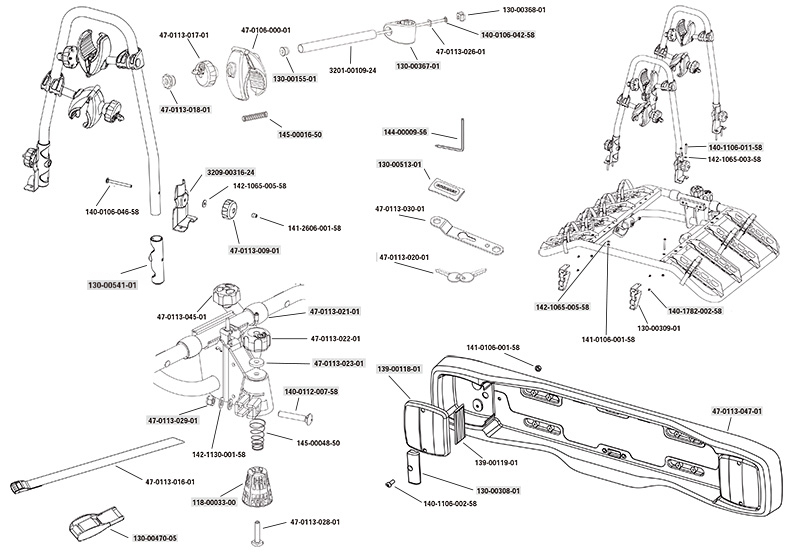 Delivery charges and arrangements:
We charge a contribution towards delivery costs, depending on what you order, where you live, and how quickly you want the goods.
These are our standard charges; there are usually surcharges for all offshore destinations and some remote postcodes, especially for Very Heavy Items (defined below):
Orders involving a roof box, and Very Heavy Items


Standard delivery (3 to 5 working days) = £14.50
Express delivery (1 to 3 working days) and Very Heavy Items = £19.50

AutoSock, and items which are small enough to be posted, e.g. small spare parts


Standard delivery (3 to 5 working days) = £4.95
Express delivery (1 to 3 working days) = £6.95

All other products


Standard delivery (3 to 5 working days) = £6.50
Express delivery (1 to 3 working days) = £9.50
All orders for Express delivery need to be received by 1pm.
Very Heavy Items

Roof tents and some other items that are very heavy or unusually large are, for safer and more careful handling, best carried by two people.

Very Heavy Items are delivered via the ArrowXL 2-person delivery service. All other products that are part of the same order will usually also be delivered by ArrowXL, at the same time as the Very Heavy Item.

Please note that deliveries from ArrowXL need to be signed for, e.g. by a neighbour if you are not at home, or you can have the goods delivered to a different address.

There is a £25 surcharge for Very Heavy Item deliveries to the Grampian area, Scottish Highlands, any GB delivery including a sea crossing, and Northern Ireland. There is a £50 surcharge for Very Heavy Item deliveries to the Isle of Man, the Channel Islands and the Republic of Ireland. Deliveries to all these places will take longer than normal, sometimes much longer - delivery timings are indicated in the Shopping Basket.
When will my order arrive?
There are no deliveries on Saturdays, Sundays or Bank Holidays, except for postable items where Royal Mail has a Saturday delivery. Express Delivery orders placed on a Friday (before 1pm) should be delivered on the Monday or Tuesday, Express Delivery orders placed on a Saturday or Sunday should be delivered on the Tuesday or Wednesday. The arrangements for Very Heavy Items are different and are shown above.
What about Next Working Day delivery?
We have offered a reliable Next Working Day service for well over 20 years but, due to the pressure on the couriers caused by the coronavirus crisis and the huge increase in online shopping, we can no longer be confident about the delivery date, which is why we now call the service 'Express delivery'. Most Express delivery orders will arrive on the next or second working day, but some will arrive on the second or third working day, or be split between these days. So-called "split deliveries" happen when the couriers do not have enough trailer space for everything that should be moved around the UK, so they will load what they can and leave the rest for the next trailer.
Is my delivery day guaranteed?
No retailer or courier company can ever "guarantee" a Next Working Day delivery. As well as split deliveries, all courier companies occasionally have the same transport problems as can happen to everyone else, including snow blocked roads, closed roads, traffic jams, mechanical breakdown, an inability to find the delivery address, or to gain access to it if, for example, it's in a block of flats. We work with some of the best couriers in the business, and overall they provide an outstanding service.
Do I need to be at home?
We are very flexible with our deliveries and will aim to deliver to an address which suits you – this does not need to be your home address. Goods can usually be left without signature - we prefer this with roof boxes. There's a "Special Delivery Instructions" box in the checkout area where we'll ask you to choose a typical instruction and then amend it to suit your particular requirements.
Payment options:
We take the following cards, and also PayPal. Please note that the entry on your card statement will be from "The Roof Box Company".
Secure payments
Our website is secured by Sectigo (formerly Comodo CA), the largest commercial Certificate Authority in the world.
BUZZ RACK Quattro - How to fit